« College Footbawl Thread: Week 7 [CBD]
|
Main
|
Southwest Ohio Moron Meet-Up After Action Report [Speedster1] »
October 24, 2015
Gardening Thread: Good to the Last Drop [Y-not and KT]
Y-not: Greetings, gardening morons and moronettes! Welcome to your Saturday gardening thread. Take a seat, put your feet up, and grab a cup of joe...
Today's thread is brought to you by that magic elixir. (Part two here.)
Last weekend, Mr Y-not and I spent the afternoon at Cheekwood, a botanical garden (and art gallery) in Nashville, so I thought I'd share a little bit from that visit with you today.
First, some background: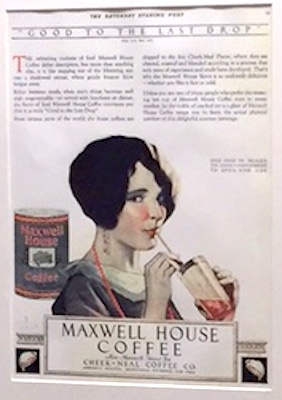 A picture I took in the museum before I saw the "no photography" sign. Swearsies!
Christopher T. Cheek moved to Nashville in the 1880's and founded a wholesale grocery business. His son, Leslie Cheek, joined him as a partner.

In 1896, Leslie Cheek married Mabel Wood of Clarksville, Tennessee. Their son, Leslie Jr., was born in 1908 and their daughter, Huldah, in 1915. By that year, Leslie Cheek was president of the family firm.

GOOD TO THE LAST DROP
During these same years, the elder Cheeks cousin, Joel Cheek, developed a superior blend of coffee that was marketed through the best hotel in Nashville, the Maxwell House. His extended family, including Leslie and Mabel Cheek, were investors. In 1928, Postum (now General Foods) purchased Maxwell House's parent company, Cheek-Neal Coffee, for more than $40 million.

With their income secured by the proceeds from the sale, the Cheeks bought 100 acres of what was then woodland in West Nashville for a country estate. To design and build the house and grounds, they hired New York residential and landscape architect, Bryant Fleming, and gave him control over every detail - from landscaping to interior furnishings. The result was a limestone mansion and extensive formal gardens inspired by the grand English houses of the 18th century. Fleming's masterpiece, Cheekwood, was completed in 1932.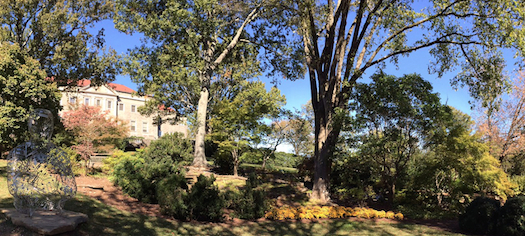 Nice shack. (Now an art museum.)
If you're ever in Nashville, I'd recommend a visit. Give yourself about two hours to tour the grounds. We were there on a perfect Fall day. Lots of beautiful mums on display:

Purty flowers.
In honor of the season, Cheekwood was also hosting an exhibit of novel "scarecrows." My nieces and nephews would love this one: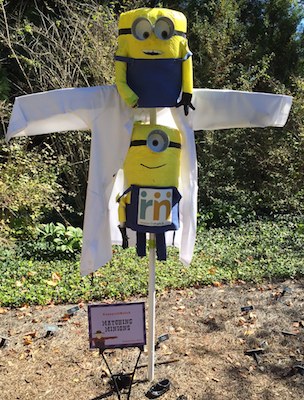 Minion "scarecrow." (If you don't know what a minion is, go here. Also, watch the original movie, Despicable Me. That's an order. It'll be good for your jaded souls.)
Fall foliage was not in much evidence during our trip, but I imagine these hillsides in the distance will put on quite a display in a few weeks: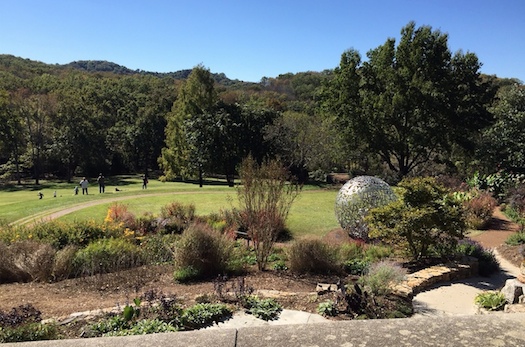 Although they were not in bloom, the gardens feature a large collection of crepe myrtles. Mr Y-not and I liked this one's bark: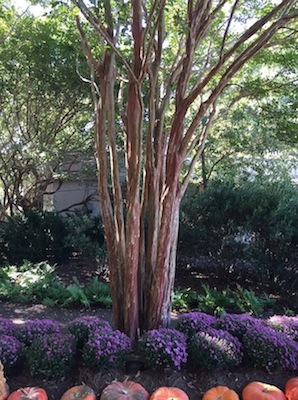 Lagerstroemia x 'Miami' crepe myrtle
The beautiful bark on display, not just of this variety but of many of the others we saw, inspired me to learn more about crepe (or crape) myrtles. Here's a good article about how to prune (and what NOT to do) in order to bring out their full beauty.
I have several crepe myrtles in my new yard, but I can't see the bark of any of them in their current form. Add that to my "to do" list!
In addition to learning about crepe myrtles, we also spotted this interesting sign:

The Stinking Cedar is a very rare tree:
Torreya taxifolia is one of the rarest conifers in the world. The species was once a prominent tree in ravine forests along the Apalachicola river through the Florida panhandle in North America. Since the 1950s, all T. taxifolia trees of reproductive age have died leaving only the remaining seedlings in the forest, a population approximately 0.3% of its original size.

The ultimate cause of this catastrophic decline is still unexplained but this species has been subjected to changes in hydrology, forest structure, heavy browsing by deer, and most significantly a disease resulting in dieback. The current population is estimated to be between 500 and 600 trees and population viability analyses indicate that extinction within its native range is inevitable.

T. taxifolia was listed as federally endangered in 1984 under the U.S. Endangered Species Act, and efforts have been made since to re-establish this species in its natural habitat.
Follow these links to learn a bit more about the Stinking Cedar and gopher wood.
I'm not 100% certain, but I think this is the Stinking Cedar tree (the sign was near it):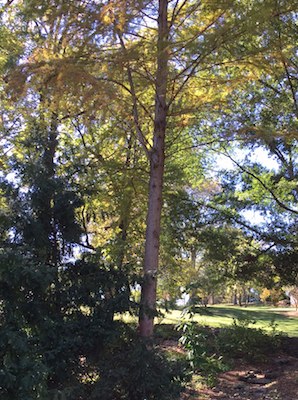 I couldn't smell anything, though. Have any of you ever seen - or smelled - one of these trees?
The Howe Garden section of Cheekwood is home to "four distinctive large-leaf deciduous magnolias. These trees are noted for having the largest simple leaf of any native deciduous trees in North America. The giant leaves can grow up to 30 inches long. The flowers, when fully open, can be up to a foot wide." The four varieties at Cheekwood are Bigleaf Magnolia, Umbrella Magnolia, Pyramid Magnolia (which is quite rare, apparently), and Ashe Magnolia.
Magnolias smell better than Stinking Cedars, by the way.
Like most good botanical gardens, Cheekwood featured a childrens' area (featuring an awesome outdoor train), an herb garden (not much to see at this time of year), as well as a lovely Japanese garden:

Perhaps you can create your own. Or maybe you already have. If so, please report to the group!
Another nice feature of the gardens were the large sculptures throughout the property by a Spanish artist named Jaume Plensa. His exhibit was called "Human Landscapes." You can see two of them in the distance in this picture:

I thought these "men" holding up trees were clever: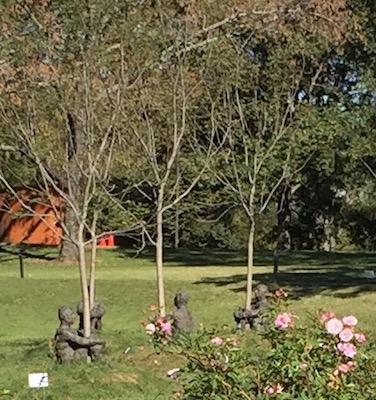 I'd love to have something like that in my yard. Guess I'll have to become a coffee magnate or win the lottery to fulfill that dream!
All in all, a very pleasant way to spend a few hours. Highly recommend!
Tell us about your favorite botanical garden.

And now, here's KT:
After our recent bit of rain here in the Central Valley, we have had some glorious days with highs in the 70s and low 80s. The few fall veggies we have planted seem to like rainwater better than water from a watering can. They have made more rapid growth in a few days than they had made over the previous three or four weeks.
For those who have actual gardens and lawns, frequent commenter Traye has found a nice reference on controlling moles, voles and shrews in the lawn. Assuming that you would want to control shrews.
We do not have a lawn at present. I have not even seen a gopher in months. We have lots of weed seedlings, though. It has been too dry for them to sprout over the summer. Except for the weeds around the veggies, I am having a hard time getting motivated to remove them. For the moment, they are a welcome change from dry dirt. I might eat a few of the edible ones as microgreens.
"The greatest gift of the garden is the restoration of the five senses."
-Hanna Rion
I have been feeling mildly exuberant when thinking about the garden. So for this thread, I decided to focus on some wild-looking plants. A couple could be of interest to witches, pagans, hobbyists or other members of The Horde who might want to grow some interesting but not-too-orderly plants.
Two Perennial Sunflowers
Sunflowers are about the only wild roadside flowers that have survived the hot summer here. The ones that are still blooming were probably mowed down at some time during the summer before they bloomed. There are several wild sunflowers native to North America. I have chosen two perennial sunflowers for today, one famous and one obscure.
Johnnys calls the Maximilian Sunflower "summer sunshine for late fall". They like it as a cut flower. But it blooms in late summer to early fall in the more southerly parts of its range. It is a classic wildflower of the central plains and its seed may be included in range mixtures for feeding livestock. In town, it is often seen peering over adobe walls in New Mexico. You would need to pinch it back to keep it shorter. I associate it with drying chile ristras. Want to try a little oil painting?
Sunset rates this sunflower as suitable in all of its Western zones except for Alaska and Hawaii. It is grown in most states and in parts of most Canadian provinces. It is drought-tolerant when established.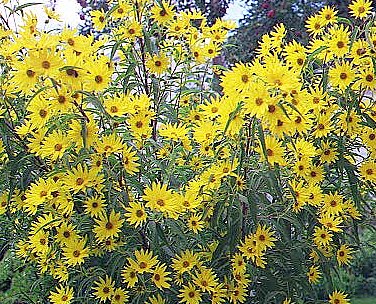 How to grow Maximilian Sunflowers
You can grow Maximilian Sunflowers from seed or from divisions. New Mexico State University recommends transplanting or dividing it in spring, like other fall-blooming perennials.
High Country Gardens offers a floriferous, large-flowered cultivar named Santa Fe. Other selections include early Dakota Sunshine and lighter-colored Lemon Yellow. Concerning the last one, Louis the Plant Geek says, "Lemon Yellow is the daisy to grow when you need flowers twelve feet in the air -- you never know when you, too, will have such a niche need -- and you need them into October.  Everyone has that need."

Maximilian sunflowers host the larvae of several small to moderately-sized, butterfly species in autumn colors. In this video, Bordered Patch butterflies court, a female lays eggs on sunflower leaves and the eggs become caterpillars. Includes some remarkable close-ups.
I chose our second wild sunflower for today because, in contrast to the species above, for garden cultivation "The preference is partial sun or dappled sunlight, moist to mesic conditions, and a rich loamy soil."
Actually, this species first caught my attention because Halloween is coming. At first glance, I thought that its name might have something to do with decapitation or something. Seemed strange. But the species name is DECApetalus, not DECAPAtalus. Because it has ten petals. I need to brush up on my Latin plant names. I think the flower is simply charming.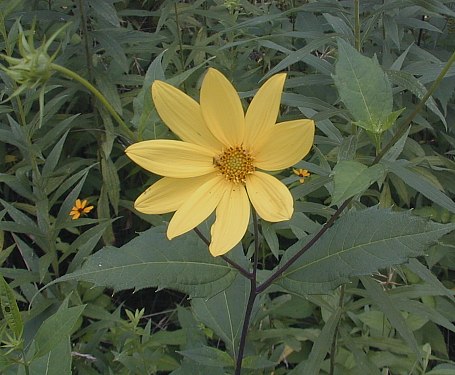 Helianthus decapetalus
It is native to Eastern and Central states and several Canadian provinces. Here is a list of insects that feed on sunflowers in Illinois. Some, like the stinging saddleback caterpillar, are not particularly welcome in the garden. But sunflowers also host the caterpillars of Painted Lady, Gorgone Checkerspot and Silvery Checkerspot butterflies in Illinois. The Silvery Checkerspot overwinters as a caterpillar. You now have an excuse to avoid fall clean-up if you grow sunflowers.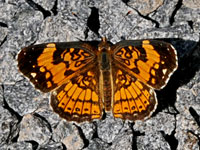 Silvery Checkerspot
Elfwort
Elfwort (Elecampane) is another sunflower-like plant which likes partial shade. It is naturalized in the eastern part of the country. It is perfect for the witch or pagan who is just beginning to garden. It is also of interest to herb enthusiasts and certain cooks. "One of my favorite garden plants. I have always found it impressive in its stature and its flowers wild and joyful."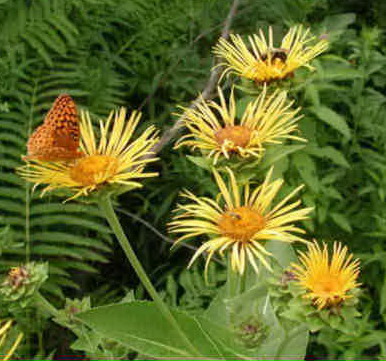 Elfwort blossoms attract butterflies and bees
Its other common names include Elf Dock, Horseheal, Nurse Heal, Scabwort, Velvet Dock and Wild Sunflower. It has magical uses:
Can be worn in a sachet or sewn into a pink cloth to attract love.  If Elecampane is smoldered over charcoal, it is said to help with psychic power, especially when scrying.  Sprinkling Elecampane petals around doorways helps keep out bad vibrations.  Elecampane is said to be a favorite plant of the Elves, but it is also used against Elvin magic: stabbing the root renders an Elf spell null and void...
I wonder how you know if an elf has cast a spell on you? Could be good to keep this plant around, just in case. Aside from magic, the root fixes fragrance like orris root does, so it is useful in making potpourri. The root is also sometimes used to flavor vermouth or absinthe.
Mugwort
If you would rather make an ancient form of beer than vermouth, you could grow or gather some mugwort. This is another easy plant for the beginner witch or pagan to grow. Maybe too easy. It can be very invasive. Some of its other colorful common names include Cronewort, Felon herb, Chrysanthemum weed, sailors tobacco, Moxa, Naughty Man, Old man, Old Uncle Henry and Muggons.
I found one garden cultivar of Mugwort. It is variegated.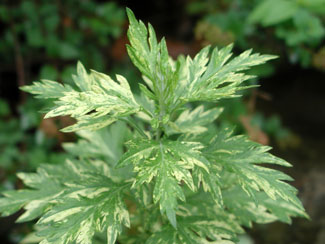 Oriental Limelight Mugwort
The University of Arkansas extension agency reports:


Oriental Limelight mugwort is an upright growing rhizomatous herb growing about 16 inches tall that spreads to three feet or more unless confined by a barrier or competition by a more vigorous plant... It is a highly variegated plant, and the variegation is quite stable, so its vigor is much reduced when compared to its non-variegated self.
From the comments at Daves Garden, it seems to me that the best uses of this plant are as a tough potted specimen or as a ground cover to prevent erosion on a problem hillside. Seedlings revert to the more aggressive common form, so if you do not want them, cut the flowers off before they set seed.

The common name "Mugwort" probably comes from use of the plant (since the Iron Age) in making beer. Here is a recipe for red ale spiced with mugwort. Remember, it is not for pregnant women.
One home brewing enthusiast reports that, "Mugwort produces different mental effects than hops when present in beer... It seems to elicit almost a sense of glee."
A sense of glee? I report, you decide. Or maybe some of our home brewers have tried mugwort to make an ale or beer and can report their experience...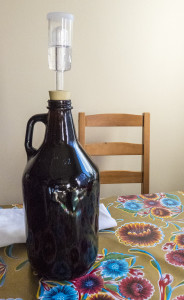 Mugwort Christmas Ale with white sage and lemon

Y-not: Thanks, KT!
To close things up, how about a song?
What's happening in YOUR gardens this week?

posted by Open Blogger at
02:20 PM
|
Access Comments