« Football Thread: Sunday Late Game Edition [CBD]
|
Main
|
Morning Thread (12-21-2015) »
December 20, 2015
Overnight Open Thread (12-20-2015) – Star Wars Edition
Well Big Navy, this is your fault, Shipmate. You elected to create a "too big to fail" shipbuilding program that had no Plan-B when LCS proved what people started to say over a decade ago. You did that in order to meet you own selfish career goals - the needs of the warfighter be damned. You decided to throw more money and hard work of Sailors at a program that was known to be a failure by everyone you refused to listen to. No, scratch that - those you eliminated from the conversation.

You did it because you were more loyal to people than to service - and you created a command climate that demanded happy talk. In your arrogance, you did all you could do for your reasons, not the needs of the Navy decades after you started wallowing in the food trough in your post-Navy career in the belly of the beast you once defended your Sailors from. There is no reason why we don't have a different sub-6,000T class of warship under construction other than systemic and rewarded almost Ottoman levels of bureaucratic, ossified professional malpractice.

-- CDR Salamander who is not a fan of the LCS (littoral combat ship). The LCS seems to be unwanted and unloved by all except for the top Navy brass who have gone all in on it.
"The mayoress, Miranda de Vries, said she was shocked at the violence caused by an estimated 2,500 people in the town of 27,000 that lies near the city of Utrecht." When ten percent of your population is rioting, it's not just a fringe phenomenon.

-- Glenn Reynolds
Quote of the Day III - The Order Makes a Difference Edition
The government in the Netherlands has clarified that it is legal for driving instructors to offer lessons in return for sex, as long as the students are over the age of 18.

However, it is illegal to offer sex in return for lessons.
Quote of the Day IV
Well...it's not Prometheus.

-- AoSHQ Ben reviewing Star Wars: The Force Awakens
The Force Awakens is what you get when Star Wars is directed by somebody who doesn't hate and resent the franchise.

-- Moe Lane (@moelane) December 18, 2015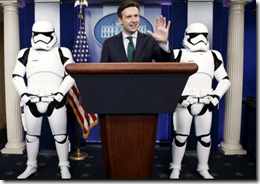 The Secret To Star Wars' Staying Power
Stop Complaining About Star Wars And Enjoy It
The Plinkett Star Wars Prequel Reviews
Last week I was talking with someone at work about how much the prequels sucked and pointed him to these reviews. I ended up re-watching all of them and enjoyed them anew and discovered a few more hidden details. The last half of the Revenge of the Sith review in particular had a lot of insights about what made the movies so flat and emotionally empty.
One that stood out for me was that there were essentially two kinds of scenes in the movies - action sequences and scenes with people just talking while sitting on a coach or stopping in mid-walk. The problem is that Lucas was focused on the action scenes and ended up writing/directing the obligatory talking scenes so unimaginatively and in such a dull and plodding way that it robbed the resulting action scenes of any emotional impact.

Another was that there were way too many lightsabers and lightsaber fights in the prequels. One key point he makes is that sword fights in movies (and that's what lightsaber fights really are) are ultimately about the culmination of the conflict between the fighters rather than the fight itself. And a short intense and brutal fight with inelegant swordplay has far more emotional impact than a drawn-out beautifully choreographed but sterile fight where nothing really seems to be at stake i.e. every fight in the prequels.
(videos below)
The Phantom Menace Review (1 of 7)
The Attack of the Clones Review (1 of 9)
The Revenge of the Sith Review (complete)
Mark Steyn Reveals That He Never Got the Appeal of Star Wars At All
Sci-fi wasn't boffo before Star Wars - if anything, rather the opposite: It was regarded as the upmarket intellectual end of genre fiction. Then George Lucas came along, and hijacked the entire field, with little more than a guy with a bucket on his head, a dog with a stick-on moustache, a talking garbage can and a princess wearing two cinnamon rolls on her ears.

But what do I know? Star Wars is the most successful movie ever. It's supposed to be "epic" and "primal", but, if so, it beats me. A film such as, say, High Noon, which takes place in real time - 90 minutes - on one dusty monochrome main street lined with plywood house fronts and whose only special effect is Tex Ritter's plaintive rendition of the title song, is truly primal: it's big at its core. Star Wars, it seems to me, is epic only in the sense that the telephone book is epic.
Well no man is perfect. So I'll forgive him for this. And for his feline-inspired music videos.
Katherine Timpf discovers the dark side of the Star Wars fans' lack of humor
Of Course the Empire Is Evil -- and So Is Sonny Bunch
How To Drive Star Wars Fans Crazy
Step 1: point out that the droids are effectively slaves.
Step 2: Contend that Chewbacca is female, and in love with Han.
Step 3: Wear this t-shirt.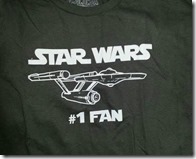 Star Wars: Every Scene From I-VI Charted by Character Interactions

How To Watch the Original Star Wars Trilogy As It Was Before George Lucas Screwed It Up
Torrent is your friend
Never has an evil empire had such a great theme. Makes you want to sign right up and go crush some rebels.
Star Wars Minus Star Wars is a video essay on the original film that doesn't use a single shot, sound, or snippet of music from the original movie. Instead, it strings together scenes and sounds from movies that influenced George Lucas in making the film and also from movies that have been influenced by Star Wars.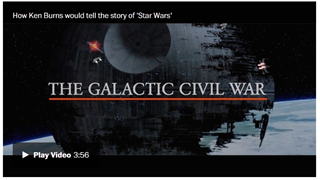 Triumph The Insult Comic Dog vs Star Wars Fans
One of the best Triumph lines ever:
You look like some kind of super-nerd. It looks like you were built in a laboratory out of parts from lesser nerds.
Proof That Jar Jar Is a Sith Lord
Tom Shales and NPR Try to Make Sense of a Movie Called 'Star Wars' Back in 1977
Congratulations, You've Been Cast In Star Wars! Will You Ever Work Again?
'Star Wars' porn sales up 500% ahead of 'The Force Awakens' premiere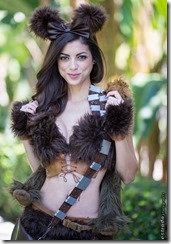 Weekly Commenter Standings
Top 10 commenters:
1 [510 comments] 'Misanthropic Humanitarian, he's just a crazy Italian who drove a red sports car ' [71.64 posts/day]
2 [507 comments] 'Harry Paratestes'
3 [443 comments] 'J.J. Sefton'
4 [437 comments] 'Ricardo Kill'
5 [394 comments] 'Nevergiveup'
6 [391 comments] 'Anna Puma'
7 [390 comments] 'Christopher Taylor'
8 [369 comments] 'Mike Hammer, etc., etc.'
9 [360 comments] 'Slapweasel (Cold1), '
10 [341 comments] 'ThisBeingMilt'
Top 10 sockpuppeteers:
1 [86 names] 'The Political Hat' [12.08 unique names/day]
2 [54 names] 'mindful webworker - what, me read?'
3 [53 names] 'Nigel West Dickens'
4 [48 names] 'Bertram Cabot Jr.'
5 [40 names] 'andycanuck'
6 [37 names] 'Cicero (@cicero)'
7 [37 names] 'Ready For Hillary!!11!!'
8 [36 names] 'Barack Hussein Obama'
9 [35 names] 'Doctor Fish'
10 [29 names] 'Prince Ludwig the #Problematic'
The group. Banned on 12 universities.
Where it's at - the Twitter
Tonight's post brought to you by a Fox Executive's 1976 Memo on Star Wars: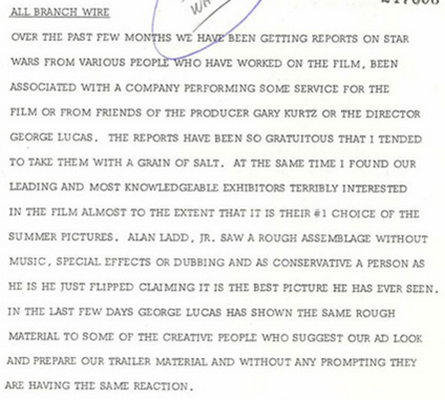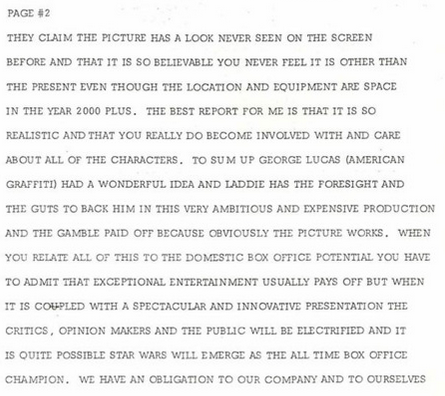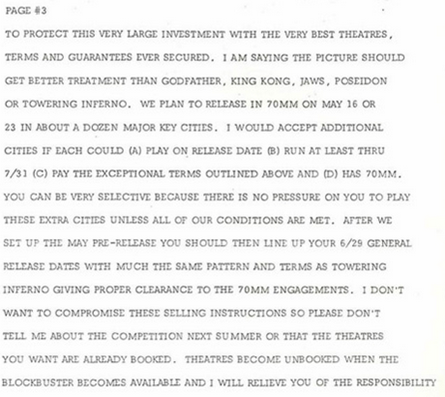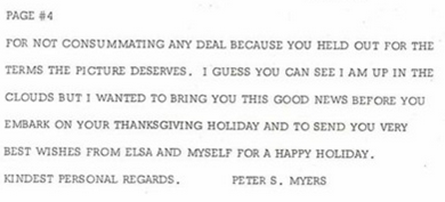 Notice: Posted by permission of AceCorp LLC and LucasFilm Ltd.

posted by Maetenloch at
11:07 PM
|
Access Comments