« The Infantalization of America [CBD]
|
Main
|
Open Thread: Best Movies for... [Y-not] »
July 25, 2015
Saturday Gardening Thread: Practical Magic [Y-not, KT, WD]
Y-not: Good afternoon, gardeners!
Today's edition of the Saturday Gardening Thread is brought to you by Sandra Bullock in Practical Magic:
(OK, that was an overdose of Chick Flickiness, wasn't it? To make amends, here's xbradtc's Loaded Heat post on Ms. Bullock for the morons.)
Practical Magic
A bit of a cop out from me this week owing to some travel and Life Stuff. My contribution will be practical garden solutions.
First off, as usual after a trip I returned to find my hanging baskets looking rather pathetic. They're filled with geraniums, which tend to be hard to kill, so I watered the beejeebus out of them when I got back. I may have been better-served to plant them self-watering hanging baskets. And, speaking of hanging baskets, I thought this was a cute idea for one: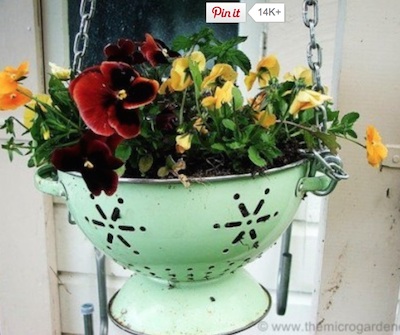 Here's a DIY version for a self-watering herb garden that looks pretty straightforward.
It seems as if there are a million self-watering planters and yet I never seem to get off my duff and try any of them. Do any of you have favorite designs?
Speaking of water, here are some Practical Garden Ideas for saving water in the garden.
One of our first gardening threads included a section on garden tools. Via Popular Mechanics, here are some ideas on how to restore rusted old tools.
Unrelated to anything else, but just because I thought it looked cool, here's a link explaining how to propagate roses in potatoes.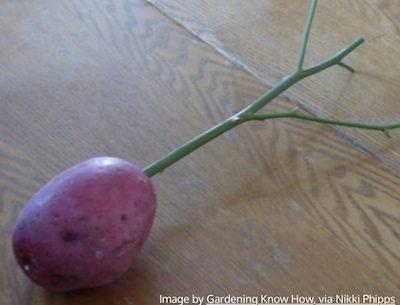 Apparently, this is a Real Thing. I found many mentions of it, including videos, all over the intertubes. I'm guessing one of our resident rose experts can explain to us how well (and why) it works.
Finally, from HGTV, here's a list of what they consider to be the Best New Garden Products for 2015. I liked the composting planter: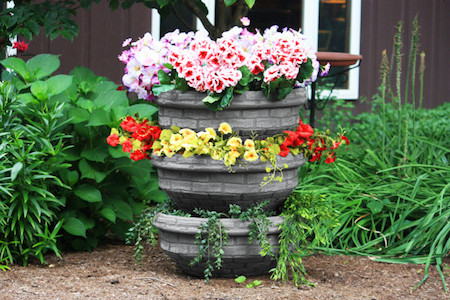 "Composting is being taken to new heights with the English Composting Garden by Good Ideas. The stacked circular composting planter, made of weather-proof polyethylene, has a classic stone look. The product has an internal chamber for composting, and it's constructed to hold plants and vegetation on all sides."
Did any of you discover a fun new gardening gadget this year?

Now, let's see what the incomparable KT has for us this week:
Supermarket Science
In last Sunday's tempting Food Thread, CBD linked a Slate article on the Garden Gem tomato, billed as "The Perfect Tomato". The author was basically lamenting that the produce found in American supermarkets is often not very tasty. Supermarkets do not sell tastier produce when it becomes available, sometimes for dumb reasons. The article also included interesting details about the development of the Garden Gem tomato. I decided to look up some additional information. I discovered pieces about other fabulous new non-GMO vegetables.
The developer of the Garden Gem tomato, Harry Klee, used to work for Monsanto (BOO, HISS) where he developed a slow-ripening tomato using GMO technology (BOO, HISS). Now he works at the University of Florida, where he uses some fancy methodology to determine which tomatoes taste good. The goal is to cross the tomatoes that taste the best with tomatoes that are easy to grow, hoping that the best characteristics of each will show up in the F1 hybrid offspring. With no GMO technology, of course.
One parent of Garden Gem is a "commercial powerhouse called Fla. 8059, which grows superbly but tastes like tap water". As far as I can determine, this is a stabilized, open-pollinated "breeding line" tomato with qualities like resistance to certain tomato diseases and prolific production. Tomatoes like these are often licensed by universities to people who want to breed new hybrid tomatoes.
Just by chance, we had earlier put up a photo and a couple of links concerning the other parent tomato, the striking Maglia Rosa grape tomato, in the Capitalism Edition of the Saturday Gardening Thread. Slate reported that Maglia Rosa "tastes extraordinary but, like so many heirlooms, is very hard to grow".
It seems strange to me that this tomato is called an "heirloom". It was released fairly recently by a small commercial grower, Fred Hempel, who has a PhD in plant biology and used to work for a biotech company. It is entirely possible that Fla. 8059 is older than Maglia Rosa. They are both open-pollinated. So why is one a "commercial powerhouse" while the other is an "heirloom"? While it may be hard to grow in field conditions, Maglia Rosa is reportedly well-suited to many home gardens, especially those with cooler summers. The plant is not overly rangy. It is recommended for large containers.
But if you want to try growing "The Perfect Tomato", Garden Gem now has a Facebook page with instructions for ordering seeds. If you scroll down far enough, you will also find some information on the research program at the University of Florida. You can get an idea how big the tomato is here, but I hope we don't start calling Garden Gem a "New Heirloom".

Scientific American has one of those irritating "click on the picture" posts highlighting Ten New Fruits and Vegetables improved without genetic engineering. The Garden Gem tomato is mentioned. Indigo Rose, which Y-not has grown as a grafted plant, is also featured. If Maglia Rosa is an "Heirloom", so is Indigo Rose, from OSU. The improvement here is the antioxidants this tomato contains. Of the 10 improved fruits and vegetables, 5 were developed by Monsanto and 5 by state universities, sometimes in cooperation with the USDA. No other companies are mentioned. Hmmm . . .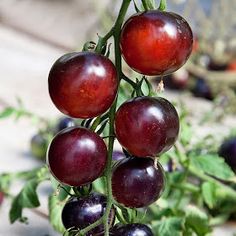 Indigo Rose Tomato from Oregon State University
Wired has a much more thorough piece on new non-GMO cultivars from Monsanto: lettuce, sweet peppers, broccoli, onion and melons. Although the new cultivars are not genetically modified, some very sophisticated genetic science goes into the development of these new "conventional" cultivars. For example:
In 2006, Monsanto developed a machine called a seed chipper that quickly sorts and shaves off widely varying samples of soybean germplasm from seeds. The seed chipper lets researchers scan tiny genetic variations, just a single nucleotide, to figure out if they'll result in plants with the traits they want -- without having to take the time to let a seed grow into a plant. Monsanto computer models can actually predict inheritance patterns, meaning they can tell which desired traits will successfully be passed on. It's breeding without breeding, plant sex in silico. In the real world, the odds of stacking 20 different characteristics into a single plant are one in 2 trillion. In nature, it can take a millennium. Monsanto can do it in just a few years.
It is understandable that Monsanto would turn more attention to conventional breeding. In addition to the publicity headaches which surround GMOs, "Monsanto said it generally takes around 10 years and $100 million to make a genetically modified seed." I believe it.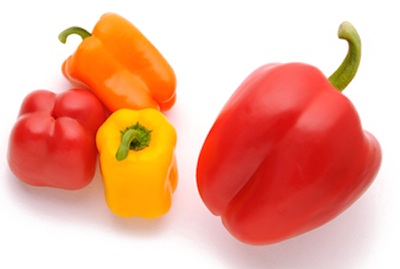 BellaFina Sweet Peppers next to a full-sized pepper
I am surprised at how many alarming posts I see on social media concerning GMOs and Monsanto. Some people even seem to be under the impression that all of our supermarket vegetables are Monsanto GMOs. The truth is that almost none of them are genetically modified. I can understand some of these concerns, but I wish people would get their facts straight before sending out alerts.
Monsanto is a huge corporation which has had more than its share of problems over the years. They have better attorneys than most people could afford. Monsanto is also rather aggressive, with (sometimes) upsetting monopolistic tendencies. Buy-outs of other seed companies have meant an end to many wonderful cultivars, including my favorite melon ever, Early Sugarshaw Hybrid. But Monsanto has done some good things, too. The uproar over GMOs has made it difficult to capitalize on some of these.
Knowing that its progressive audience loves to hate Monsanto, Yahoo writes about the new cancer-fighting broccoli, "If you're weighing health benefits against corporate citizenship, wondering if a non-GMO vegetable is something you'd willingly eat, don't agonize over the debate too much. Because you're probably already eating produce grown from seeds the company owns. Seminis, which Monsanto purchased in 2005, is the largest seed company in the world, and its catalog includes, among other favorites, the popular Early Girl tomato." Some small seed catalogs will not buy seed from any company owned by Monsanto. This can really limit their selection of hybrids.
Well! This is awkward. Just as Monsanto is "going organic", we learn that genetically engineered rice can reduce greenhouse gases. What is a Green to do? "Boosting crop yields while depressing harmful greenhouse gas emissions to less than 10 percent of conventional rice, all in one fell swoop? Yes, please. . . . In other words, this is a step towards a workable solution to the kind of bleak future Malthusian greens promise is right around the corner." . . .
"Greens don the mantle of settled science when pushing their climate change agenda, yet brazenly shed it when it comes to GMOs. That's a shameful hypocrisy, but if there's any silver lining here, it's this: The environmental movement as currently configured is so strategically inept that its opposition to these new crop technologies is anything but insurmountable. For that, future generations can be thankful."
Are your trees poplar?
I promised more information on trees, so I thought today might be a good time to discuss cottonwoods and poplars. They are related to aspens, such as the ones in Y-not's yard. In Utah, where Y-not lives, it was Pioneer Day yesterday. Arborday.org notes that the Plains Cottonwood "was the only tree many early settlers met as they forged westward through America's prairies." The trees themselves are sometimes used as "pioneer plants" in barren areas because they will grow in tough conditions.
One of my childhood memories is of a parking lot at a motel near Bryce Canyon National Park where the lights at night made the cottony seeds floating down from the trees look like snow. I also associate cottonwoods with the Navajo Tribe, as they often locate their homes near the trees.
*FIXED*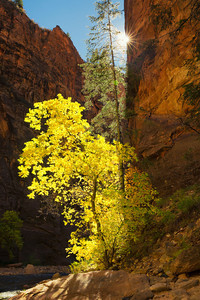 Cottonwood with Navajo Sandstone, Zion Narrows
When grown in the yard, male trees are usually chosen because they don't produce messy cotton or seedlings. But they do produce pollen. They can grow some heavy surface roots and may damage home foundations. In the comments to a previous Garden Thread, cottonwoods were described as "self-pruning" because they break so readily. The trees in this genus tend to have soft wood.
One use of poplars and cottonwoods is as a fast-growing windbreak. The tall, narrow Lombardy Poplar is recommended along country driveways. Some other members of this genus are also used in landscaping, or for wood production. But trees in this genus are subject to pests and diseases. Some of these are fungi.
I am not a mushroom forager. But some mushrooms that grow on trees in the poplar genus are edible. You can buy spores for some mushrooms with which you can inoculate logs. If you see mushrooms like these growing on a poplar, cottonwood or other tree, there is a good chance that the weakened tree may come down in a storm.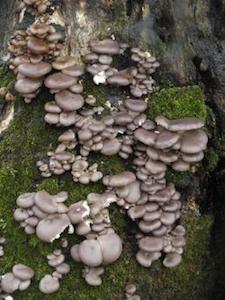 Oyster mushrooms
Some of the insects that feed on trees in the poplar genus grow into butterflies. These include Eastern and Western Swallowtails, Viceroy, Mourning Cloak, and some of the Admirals. American White Admiral or Red Spotted Purple are very different color variations of the same species. The purple variation is a mimic of the poisonous Pipevine Swallowtail and has a similar range -- mostly in the East. The black and white variation is similar to Weidemeyer's Admiral, often found at high altitudes. Butterflies: another reason to grow a cottonwood, poplar or aspen.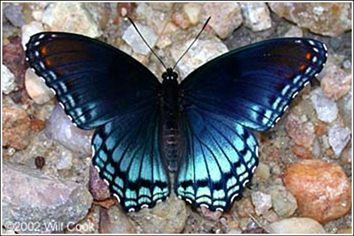 Red Spotted Purple

Hope you have some fun in your yard or garden this week.
Y-not: Thanks, KT! Now let's see what Weirddave has in store for us...

I hope that I have my house in a store, and someone buys it. Open house this weekend, so my contribution will be minimal as I'm cleaning things I didn't even know existed (Did you know those seat thingys on toilets swing up on a hinge? They do! Amazing!). Anyone feels like sending a prayer or two upwards that we sell our house, it would be appreciated. We're all ready to move into our new house, we just have to sell this one first. All I've got garden related is this tweet by my wife:
Back to you Y-not
Y-not: To wrap things up, how about a testosterone boost?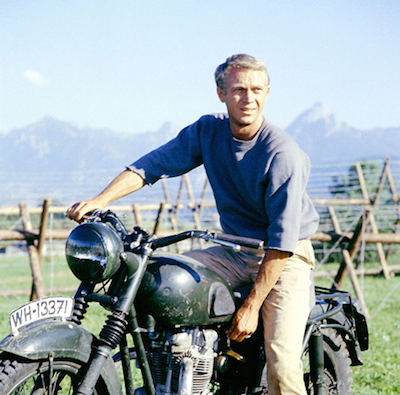 Follow this link to Top Men's Magazine (which seems to be an ok site and SFW) for their top 15 manliest movies ever made.
What's happening in your gardens this week?
Saturday Gardening Thread archive here. (Don't comment on that thread!)

posted by Open Blogger at
01:50 PM
|
Access Comments