« Satoru Iwata
Born: Dec 06, 1959
Death: Jul 11, 2015
|
Main
|
Overnight Open Thread (7-19-2015) »
July 19, 2015
Food Thread: The Empire Can Still Do Some Things Right! [CBD]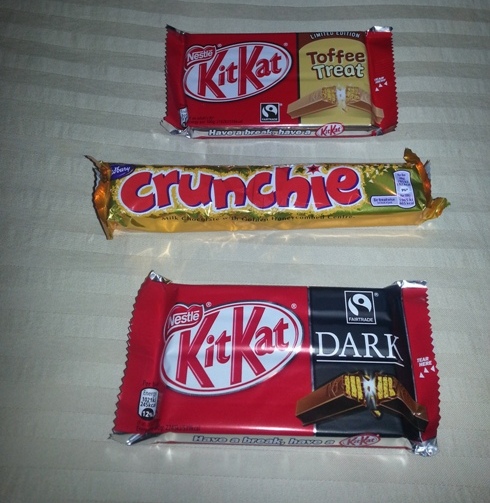 England is a shadow of its former self, but they can still make good candy!
Most American mass-market chocolate candy is too sweet for my palate. Oh, I'll eat it -- happily -- but when someone returns from England with dark chocolate KitKats, what's a dildo to do? And that middle one is a great, crispy, crunchy concoction that is sort of like a 3 Musketeers bar, only with a crisp toffee core, and instead of soft whipped sugar it's crisp. On second thought...it is nothing like a 3 Musketeers. It's better. Much better.

*******
The Garden Gem
tomato is, according to its inventor and others, fantastic. And perfect for large scale production. So why aren't we seeing them? Slate has the answer. Sorry about the link to what sometimes seems like Vox's older brother, but it's worth a read.
*******
Everyone knows that high fructose corn syrup (HFCS) is incredibly unhealthy, and much worse than Gaia's own sweetener -- pure natural sugar. It has caused our skyrocketing rates of diabetes, obesity, impotence, etc. It has probably killed all of the honey bees, and is suspected to be responsible for AGW and train crossing accidents.
The science is settled!
*
*******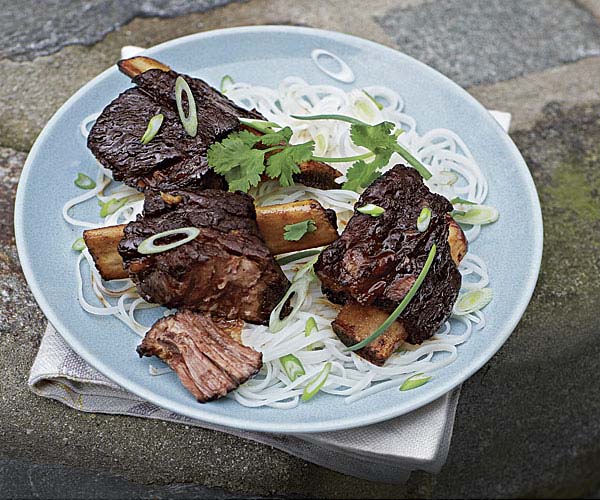 Vietnamese Short Ribs from Fine Cooking.
I haven't made this yet, but it looks good, and it's a radically different flavor profile than the stuff I usually make. I have not had good luck with this type of recipe....star anise and fish sauce and five-spice are all things that I have used to great effect for ruining otherwise good food. But....
"To strive, to seek, to find, and not to yield."
*******
One of the odd and faintly disgusting things about most bars is that the ice used in your drinks comes from an open bin that is exposed to pretty much everything, including the sneezes and coughs and errant food particles from the patrons sitting just a few feet away.
Just a thought.
*******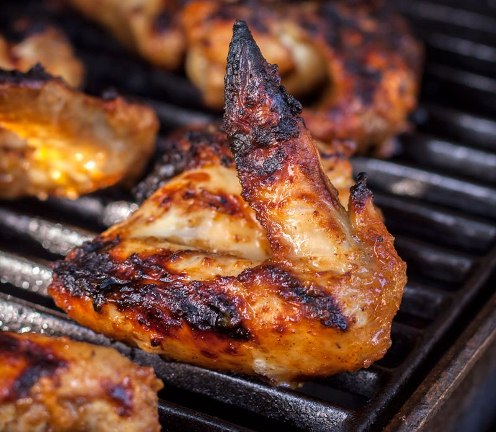 Grilled Mustard-Marmalade Glazed Chicken Wings
This is very similar
to one of my go-to recipes, with the exception of the curry powder. It seems discordant, but if somebody wants to try it and report back to the Horde.....! I use legs and thighs as well however....it's too much work for the small amount of meat on the wings, and thighs are the best part of the chicken.
*******
McDonalds Franchisees Have Never Been This Depressed
"At least half of the operators in my region are on [the] verge of collapse. With minimum wage for fast food workers potentially increasing to incredibly high levels, we are facing a crisis situation."
I'm not sure I understand this point, but as far as I can tell, there is some relationship between the wage paid to employees and the overall health of the business. Could it be that an artificially high wage mandated by government might have some deleterious effect on business growth and establishment?

*******
Here is a nice simple chicken salad that can be modified beyond all recognition. For instance, I think it cries out for something spicy, so I would add chipotle peppers and a little of the adobo sauce from the can. And cilantro (or soap if you don't have cilantro). It's nice and cool and refreshing and doesn't require firing up the oven on a hot day (it's 95 degrees in the People's Republic of New Jersey).
Chicken and Fennel Salad with Garlic Mayonnaise
Ingredients


2/3 cup roasted-garlic mayonnaise

2/3 cup plain whole-milk yogurt

1/2 teaspoon salt

1/2 teaspoon black pepper

1/2 fennel bulb, stalks discarded

4 cups shredded cooked chicken

1/3 cup chopped fresh flat-leaf parsley leaves

2 medium heads roasted garlic

1 cup bottled mayonnaise

Squeeze enough roasted garlic out of its skin into a bowl to measure 3 tablespoons and mash with a fork. Stir in mayonnaise.
Stir together garlic mayonnaise, yogurt, salt, and pepper in a bowl.
Core fennel, then thinly slice crosswise. Add to mayonnaise mixture along with chicken and parsley and stir to combine.

*******
*If you don't realize that this is sarcasm, this is not the blog for you.

posted by Open Blogger at
04:00 PM
|
Access Comments