« Political Thread for Saturday Morning: Is This Religious Discrimination Or Not? [Y-not]
|
Main
|
A Good Explanation of Why We Need To Understand The Left's Arguments [CBD] »
April 26, 2014
Saturday Gardening Thread: ToMAYto, ToMAHto Edition [Y-not and WeirdDave]
Good morning, gardeners!
This thread brought to you by, Giada's tomatoes:
You're welcome.
From your co-host, WeirdDave:
Y-not said today's thread was going to be all about tomatoes. I love tomatoes, but I have recently come across a disturbing warning. All of you who are considering growing tomatoes should take a quick hour and a half to familiarize yourselves with the following:
So now you know the warning signs. Be vigilant, fellow gardeners.
With that out of the way, I thought I'd give an update on my garden. I told y'all a couple of weeks ago that I had built 3 raised beds for gardening, and that the only problem was getting them filled up with dirt. Last weekend I started moving the dirt VIA wheelbarrow from the front, up the hill, to the back where the garden beds are. I filled one 4X8 bed myself, but I tweaked my back going up the hill, making further labor problematic. Struck by inspiration, I placed an ad on Craigslist for labor. I was actually inundated with replies. Two of those who replied could come right over, so with 90 minutes I had two guys hauling dirt. It took them just under an hour to fill the other two beds. I paid them $30 each. Worth. Every. Penny.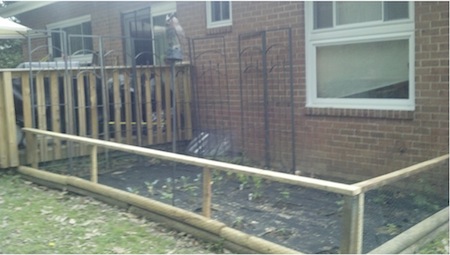 This is what the beds looked like before they were filled with dirt. Did I take pictures of them during the filling process and after, or pictures of the plants going in? Of course not, in what forum am I ever going to find myself where people could possibly be interested in THAT?
With that out of the way, Gingy and I prepared the beds. We put the railing and chicken wire back around the garden, then covered each bed with black anti weed fabric. I fabricated stakes to hold it down by using bolt cutters to cut up an old tomato cage into manageable lengths of wire, then bent these into the shape of a giant staple. I pushed these "staples" through the edges of the fabric and down into the dirt, holding it securely to the ground. Then I drank a beer.
Staples!
No, wait, that's not right.
Staples!
Damn! Not that either. One more try:
Staples! I made about 3 dozen of these to hold down the fabric.
Braving the wilds of Cockeysville, Gingy and I set out for Valley View Farms, Baltimore's best known garden shop. For those of you that aren't from around here, Cockeysville is a neighborhood that one needs to be alert to enter. Windows up, doors locked and nervously checking the mirrors for threats we proceeded. Around us the usual chaos of a middle to upper middle class suburb reigned. The shrieks and wails of the poor children denied a third helping of dinner grated on our ears. Dangerous looking accountants cruised by in their BMWs and Mercedes, eyes concealed behind designer sunglasses, hiding the "this is our turf" eye fuck that you just know doesn't lurk below. The sharp CRACK of Gunshot-like backfires echoed through the air. Older children, without any kind of supervision from their nannies, roamed the cul-de-sacs armed with lethal aluminum bats. Without warning they would viciously swing these fearsome weapons, whaling the tar out of innocent baseballs. Dangerous turf, in other words.
Reaching Valley View Farms we purchased our plants and scurried back to our safe neighborhood. Here's how I planted them. Last year, we had covered out garden with the anti weed fabric, but I cut holes in it for the plants. Bad move. Weeds sprouted all year long just around the vegetable plants I was trying to nurture, in the dirt each cut exposed, making the problem worse. With no fabric they would have at least spread out, as it was they were concentrated around the valuable plants. This year, I did slits. Now, I personally am quite fond of doing slits, but that's a subject for a less family friendly blog. More or less following the tenets of square foot gardening, I sketched out 1'x1' grids and then cut slits for the plants. Digging a hole with my fingers, I slipped the plants through the slits, and then pushed the displaced dirt around the roots through the fabric. When I was done I had plants firmly planted in the dirt, but the fabric closed around the base of the plant, leaving the leaves exposed to sun and no exposed dirt to attract weeds. I think this will work well. Using this method, we planted 4 types of lettuce, kohlrabi, brussel sprouts, chives and basil. I used the same slit method to plant onion sets, green beans and peas, pushing the seeds into the earth. Hopefully as they sprout the plants will push through the slits, giving them room to grow. The only thing that this didn't work with was spinach, because it came in large common flat, not individual plants to be pushed into the soil. I planted it in a window box, which was a lot of work for what will, at best, yield 1 meal worth of spinach, but a lot of gardening is the principle of the thing, and this isn't any different.
Finally, I thinned my tomato plants, and this is how dorky I am. I had planted 36 cells of tomato plants, far too many for personal use. Most cells sprouted several plants, so now it was time for the winnowing. I pulled out the extra plants, leaving just one in each cell. Looking at all of the plants I had uprooted, I felt bad for them so I filled up the other half of the starter greenhouse's cells with dirt and replanted most of the culls. I didn't get them all, but it looks like 90% of them will make it. That means I'll have damn near 70 Campari type tomato plants to plant or get give away. I seriously must be nuts, but those poor culls just looked so sad lying there after the winnowing, destined for the compost heap. Madness.
The plants on the left are the replanted culls.

And now, from your co-hostess, Y-not:
I had great plans for today's thread. Honest, I really did! My intentions were honorable.
Then THIS happened:
A "Mango," not a tomato.
Had this week's thread been about mangoes, I'd be golden. He's our new kitty. A flamepoint Siamese (sometimes also called a Colorpoint). "Mango" is the name given to him by the shelter where we picked him up yesterday. Not sure if it will stick.
In any event, things have been a little hectic around here. I found myself wanting a new kitty sooner than I usually do after the loss of a pet -- perhaps because I'd spent the past year or so trying to nurse my 15 year old kitty back to health. So I was in nurturing mode.
I had already collected a bunch of links pertaining to tomatoes, so I'll share those with you and hope that, combined with WeirdDave's actual content content, will suit your needs this week...
First off, a history lesson courtesy of Tomatoes Are Evil:
Originally cultivated by the famously blood thirsty Aztecs and Incas as early as 700 A.D., the tomato is native to the Americas. The Spanish explorer Cortez conquered the Aztec city of Tenochtitlan, later to be renamed Mexico City, in 1521. It is presumed that the tomato found its' way across the Atlantic shortly after. When explorers brought back seed to Europe from Mexico.

The name "tomato" derives from "tomatl," its name in Nahuatl, the language of the Aztec people. The English form "tomate" first appeared in the 17th century, and was later modified to "tomato," probably under the influence of the more familiar "potato." Most of these early fruits were yellow, and became known as "manzanas" (apples) and "pomi d'oro" (apple of gold). They were considered poisonous but appreciated for their beauty.
Tomatoes are members of the plant family Solanaceae, aka "the deadly nightshade family." Other members of the family include eggplant, peppers, and potatoes. Follow this link for a picture that shows their branch of the evolutionary tree of "food plants," courtesy of Colorado State University. The Solanaceae branch in near the top right of the diagram.
Here's a bit more about the family from a plant biologist at the University of Hawaii.
We hear a lot about heirloom tomatoes, but I certainly didn't know much about them except that they are very expensive and often quite ugly. Well, if you'd like to learn more about them, check out this entry at "TomatoFest:"
The term "Heirloom" applied to plants was apparently first used by Kent Whealy of Seed Savers Exchange, who first used "heirloom" in relation to plants in a speech he gave in Tucson in 1981. He had asked permission to use the term "heirloom" from John Withee, who had used the term on the cover of his bean catalog. John said sure, that he had taken it from Prof. William Hepler at the University of New Hampshire, who first used the term "heirloom" to describe some beans that friends had given him back in the 1940s.
Courtesy of Better Homes and Gardens, follow the link for a list of some of the top heirloom tomato varieties. Have any of you tried any of these? The only heirloom I've grown was called "Cherokee." It did not do well for me. About half the fruits had "bad bottoms" (which I gather is from watering issues) and they ripened far too late.
Courtesy of commenter KT on last weekend's garden thread, here's a link that may be of interest to amateur tomato breeders: http://www.tomatoville.com/showthread.php?t=45.
Not everyone is sold on heirloom tomatoes (self included). Here's an article from Scientific American that makes the case against heirloom tomatoes:
Famous for their taste, color and, well, homeliness, heirloom tomatoes tug at the heartstrings of gardeners and advocates of locally grown foods. The tomato aficionado might conclude that, given the immense varieties—which go by such fanciful names as Aunt Gertie's Gold and the Green Zebra—heirlooms must have a more diverse and superior set of genes than their grocery store cousins, those run-of-the-mill hybrid varieties such as beefsteak, cherry and plum.

No matter how you slice it, however, their seeming diversity is only skin-deep: heirlooms are actually feeble and inbred—the defective product of breeding experiments that began during the Enlightenment and exploded thanks to enthusiastic backyard gardeners from Victorian England to Depression-era West Virginia. Heirlooms are the tomato equivalent of the pug—that "purebred" dog with the convoluted nose that snorts and hacks when it tries to catch a breath.
Last year, I grew a grafted tomato called Indigo Rose in the same beds as my Cherokees. They did great. Produced very early and very long, with none of those funny bottoms that the Cherokees developed. I'm definitely going to try them again this year.
I started researching grafted tomatoes and have some material about tomatillos, but I think I'll save that for another week and get back to my kitteh.
I discovered this week's Blog of the Week while reading up on grafted tomatoes (she tried the Indigo Rose tomatoes as well, but didn't like their flavor): EveryDayGardener.com.

To close things up, how about a silly video? Here's a Gangnam style parody by a couple of farmers:

What's happening in your garden this week?

posted by Open Blogger at
11:43 AM
|
Access Comments