« Early Morning Thread, 12/21/14 - Delayed Payments edition. [krakatoa]
|
Main
|
Gun Thread [Weirddave] »
December 21, 2014
Sunday Morning Book Thread 12-21-2014: Christmas Time Is Here [OregonMuse]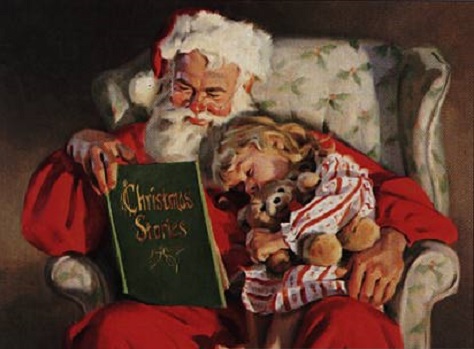 "...And To All A Good Night."
Good morning morons and moronettes and welcome to AoSHQ's stately, prestigious, and high-class Sunday Morning Book Thread. The only AoSHQ thread that is so hoity-toity, pants are required. Or kilts. Kilts are OK, too. But not tutus.

A Short Book Review By Vic
1 Good Morning Morons. Today is Monday, December 15, 2014. On This day in 1939 Gone With The Wind premiered in Atlanta, GA. I thought the movie was OK but the book blew chunks.

Posted by: Vic at December 15, 2014 06:46 AM (u9gzs)
Shorter Vic: actually, that's about as short as it gets.

Who You Gonna Call?
From the sidebar article earlier this week, The 30 Scariest Wikipedia Pages You'll Ever See, comes 50 Berkeley Square:
Described as the most haunted house in London, this posh address has had reports of ghost sightings for about 250 years now. Though stories vary, one legend has it that the attic is haunted by the ghost of a young woman who killed herself after being abused by her uncle. At least two people staying there have reportedly died of fright, and even former resident — and 18th-century British prime minister — George Canning claimed to have had paranormal experiences there.
Well, who cares? Why am I taking up space on the book thread with this? Because of this:
The townhouse is now home to the Maggs Bros. antiquarian booksellers. Shop at your own peril.
Heh. The Maggs Bros. Ltd. web site is here. I wouldn't mind visiting it should I ever visit London. This 2010 article from the Guardian discusses the store's history and current operation. Nothing about ghosts, though.

More Neologisms
This time it's 11 Terrific Words Coined By John Milton. And we're talking basic, ordinary words like 'terrific' and 'enjoyable'. Also, 'space.'
Well, someone had to be the first to use them.
Another Business Model For Bookstores
Brick-and-mortar bookstores are having a hard time competing with online sellers such as Amazon. But in Tawain, they've found a business model that seems to be working:
The Eslite Group, which owns an enterprising chain of bookstores in Taiwan and Hong Kong, thinks so. While bookstores in countries across the world struggle to survive, business at the Taiwanese book chain is booming, and observers credit the chain's unusual model.
Eslite bookstores are open 24 hours and they're more nightclubs than bookstores:
The 24-hour store at Taipei's Dunhua Road location has five floors, each dedicated to different categories, like fashion, music, food or events. Customers - which include both middle-aged literati and young hipsters - stand or sit on small steps, reading tables, or on the floor reading and chatting quietly as classical music emanates from speakers. Many stores also have small cafes and restaurants where customers can enjoy a book or hang out with friends.
So what they've done is take a bookstore as a place where you buy your stuff and then leave, and turned it into a place where you hang out. Many bookstores have chairs and couches where you can sit down and read, but this is taking it to a whole new level.
Can something like that work here? I don't know, but it certainly won't for me. When I buy a book, the first thing I want to do is take it home and read it, not hang around and spend even money on stuff I don't need.

How Much Would You Pay For Some of These?
Many of us use AbeBooks as a good source for used books, and many can be picked up relatively inexpensively. But that's definitely not the case with these, AbeBooks' 50 Most Expensive Sales of 2014. It's fun to scan through the list and see what I'd buy if I was insanely rich and had money to burn. I might buy the 1867 edition of Das Kapital for $40,000 just to give my irony meter a good workout. But a Le Carre first edition signed by the author for $22,500? No.
Other than that, I think I'd like the 1969 Random House Alice in Wonderland, signed by Salvador Dali, who provided twelve color plates for this edition. Only $11,500. Dali seems like he'd be an appropriate illustrator for a book like Alice.
Thanks to moron commenter 'Mike Hammer' for tipping me to this.

Conservative Fiction - I
I've been putting off mentioning the Liberty Island conservative writing site even though it's been up and running for some time now. Perhaps this was a mistake. But I have mixed feelings about these sorts of self-consciously "conservative" endeavors. On the one had, conservatives ought to write and be involved at all levels of book publishing. But I don't like these self-imposed enclaves we put ourselves in, although maybe we have little other choice.
I think self-identified conservatives today, especially in the arts, are treated like Jews living in medieval Europe. That is, they're very much despised by all "right thinking" (SWIDT?) folk, and their presence is barely tolerated, just so long as they never venture out of the ghetto.
Anyway, the occasion this late mention is that I got an email this week from David Dubrow, author of The Blessed Man and the Witch, telling me that LI has just wrapped up their "Non-Traditional Holiday Fiction" short story competition, and while Mr. Dubrow didn't win, he was a runner up.
His story, which he would very much like you to read, is Get the Greek: A Chrismukkah Tale.
There's lots of other holiday-themed fiction over on the LI site. I am happy to see that moronette Elizabeth Wolfe was given an honorable mention for her holiday story Like Water For Stone.

Conservative Fiction - II
But there are exceptions, of course. Every now and then a conservative writer will break out of the ghetto and run amuck, much to the consternation of the right thinking folk. Such an author is John Ringo, who has been mentioned and recommended many times on the book thread. Currently, I'm reading The Hot Gate, which is the third book in his Troy Rising series. Very enjoyable, very exciting, and every now and then, Ringo gets in a good conservative rant, and those are very fun. And the rants fit in very much with the flow of the story, they don't read like they're pasted on artificially.

The Spy Who Stayed Out In The Cold
CIA mole Aldrich Ames was one of the most destructive traitors in the history of the U.S. He personally burned at least 11 Soviet intelligence officers who were secretly working for us, most of whom were taken out and shot. The two main CIA counterintelligence agents who led the efforts to discover and smoke out Ames, Sandra Grimes and Jeanne Vertefeuille, collaborated on a book about their investigation, Circle of Treason: CIA Traitor Aldrich Ames and the Men He Betrayed.
This book came to my attention because Mrs. Muse and I watched the 2014 ABC miniseries The Assets, which we enjoyed very much.
I was very surprised and disappointed when I learned that The Assets got very mediocre reviews. And I guess the ratings must've been pretty lousy, too, because ABC cancelled it after airing 2 episodes. We were thankful that we could watch all of it on Netflix, where it's currently available on streaming video.
One of the things I liked about the series is that the story being told, while not explicitly conservative, rests on a bed on conservative assumptions, i.e. we're the good guys, the Soviets are the bad guys, Ames is an actual traitor who did the country great harm (instead of being some misguided idealist), the CIA counterintelligence agents need to conduct their investigation according to the rules of law, while the KGB just shoots guys in the head. There were no moral equivalence games or tiresome lectures about American imperialism.
Of course, maybe that was why some of the critics didn't like it.

Final Question
What books or other gifts are you getting for the book-lovers on your Christmas list this year?

___________
So that's all for this week. As always, book thread tips, suggestions, bribes, rumors, threats, and insults may be sent to OregonMuse, Proprietor, AoSHQ Book Thread, at the book thread e-mail address: aoshqbookthread, followed by the 'at' sign, and then 'G' mail, and then dot cee oh emm.
What have you all been reading this week? Hopefully something good, because, as you all know, life is too short to be reading lousy books.

posted by Open Blogger at
09:08 AM
|
Access Comments