« Sunday Morning Book Thread 12-21-2014: Christmas Time Is Here [OregonMuse]
|
Main
|
Tough Rhetoric Does Not Cause Violence »
December 21, 2014
Gun Thread [Weirddave]
We here at the AoSHQ gun thread would like to take a moment to honor the memory of NYPD officers Wenjian Liu and Rafael Ramos who were murdered yesterday by Ismaaiyl Brinsley, with a gun.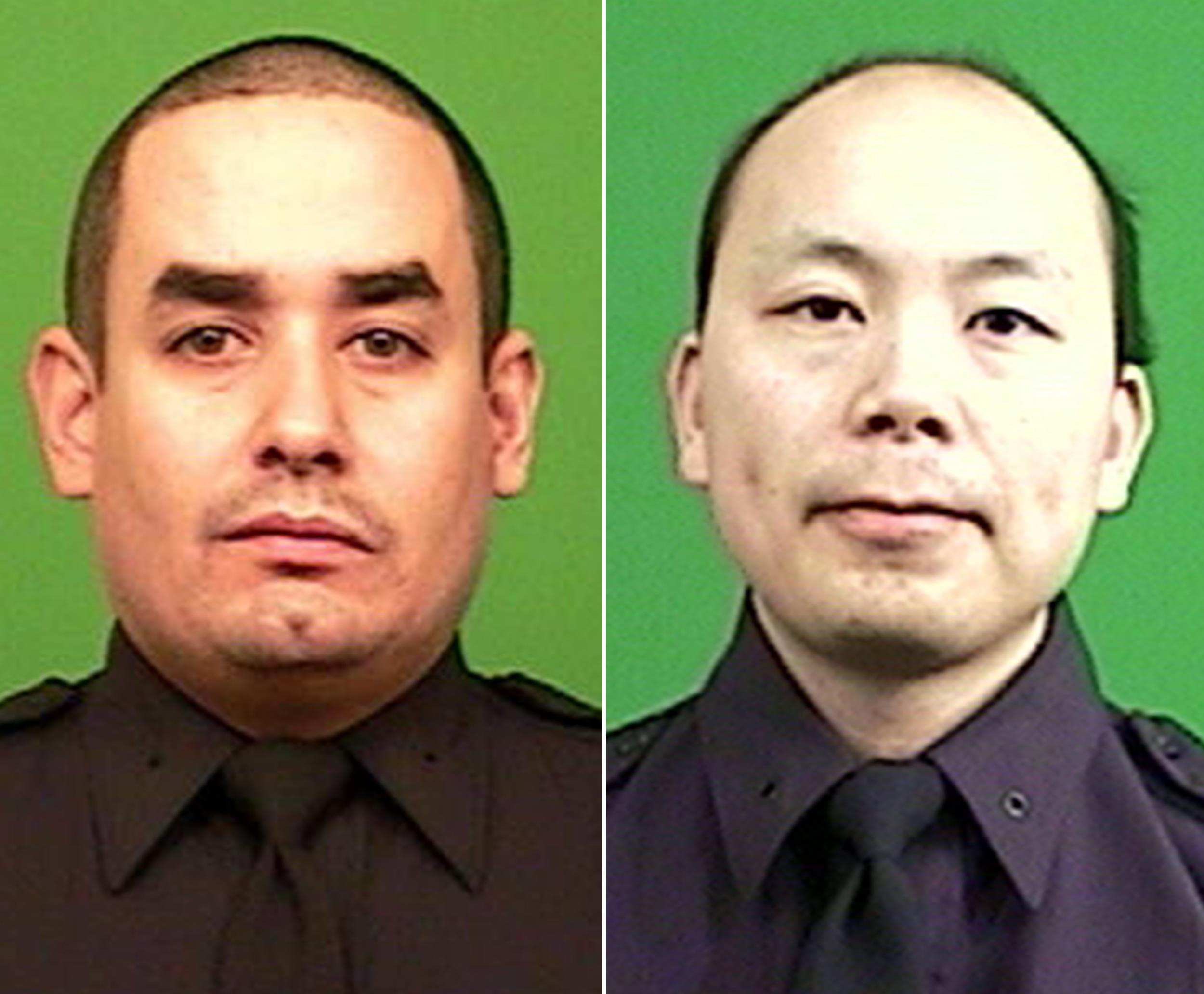 Predictably, this atrocity has led to more calls for gun control from the usual idiots. Let's be crystal clear about this: Ismaaiyl Brinsley was a felon. As such, it was already against the law for him to own a gun. He committed this crime in New York City, which has some of the strictest gun control laws in America. He had a gun anyway. His victims were armed professionals, cops, exactly the people that the gun grabbers tell us are all we need to protect us from criminals with guns. It didn't help them. Far from being an good example in favor of gun control, this is a blinding example of the futility of gun control. Criminals. Don't. Obey. Laws. Passing more laws wouldn't have done a thing to prevent this atrocity.
On the other hand, suppose this had happened in a state where gun rights are protected? A law abiding CCW holder in the area might have reacted to the first shots quickly enough to save the life of at least one of the officers. Maybe not, but I'll bet right now the families of Officers Lui and Ramos would give anything they own to roll the dice and take that chance.


Gun of the Week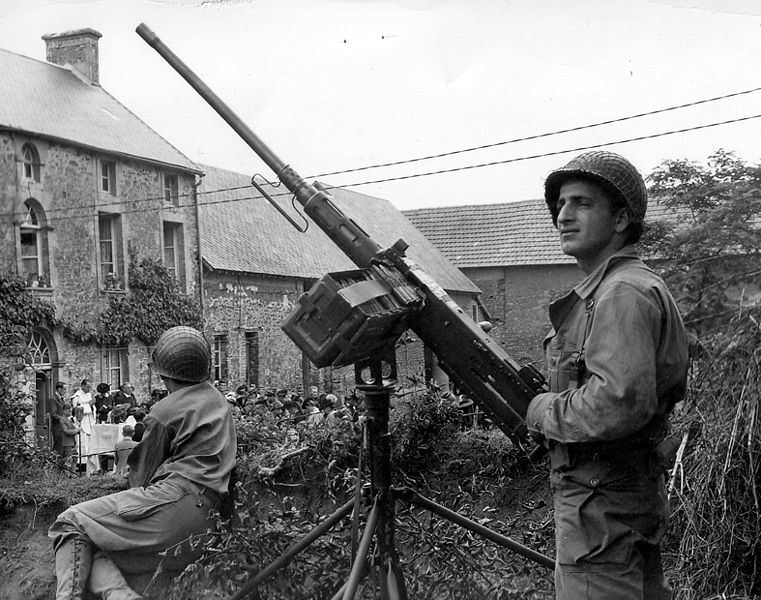 Open Carry
Here's a piece by someone who usually carries concealed who tried open carry when he went to Idaho.
Someday, open carry may be acceptable in, and even reassuring to, the public. It'll be viewed the way I've come to see it: a visible sign that someone near me may be willing and able to take responsibility for ensuring the safety of himself and others, if called on. Also, I know that an open-carrier is not a felon. That cannot be said about any other adult one might run across. But open carry will only be acceptable when it's associated with otherwise normal-looking individuals. Open-carry makes a statement, and the bearer is part of it. If he looks benign, his weapon will be seen as integral to that. This means no military rifles, camouflage wear, black cargo pants, etc. Again, we've all been conditioned by TV and movies to believe that a gun's appearance always precedes violence. Activists agitating for change by carrying (legal) long guns openly at various places of business must know they are already going to get attention. I think such demonstrations, if necessary, should aim for the best possible impression. A starched shirt and "dad jeans," for example, would take much of the edge off, and make the point while adjusting common misperceptions.
Don't Mind Us
Communities have a responsibility to curb crime, says Beloit Police Chief Norm Jacobs. One of those responsibilities is for residents to make sure legally owned weapons are safely stored, Jacobs said. And he adds the Beloit Police Department is offering to inspect homes for those who believe there could be illegal firearms in the residence. Written consent would need to be given from a person who has charge of the home in order for police to search the residence, Jacobs said. While Jacobs doesn't believe there will be a flood of calls to the department seeking a search, he does hope it will raise awareness that a community can help prevent crime. "It was clear to me that people in the community are looking for things that they can do to help cut violence in the community," Jacobs said. "I think it's appropriate that police try different things also."
Chief offers search for illegal weapons
So let's assume the most benign of intentions. After searching your house, the police tell you "Everything looks great. Your weapons are legal, they're properly secured, you're a credit to gun owners everywhere. We'll note that in our files so that we don't have to bother you again". What happens when someone not so benign gets access to those files, huh? No thank you.
This is Cool
Animated gifs illustrating the inner workings of a 1911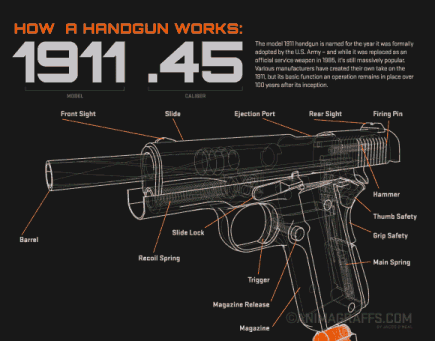 Gun of the Week Answer
Of course that's the venerable Ma Duece, an M2 Browning .50 cal heavy machine gun. It's been in service since 1933, and it'll be in service for decades to come, baring a quantum leap in arms technology. Sometimes something is just perfect and can't be improved upon. So far, the M2 is the last word in heavy machine guns. And it's over 80 years old. That John Browning, he must have been some kind of genius or something.
The Law of Self Defense, the how-to manual for gun ownership.
Send your gun news, tips or requests to @Weirddave0 on Twitter
Today's thread brought to you by the English language:

posted by Open Blogger at
11:09 AM
|
Access Comments