« Cute Belgian Soccer Fan Gets Modeling Contract Just For Being So Cute;
Venomous Internet Anger-Junkies Get Her Fired Within Days
|
Main
|
AOSHQ Decision Desk: Can a Republican Win Back the Maryland Governor's Mansion? »
July 11, 2014
Rick Perry Has Filled the Leadership Gap That Barack Obama Left Behind to Play Pool and Drink Starbucks
A lot of people are noticing that Rick Perry is making himself look pretty good by doing what presidents did before the Age of Obama -- actually talking about a serious issue and yeah, even talking about a serious issue at the situs of the serious issue, what I guess you would call a "photo op."
You remember, photo ops -- those things which Obama has no interest in.
No interest in photo-ops at all. He just wants to get the Job Done Right for the American People.
Meanwhile Perry is taking people on guided tours of the Rio Grande, showing them the problem areas at the border.
If it just happens to make for a good photo, oh well!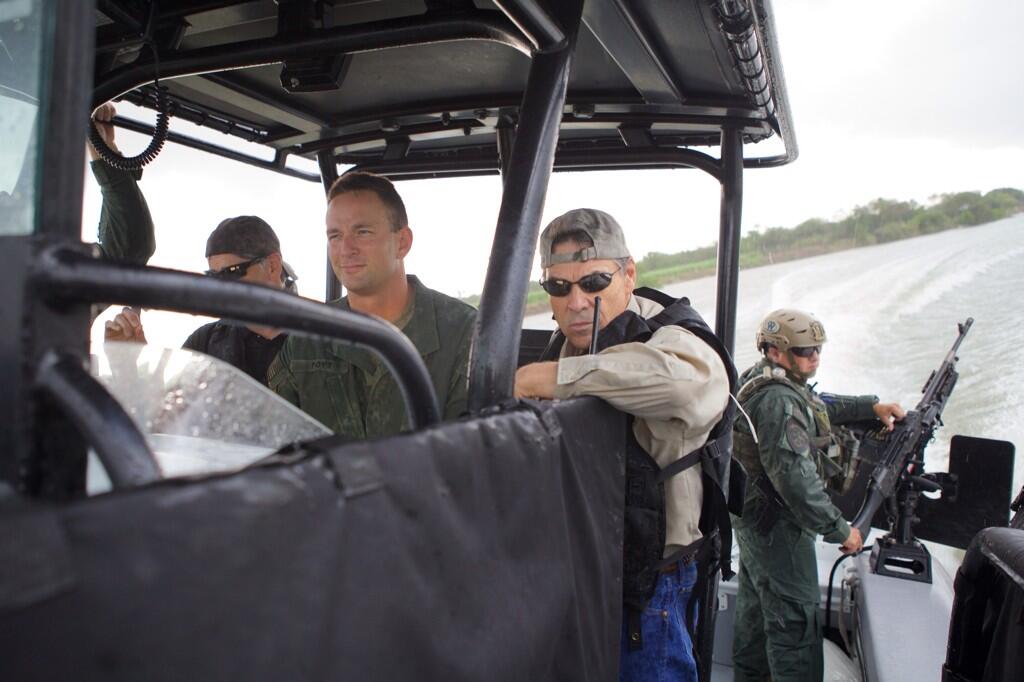 The only thing that could make him look cooler
is a hunting falcon on his shoulder
But you know why that's a good photo-op? Because he's showing he knows what he's talking about, that he knows the difference between Brownsville and Boston, and that his knowledge about the technologies and protocols of border patrol are actually formed from hands-on experience, rather than shit he learned in a Marxist philosophy course at Columbia 40 years ago.
Now I grant you, I don't like everything he claims -- he continues to insist that "strategic fencing" at urban areas only/places of high traffic combined with "virtual" security means (aerial surveillance drones backed by quickly-deployed border guards) -- but he is actually providing information and his opinion on the matter.
I'm not on a Rick Perry kick anymore -- I bought in big, got burned, and now I'm very much a Perry-Skeptic -- but he's definitely being noticed by a lot of people, including Jennifer Rubin, who I'm certain despised him in 2012 when he was contesting (poorly) for the nomination she wanted to go to Romney.
So here's Rubin on Perry now:
Until the current border crisis, talk about Gov. Rick Perry as a serious 2016 presidential contender has generally been met with a lot of eye-rolling. Now, however, the media and voters are seeing a Rick Perry largely absent in the 2012 race -- shrewd, self-possessed, competent and calm. A number of circumstances work to his benefit in this situation, providing him with his first real opportunity to re-introduce himself to non-Texas voters:

He has credibility on the issue, not only because he warned the federal government about the impending crisis but because he's spent years dealing with enforcement issues.

His compassionate stance toward those illegal immigrants already here (e.g. in-state tuition) that got him in hot water in 2012 now acts as validation that he is not an extremist nor is he uncaring on the issue.

He has the good fortune to face off against the president at a low ebb in approval and with no obvious GOP competitor for the limelight. He looks big, the president small.

He is underscoring the difference between Washington D.C. politicians who talk and governors who do things.

He gets respectful treatment from the media, which recognize his expertise on the subject and have no qualms about using him to bash the White House for its remarkably inept handling of the crisis.

When and if he does run for president the first image that pops into voters' minds may not be the 2012 debate performances, but instead the 2014 border crisis.

Incidentally, based on lefties giving Perry's Smarty-Pants Nerd Glasses some begrudging credit (I saw one wag write "I'm doing as much as I can" -- Rick Perry's Glasses), I'd say those have gone over as a hit as well.
Meanwhile... The Texas AG is considering a suit against Obama over his failure to enforce the border.
The AG is Greg Abbot, who's running for Governor (now that Perry is retiring from the post).
He is running unopposed.*

* Unopposed against Wendy Davis, obviously.
Actually I shouldn't say that. Okay, that was a joke. Wendy Davis is in fact a threat and if you want to keep her out of the governor's mansion, you should consider volunteering for Abbot.

posted by Ace at
06:05 PM
|
Access Comments