« Craven Corporations Are The New Enforcers of Social Conformity
|
Main
|
Rick Perry Has Filled the Leadership Gap That Barack Obama Left Behind to Play Pool and Drink Starbucks »
July 11, 2014
Cute Belgian Soccer Fan Gets Modeling Contract Just For Being So Cute;
Venomous Internet Anger-Junkies Get Her Fired Within Days
The Mean Girls (male and female) of the Internet strike again.
So here's what happened.
A Belgian girl caught the attention of World Cup cameramen because she was cute and dressed up to support her team. The Belgian team was called the Devils or something. (I don't actually know.)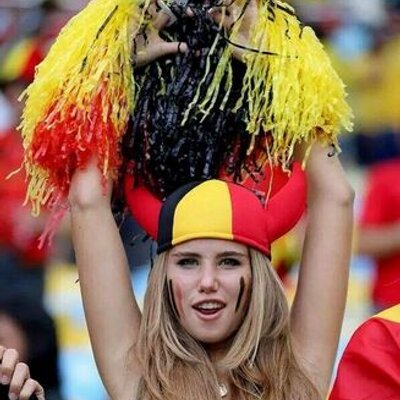 Cute chick. So @Loreal hires her to do some modeling for an intended viral video campaign.
So far it's either "a nice story" or it kind of annoys you because once again Hot Chicks are getting piles of unearned advantages.
And possibly it's both -- both of these things are true. It is a nice story that a random Belgian soccer fan caught a bit of luck and made a bit of money promoting hair-care products.
It's also a little annoying that the lucky one turns out once again to be someone who was already pretty lucky, on account of being so hot.
Now, envy and jealousy are silly sins, but they are as human as a foot, and no one should feel all that ashamed for thinking something like, "So that little bitch wins the lottery again just for having been born cute."
Look, it happens. I'm sure that 10% of the population is nothing but genuinely happy to see another human being succeed (or be rewarded, out of the blue, with an incredible stroke of lucky lightning).
For the other 90% of us, though, there is some conflict.
Yes, we're happy that that person succeeded. Yay!
On the other hand: We kind of wish them nothing but misfortune and pestilence going forward. Not saying we want them dead per se, but certainly we'd prefer it that, from this moment forward, they frequently wished themselves dead.
We will permit them to live out their lives in relative misery.
Well anyway, this is a nasty little thing about humans -- both male and female -- that 90% of us are guilty of.
There are no real consequences to any of this, except for a bit of hardening and darkening of one's own heart, and what the hell, most of us prefer it a little crispy anyway.
On the other hand, some people can't just be content with the age-old human pastimes of wishing someone ill-fortune or speaking cruelly about them behind their backs.
Some people want actual, tangible, physical action to be taken. They want some movement on this important matter of Sexual Jealousy and Social-Game Cruelty.
This hot chick, Axelle Despiegelaere, who clearly has had it too good for too long and needs to be taken down a peg or six, posted this picture on FaceBook on July 1:
Well!
Some people on FaceBook didn't like that one bit. Not one bit.

One writer accused Axelle of making "ignorant" statements about Americans. I suppose this Jealous Jane was attempting to claim that Axelle really intended to "hunt" Americans. It apparently escaped her notice that July 1, when this photo and caption were posted, was the same day that Belgium was playing the US in both teams opening match of the Round of 16 in the World Cup.
You know, the very thing that made her famous in the first place? Being a Belgium Super Fan at the World Cup?
But I guess it's easier to pretend she's making "anti-American" statements or something if you just Gotta Take a Bitch Down.
But that wasn't the real problem for L'Oreal. The real problem, in terms of its corporate image, is that L'Oreal is trying to sell itself as cruelty-free as far as animal testing. And some venomous, jealous people decided to use that as their cudgel against them: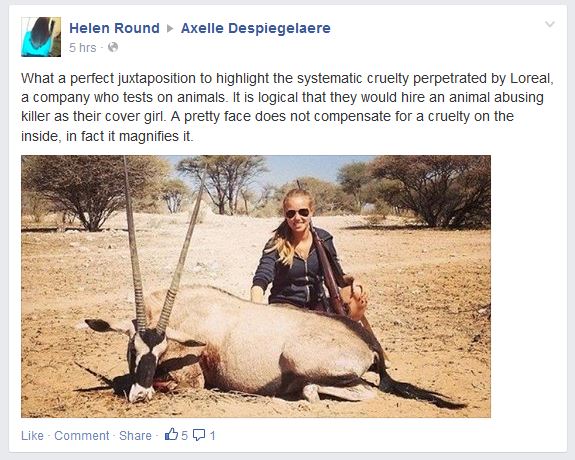 (These FaceBook nasties taken from ClashDaily.)
And see this is a problem for L'Oreal because it promotes itself as completely cruelty-free, utterly, completely, totally cruelty-free and completely free of all animal testing whatsoever.
Mostly.
Here's their corporate statement on their mostly animal-testing-free policy:
These new strategies and the considerable research efforts behind them have paid off: in 1989, L'Oréal was able to end all testing of its products on animals, without making our products any less safe. Since March 2013, the Group has taken another decisive step: The Group no longer tests on animal, anywhere in the world, and does not delegate this task to others.
Great news! No animal testing at all -- no exceptions.
That part is bolded in the original, by the way. Here's what follows it, not bolded:
An exception could be made if regulatory authorities required it for safety or regulatory purposes.
Okay, so maybe one little exception.
And don't worry about that little exception, because only one teeny-tiny little market requires animal testing in order to sell make-up in it, so you can just put that teeny-tiny, hardly-worth-mentioning little exception in regards to animal cruelty straight out of mind.
That teeny-tiny little exception, by the way, that inconceivably small little exceptional case of a tiny market demanding some animal testing, is also called China.
L'Oreal SA's (OR) push into China's $32 billion beauty market has a hidden cost -- if you're a rabbit or a mouse.

The Paris-based maker of shampoos and lipsticks this month agreed to pay $843 million for Chinese cosmetics face-mask maker Magic Holdings International Ltd. (1633), accelerating expansion into the world's second-biggest economy, where it got about 6 percent of sales in 2012. While L'Oreal is barred by European Union rules from testing on animals within the EU, China's government requires such trials for every new beauty product.

China is the only major market where companies must test their mascaras and lotions on animals. Rabbits are killed or ingredients dripped into their eyes during Chinese tests, according to London-based animal-rights group Cruelty Free International.

China's policies create a dilemma for companies like L'Oreal and Procter & Gamble Co. that want to sell in the country without alienating consumers in markets where public sentiment demands humane treatment of animals.
Yeah but apparently not much of dilemma.
...

In China, companies are required to submit samples of their products to be used for tests at local laboratories, according to advocacy group People for the Ethical Treatment of Animals. PETA estimates at least 72 animals are used for each product.

...


Chinese regulators require animal tests, and L'Oreal always abides with local regulations, the company said in a statement.
By the way, PeTA has previously written -- when this was published, I have no idea -- on the difficulty of getting a straight answer out of L'Oreal on its animal testing policies. In that article (again, no idea when it was published) PeTA notes that L'Oreal claims it doesn't test its finished products on animals, but won't answer about whether it tests the ingredients.
Thus, at the time of the article at least, PeTA moved L'Oreal from the "doesn't test" to "does test" (on animals) list.
So L'Oreal is compromised on this issue: They want to tell the public they do no animal testing, but in fact they "always abide[] with local regulations," including in the barely-worth-the-breath-to-mention locally regulated market of China, which insists on testing on animals.
How to square this circle? How to respond to these FaceBook nasties making an issue of Axelle?
Do they respond that they are in fact attempting to reduce the number of animal tests in China, and that they're working with them on alternatives to animal testing, and are at least trying to get out of animal testing?
Nah, that would be honest but it would take some arguing.
So it's easier just to fire the designated scapegoat.
Because this isn't about gazelles. It's about rabbits.
This is what they don't want you thinking about when you think about Axelle: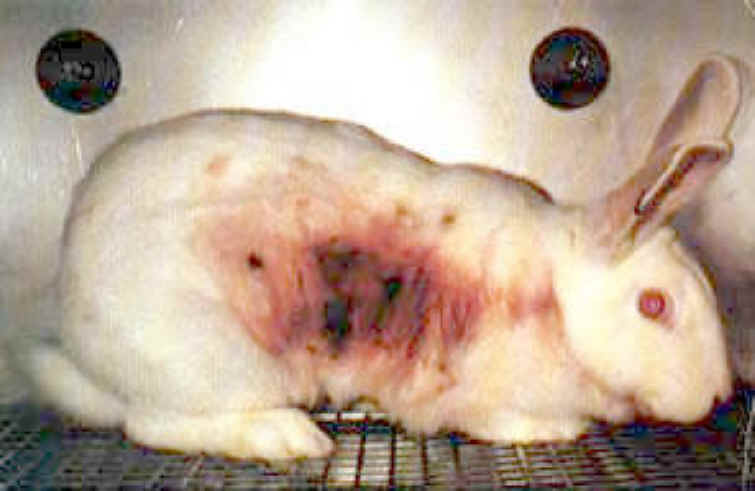 Axelle didn't cut holes in that rabbit and drip irritants into its eyes. That was some cosmetics testing lab that did that.
So to spare them the pain of having to explain their nuanced position on animal testing, that they're officially against it but comply with Chinese regulators when asked to, they'll fire the girl who shot the gazelle.
Why am I telling you all this? Because when a craven corporation thinks it can avoid bad press about one bad act (animal testing) by committing another bad act (firing someone), I just don't think they should be rewarded for that.
I don't think L'Oreal should get to test the rabbits and keep you from thinking about the rabbit testing just by firing a random 17 year old girl.
I think when companies do this -- when they cravenly capitulate to online cranks and angry mobs to protect their phony, fake contrived corporate image -- they should pay a price, and the best price to make them pay is The Truth.
So L'Oreal was compromised on this issue. They were panicked into a decision because they don't want this whole animal-testing-on-Chinese-products thing to get any traction.
Their excuse would be that they are of course soulless, mercenary, conformist cowards, and part of their corporate image is perpetrating a deception on their customers, and of course maintaining that is far more important than the nascent modeling career of a 17 year old girl.
And cowardice and a commitment to deception are pretty good excuses for cowards and deceivers. It's what they do, you know?
But what is the excuse for the online writers that gleefully joined in this mad Mean Girl Witch Hunt?
What is the excuse for writers -- who we assume may feel a duty to actually think before cheering on the mob in its demand for scalps?
There isn't one, except that very marginal writers can't really do anything more than take a little eruption of venom on FaceBook or Twitter and compose a 600 word "news article" about it.
They're not very good at writing, they're not particularly suited to thinking, so they do what they can, and what they can do turns out to be taking the basest animal-level bloodthirst from people on Twitter and typing it up for people not on Twitter.
I suppose that's an occupation of a kind, but not a noble one, not a worthy one, and definitely not an honest one.
We find this happening every week, another fresh case of talentless, conscienceless internet wretches dashing off hit-bait headlines -- OMG THE WORST THING EVER JUST HAPPENED AGAIN YESTERDAY -- or padding out the rest of the article after the Search Engine Optimizing program generates the most-likely-to-go-viral headline, like 7 REASONS YOU SHOULD HATE THIS RANDOM SCAPEGOAT RIGHT HERE.
Gotta get those hits, you know. Remember, it is the highest of all human achievements to take someone else's unreasonable (and often contrived and feigned) outrage and anger and type it up into a Fake News Story and get it to "Go Viral."
Getting nasty thoughts, deliberate cruelty, and base emotions to "Go Viral" is why we invented the Internet, after all.
Do they really consider themselves "writers"? Do they really imagine that simply quoting the crank outrage of maniacs and Mean Girls means they're "writing" news stories?
Do they think that constantly playing to the worst passions of the mob makes them thinkers and Influencers of the public debate?
I guess so. Although I imagine they just don't think very much at all.
So, yet another blood-mad mob had formed calling for another scalp. What does one do? Well, one does what one always does: One amplifies it, promotes it, and lends it respect by writing a (giggle) "real news report" about it, thereby conferring a degree of (false) legitimacy on what is simply yet another bit of unreasonable anger from yet another clatch of unreasonably angry people.
This isn't thinking and this isn't writing. This is just making animal grunts on a Lighted Typing Machine.
And this is where we are, and we've been here now for a very long time.
Long enough that you would think that people capable of self-reflection and shame would have begun to at least feel the twangs of it by now.
Are we now all this bored, empty, jaded, and decadent that we demand a random burst of coordinated social cruelty directed at one scapegoat chosen by Mad Men & Mean Girls once every God-Damned month?
By the way: How ironic is it that this whole "debate" is about being "Cruelty Free."
"Cruelty Free." Because we're all against cruelty, right?
Yeah, pull the other one.

posted by Ace at
04:10 PM
|
Access Comments