« Now They're After Our Credit Cards [Y-not]
|
Main
|
Overnight Open Thread (6-29-2014) »
June 29, 2014
Spaced-Out Challenge: The Beautiful Heart of the Scorpion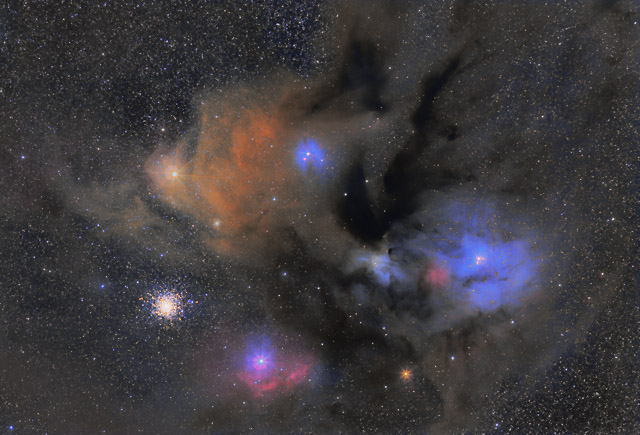 Astrophotographer Scott Rosen's award-winning shot of the Rho Ophiuchi Nebula
Welcome again to the Spaced-Out Challenge! Whether you have a question about equipment, a new astronomical discovery you want to expand on, or just want to kick back and enjoy the cosmos above, come one come all on our weekly astronomical journey.
This week, I review another dark sky spot for Southern Californians, the upside to owning a bare-bones scope, and we explore the wondrous sights around the heart of the Scorpion, Antares.
The Myth of Scorpius and Ophiuchus
In Greek myth, few characters cause more problems played out in the stars than Orion. The Great Hunter boasted about his ability to kill anything. Not amused, the goddess Artemis sent a Scorpion down to put an end to his bragging. Once stung, the poison claimed Orion, until Ophiuchus, the Dr House of Ancient Greece, resurrected him. This put the gods in a real pickle: it was clear why Orion was struck down, but Ophiuchus' skills were revered and there was still the mess of a giant scorpion roaming the Greek countryside that had to be dealt with. As a solution, all three, hunter, scorpion, and healer, were placed in the sky, with a noticeable arrangement: Orion only appears after Scorpius has set, and Ophiuchus is seen stepping on the scorpion's back, his foot close to the heart of the beast. This "foot-heart" area of the sky is the focus this week, and quite a rewarding one.
Antares, Rho Ophiuchi, M4 and all that cloudy stuff in between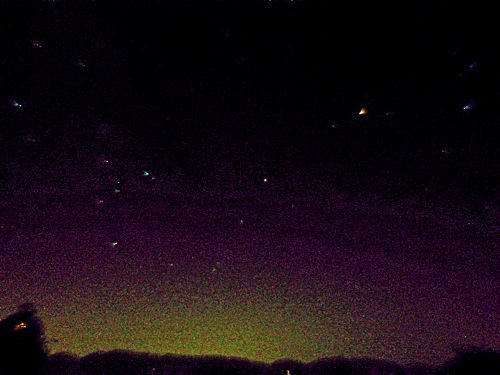 Scorpius and Antares are obvious even in this blurry iPhone image
Antares is very easy to spot in even suburban skies, and from darker ones where the Milky Way almost overwhelms its parent constellation, it's fiery red-orange color (namesake inspiration: rival of Mars) makes it very obvious. Antares is a massive star rivaling Betelgeuse in size and color- if placed within our own solar system it's outer envelope would engulf the orbit of Mars- and it's intense stellar wind has formed an emission nebula that appears to envelop it when viewed from even moderately dark sites. While it's brightness can obscure nearby DSOs, it is the best starting point for our exploration of the wonders surrounding it.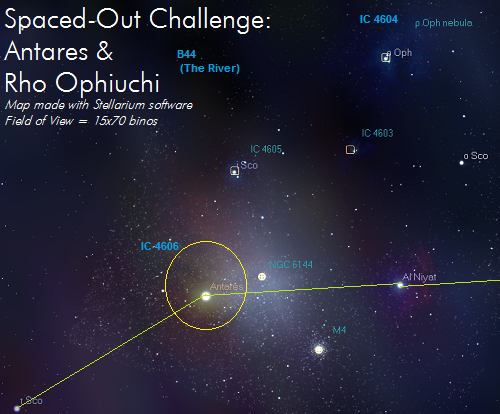 Just a short hop to the south and west, you'll find the beautiful globular cluster Messier 4. Don't let it's apparent proximity to Antares fool you: this swarm of ancient stars is tens of thousands of light years distant. I find it more impressive through the eyepiece than through the camera: with the rest of the Antares-Rho complex an overwhelming array of clouds, M4, gorgeous in it's own right, seems lost in the fog.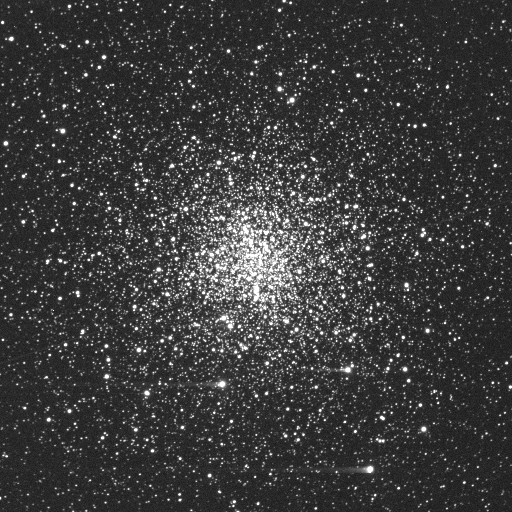 The stars resolve easily in a modest telescope. For a tougher globular, aim for NGC 6144, just a fraction of a degree to the west of Antares. A good trick in spotting it is cranking up your telescope's power until Antares just barely vanishes from the field of view, then looking for a small but bright circular smudge that resolves slightly with averted vision.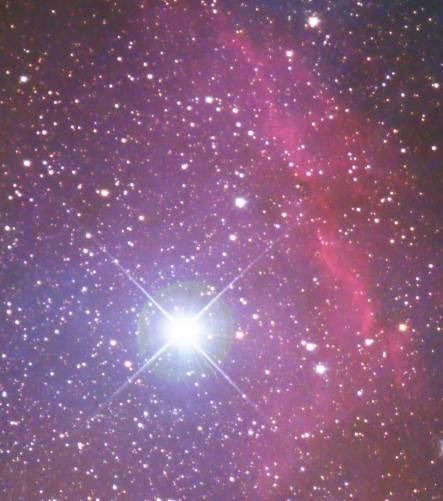 Moving back north and still west of Antares is the star Al Niyat (Sigma Scorpi), which helps to illuminate a faint hydrogen emission nebula. Its color forms a beautiful contrast with fiery Antares. Faint reflection nebulae IC 4605 and IC 4603 cast a strange scene in the eyepiece: a grayish wispiness that seems to mute out any background stars.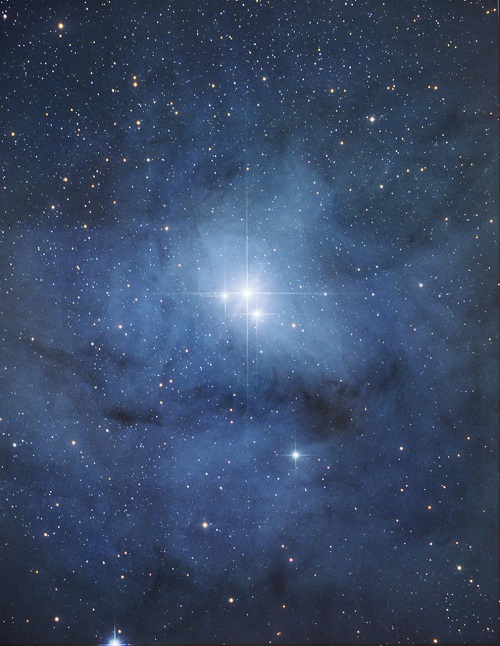 The cherry on the top of this target-rich sundae is the Rho Ophiuchi Nebulae (IC 4604) and Rho Ophiuchi. Rho is a brilliant blue-white-yellow triple star system seemingly enveloped within the reflection nebulae, a nebulae improved with a UHC filter and good dark-eye adaptation. The nebulae is faint in binoculars and seems to sprawl out and southward towards Antares.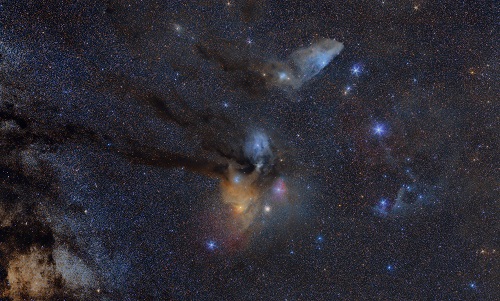 "25 degrees of the Rho Ophiuchi Cloud Complex" by Scott Rosen
Moving east from Rho, we encounter what William Hershel had called a "hole in the heavens", the dark nebula B44, or "the Dark River", a patch so dark the void is utterly devoid of stars. B44 stretches backwards to the Galactic Horse discussed a few weeks back. It is a stark, wondrous site in moderate telescopes at a dark site and provides a stunning contrast to the star cloud rich bulge in the Milky Way.
While photographic detail in this region is an impossibility, many features visible in Scott Rosen's photos are evident even with binoculars. Amateur Leonor Ana Hernández created this wonderful sketch illustrating what is possible with averted vision: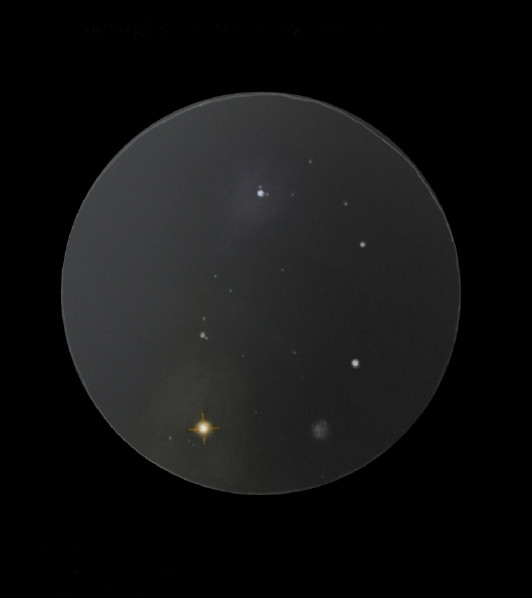 If you have enjoyed Rosen's images here, I implore you to visit his website, Astronomers Do It In The Dark. You can enjoy them in their full glory rather than the stuffy resized dimensions demanded by management here.
A Closer Dark Sky Spot for Angelenos
Last night, I took a cue from the Antelope Valley Astronomers and tried out one of their dark sky sites, Saddleback Butte State Park. At just over an hours' drive from mi casa, it boasted darker skies than the mountain resorts and better amenities than more local fare, and it did not disappoint.
Arriving around 9:30pm, I noticed a few other amateur astronomers aligning their computerized scopes, some for observation, some for imaging. At darker sites, my late arrival would have been met with angry middle-aged men furious over my blinding lights, but the small crowd here was far more relaxed. A vacationing couple also joined the group for views of Saturn, the Lagoon Nebula, and a host of other targets.
The site is located off a dirt path, and boasts concrete pads, parking, few security lights, very clean bathrooms and fire circles, and is probably the second nicest I've visited (Amboy will always have the crown because of darkness). Unfortunately, it isn't far enough away from the light pollution creeping across the Valley from Palmdale and Lancaster, or the blazing dome of Los Angeles, to allow the Milky Way to shine fully, but it is more than dark enough for any amateur itching to test out their scope or binoculars for the first time. I enjoyed a very clear view of the Dumbbell Nebula, the Sagittarius Star Cloud, and the Lagoon Nebula and Andromeda Galaxy were obvious naked-eye objects. The Butte I hear features beautiful wildflowers, birds, and excellent hiking trails, so the site would make for a great overnight trip for light campers interested in a nice stargazing location.
Saddleback Time Lapse from Joe Laude on Vimeo.
Per one of the "regulars", when the marine layer descends on L.A., darkness increases by as much as a full Bortle zone at the Butte. As it exists, I would recommend this site for residents of the SGV, IE, and Los Angeles, but on those particular nights, I'd up it to a "must go".
Computerization Vs Star-Hopping: a quick story from the Butte
Every time I visit a scope shop, I spend a few moments longing for something more sophisticated. The gadgets and gizmos many SCTs boast offer "auto-alignment" and "thousands of objects at your fingertips". Last night splashed a bit of cold water on that, and made me appreciate my manual scope more than ever. One of the amateurs had just bought a brand-new 8" computerized SCT, and had spent a good hour aligning it. On the first go, it was slightly off target. On the second and third, increasingly so, until he was utterly lost in Sagittarius when trying to hunt down the Lagoon. If you understand the nuances and tricks with getting a solid alignment, this isn't a big deal. But if you are unfamiliar with the sky, it can be painful: all those chips and motors, and nothing to show for it.
Familiarizing yourself with the sky requires patience up front but pays off immeasurably- in the amount of time he spent attempting to hunt down a single object, I had enjoyed sweeping views of 20 Messier targets. The downside for me? I have no means of keeping the object in view for long, whereas once his scope had "locked on", he could track and observe. But again, without a basic understanding of where everything is, your first trip out can be a real downer should your electronics fail you, and rest assured- if you own anything with a power cord, one thing is certain: it will fail.
The other upside to star-hopping is the hunt itself. While looking for the Wild Ducks, I enjoyed fantastic views of the Scutum Star Cloud, Messier 16, and Altair. When you finally find an object for the first time, it can be quite exhilarating: my wife used the scope to scan Sagittarius last year, stumbled upon the Swan and couldn't take her eye off the eyepiece.
As you familiarize yourself with your instrument, the hunting becomes easier. You'll track down your old favorites in a matter of seconds, and itch to hunt fainter fuzzies as you learn what it can do. But, in my opinion, there are few pleasures in this hobby like taking the scope for a sweep through our home galaxy. Clusters overlapping each other, nebulae marking the birth cries and tombstones of stars, shining doubles and triples, dark nebulae and clouds. It is a moment of hand-eye-machine, where the telescope feels almost an extension of your own senses, and it never fails to leave you in awe.
***
The full Beginner's Buyer's Guide, our Comet Guide (featuring additional grab-and-go telescopes), and any other edition you're looking for can be found in the master index of all Spaced-Out Challenge threads
here
, but of course you can always inquire about binoculars, telescopes, and all the rest in the comments.
As always, if you have astrophotography, product recommendations, or astronomy news you'd like to see on a future Spaced-Out Challenge, email me at theoneandonlyfinn (at) gmail.com, or tweet me
@conartcritic
.
If you have any more questions about your new optics, feel free to ask below.
Until next time, clear skies to you, and keep looking up!

posted by CAC at
07:35 PM
|
Access Comments