« June 4-7, 1942: The Battle of Midway
|
Main
|
Top Headline Comments 6-7-12 »
June 06, 2012
Overnight Open Thread (6-6-2012)
Thomas Sowell: The Fallacy of 'Meaningful Work'
It was painful, for example, to see an internationally renowned scholar say that what low-income young people needed was "meaningful work." But this is a notion common among educated elites, regardless of how counterproductive its consequences may be for society at large, and for low-income youngsters especially.

What is "meaningful work"?

The underlying notion seems to be that it is work whose performance is satisfying or enjoyable in itself. But if that is the only kind of work that people should have to do, how is garbage to be collected, bed pans emptied in hospitals or jobs with life-threatening dangers to be performed?

...Telling young people that some jobs are "menial" is a huge disservice to them and to the whole society. Subsidizing them in idleness while they wait for "meaningful work" is just asking for trouble, both for them and for all those around them.
And too often universities and parents encourage young adults to stay in a idle holding pattern while they're waiting for the 'real' job to appear. That serves no one's interest but especially not recent graduates with little work experience and few practical skills.
The truth is that very little work is 'meaningful work' in the above sense or else it'd just be called 'meaningful happy-fun-time' instead. But there is some meaning in all work - even in the menial. And every day you wait for the dream job, there's someone else out there with the same dream who's mastering the details of getting stuff done, making contacts, and getting paid in the process.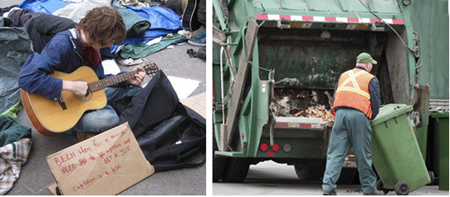 The Two Charts President Obama Never Wanted You to See
Note that this is in terms of national GDP - and our GDP is fucking huge - so when just the budget deficit becomes a non-trivial part of the GDP you know it's getting insane.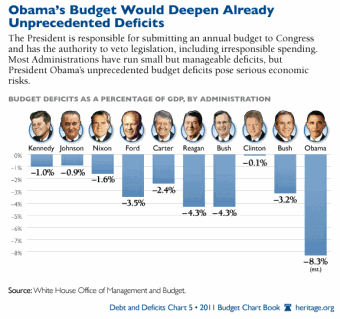 How A Quebec Ruling Could Make 1.2 Million Canadians Married, Against Their Will
It turns out that Quebec has an official "couple" status that's like marriage-lite:
De facto spouses are defined by Quebec's law as two people who have been living together for a year or more without being married and who check the "couple" box on their income tax statement form. Quebec's lawmakers have deliberately chosen not to give de facto couples the same rights and responsibilities that married couples have under the Law of Quebec, to preserve the freedom of choice. Upon the termination of a relationship, "no matter how long cohabitation has lasted, de facto spouses have no legal support obligation to each other, even if one spouse is in need and the other has a high income." Quebec is the only province in Canada where spousal support payments are not recognized by law for de facto spouses.

...An astonishing 34.6 percent of all Quebec couples are de facto couples, and one half of couples under 40 are not married. A full 60 percent of Quebec children are born out of wedlock.
And everyone was satisfied with this arrangement until a Quebec appeals court ruled in a 2010 case that de facto marriages are suddenly de jure too. Until this is settled by the Supreme Court it turns out that in Canada you can't be a little bit married either.
Ayrton Senna's Heel-and-Toe Braking Technique
Racers use this all the time but I realized after watching this video that by trial and error I've done something similar when trying to drive (too) fast through curves.
Heel-toe or heel-and-toe double-declutching is used before entry into a turn while a vehicle is under braking, preparing the transmission to be in the optimal range of rpm to accelerate out of the turn. One benefit of downshifting before entering a turn is to eliminate the jolt to the drivetrain, or any other unwanted dynamics. ...Another benefit is that "heel-and-toeing" allows the driver to downshift at the last moment before entering the turn, after starting braking and the car has slowed, so the engine speed will not be high enough when the lower gear is engaged.
Jack Vance's Classic Moon Moth Short Story Retold as a Terrific Graphic Novel
Well Jack Vance has always been one of my favorite sci-fi and fantasy authors so I'm glad to see his works still remain popular and are being reworked into new mediums. Moon Moth is one of his finer short stories about a man who must catch a murderer on a planet where everyone wears masks at all times and may change them according to mood and change in status.
The story takes place on a planet with a post-scarcity society in which everyone wears elaborately constructed masks appropriate to their social status. The inhabitants also carry a bunch of different musical instruments with them, because instead of talking to each other, they sing and play a particular instrument suited to the content and context of the conversation.

"The Moon Moth" is about a man (I think he's from Earth), who gets sent to Sirene as a kind of emissary. He isn't prepared to live in this society, where a minor social gaffe can easily result in an instant beheading by the offended party.

"The Moon Moth" is the name of the story, but it is also the name of the low-status mask the Earthman ends up wearing. Initially he chose a high-ranking mask but was warned he would be killed quickly because he wouldn't know how to comport himself like a person worthy of such a mask.
You can read the entire story here. If you enjoy it, you'll probably enjoy most of his stuff.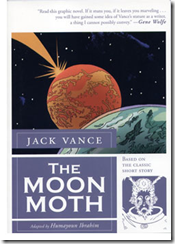 30 Famous People With Law Degrees
Lawyers - it's like they're everywhere.
Okay I knew about Howard Cosell but there are others - both good and bad:
25. Tony La Russa. After bouncing from baseball team to baseball team - mostly in the minors - Tony La Russa figured he'd probably better have a backup plan and graduated from the Florida State University College of Law in 1978. He was offered a position coaching the White Sox farm team right around the same time. "I decided I'd rather ride the buses in the minor leagues than practice law for a living," he later said. La Russa was called up to manage in the majors shortly thereafter.
17. Fidel Castro. Castro was admitted to the bar in 1950 after studying at the University of Havana. He had his own firm for a time - Azpiazo, Castro & Resende.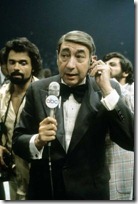 Teh Tweet!
Also A Beginner's Guide To Twitter - What the hell is it and how it can solve your too-much-free-time problem.
Tonight's post brought to you by D-Day + 1: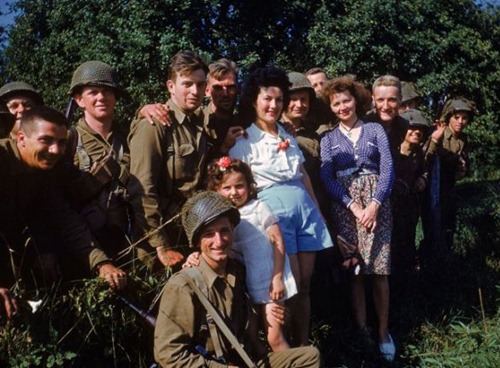 Notice: Posted by permission of AceCorp LLC. Please e-mail overnight open thread tips to maetenloch at gmail. Otherwise send tips to Ace.

posted by Maetenloch at
09:23 PM
|
Access Comments