« Taiwanese Animation Takes On... 2010 Elections
|
Main
|
There Was One Big Blago Fan On The Jury »
August 17, 2010
Overnight Open Thread
Good evening all M&Ms. Don't forget about the job bank at the AoSHQ yahoo group.
Video: Why You Shouldn't Try To Drive Through A Forest Fire
And for sure never stop and open the door in the middle of it.
This video was taken a few weeks ago when forest fires were raging in Russia. Apparently these guys volunteered to go help a village fight the fire, but it was beyond saving when they got there. So they tried to take the same road out and very nearly got trapped by the fire.
EEOC: Employers can't refuse to hire convicts
Well sure it's not actually illegal, but they don't like it and will treat you like it is:

There is no Federal law that clearly prohibits an employer from asking about arrest and conviction records. However, using such records as an absolute measure to prevent an individual from being hired could limit the employment opportunities of some protected groups and thus cannot be used in this way.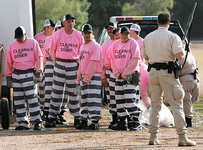 The Laura Schlessinger "N-word" Dealio
Meh. Her advice was poor but I don't think anything she said was untrue or racist - mostly just politically incorrect and very dumb. Apparently she's unaware that there's a huge double standard when it comes to talking about race and certain words. And if you don't condemn her, you must be a dirty, bigoted racist too!

The 3rd Base Coach Gap: Is the MLB Racist?
So 40% of MLB players are minorities, but the NYT is concerned that first base coaches are 67% minority while third base coaches are only 27%. With 30 teams in the MLB the difference between 27% and 40% is only 4 coaches. So basically the Times concocted a whole baseball scandal over four third base coaches it thinks should be darker skinned.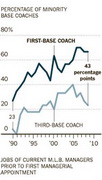 People Don't Like Modern Classical Music Because Their Brains Can't Cope
And because it sucks. Atonal music has been around for almost a hundred years and nearly everyone hates it. So maybe it's just music so bad only a music intellectual could enjoy it.
Extreme Lifestyle-minimalists
Because owning almost nothing is supposed to be the new black:

Kelly Sutton is a 22-year-old software engineer in Brookyln. He says he has gotten rid of all of his possessions, save for "his laptop, an iPad, an Amazon Kindle, two external hard drives, a 'few' articles of clothing, and bed sheets for a mattress that was left in his newly rented apartment."
A couple of thoughts - 1. Kelly is 22 and a software guy in NYC. His responsibilities are about as minimal as they can get for any independent, employed person. 2. I'm guessing there's no girlfriend (or boyfriend) in Sutton's life. 3. In even a minor apocalypse he would be one of the first to go. Luckily his flesh seems soft and tender so at least we'd eat decently for a while.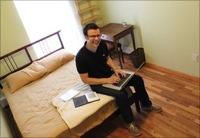 Spinal-Fluid Test Is Found to Predict Alzheimer's
It's nearly 100% accurate but the catch is that it only works once some memory loss has started and it requires a spinal tap.
Inigo Montoya - What Does He Look Like Now?
Click and see.

Do You Dress Like a Slut?
According to a survey of men these fashions are the top 3 that make you look slutty:
1. The Hervé Leger-style "bodycon" dress: 57 percent
2. Crop tops: 53 percent
3. Corset tops: 51 percent
I don't even know what the first two are so I'm going to have to see pictures.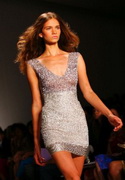 Grandmother Beaten and Peed on by Her 5 Year Old Grandson
Okay without reading the story name the state and type of housing this occurred in.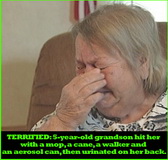 The Yahoo AoSHQ group. You know the way.
Tonight's post brought to you by the Shat: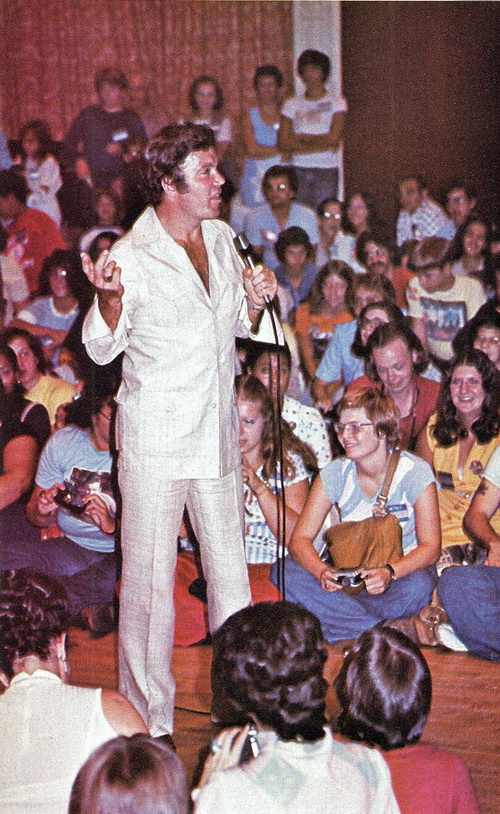 Notice: Posted by permission of AceCorp LLC. Please e-mail overnight open thread tips to maetenloch at gmail. Otherwise send tips to Ace.

posted by Maetenloch at
09:16 PM
|
Access Comments