ę Bud Light's Sales Fall Again; Michael Knowles Writes That "Tranheuser-Busch" Is Part of a WEF-Backed Group to Impose Censorship
|
Main
|
Vice Media to Be Bought and Taken Out of Bankruptcy... by George Soros Ľ
May 10, 2023
Tara Reade, the Woman Who Plausibly Accused the "President" of Sexual Assault: I Want to Make One Thing Clear. If I Die Before I Testify to Congress, It Was Joe Biden Or His Democrat Fixers Who Killed Me.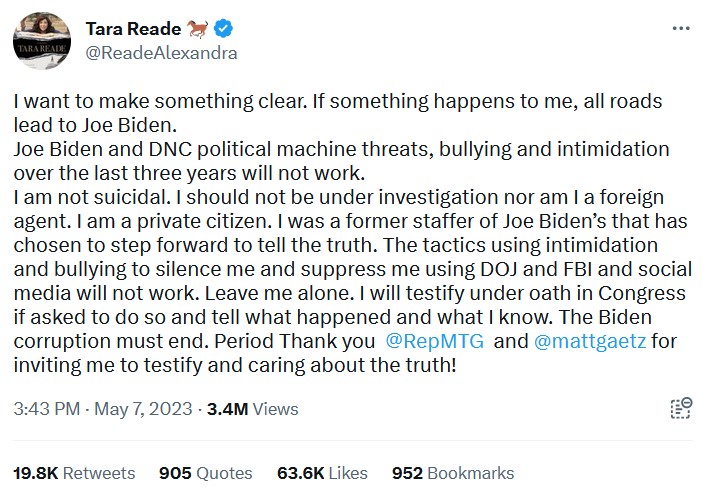 The text:
Tara Reade @ReadeAlexandra

I want to make something clear. If something happens to me, all roads lead to Joe Biden.

Joe Biden and DNC political machine threats, bullying and intimidation over the last three years will not work.

I am not suicidal. I should not be under investigation nor am I a foreign agent. I am a private citizen. I was a former staffer of Joe Biden's that has chosen to step forward to tell the truth. The tactics using intimidation and bullying to silence me and suppress me using DOJ and FBI and social media will not work. Leave me alone. I will testify under oath in Congress if asked to do so and tell what happened and what I know. The Biden corruption must end. Period Thank you @RepMTG and @mattgaetz for inviting me to testify and caring about the truth!
Biden's poll numbers are historically weak, and that's with the media suppressing the story of how he digitally r@ped a staffer in the nineties.
U.S. President Joe Biden's public approval was at 40% in recent days, close to the lowest level of his presidency, with Americans unhappy about his handling of immigration and inflation, a new Reuters/Ipsos poll showed.

The three-day poll, which ended on Sunday, showed a marginal increase in Biden's popularity from last month, when 39% of respondents said they approved of his performance as president. The poll has a margin of error of three percentage points.

The economy remained respondents' top concern amid high rates of inflation and a push by central bankers to tame prices by raising interest rates, which has made mortgages and car loans costlier.

The looming Thursday expiration of COVID-19 rules that have blocked many foreigners from crossing into the United States to seek asylum has also become a subject of concern. Long lines of migrants have amassed this week in the Mexican border city of Tijuana waiting for the policy to expire.

The Reuters/Ipsos poll found 54% of respondents - including 77% of Republicans and 34% of Democrats - were against raising the number of immigrants allowed into the country every year.

Only 26% said they approved of Biden's handling of immigration.

Sixty-six percent of respondents support sending active duty U.S. soldiers to the border to support Border Patrol agents.
The hard-left Washington Post/Disney Groomer Corporation poll finds that a lopsided majority, 63%, of Americans do not believe that Joe Biden is "mentally sharp" enough for another #rigged term.
This is a deeply divided country. 55%-45% is considered a solid majority.
63% is a huge majority. You can't get 63% of Americans to agree on what a "woman" is.
A majority of Americans don't believe President Biden is mentally or physically fit enough to lead the country for a second term, according to a new poll.

On the heels of Biden's official announcement for reelection, 63% of Americans in a new Washington Post-ABC News poll say they don't think the 80-year-old is mentally sharp enough to run the nation effectively and 62% believe Biden is not in good enough physical health to be in the Oval Office.

...

When Americans in the poll were asked whether former President Donald Trump had the mental sharpness to serve effectively, 54% believed that he did, the Washington Post reported.


As for his physical health, 64% of Americans thought Trump, 76, was fit to serve, the polling indicates.

Overall, 43% of Americans polled said that both Biden and Trump, who is leading the GOP field so far, are too old to serve new terms if they were to win the White House.

About 28% said neither is too old.

While 26% stated Biden alone was too old to be in office, only 1% said the same about Trump, the polling shows.

...

Broken down by party line, about 1 in 5 Democrats say their party's leader does not have the mental sharpness or physical health to serve effectively while 94% of Republicans think Biden lacks the mental aptitude, the Washington Post reported.

About 7 in 10 independents say Biden doesn't have the mental sharpness and physical health to serve the office well.

And there's more bad news for Biden: Biden is risking putting the US into default rather than give an inch on reckless spending that has put us on a path of hyperinflation. This Moderate Centrist, vouched for by all the leading lights of NeverTrump, took us out of expansion and plunged us into recession by profligate spending.
And he wants to spend more. That's what all the Moderate Centrists do, insist on putting a country into a stagnant growth + Hyperinflation death spiral so he can keep on pumping money into leftwing boondoggles!
But a Rasmussen poll shows the public, for once, is actually concerned about overspending, and wants Biden to agree to cuts.
Rasmussen:
Most voters support House Speaker Kevin McCarthy's proposal to raise the debt ceiling and reduce future deficit spending, and expect a compromise with the White House over the bill.

The latest Rasmussen Reports national telephone and online survey finds that 57% of Likely U.S. voters support the debt ceiling bill passed by Republicans in the House of Representatives, including 32% who Strongly Support it. Thirty-four percent (34%) oppose the GOP plan, including 21% who Strongly Oppose it.
Jazz Shaw comments:
I was quite surprised by the gap in these poll numbers and particularly the party breakdown in the results. 57% of respondents either "somewhat" or "strongly" supporting McCarthy's plan isn't a gigantic number, but it's very large when you look at the 34% who strongly or somewhat oppose it.
I think it is a pretty big majority, as "pretty big majorities" go in today's climate.
Rasmussen added in a more nuanced question that should send an even stronger signal to the White House. Respondents were asked who should be "more willing to compromise" in the expected meeting. Once again, a significant majority said that Biden should be more willing to compromise and a plurality of Democrats felt the same way.
The Washington Post finds voters split on who they'd blame for default: In this liberal-skewing poll sample, 39% would blame congressional Republicans, and 36% would blame Biden.
We're almost never getting a split on the blame-for-a-default question. This constitutes a position of strength for us.
Janet Yellin says she'll take a default rather than being forced to exercise any kind of fiscal restraint:
This may actually be the Big One, writes David Strom.
It is, indeed, true that a default on the US debt would be a catastrophe. It would put the final nail in the coffin for the status of the US dollar as the world's reserve currency, although Biden's policies have been accelerating the process for that eventual outcome at an alarming rate.

Still, a default here and now would truly be world-shaking in a way that no other country's default would be.

But we have this fight all the time, and it always goes down to the wire. The big difference this time is that Biden is senile, and has never been a smart guy. So maybe he will drive the country into the ditch this time. In a rational world, most debt limit ceiling debates are political theater.

The Republicans have staked out a rational position, which is something of a surprise. Usually they just bitch and posture, so this is a breath of fresh air.

And while the media will back Biden to the hilt the House actually has some solid ground to stand on. Biden, not so much.

He has, apparently, clean energy. Really. That is what Janet Yellen is going with. Biden is willing to default on America's debt to ensure that subsidies for clean energy increase.

It's a pretty weird argument, although it does lend credibility to the idea that these people actually enjoy the smell of their own farts. They truly believe that spending a few billion more on worthless clean energy projects is worth wrecking the US economy, or at least that the American people might think so.
Biden doesn't care -- he's has a Rendezvous With History, to be the man who did the most to turn this country into a Marxist Shithole, even beating Barack Obama (whom he hates and is jealous of).
I think he has a Rendezvous With Mortality, but that's just me and my crazy conspiracy-theory Actuarial Tables talking.

Returning to the issue of immigration: Even Democrat subscribers to the ultimate progressive newsletter, the New York Times, are at wits' end about Biden's deliberate sabotage of the US border:
Mollie Hemingway: The propaganda press is no longer able to cover for all of Biden's disasters, and people are finally seeing through their "everything's fine" propaganda.
And then Victor Davis Hanson stops being nice about it. He says that Biden is now "failing geometrically," and doesn't have the "vocabulary or syntax" to even defend his failures: "He's incoherent."

posted by Ace at
03:40 PM
|
Access Comments