« Mike Pence Says He's Got Classified Documents At His Home, Too
|
Main
|
DOJ To File Lawsuit Against Google, Alleging Unfair (Monopoly) Dominance Over Online Advertising Market »
January 24, 2023
Sergei Millian: Durham Should Talk to Russian Oligarch Toady and Traitor, the ex-FBI Russiagate Operator Charles McGonigal
If you remember, Sergei Millian is a Russian businessman who "Iggy" Danchenko falsely smeared as the source for the story about Trump's "pee pee tape." Millian always denied this, but Danchenko was just making up these lies so that he could get a job with Hillary Clinton after she won the 2016 election (whoops! whoopsie!), and he needed to name a source besides "My drunken lying brain."
Meanwhile, there's a lot of smoke around another Russian oligarch, Oleg Derapaska. He's the one who bribed FBI Straight Shooter Charles McGonigal while he was still "working" for the US taxpayer, and then later paid him through money-laundered cash to help him undo the sanctions on him. I imagine this meant, in practice, telling Derapaska which other DC bigwigs were corrupt and whose influence could be had for a couple hundred thousand dollars.
Oleg Derapaska also had previously hired Christopher Steele to write "research" reports for him, which Steele then passed to the FBI. This seems like Derapaska's attempt to get his own favored false narrative believed by the FBI.
I'm not sure what Deripaska's role is Russiagate. While he has called "the Russia narrative" a "false manipulation" of the public, I suspect he did so not to defend Trump or tell the truth about the American media, but to defend Russia and Putin from the attack.
In any event, Deb Heine has been following Sergei Millian's account for a few days, because, last week, he predicted the arrest of Charles McGonigal.
Now he says it's time for John Durham to talk to McGonigal and get him to rat out his co-conspirators in the Deep State coup against Trump.
Millian, who has fought for years to regain his reputation after it was dragged through the mud, said on Twitter that Durham should talk to McGonigal, as he "now has a motive to out the co-conspirators who made false accusations against President Trump."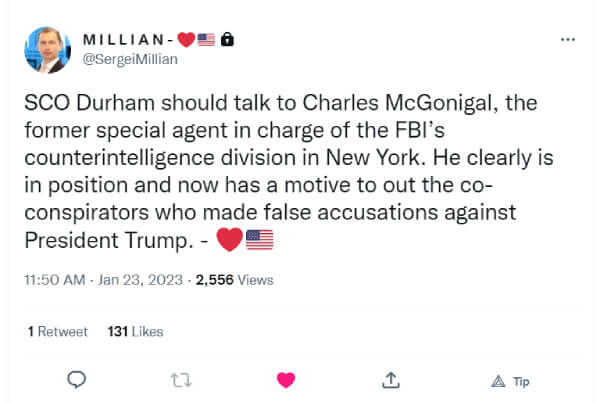 Does he know something or is he just fishing? Just fishing, I think, or otherwise he'd just tell us his suspicions. But who knows.
A little bit more about McGonigal from the Washington Post, who, let's face it, McGonigal was probably a top leaker to. They say other Deep State operatives in their rolodexes are "shocked" to discover a man they already knew was a corrupt operator as regards rigging a coup was a corrupt operator as far as taking bribes to help Vladimir Putin's allies.
The twin indictments are also a black eye for the FBI, alleging that one of their most senior and trusted intelligence officials was taking secret cash payments and undermining the bureau's overall intelligence-gathering mission.

Current and former U.S. officials who know and have worked with McGonigal said they were shocked by the charges.
"Intelligence" officials shocked by events.
Are you not reassured?
As an FBI agent at his level, McGonigal had knowledge of an extraordinary amount of sensitive information, potentially including investigations of foreign spies or U.S. citizens suspected of working on behalf of foreign governments, these people said, speaking on the condition of anonymity because of the sensitivity of the work McGonigal did. One former official said that McGonigal had worked with the CIA on counterintelligence matters.

According to the New York indictment, a law firm retained McGonegal to work as a consultant an investigator on the effort to get Deripaska removed from the sanctions list. He was listed as a consultant and arranged for $25,000 monthly payments to be sent to an account controlled by another person, a government interpreter who was a former Russian diplomat. The interpreter, Sergey Shestakov, was also charged.

McGonigal's career as a top official in the FBI gave him access to classified
information including a then-secret list of Russian prospects for sanctioning by the Office of Foreign Assets Control, the Justice Department said. That list that included Deripaska before the sanctions were actually imposed.

Manhattan U.S. Attorney Damian Williams said in a statement that McGonigal and Shestakov "should have known better" given their experience in government service. Both defendants are expected to appear in court Monday afternoon.
"Should have known better." Wow, what a blistering condemnation.
How much do you want to bet the corrupt federal government lets another one of its criminals off with a slap on the wrist and a "don't do that again young man" sentence of 60 hours community service?

posted by Lamont the Big Dummy at
03:22 PM
|
Access Comments