« Saturday Morning Coffee Break & Prayer Revival
|
Main
|
Gardening, Puttering and Adventure Thread, Jan. 28 »
January 28, 2023
WHEN in the course of human events things get really personal
Winter sunset, Great Salt Lake
You may have already read that Gerard Van der Leun died yesterday. The search engine shows the entry for his American Digest blog with "WHEN in the course of human events it becomes . . ."
He had a broad array of interests, but among them, American freedom and liberty, along with distinctive elements of the American experience, were common themes in his blog entries. Today, the focus there is more personal.
We learned of his passing from another blogger, Neo, whose site gets linked here a lot, The New Neo. We learned just a few days ago that Gerard and Neo had been a couple for a long time:
I know that most of you have gotten the news that Gerard Vanderleun is in hospice care now. It is inexpressibly sad.

I've been wrestling with this for a while. And by "this" I mean: how to say what I'm about to say. Anyone who reads this blog knows I'm a very private person and don't go in for much disclosure, dramatic or otherwise. But I'm about to write something very personal because detachment doesn't work right now.

And it's something Gerard wanted me to write, too, and so I'm doing this at least in part for him as well.

Gerard and I met through our blogging nearly eighteen years ago, became a couple about a year later and stayed that way for many years, and for the past ten or so years have been extremely close friends. We never lived together but would visit each other for lengthy periods, travel together, and have talked on the phone almost every day for most of the time we've been apart. He deferred to my need for privacy by not writing about our relationship, although I appear in some of his writings as the mysterious woman who was there for this or that occasion.
I think it worked out well that they kept their relationship out of their respective blogs. But her description highlights the fact that, though most people would consider him to be very masculine, he was generally very open about his feelings in his writing.
On a personal note for me, her revelation means that they had a relationship at the time he lost his home in Paradise, California to the Camp Fire in 2018. We got smoke from that fire, and we heard and read about a lot of people who lost more than he did in the fire. It's kind of a comfort to learn now that they had a relationship, even though he had family in the area. And he still had his car, laptop and kitten.
Others lost much more. There were other fires that year, too. The whole Valley was full of anxiety. Some people and institutions coped, and helped, better than others. Still, Gerard went through a lot during this time period.
He moved into his mother's apartment in Chico. She was 104 years old. He wrote about taking her to Thanksgiving dinner at his brother's house not long after the fire:
Of late my mother has become a fan of the diva, Sarah Brightman, and one of her CDs is playing as we make the final turn towards my brother's place and, of course, Brightman's version of "Dust in the Wind" plays its four minutes when we are five minutes away. My mother listens thoughtfully and says nothing. I'm finding it difficult to see clearly. And then we are there.
After two sets of Grace for this family's deliverances this year, the turkey and side dishes are heaped and reheaped on the plates. Then it is desert and some football during digestion. I walk outside with a glass full of the local Placerville wine to a little patch of needles and leaves under the pines, now soaked with rain and hence, for now, less lethal.

I raise my glass to the four points of the compass and say a prayer for all those whose ashes are being washed clean and downstream by the rains in Paradise. Then I pour out my small libation to the dead. Then I drive down out of the mountains with my mother beside me through the most beautiful Sierra autumn sunset I can remember. By the time we get back to the Burned Zone, it's dusk and we can't see the gathering darkness.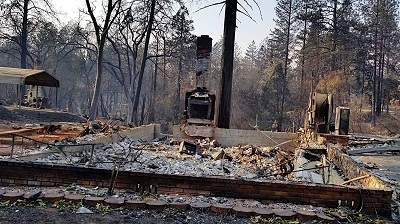 * * * * *
If you would like to look around American Digest a little more today, the following showed up on the search engine and in the back pages for me:
Poem with an ironic meme that you can find yourself on the site:
Who Am I?
BY CARL SANDBURG
My head knocks against the stars.
My feet are on the hilltops.
My finger-tips are in the valleys and shores of universal life.
Down in the sounding foam of primal things I reach my hands and play with pebbles of destiny.
I have been to hell and back many times.
I know all about heaven, for I have talked with God.
I dabble in the blood and guts of the terrible.
I know the passionate seizure of beauty
And the marvelous rebellion of man at all signs reading "Keep Off."
My name is Truth and I am the most elusive captive in the universe.
*
The Centenarian: Arthur Warner McNair
This is a story about Gerard's visit with his mother to see his uncle on the latter's 100th birthday. Features remarkable examples of community cohesion, plus a new way to think about dementia.
There are some signs in this piece that Gerard was once a pro in the dead tree publishing business.
*
Monkey in a Box: Best long read of the year so far
This is a family story by another writer, chosen late last year by Gerard. Never embarrass your mother during her bridge party.
* * * * *
This has to be terribly difficult for Neo. From the announcement at her own site yesterday:
Gerard died peacefully in the small hours of the morning. He left instructions to me for two last posts of his that he wanted me to publish on his blog. I will probably do that tomorrow. I also will be cross-posting a few more essays of my own about Gerard, but I will keep his two last posts pinned at the top of the page there. Therefore you'll need to scroll down past them to get to any new ones.

Thank you for all the loving and beautiful words expressing loving and beautiful thoughts for Gerard and for me.
You might want to drop her a line.
From the comments, a link to a memorial piece Gerard wrote for his brother. It includes descriptions of adventures for kids in gold country in California:
Once we were seated in the principal's office ringed by every authority figure short of the National Guard our interrogation commenced. The questioning could be boiled down into:

"Just where is the other half?"

and

"Is there any more and will you show us where right now this instant?"

This was the shortest interrogation record since we instantly confessed every detail of our crimes and misdemeanors, the location of "X," an estimate of the quantity of dynamite left at the site, and "We'll lead you there right now if you let us live!"

Within an hour we were back at the lava flow where we pointed out the box of TNT and the locations of where we'd thrown the sticks. At one point, hoping to get a reduced sentence, I told the Sherriff, it was okay to play with them since they were all damp. As a very young idiot, I knew nothing about old dynamite weeping pure nitroglycerine into the container it is stored in. I'm pretty sure the Sheriff and his men did since we were no longer needed at the site for the cleanup. So my brother and I slunk home with our parents to prepare for THE. END.
But of course, it wasn't the end. I imagine that our parents were so numbed by their sons' stupidity and grateful they weren't scraping said sons off the jagged black face of the lava flow that they could not find room for anger. Instead, we were forced to take, after cake, a solemn oath that we would never, ever again go to the place called "X."

And we so swore my brother and me. And we were so relieved that we weren't punished that we really meant it. And we never did go back to "X."

For at least a month. . .
Gerard chose a song to go with the story:
* * * * *
"WHEN in the course of human events it becomes . . .
I ran across a quote from the late Roger Scruton that summarizes much of the craziness we are seeing in the country right now. Interesting that he specifies "revolutionary government." I don't think it quite fits the American Revolution. Thoughts?
Revolutionary government inevitably moves in a totalitarian direction, absorbing subsidiary social powers, and conscripting the population to its ill-considered purposes. Moreover, because the goal is always receding, the regime must manufacture a conspiracy of enemies"

To maintain the state of emergency, a spectacle must be provided: show-trials, executions, dawn arrests and denunciations; propaganda, ceremonies, military parades; and of course the threat, constantly made and often executed, of internal and external war.
This quote invites careful reading, I think. Roger Scruton died in January of 2020. I can think of lots of examples of the phenomena he described here which have taken place since then. Can you?
* * * * *
Music
* * * * *
Hope you have something nice planned for this weekend.
This is the Thread before the Gardening Thread.
Serving your mid-day open thread needs
* * * * *
Last week's thread, January 21, How much should we be focusing on the almost extraterrestrial meetings in Davos?
Comments are closed so you won't ban yourself by trying to comment on a week-old thread. But don't try it anyway.
Last comment from last week, from Gentlemen, this is junta manifest:
I would rather be governed by the first 50 commentators on the HQ than any participant in this Davos spectacle.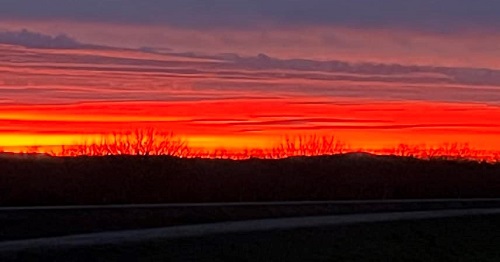 Sunrise, Central California

posted by K.T. at
11:10 AM
|
Access Comments