« THE MORNING RANT – GREEN FOLLIES: Dewalt's New Electric Mower Has a Fiery Unveiling; Despite Supporting Climate Hysteria, Coke's Eco-Communist Friends Are Accusing It of "Greenwashing"; Greens Sacrifice Patagonia Condor
|
Main
|
Update on Illegal Alien Nudist Hemp Jeweler BLM-Flag-Flying Ultra MAGA Mega Republican »
November 04, 2022
#TheSnap: Half of Twitter's " " " Workers " " " Are Unemployed, Starting Now (9 am Pacific Time)
Updated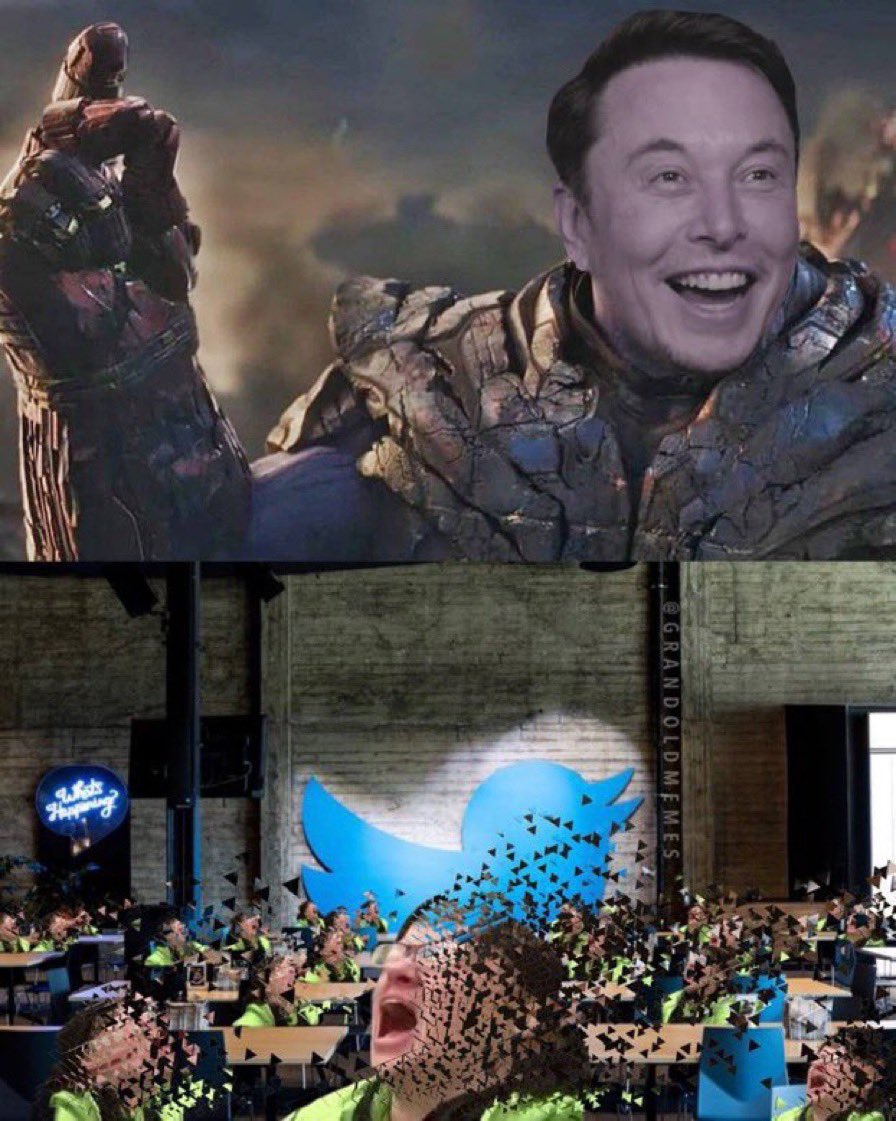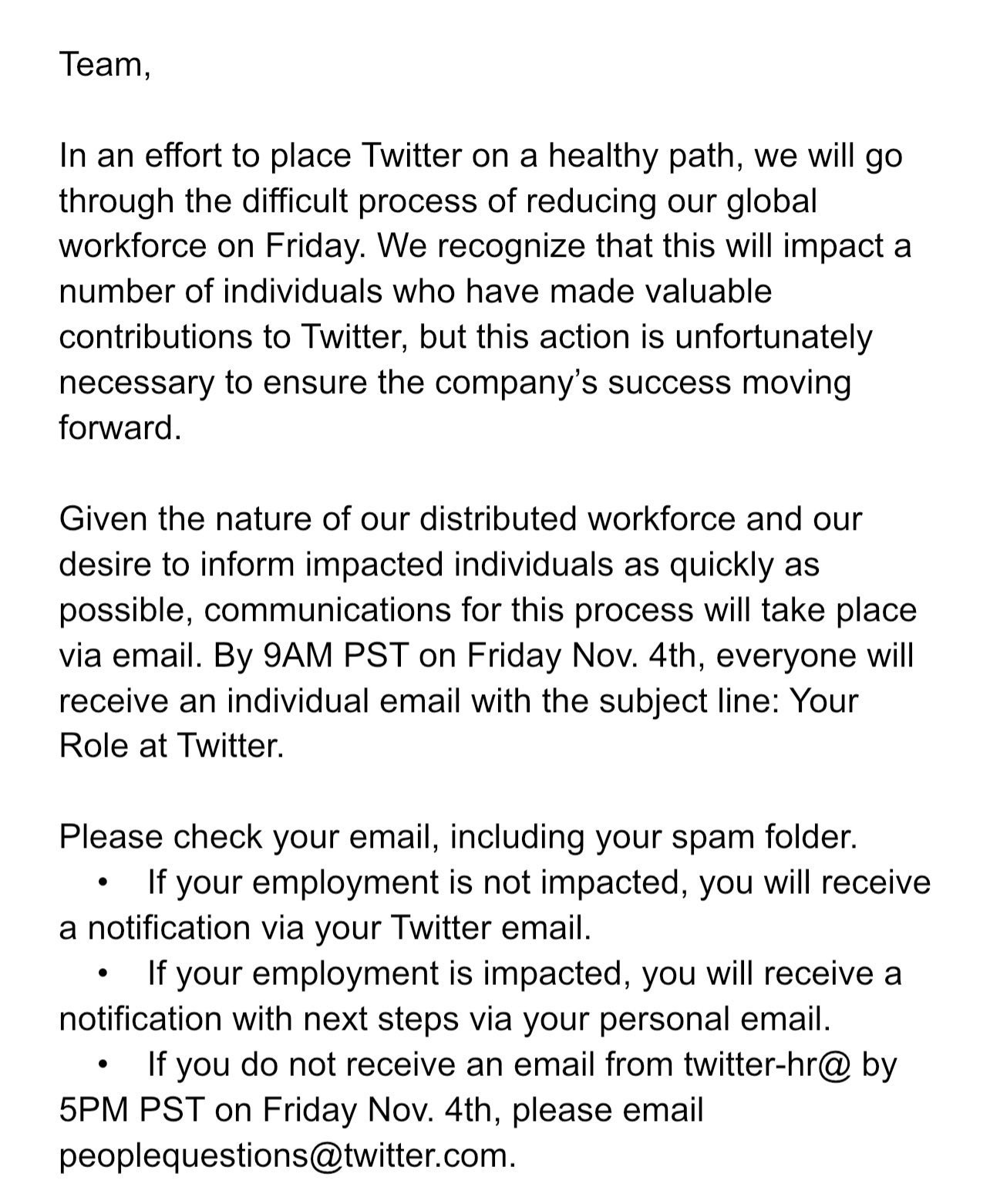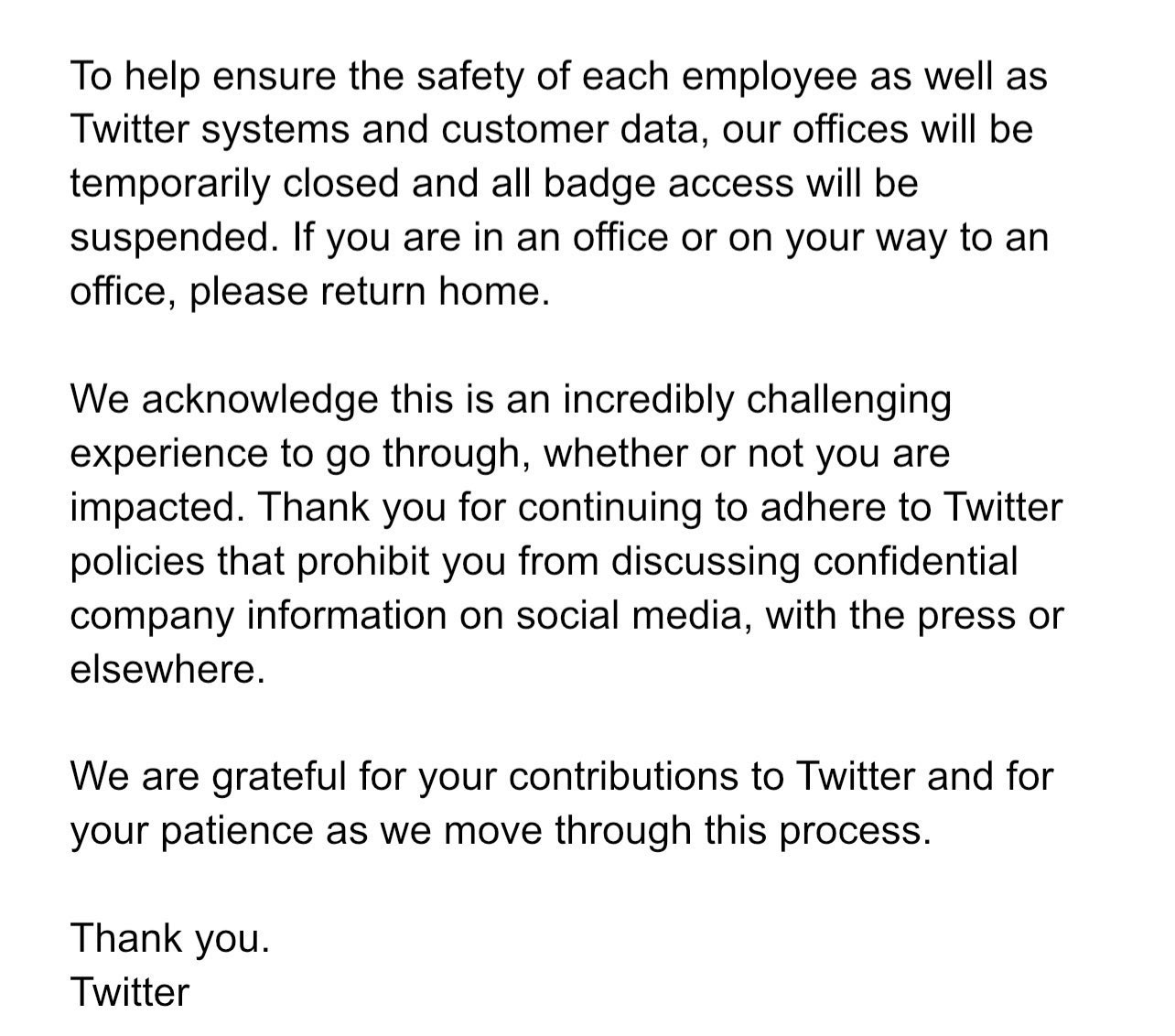 Sumit Chaudhary @SumitDefence

As per unconfirmed report

#Twitter sacks entire marketing
and communications department in #India...

#TwitterLayoffs #ElonMuskBuyTwitter
Steffie from the D @steffie_steff

Liberal twitter employees soon to learn their pronouns are was/were #TwitterLayoffs

Cry moar, brokedown old bitch:
Geraldo Rivera @GeraldoRivera

Elon Musk has declared All-Out war on his former staff. At 9am Pacific time, Massive Layoffs go into affect at Twitter. With no formal notice and gut-wrenching efficiency, Musk and his inner circle have eliminated about half of its pre-Elon workforce. 3,700 Twitter jobs gone.


In response to the crushing, sudden layoff of half the Twitter staff, employees have filed a massive class action lawsuit claiming Musk's draconian layoffs are in violation of California and federal law, which prevent mass layoffs without 60 days notice.

Fired Twitter workers are asking the federal court to issue order requiring a more orderly & compassionate approach under the Worker Adjustment & Retraining Act. Meantime, Musk has unleashed a ruthless campaign to cut billions on bloated infrastructure, cutting employee laptops.
Geraldo cheered at people being fired because they didn't want a "leaky" vaccine which did not vaccinate against getting or transmitting the disease and which may have health consequences the political-bureaucratic-medical complex refuses to admit.
Will Chamberlain suggested what occurred to me-- just tell these malignant Noserings they will be laid off starting two months from now, and tell them not to come into work until then. You have to pay them, yes, but you'd pay them some kind of severance anyway. Probably six weeks, to seem generous? This two months' pay without work will be their severance.
Lisa Bloom @LisaBloom

Hey Twitter employees getting laid off tomorrow! IMPORTANT INFO from a CA employment attorney (me):

CA's "WARN" law requires Twitter to give you 60 days notice of a massive layoff.

A layoff of 50+ employees within a 30 day period qualifies.

I know you didn't get that notice.
Do these people really think the World's Richest Man doesn't have lawyers?
Will Chamberlain @willchamberlain


For five years conservatives on Twitter have been operating with a sword of Damocles over their head, wondering if this is the day they will lose their account for an arbitrary reason

Now, Twitter's employees can understand how that feels

#TwitterLayoffs
HUMBLY YOURS, @EthanVanSciver

These privileged, censorious, election-influencing balloon heads are getting fired today.

Wonderful. Love it.

#TwitterLayoffs
Robby Starbuck @robbystarbuck

I don't have sympathy for people who have censored Republicans, helped destroy our country by pushing COVID lockdowns, hid news stories that didn't fit their narrative and supported firing people if they didn't get the vaccine. They earned every bit of this. #TwitterLayoffs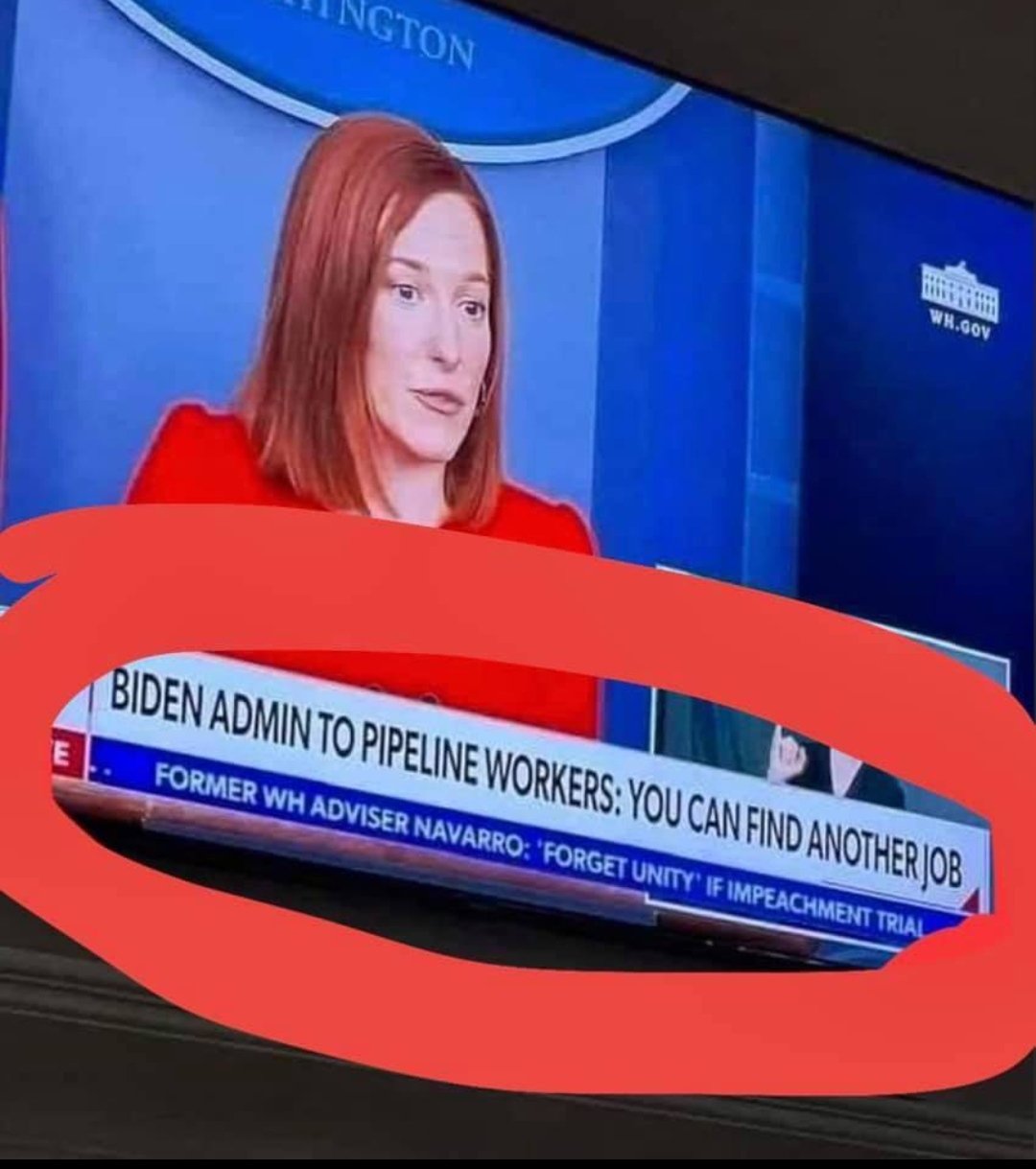 Here's a video of Jen Psaki attempting to defend that statement, claiming laid-off pipeline workers are going to find "green jobs" at some unspecified future time at some unspecified company.
White House press secretary Jen Psaki on Monday mocked a reporter who asked when workers on the canceled Keystone XL pipeline would get "green jobs" promised by President Biden.

It's expected that up to 11,000 jobs will be lost following Biden's day-one decision to immediately shut down construction of the pipeline that was supposed to carry oil from Canada to Texas -- leaving South Dakotans reeling and 1,000 people immediately out of work.

"Where is it that they can go for their green job?" Fox News reporter Peter Doocy asked Psaki at her Monday afternoon press briefing, referring to Biden's promise to create good-paying union jobs in the green energy sector as his administration attempts to end the nation's reliance on fossil fuels.

"That is something the administration has promised and there is now a gap so I'm just curious when that happens, when those people can count on that?" Doocy added.

"Well, I'd certainly welcome you to present your data of all the thousands and thousands of people who won't be getting a green job," Psaki snarked. "Maybe next time you're here you can present that."
But let's all cry for the bitter, venomous Noserings and the Neuratypical Non-Binary thought destroyers.
Most Twitter dismissed employees will find work, maybe in the Central Plains as cowboys, or the mines of West Virginia. Possibly working on the rivers, pushing barges. Damn, that was one fine gummy. Posted by: bill in arkansas
I'll have what he's having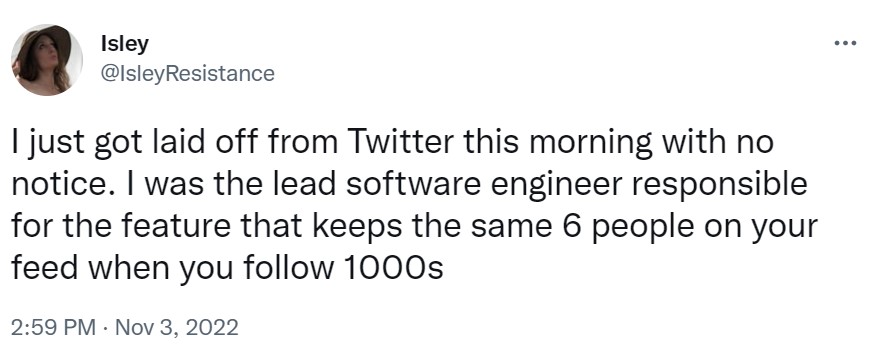 This is... true. Twitter believes that anyone who follows right-leaning people is being "programmed" by a "bubble" of mutually reinforcing propaganda, so they flood your mentions with... the most hideously low-brow propaganda by full-time leftwing Twitter propagandists. Who repeat the same propaganda that is blasted into your face 24/7 by the propaganda media, only these people add in stuff like "the unvaccinated should be put in camps and starved to death."
Twitter believes -- or believed -- this would deprogram us and understand that deranged leftwing propaganda is truth.
So those people are being fired now. But they want your sympathy.
Ron Fillopovic, or Fillikowski, whichever, who claims he's an "ex-Republican" but I've literally never heard of him until Twitter began spamming his every nasty piece-of-shit brainvomit into my feed, is in fact one of Twitter's favorite people to force into conservatives' feeds. Hey, he claims he is an "ex-Republican" who is now a bitter radical leftwing Democrat! You guys will listen to him, right?
I had to block him just to stop Twitter from spamming his every fucking propaganda lie into my face every five minutes.
Human Resources hardest hit:
That post is from a few days ago when the belief was he'd fire 75%.
He probably will fire 75%. But he's starting off with 50%.
#TheSnap