« Mid-Morning Art Thread
|
Main
|
#TheSnap: Half of Twitter's " " " Workers " " " Are Unemployed, Starting Now (9 am Pacific Time)
Updated »
November 04, 2022
THE MORNING RANT – GREEN FOLLIES: Dewalt's New Electric Mower Has a Fiery Unveiling; Despite Supporting Climate Hysteria, Coke's Eco-Communist Friends Are Accusing It of "Greenwashing"; Greens Sacrifice Patagonia Condor
No one was hurt, so it's OK to laugh at this.
This article, announcing the unveiling of Dewalt's new electric commercial mower, is pulled from "Lawn & Landscape," an online trade publication for the landscape industry.
It's effectively just a press release from Dewalt. However, after publication, the new mower burst into flames at an equipment exposition, necessitating the insertion of a hilarious (to me) Editor's Note acknowledging the fire.
Dewalt debuts electric Ascent series; EDITORS NOTE: A prototype of one of Dewalt's new Ascent mowers caught fire during the Equip Exposition
Dewalt a Stanley Black & Decker brand and a provider and innovator in outdoor power equipment, unveiled the Ascent zero-turn mower series, the first in a lineup of electric outdoor power equipment for professional landscapers. The Ascent Series will offer a total electric solution with smart technology designed to meet the needs of landscapers. It will be available through Dewalt's professional dealer network beginning in fall 2023.

Editor's note: A prototype of one of Dewalt's new Ascent mowers caught fire during the Equip Exposition last week in Louisville, Kentucky. Here is the company's statement: "We are grateful that no one was injured. We are working quickly to determine the cause of the issue with this single pre-production prototype unit and will provide further information when available."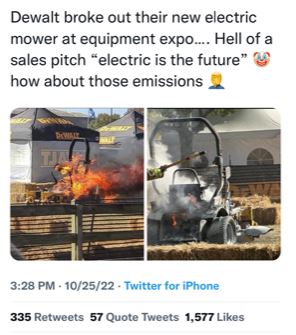 Dewalt is saying that these explosive new mowers will be available by Fall 2023, but they're also trying to spin the PR disaster of the fire by stating that it was the company's lone pre-production prototype that caught fire.
It's probably safe to say that you won't be able to buy this fiery new mower in just one year. And beyond that, you'd be a danged fool to ride this bomb while mowing a dried-out highway right of way in late summer.
*****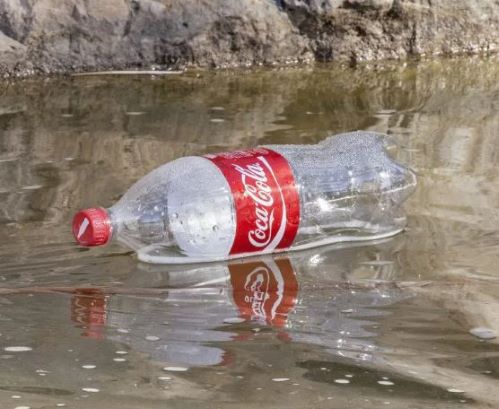 Coke is a sponsor of the UN's latest Climate Change Conference, with "net zero" being a focal point of the conference. "Net zero" is the term used by climatistas for the elimination of petroleum-based energy and related carbon dioxide (CO2) emissions.
Some of the more principled greens are a little unsettled by having a sponsor that sends billions of plastic bottles per year to landfills (or oceans.) They are accusing Coke of "greenwashing," which is the act of trying to hide their environmental sins by promoting the agenda of enviro-leftists.
Coke sponsorship [of UN Climate Conference] leaves bad taste with green groups [AP – 10/24/2022]

Coca-Cola said it will partner with other businesses, civil society organizations and governments "to support cooperative action" on plastic waste and noted that it signed joint statements in 2020 and 2022 urging U.N. member states to adopt a global treaty to tackle the problem "through a holistic, circular economy approach."
OK, I actually laughed out loud when I read that line "to support cooperative action…through a holistic, circular economy approach." That's the kind of faux-intellectual word salad that makes Ted Talk attendees swoon, although it says absolutely nothing.
"Our support for COP27 [the UN climate conference] is in line with our science-based target to reduce absolute carbon emissions 25% by 2030, and our ambition for net zero carbon emissions by 2050," the company said by email.
Yes, Coke is almost certainly greenwashing, since the sale of their products generates more than 100 billion plastic bottles per year. Those bottles are derived from petroleum. And as Greenpeace just recently acknowledged, plastic bottles are not getting recycled, they just take a different route to landfills.
Recycling plastic is practically impossible — and the problem is getting worse [NPR – 10/24/2022]
The vast majority of plastic that people use, and in many cases put into blue recycling bins, is headed to landfills, or worse, according to a report from Greenpeace on the state of plastic recycling in the U.S.

Greenpeace found that no plastic — not even soda bottles, one of the most prolific items thrown into recycling bins — meets the threshold to be called "recyclable"…
Coke's greenwashing would be kind of funny, except that by lending credence to "net-zero carbon," and by sponsoring a UN conference that has the express goal of eliminating fossil fuels, Coke is aiding and abetting an impending humanitarian crisis.
Europe is already on the brink of a frigid, dark winter with rolling blackouts and restrictions on home heating, all due to its foolish commitment to "renewable energy." Coke's endorsement of "net zero" means that Coke endorses the winter blackouts that are descending upon Europe, and that Coke endorses bringing that apocalypse home to America.
Stating support for "net zero" is not some benign anti-pollution statement like stating support for clean air or clean water. Supporting the UN "net zero" agenda means global command and control of energy, and therefore all economic activity, as well as the abolition of fossil fuels.
If Coke is going to advocate the imposition of net-zero on me, then Coke can forget about me and my free market principles coming to their defense when their new best friends come after plastic soda bottles, or seek to ban CO2- infused beverages. Another one of my principles is that I will not lose my freedom in deference to "my principles."
Coca-Cola has allied with the enviro-communists, and I'll laugh when Coke becomes their target.
*****
I suppose nothing about the left should surprise me anymore, but I still can't believe that it's the "environmental" position that we should build devices to kill the largest and rarest of birds, all to create a trickle of electricity, which still needs backup from reliable energy sources.
Patagonia Condor Repopulation Drive Faces Wind Farm Threat [AP – 10/18/2022]
Preliminary plans for a massive wind farm that could be located in the Somuncura Plateau to feed a green hydrogen project is putting at risk a three-decade-long effort to repopulate Patagonia's Atlantic coast with a bird that is classified as vulnerable to extinction by the International Union for the Conservation of Nature.

Conservationists fear the birds inevitably would collide with the rotating blades of the turbines and be killed. In neighboring Chile, an environmental impact study for a planned wind farm with 65 windmills concluded that as many as four of the rare condors could collide with the massive structures yearly.
Stupid. Unnecessary. And sad.
*****
Songs of the Season
The days are getting shorter and the leaves are falling. Here's Nat King Cole capturing the mood of the season with Autumn Leaves.
The falling leaves drift by the window The autumn leaves of red and gold I see your lips, the summer kisses The sun-burned hands I used to hold Since you went away the days grow long And soon I'll hear old winter's song But I miss you most of all my darling When autumn leaves start to fall Since you went away the days grow long And soon I'll hear old winter's song But I miss you most of all my darling When autumn leaves start to fall
Have a great weekend.
(buck.throckmorton at protonmail dot com)


posted by Buck Throckmorton at
11:00 AM
|
Access Comments