« GAINZZZ: How to Avoid Bidening Like Sundown
|
Main
|
Quick Hits »
August 19, 2022
The Last Days of the Libs of TikTok
Children are being taught by psychotic malignant narcissists. Where are teachers getting this idea that the classroom is all about themselves? That it's their Real World Social Media Account and that the children who are forced to be there by the state are their "followers"? That their classroom is their Talk Show Set where they get to tell the "audience" about themselves and their fabulousness?
Middle school teacher attends Pride March (a Pride March? During Pride Month?!?!) with her students.
Teacher: how to "queer" your classroom (for little kids!).
Non-binary mentally-ill pyrsyn reads you sher demands.

Mad Max was supposed to be a dystopian thriller, not an operating manual.
Content warning: Two girls butchered by Big Trans doctors with what is euphemized as "top surgery." They're still girls. But Big Trans has transitioned them to mutilated girls. This, it is claimed, will improve their mental illnesses.
Damon imani
@damonimani




29 yo Demi Lovato with a fully developed brain changes her gender, again.

Yet parents are taking their kids through surgical transitions, causing irreversible damages to the body in case of regression, all because the kid said "I feel like a girl."
A doctor asked this man's three-year-old-son if he was a boy or a girl at his routine check-up. Because he lives in California, and the state is insane.
Doctor at Bost Children's Hospital: if your kid doesn't adhere to gender stereotypes, she-he is probably a he-she.
Boston Children's Hospital is the preeminent hospital serving gender dysphoric children in the US. They tout this on their website, and doctors who work with this population at the hospital are proud to share videos about how they perform sex change operations, and how to tell if your child is trans.

In a recent video, shared by Chris Elston, Dr. Jeremi Carswell, director of the Gender Multispecialty Service at Boston Children's, explains that "A child will often know that they're transgender from the moment that they have any ability to express themselves, and parents will often tell us this." Carswell is not the only doctor to link gender stereotypes to an understanding of how to identify that a child is trans.

"We have parents who tell us that their kids they knew from the minute they were born practically," Carswell says, before going on to describe a child's unwillingness to adhere to gender stereotypes as evidence of being trans.

"And actions like refusing to get a haircut or standing to urinate or trying to stand to urinate, refusing to stand to urinate, trying on siblings clothing, playing with the quote 'opposite gender,' toys, things like that," she says of children who give pre-verbal indicators that they are meant to be the opposite sex.
They also have a page up where they show boys how to better tuck their penises, so they look more like vaginas. Great. I guess it's better than hormones or surgical mutilations.

Tucker Carlson just talked about this. The trans extremists are attacking anyone who talks about this, because they want to do what they do in secret.
That's how you can tell who the good guys are -- they want to do things in secret.

All the Non-Groomers want to do things with kids in secret.
A professor at another children's hospital opines that parents who do not support their children's media-concocted delusions of transgenderism should be criminally prosecuted under the law for child abuse.
NBC "News" is calling Libs of TikTok a "hate" speaker -- and a "stochastic terrorist."
Basically calling for violence against her. Again.
The leftwing media is claiming that Boston Children's Hospital doesn't do surgeries on kids-- which is a lie. They've done 177 masectomies over the past few years, half of which were done on kids 15 to 18. Fifteen.
The Daily Caller says: Oh yes, they certainly are performing sex-reassignment surgeries on children.

Boston Children's Hospital performs mastectomies on transgender minors as young as 15, and previous guidance allowed vaginoplasty to be performed on 17-year-olds, according to documents reviewed by the Daily Caller News Foundation.

The hospital updated its guidance with a minimum age requirement of 18 for all "gender-affirming" genital surgeries and hysterectomies after being subject to criticism and threats related to its online promotion of sex change procedures, although it still allows mastectomies at 15.

"We know that until recently, almost all young kids with gender dysphoria reconciled with their sexed bodies after they get through puberty. The effect of 'gender affirmation' and early social transition, in contrast, is to put kids on a fast track to surgical intervention and sterilization," Dr. Jay Richards, senior research fellow at the DeVos Center, told the Daily Caller News Foundation.

...

The hospital's guidance allowed vaginoplasty at 17 and did not list an age limit for "gender-affirming" hysterectomies until online activists shared the hospital's videos promoting the procedures, sparking outrage.
Apparently what Boston Children's Hospital did is quickly edit its website to restrict sex-reassignment surgeries to those 18 and above -- and then the media reported that. (We don't know if Boston Children's Hospital told the media to report that.)
What they failed to mention was that that restriction had just been added, in the wake of the negative exposure from Libs of TikTok and Christopher Rufo.
Meanwhile, the trans movement is under such threat from Libs of TikTok that their thugs, in order to defend the movement, are forced to literally break the arms of anyone wearing a sandwich-board sign questioning changing the gender of children.
No calls for the trans extremists to cool down their rhetoric to stop actual, real assaults like this. Nope! Just continually branding anyone who criticizes mutilating children as "terrorists" and justifying violence against those critics -- while suggesting that real violence is necessary to stop hypothetical future violence.
Violent fascism is forever percolating on the right, but actually coming to full brew on the left.
The DOJ has rushed to condemn alleged "threats" made against the Boston Children's Hospital.
The DOJ has still not issued a statement condemning the actual firebombings of pro-life pregnancy centers by the DOJ's leftwing terrorist allies "Jane's Revenge"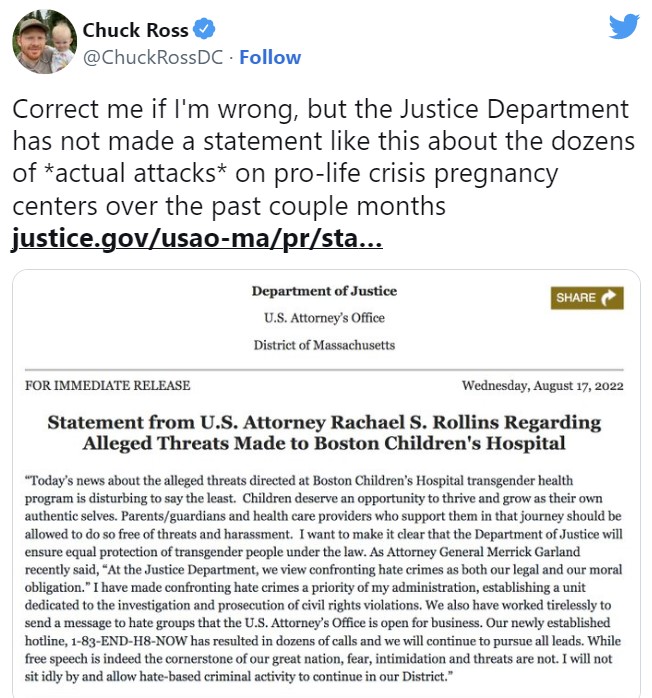 The DOJ -- up until now, a supposed law enforcement agency, not a child psychology organization -- now issues its considered opinion that lopping off healthy organs from children helps them "thrive."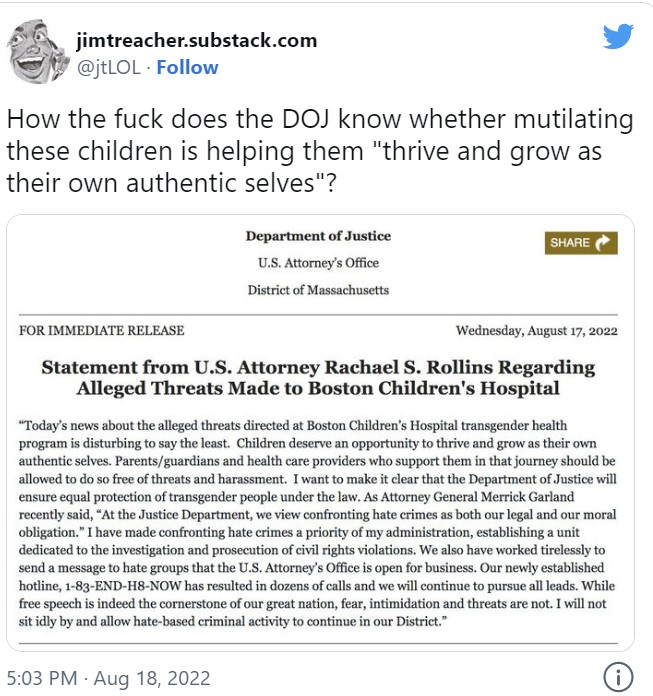 FaceBookbanned Libs of TikTok: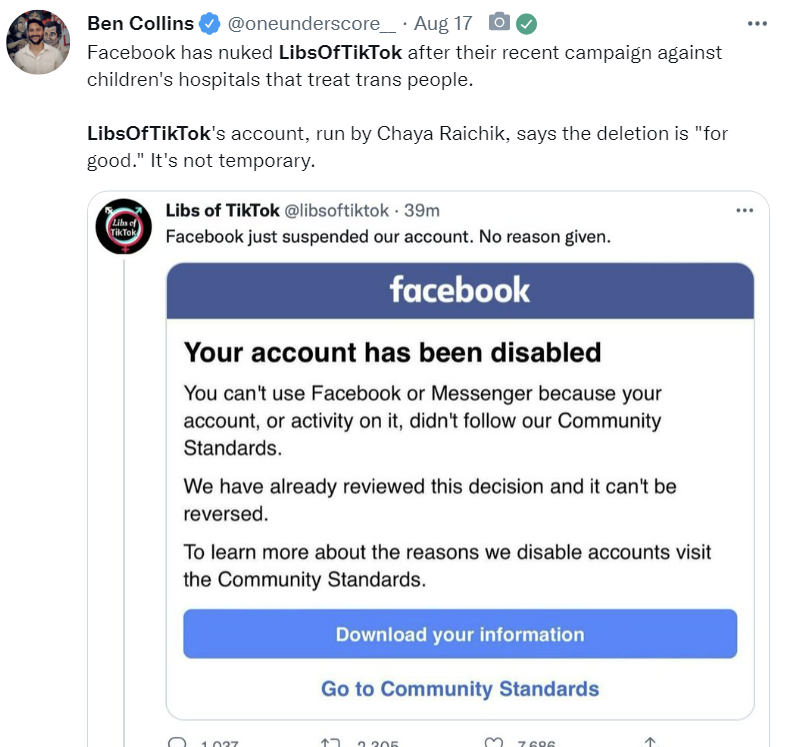 Supposedly that was an "error."
It wasn't an error. The typical scumbag began reporting her for "terrorism" and a Censorship Squad at FaceBook agreed, and banned her account. When she appealed, she was told that it was a permanent ban. Only later was she told it was "an error."
So for now it's an error. But I strongly suspect it's a matter of them crossing their t's and dotting their i's and consulting with lawyers and their lobbyists if they can get away with banning yet another high-profile conservative dissenter.
I think this was just a premature banning -- but that the real banning is on the way.
We'll see. The left is ginning up its hate campaigns, and, once again, the government is weighing in to brand anyone dissenting with the left's agenda a dangerous hater who should be banned.
These supposedly independently-operating monopolies all collude to make their censorship decisions together. Facebook announces a ban, then Twitter announces a ban, then Google, then the Apple store.
All making the exact same decisions "independently."
And when someone attempts to create a competitor service with a different censorship regime, Amazon and Apple rush to stop anyone from actually downloading the service -- stopping anyone from actually using the would-be competitor.
And this is what National Review and AEI and Conservative, Inc., all paid to one extent or another by Monopoly Tech, call a well-functioning private market which must not be interfered with.
Even though Biden is interfering with it weekly.
Have a drink, National Review and Conservative, Inc. -- this is your doing. Toast yourself for your great progress is making sure your patrons never have to worry for one second that colluding with other monopolies, with the government, and with banks to strangle all dissenting speech will ever be met with any democratic pushback.
You've emboldened them. And you've all earned your paychecks, Paycheck "Conservatives."
I'm turning from opposing men in women's sports to supporting it. If women are in this kind of delusionary state, and really want to have their jaws dislocated by impacts with a man -- or are so drunk on feminist ideology that they refuse to believe men actually are stronger -- then maybe it's time to finally give them a cold bath of reality.
Unless it's a family member or a very close friend, you can't chase a suicidal person around trying to keep them from committing suicide. No one has the time or energy for that. At some point you have to say, "Vaya con Dios."
And I'm starting to feel, Vaya con Dios, Senoritas.

More on that trans applicant who was rejected by every sorority at the University of Alabama.
All sorority chapters at the University of Alabama rejected a biological man who identifies as a woman during their notorious recruitment process, according to a video and statement from transgender woman Grant Sikes.

Sikes, a biological man, posted to Instagram stating that all of the almost 20 sorority chapters at the University of Alabama unanimously cut the transgender woman.
No, he's a male transgender. I'm tired of this crap.
"Unfortunately, this chapter is closed. This recruitment journey is over for me," Sikes said on Instagram. "Being dropped from my last house this morning during primary recruitment at the University of Alabama doesn't come as a surprise considering out of the almost 20 chapters -- I was dropped by every single one except 2 before day 1."
I'm not an expert on sorority rush at the U of Alabama, but I suspect the reason for the lack of interest is because sororities are for women and you are a man.
Video of Grant showing off his "OOTD," or "Outfit of the Day," here.
Camille Paglia: these fake trans pronouns are a mutilation of our beautiful language and how dare you little twerps demand that I mutilate my language to accommodate your mutilated view of reality.
She also says that anyone who participates in the surgical (or just hormonal, I think) interference with a child's maturation through puberty is guilty of "child abuse" and then escalates to calling this a "crime against humanity."
#Based.
She also discussed how sex changes can harm children.
To the lads: You're welcome for the girl in the striped shirt. It's really working for me personally.

posted by Ace at
05:26 PM
|
Access Comments