« The Last Days of the Libs of TikTok
|
Main
|
Baby Elephants Cafe »
August 19, 2022
Quick Hits
Seth Dillon @SethDillon

Hey @brianstelter, would you be interested in working for the Bee? We're looking for talent with experience putting out funny fake news. You come highly recommended. Shoot me a DM if you're interested!

He hasn't replied yet, but the offer stands. We offer excellent pay for men, decent pay for women, and several intangible, non-monetary benefits that aren't worth mentioning.

In memory of The Steltz: Russell Brand's impression.
And of course Mark Dice's impression.
Here's a compilation of Mark Dice imitating Stelter.
Supposedly Brian Stelter got fired because CNN president Chris Licht watched his show and thought, "Wow, this is really bad. This guy has the charisma of David French with a glandular problem. I mean, a different glandular problem than the one David French actually has."
The day Licht was announced as CNN's new chief in February, everyone around him knew Stelter was toast, a media insider told Fox News Digital. Those in his orbit had been expecting Stelter to be fired because Licht had complained to peers about the show being bad television. In axing Stelter, Licht's desires to return the network to the middle and purge unexceptional broadcasters overlapped.
The article quotes Chris Houck of Newsbusters. Keep your eyes peeled for an excellent deployment of an underused word.
"Stelter departs CNN having done damage to both the network's reputation and the wider media's reputation like few others could do. Positing himself as a media reporter looking to help explain the journalism profession to the public and show how stories are made and shaped, Stelter actually exposed the national press for the knavish liberal partisans that they've become by inadvertently displaying their arrogance and childish refusal to accept even mild outside criticism," Houck told Fox News Digital.

"His rancorous apologies, dismissals and omissions of major media stories and failures only deepened his reputation as the liberal media's janitor and a hate object on the right," Houck continued. "With this move and Jeffrey Toobin's departure last week, these last seven days could mark the beginning of a turning point for CNN under Chris Licht."
An article at Mediaite says Licht promises "more changes:"
"This is a time of change, and I know that it's unsettling," Licht said, addressing what the Daily Beast described as "outrage" at the network over Stelter's ouster. "There will be more changes and you might not understand it or like it all."
Joe Nicosia said that his sources said that The Steltz was down to his "last days or weeks" a couple of months ago. That seems to track with this article stating that Licht has known The Steltz was gone for a while now.
Here's what he's saying now, for what it's worth:
Jon Nicosia @NewsPolitics

Source: Once the coming shakeup at @CNN is done, don't expect John Berman, Alisyn Camerota, Jim Acosta, Brianna Keilar, Jake Tapper, John King, and Don Lemon to still be at the network OR have their current show assignments."
Oh no, not Jake Tapper! All the NeverTrumps are crying. He DMs them! They're all fwenz!

They go on "The final 'stay or go' has not been finalized and more names will be added"

Source: Stelter was a 'go' because "he was seen as working against current management's goals. Leaking, stirring disatisfaction internally." One CNN source went on to say "He started believing he was the only thing between 'democracy' and anarchy"
What a crazy Potato-shaped imbecile.
I saw another article state that Stelter, in reaction to Licht's or Malone's statements about CNN needing to be more of a real news operation, said that they must be watching Fox to think it wasn't already, or words to that effect.
So I think he knew he was as good as fired, too.
Sometime ago, lost in the traceless mist of history -- scientists say we may never know exactly when -- Kurt Schlichter declared, without malice and without fear of contradiction: "Brian Stelter, who is a potato..."
His words echo in eternity. And now they echo in Google's algorithm as well.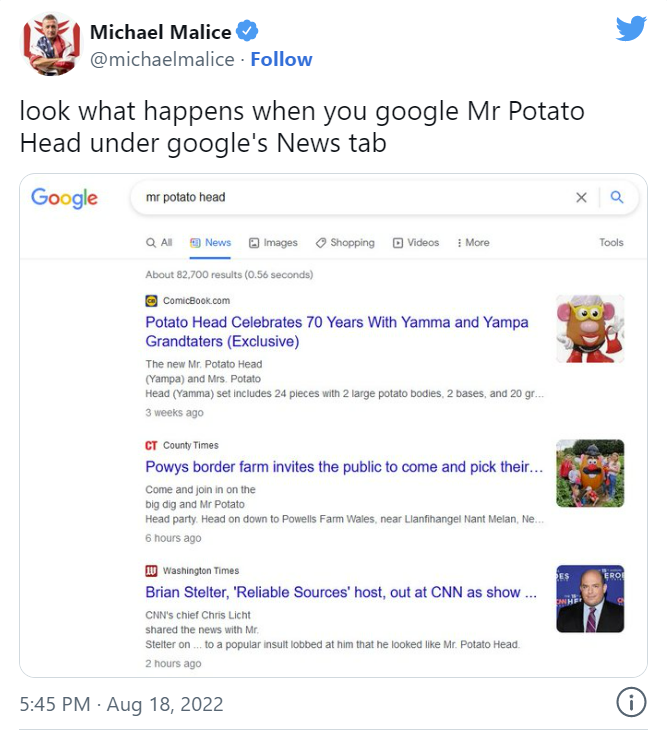 Tom Elliott put together this Mega-Thread of The Potato's most cringe moments. For example, Tater here asks a guest what is the first step in deprogramming Trump Cultists.
Now Elliott puts together this tearful tribute to Tater:

Question: Should we watch Tater's Last Stand this Sunday at 11am eastern on CNN? Supposedly, Brian Stelter, who is a Potato, will be doing something for the very first time: he'll be "making news."
I don't know if I can get CNN. If I can figure out some way to watch, I'll put up a thread.
If I can't see it, I'll just put up clips later.
***
Hmm, so this is how The Master "Beto" does it?
I need to take notes for my run.
I don't believe you voted for Trump. Or any Republicans.
I believe the closest you came to voting for Trump was ordering a Wendy's Baconator and then voting for "Biggie Size."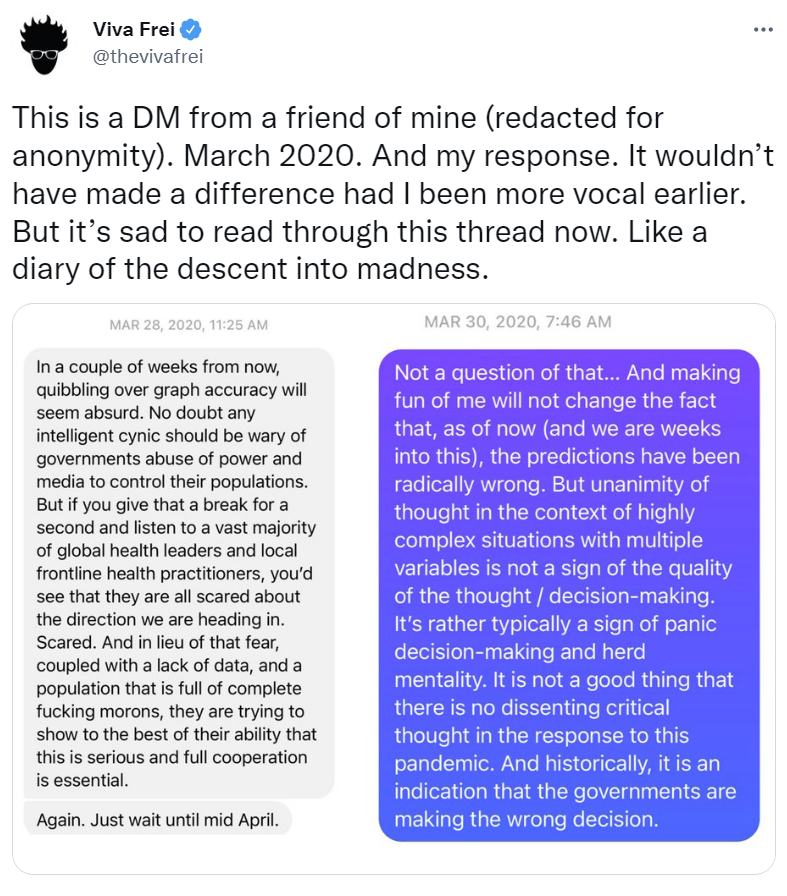 What should we do about the "conservative" media figures who eagerly spread this viral insanity? Do people like Dr. Guy P. Benson, Twitter M.D., just get to pretend they were not essential vectors in spreading viral panic on behalf of their precious Establishment patrons?
Do they just get to call for schools to open two years later and slink away, pretending they were always in favor of more rational responses to the pandemic?

posted by Ace at
06:28 PM
|
Access Comments