« Saturday Gardening, Puttering and Adventure Thread, August 6
|
Main
|
The Weekend Hobby Thread »
August 06, 2022
Ace of Spades Pet Thread, August 6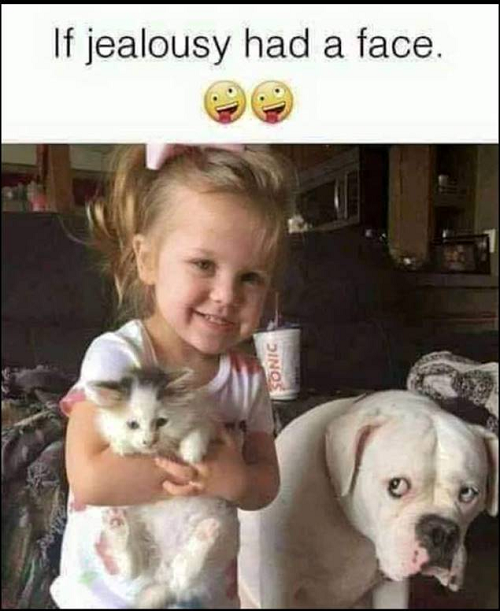 Courtesy Hrothgar
Welcome to this weekly respite from most of the outside "civilized" world -- the Ace of Spades Pet Thread. There's enough love to share with both cats and dogs here.
Thanks for stopping by. Sniff out your best treats, kick back and enjoy the world of animals.
Reminder: For current events and politics, the Thread before the Gardening Thread (a couple of threads below) is almost always an Open Thread.
* * *
Well, this segment might be a little too far from civilization for some. If so, just scroll past. But there are some pointers here about protecting yourself and your pets from snakes. Santa Barbara woman credits snake aversion training after numerous backyard encounters between dogs and large rattler
CaliGirl:
I didn't know that snake aversion could be taught to dogs. I don't know how that would work or how successful the training is. I cannot believe a woman in Santa Barbara admitted to killing something, I imagine she'll get grief from her friends.

I don't have any here but some of my friends have the antivenin at their ranches. This makes me want to keep some here.

We kill them here. This rattlesnake was killed up a mountain by a water trough. The pic may be too graphic. When the guy drove up to the clearing on a quad, it was right there coiled up in the road ready to strike, he only had a .22 with him and he shot it a bunch of times and cut the head off. I think it scared him. I'm terrified of startling one.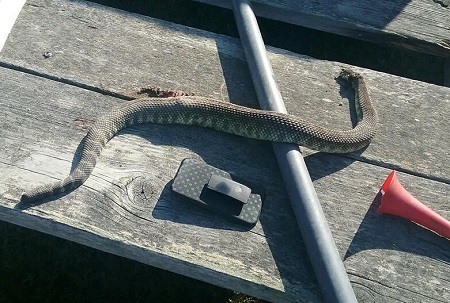 Snake aversion therapy for dogs sounds interesting. We don't want snakes biting pets OR people!
I didn't know civilians kept antivenin. I think you need species-specific antivenin.
* * *
A working dog: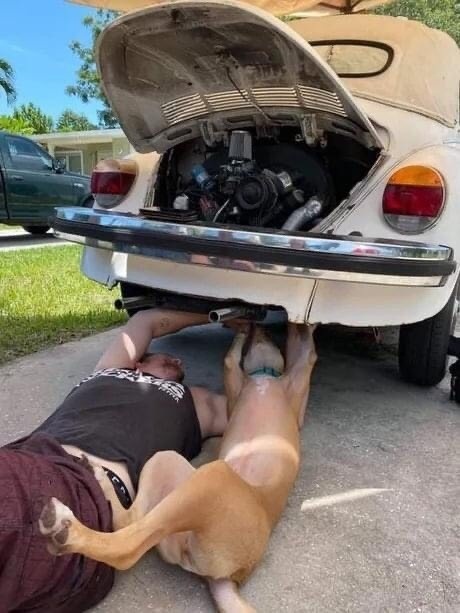 Courtesy Javems
Meet The PetMorons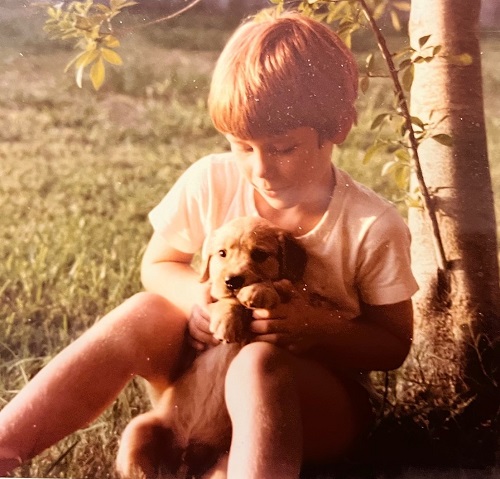 &&&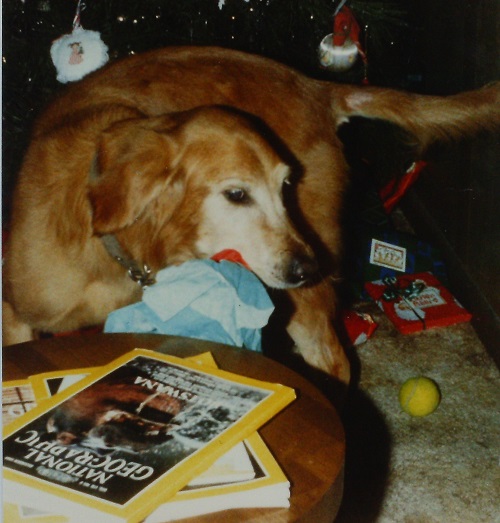 One pic is of my two boys. The human one is now 45 years old. The second is our Rusty when just a pup. Rusty was part of the family for 16 years. In the end his life just became too painful. He was the most engaged dog I've ever been with and was part of us, heart and soul. He was a small (55lbs) and wiry retriever, the son of a champion field dog. When I would come home and meet him in the back yard he had to bring me something, if not one of his beloved tennis balls at least a mouth full of leaves, or grass. He was always excited by Christmas. He knew it was coming when the tree went up and we didn't need kids to wake us up Christmas morning. He would wait, trembling with excitement, until it was his turn to pick his presents. He would carefully pick his from under the tree and how he never knocked off an ornament I'll never know. His tail was always a deadly weapon. I made a nice urn for him and he's with us in the den. I still tear up at the thought of our loss.

Thanks,

Javems
What a sweet remembrance, Javems.
* * *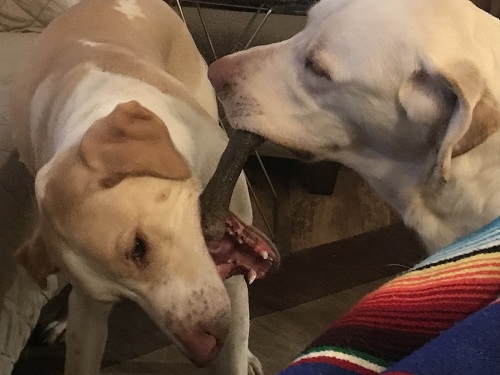 "NOTE: Someone with no apparent nic sent in a photo of a couple of nice dogs with no apparent names to MisHum. Would you like to clear up your identity just a little? "
Hmmm, might have been me. I'm John, and the boyos are Jack and his brother Winston, 'sharing' a chewy bone...?
"Sharing". Hmmm. They look like great dogs.
* * *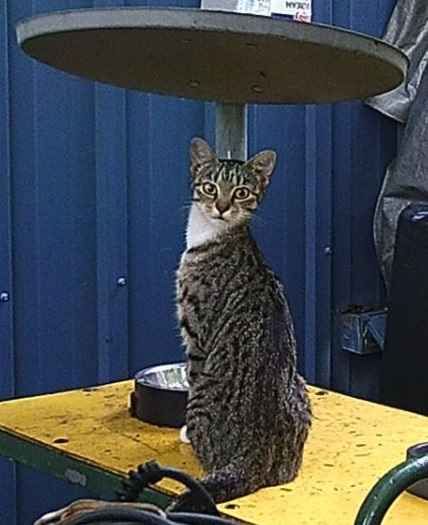 Long time lurker, second time submitter,

I ask the Universe for a replacement Mouse Police shop cat after my beloved Chairman Mao went at it with a coyote a few years ago. Coyote got the best of her, but she went down swinging. The offending coyote showed up a few days later ALL tore up. Mao may have been old and about half deaf but jeeze. She ripped that coyote a new one. I had to put him down.

So time goes by (years) and I'm getting impatient with the Universe to deliver a replacement, so I take things into my own hands. Careful what you ask for stupid human.

This svelte beauty I catnapped from a nearby clowder. She is the current Mouse Police prospect for the shop. This one has mad moussing skills but not so big on the related Mouse Police paper work. We are in talks with management for a waiver on the paperwork though. For my crime of catnapping she promptly dropped me a litter of new recruits. Looks like I'll have a whole Mouse Police Dept. soon. Shop mice be advised. Oh and thanks Universe....mumble ... mumble.

Left handed Penguin.
Maybe we will see photos of the new recruits someday. Mom is a pretty cat! Intriguing pose, too.
* * *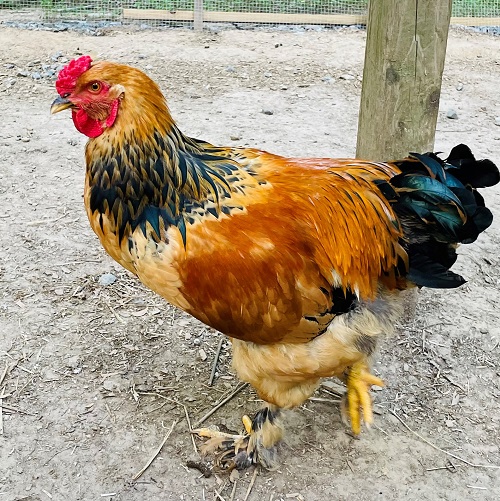 Darth Maul - 5 month old Brahma, appropriately named. He will launch into orbit and use his feet as light sabers.

Euro
Beautiful and deadly!
* * *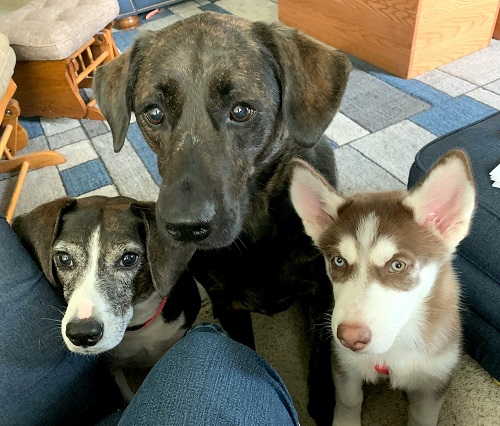 Long time lurker and rare commenter here. AoS is my several-times-a-day vice both for the writing of the proprietor and the comment sections.

Pictured from left is Hope and Bailey, both about 7 and adopted as a pair of puppies. Bailey recently soaked up $8,000 in surgery and vets for a cranial osteosarcoma pushing into her brain. She's made a complete recovery and the Vet Center at Purdue University is optimistic that she will be fine. The fur all grew back and she has a bit of a perplexed wide eyed expression now due to the skin being pulled a little tight.

On the right is River, newly added at about 12 weeks old and driving the other two nuts for the past week with the energy of a Husky puppy. With the mismatched blue and green eyes, she certainly turns heads. We just have to get the housebreaking down....
Wow! You have your hands full, with doggie surgery and a puppy! Hope things go smoothly! Sweet looking dogs.
* * *
Love those PetMorons! Thank you for sharing your pets with us. We have some left for next week.
If you would like to send pet and/or animal stories, links, etc. for the Ace of Spades Pet Thread, the address is:

petmorons at protonmail dot com

Remember to include the nic or name by which you wish to be known at AoSHQ, or let us know if you want to remain a lurker.
Until next Saturday, have a great week!
* * *

If you start feeling nostalgic, here a link to last week's Pet Thread, the Ace of Spades Pet Thread, July 30. Some special PetMoron stories and photos there.
I closed the comments on this post so you wouldn't get banned for commenting on a week-old post, but don't try it anyway.

posted by K.T. at
03:30 PM
|
Access Comments