« The Morning Rant: Minimalist Edition
|
Main
|
Kennedy, Fox's "Cool Mom" of Cringily Shallow Boomer Libertarianism: Just Because 98% of Monkeypox-Infected People are Gay or Bisexual Men, and the Pandemic Started at Gay Orgies, Doesn't Mean You Can Tell People to Not Go to Gay Orgies, Bigot! »
July 28, 2022
GDP Contracts by 0.9%, The Second Quarter in a Row, as America Enters a Funcession
LEFTWING MONOPOLY FACEBOOK BEGINS CENSORING STATEMENTS THAT BIDEN HAS CHANGED THE DEFINITION OF A RECESSION
Oh, and that 0.9%?! Yeah, they fudged that number to be as small a contraction as possible. You can bet large stacks of money that in the coming months, that number will be "UNEXPECTEDLY!" revised to show a larger and larger contraction, probably up the 1.6% that the Atlanta Fed tracker was showing.
Or worse. The economy has been deteriorating still further since that -1.6% reading.
Whoops!
Whoopsie!
CNBC, supposedly a business and economics oriented channel, jettisoned the textbook definition of a recession and adapted itself to the New Soviet Reality imposed on them by Biden and their own hyperpartisan "journalists." They refused to call it a recession, instead adopting Biden's Newspeak.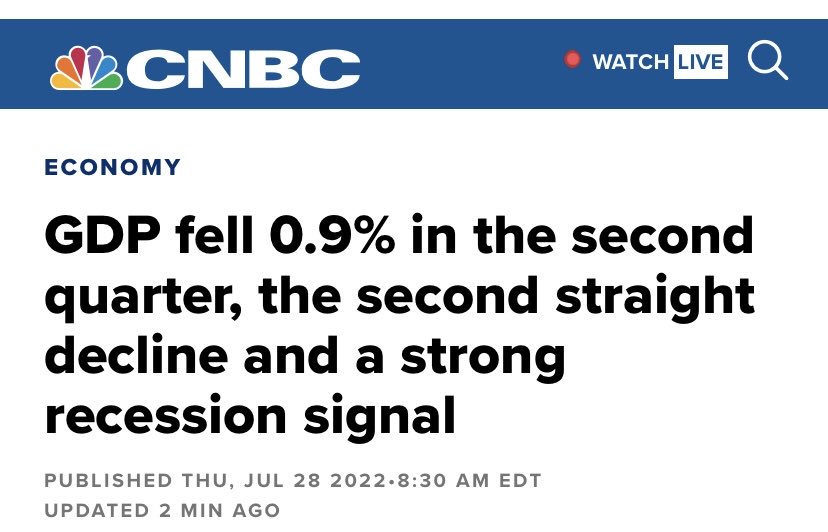 This formulation -- that we're not in a recession, but that we may be in some unknown far-off future -- seems to be the redefinition that Biden sought, which the media has unanimously accepted as the New Reality.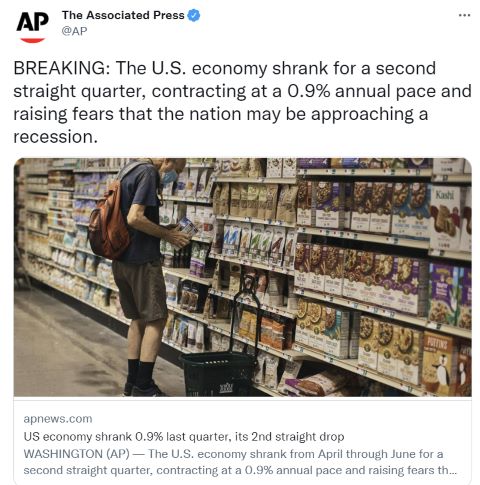 Brit Hume
@brithume



"...may be approaching a recession." Note the exquisitely careful wording, in keeping with the Biden administration's efforts to abandon the traditional two-down-quarters definition of a recession.

Some, like Politco's Ben White, actually have a prior history of personally defining a recession as two quarters of negative growth, but are now adopting the New Reality without explaining what has prompted this sudden religious conversion. And they're blocking anyone who has the temerity to ask.
Amusingly, the media is having a panic attack about Republicans refusing to give access to leftwing activists posing as reporters -- but note that the leftwing activists posing as reporters themselves refuse to answer perfectly reasonable questions.
We just learned it from you, Dad.
John Solomon points out that this is hardly the first time that Biden and his Praetorian Media has reshaped reality to better serve his political needs. Before redefining "recession," Biden and the Praetorian Media redefined five other key words, including:
Voter suppression

Following the controversy of the 2020 election, Republicans in some states such as Georgia have pushed a series of election reforms with the stated purpose of combating voter fraud and protecting election integrity

These measures include requiring voters to provide identification to receive an absentee ballot and prohibiting ballot harvesting, a tactic, outlawed in most states, in which third-party activists gather and deliver voters' ballots.

Biden has consistently described these efforts as "voter suppression" meant to make it harder for people, especially minorities, to cast their ballots. Biden has even called such efforts "Jim Crow 2.0," a reference to the laws that enforced racial segregation in the South.

...

Illegal alien


Last year, the Biden administration ended use of the phrase "illegal alien" to describe migrants who entered the country illegally, although "alien" has long been common in U.S. law. The administration ordered immigration enforcement authorities to use the term "non-citizen" instead.
In addition to "recession," which Biden is in an all-out Orewellian blitz to redefine now, he's also redefined "domestic terrorism," "insurrection," and "disinformation," of course. Hit the link for that.
Christina Pushaw adds a few more:
Christina Pushaw
@ChristinaPushaw



Just a few words that liberals have redefined:
"recession"
"woman"
"vaccine"
"democracy"
"healthcare"
"racist"
"mostly peaceful"
Comfortably Smug @ComfortablySmug

We're really going to let the people who can't define a woman define a recession?
Even some lefties are taking notice of the pungent smell of Orwell in the air all around them:
Conan O'Brien
@ConanOBrien



The White House now says it's only a recession if you see a salamander wearing a top hat.
Solid prediction:
Jack Posobiec
@JackPosobiec



They will ban people for saying we are in a recession

You all know it's coming
I wrote most of this post at 10 am; I didn't expect the censorship to come so quickly.
Biden must have prepped them for this and told them to get their censors ready: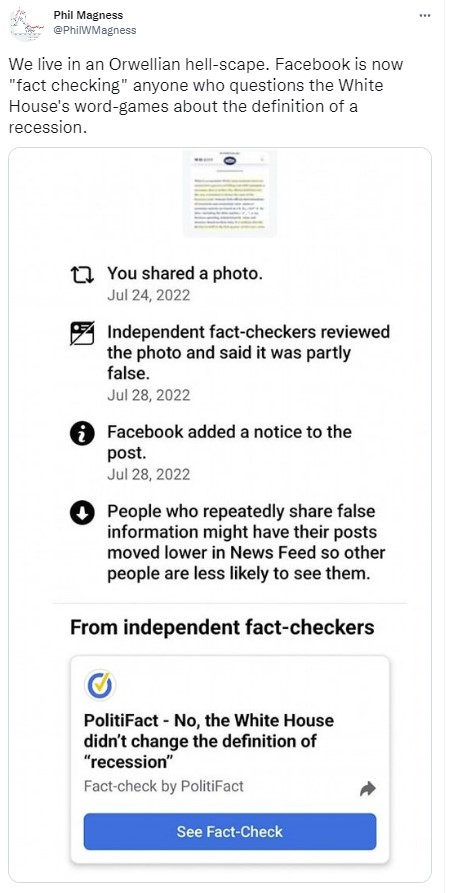 They've started the "fact" checking, which is the ideological pretext for beginning the algorithmic suppression and then the bannings.
In fact: They're straight-up warning people they intend to do that.
COMPLY WITH NEWSPEAK'S NEW (YET UNCHANGING) DEFINITIONS OR ELSE.
A whole new area of "disinformation" to censor -- dangerous, morale-sapping "economic disinformation." Most likely insinuated into the American communication channels by, you guessed it, Russia.
Phil Magness -- an economic historian -- points out that Joe Biden repeatedly claimed, without evidence, that the economy was in a recession under Trump, and FaceBook, of course, attached no "fact" check to his claim.
Omri Ceren
@omriceren



Looking forward to a lot of "Biden claims, without evidence, that the US is not in a recession, contradicting experts" headlines and chyrons throughout the day.

On account of how journalists don't choose a side.
Comfortably Smug
@ComfortablySmug



Biden:
"Surprised" by "Unexpected" Taliban
"Surprised" by "Unexpected" Inflation
"Surprised" by "Unexpected" Gas Prices
"Surprised" by "Unexpected" Formula Shortages
"Surprised" by "Unexpected" Russian Invasion
"Surprised" by "Unexpected" Recession
... seems like a trend?
In fairness, the smartest man he knows is crackhead.
Hey NeverTrump -- is a single one of you going to show any of that integrity and accountability you've so ostentatiously admired -- from a safe distance, of course, wouldn't want to spill any of that on yourselves! -- and confess a drop of error?

Or are you just going to continue shaking your pom-poms girlishly?