« GDP Contracts by 0.9%, The Second Quarter in a Row, as America Enters a Funcession
LEFTWING MONOPOLY FACEBOOK BEGINS CENSORING STATEMENTS THAT BIDEN HAS CHANGED THE DEFINITION OF A RECESSION
|
Main
|
Republican Congressmen Accuse FBI Director Wray: Whistleblowers Tell Us the FBI Is Inflating "Domestic Terrorism" Cases According to Biden's Propaganda Demands, and Conditioning Promotions Based on How Many Fake "Domestic Terrorism" Cases They Fabricate »
July 28, 2022
Kennedy, Fox's "Cool Mom" of Cringily Shallow Boomer Libertarianism: Just Because 98% of Monkeypox-Infected People are Gay or Bisexual Men, and the Pandemic Started at Gay Orgies, Doesn't Mean You Can Tell People to Not Go to Gay Orgies, Bigot!
Ah, the "Science" of liberals.
This isn't about science, of course. It's not about avoiding disease -- it's about avoiding stigma.
And we're not allowed to say that the group which constitutes 98% of the people catching and spreading it are gay and bisexual.
And we're not allowed to say that the behavior -- hyperpromiscuity, so that one can quickly become infected with the disease from one sexual partner and then have sex with one or more sexual partners while in the infectious stage, like, for example, at a gay orgy -- which is primarily driving the spread of the disease should be stopped, at least for the period of the pandemic.
We can't even say "Stop having gay orgies, just for fifteen days to stop the spread."
No, even that's too repressive.
So we're doing a replay of the 1980s-- when we all have to pretend that a disease that primarily affects gays, and is primarily spread by gays, and is primarily spread by specifically gay sexual behavior "affects everyone" so everyone rush out and get those dental dams for when you're going down on your wife.
We're spending another ten years in Pretendistan.
And when this becomes endemic, and people get really sick, and they get sick precisely because gay "allies" like Kennedy and Marie Harf refused to be straight with their Gay Besties and tell them to cool it with the gay orgies for a few months, they'll go straight to blaming conservatives for deliberately making gays sick.
Just like they blamed Reagan for AIDS.
And not, say, leftwing mayors for refusing to shut down the bathhouses.
And not, say, gays themselves for not taking serious stock of a life-threatening disease and, yes, cooling it with the hyperpromiscuity for a few months or a year.
No -- the Endless Party must never end! If you tell gays to observe a "lockdown" on multipartner sex session that's like PUTTING ANNE FRANK IN THE ATTIC ALL OVER AGAIN!
Say, quick question for you, Kennedy, Marie Harf, and Brad Polumbo:
If straights are also having straight orgies, tell me, where are all the straights infected with monkeypox?
Straights outnumber gays 19:1 so if straights are having orgies and hyperpromiscuous sex at anywhere near the same levels as gays, the numbers of straights infect with monkeypox should absolutely dwarf the number of gays infected with it.
But they don't, because they're not.
You're lying, as usual, because we always have to lie for the benefit of Protected Leftwing Constituencies.
But you're not protecting them. You're making them sick, because you're denying them the actual honest and frank discussion about gay sexual behaviors and the strong, strong, strong linkage to monkeypox infection that gays, and gays especially, and frankly, gays only need to hear.
In case you don't know, Brad Polumbo is a Koch-funded gay "libertarian" who is actually just another left-liberal being pushed as yet another fake righty. He's being funded to run a site called "BASED Politics," which is a joke, because everything about him is Social Justice Warrior language policing and hysterical Bigot! shrieking.
Yeah, real Based.
Another Koch operative designed to undermine actual conservatism.
Kennedy, who's such all "ally" to her Gay Besties that she's going to hold them down and whisper pleasing banalities in their ears while random men inject them with monkeypox, decided to snark at Sean Davis for bringing up the inconvenient Gay-Unfriendly truth:
Sean Davis @seanmdav

Ned is 100% correct: if you spend your time going to gay orgies, you are waaaaaaaay more likely to get monkeypox than someone who doesn't go to gay orgies.
Kennedy @KennedyNation

You know this from experience Sean?
Shut up, dummy, and tell me when David Lee Roth's new single is coming out.
By the way, dare I even guess at how enthusiastic Kennedy was about forced masking, vaccinations, and lockdowns? I'm not sure and Twitter won't let me search-- it directs all of my searches to the HHS for the "real" facts -- but I have my suspicions.
Even Canada -- yes, even leftwing Canada, whose government will punish you if you don't use trans people's preferred pronouns -- is now advising gay men to slow down on accumulating sex partners like they were Pogs.
Teresa Tam is Canada's chief public health officer, and, according to "Cool Mom" and cringy Boomer Libertarian Kennedy, a bigot who just wants to rain on her Gay Besties' good times.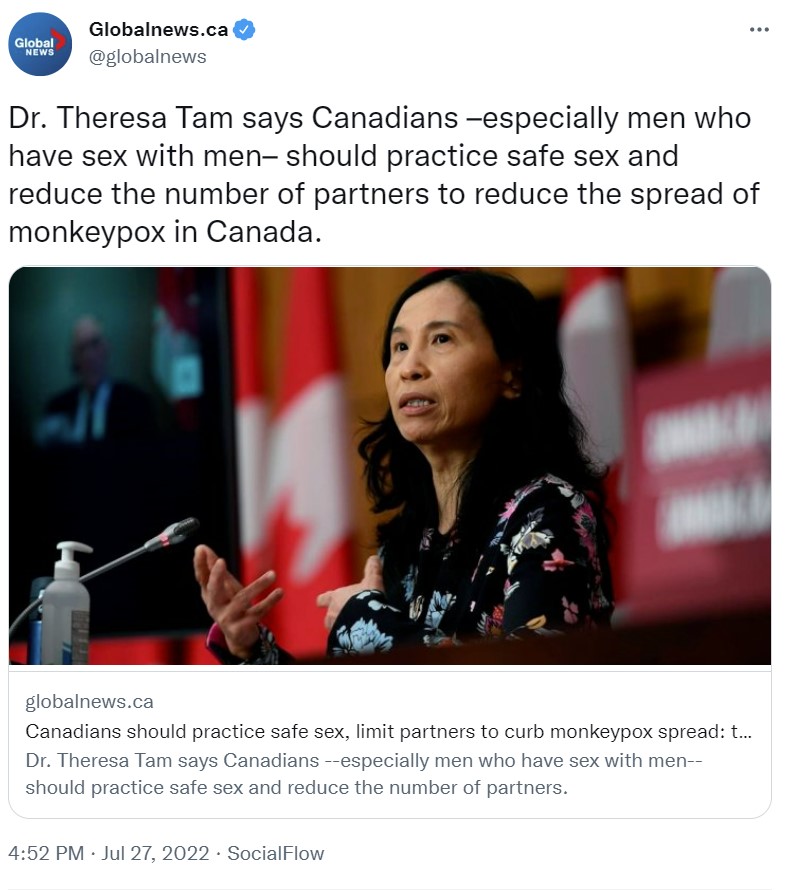 Men who have sex with men should practise safe sex and reduce their number of partners to limit the spread of monkeypox in Canada, Dr. Theresa Tam advised Wednesday.

...


Less than one per cent of national cases involve women or people under the age of 20.

Monkeypox is circulating among men who have intimate contact with other men, Tam said, and while anyone can be infected, targeted public health measures for gay and bisexual men are needed.
What a bigoted right-wing kook. Imagine concluding, on no better basis that almost everyone who has monkeypox is a gay or bisexual man, that this is a disease spread by gay and bisexual sexual behaviors.
What kind of dark age primitive thinking is that? Doesn't she know that we now have The Science (TM) that allows us to throw away all actual evidence and just make pronouncements based upon what our politics are and what groups we wish to validate and promote above others?!?!
Also a bigot: Buzzfeed's gay LGBT reporter, who wrote up a story that WHO is also recommending that maybe gays take a break from the Endless Party of multiple sex partners a month during this monkeypox outbreak.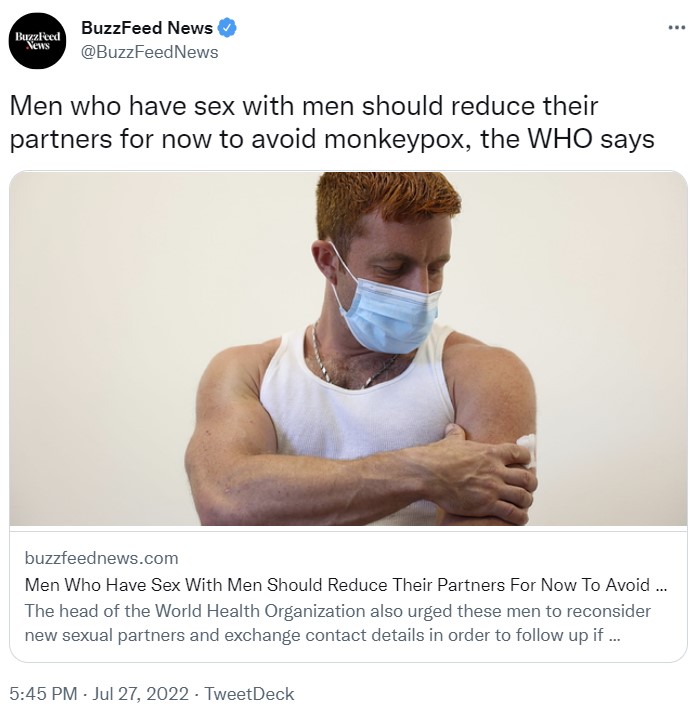 But Kennedy says that this is bigotry and that anyone can get monkeypox.
Sure -- anyone living the gay male sexual lifestyle.
But I'm guessing that's mostly going to be gay males.
What's your guess, Kennedy? What's The Science (TM) say on that?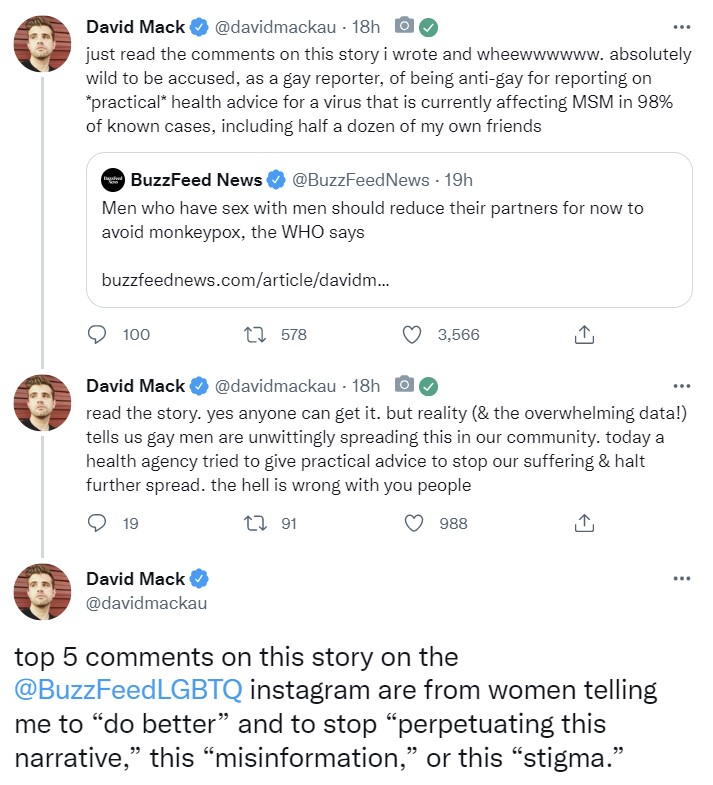 Update: Whoops, it appears that the WHO has been pressured by the Gay Lobby, and has reversed itself
By the way, if they're going to change the name of monkeypox, Tucker wants to be part of the conversation as far as name replacements.
His favorite possibility: "Schlong covid."

posted by Ace at
01:13 PM
|
Access Comments