« Media, CDC, "Scientists" Continue to Gaslight Egregiously on Monkeypox, Shredding Any Remaining Trust
|
Main
|
New York Man Stabs Fellow Subway Rider -- Because The Other Subway Rider Had Been Harassing People on the Subway, Screaming At Them »
July 26, 2022
Biden's White House: Who's to Say What a Recession Is? Well, We Are. We Say What a Recession Is.
And We Say This Isn't One, So Stuff It.
At Twitchy, the White House has just gone right out and redefined the economic term "recession:"
What is a recession? While some maintain that two consecutive quarters of falling real GDP constitute a recession, that is neither the official definition nor the way economists evaluate the state of the business cycle. Instead, both official determinations of recessions and economists' assessment of economic activity are based on a holistic look at the data--including the labor market, consumer and business spending, industrial production, and incomes. Based on these data, it is unlikely that the decline in GDP in the first quarter of this year--even if followed by another GDP decline in the second quarter--indicates a recession.
They're doing this because the official GDP numbers are released on Thursday, and the unofficial numbers say the GDP contracted 1.6% in the second quarter, making it two back-to-back quarters of contraction, and therefore a recession.
Only... now they're claiming "It's not that simple."
Oh? This economist points out that the last ten times we've seen back-to-back quarters of negative GDP growth, it's been declared a recession... all ten times.
So it is that simple.
Except Brandon doesn't want it to be.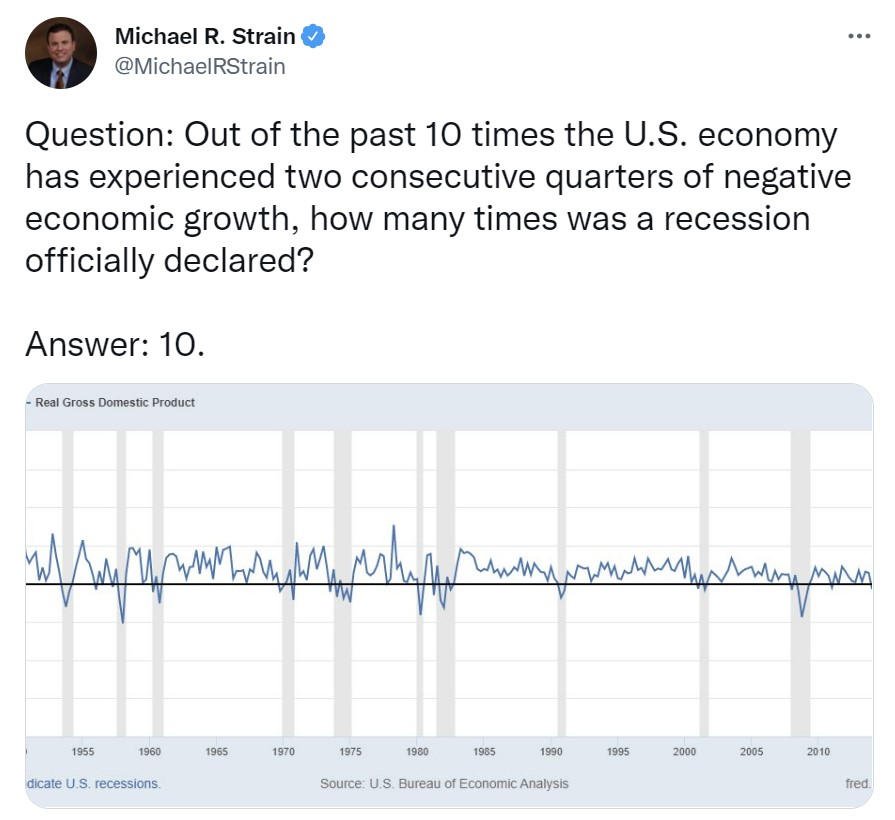 By the way, I got shuck-and-jived by this a few weeks ago. I seized and pounced on the Atlanta Fed tracker's snapshot of the second quarter as showing negative growth, and pointed out that meant we were in a recession. But a "Mainstream" media article I found said that this would merely be a "technical" recession, and that a real recession would have to be declared by Biden's council of economic advisors, based on So Many Factors.
I thought I maybe had had it wrong all these years about the "two quarters of negative economic growth" and just accepted that the "mainstream" media was telling me the truth.
Now I realize this push by Biden to redefine a recession just started last month, and that the Biden Administration's spinners were "helping" the media to "correct" their definition of a recession in June.
During Pride Month?
During Pride Month?!!
David Harsanyi writes about Biden's bold new Orwellian strategy to redefine the word "recession," following in the footsteps of his Best Friend Forever Barackh Jibrama, who changed the government's metric for job growth from "jobs created" to "jobs saved or created."
In 2009, mired in the slowest recovery in American history, the Obama administration decided to dispense with antiquated economic metrics and cook up a new, non-falsifiable number that would better accommodate the president. And so, we were introduced to jobs, "saved and created."

Every month, an administration economist, under the veneer of expertise, would trot out this fake statistic -- one that had never been used by the Labor Department or Treasury Department or the Bureau of Labor Statistics or anyone else. And every month, the political media would dutifully report on it without much skepticism. Obama claimed his recovery plan would "save or create three to four million jobs over the next two years." But once the "saved" part of "created and saved" was removed, we found out the economy had lost 2 million jobs, with unemployment reaching 9.4 percent. Our fortunes only turned around after Democrats lost Congress and gridlock hampered Washington's ability to inflict any more damage.

All of it was transparently stupid, yet it was flat-out genius compared to the scheming of the Biden administration.

Well, get ready for a debate over the word "recession." It's true, there's no scientific definition for a recession, because economics isn't an exact science. Yet, for decades, the media, government, economic textbooks, and dictionaries have all, more or less, defined a recession as two consecutive quarters of negative growth. But now, with the prospects of this week's GDP report being in the red -- the Atlanta Fed estimates GDP will contract 1.6 percent -- the administration and media are engaged in a pedantic discussion over the real meaning of a recession.

"What is a recession?" the White House Council of Economic Advisers ponders. "While some maintain that two consecutive quarters of falling real GDP constitute a recession, that is neither the official definition nor the way economists evaluate the state of the business cycle." It isn't? It is true that on rare occasions, as the National Bureau of Economic Research did in the early '90s, experts will declare a recession when there are non-consecutive quarters of negative growth, but not once has the media covered two consecutive quarters of contraction as anything but a recession.
In other words, sometimes they'll declare a recession absent two quarters of back-to-back negative growth when other factors are suitable dire, but they've never once seen two quarters of negative growth and failed to brand that a recession.
Back to back quarters of negative growth aren't required for a recession -- but they are sufficient for one.
...

The administration argues we aren't technically in a recession because of the low unemployment rate. But simply because the Biden administration says we're experiencing historic job growth doesn't mean we have to play along. Indeed, the private sector hasn't even regained the jobs lost due to the "man-made" downturn that was caused by needless government-compelled Covid shutdowns. The Chamber of Commerce says 3.25 million fewer Americans are working today than were in February of 2020. (In 2019, presidential candidate Joe Biden argued the economy was "teetering on recession" when there were zero quarters of negative growth and the unemployment rate was at 3.7 percent. Today it's at 3.6 percent.)
And if Biden's staking his claim on employment, it's a bad claim. Ed Morrissey points out that even his lockstep ally the Washington Post says that Putin's Job Creation Boom is over.
The labor market, until now a pillar of economic resilience, is showing cracks.

Job growth is slowing, unemployment claims are ticking up and several big companies, including Apple and Meta, are putting hiring plans on hold. There are signs that more firms are slashing jobs in industries as varied as tech, advertising, health care, finance and law.

Convenience store chain 7-Eleven laid off 880 corporate workers in Texas and Ohio, following its purchase of a rival chain, a company spokesperson said an email. Ford Motor Co. is planning to cut 8,000 positions in the coming weeks, Bloomberg reported. Meanwhile, electric carmaker Rivian is cutting 700 positions, delivery start-up Gopuff is laying off 1,500, and mortgage lender LoanDepot is slashing 4,800 jobs this year, according to reports.

"What had been universally positive labor market news is certainly less so now," said Liz Ann Sonders, managing director and chief investment strategist at Charles Schwab. "The anecdotes are starting to stack up of companies laying off workers or freezing hiring or limiting job postings."
He also points out that Putin's Job Creation Boom is nothing of the sort-- we merely added back some of the jobs lost to the covid shutdowns, and didn't even add jobs to keep pace with population growth.
For those keeping track, the new number of total jobs filled is now 151.98 million. That puts the US a little over a half-million jobs shy of the February 2020 figure of 152.504 million jobs filled, the last full month before the pandemic shutdowns destroyed 22 million jobs in April and May of the same year.

It means we have recovered 98% of the jobs lost since March 2020, but that is a static measurement. Population growth in the US -- between 2 and 2.5 million per year -- requires constant job growth to keep up the employment-population ratios and maintain a healthy economy. Even at a minimal population-growth assumption of 4 million over 28 months, we need an additional 2.4 million jobs to keep pace with the February 2020 dynamic status quo, so we are now about 2.9 million jobs shy of full recovery from the pandemic.
There are, however, some people out there who believe that Biden is an economic genius for convincing Vladimir Putin to give us the Putin Job Creation Boom.

And those people are the North American Man Boy Lincoln Association, aka the Lincoln Project.
You know -- the real conservatives. And not just the con artist liberals who have grifted conservatives for decades before we vomited their foulness out of the party, whereupon they began grifting their own kind, bourgeois liberals and nasty bitter sexless Karens.
With the nation on the cusp of entering a recession, the anti-Republican PAC of so-called Republicans is praising Joe Biden for "his enormously successful first 18 months in office" and for creating "one of the strongest economies in American history."

I know, I know, just try to stop laughing and continue reading.

The Lincoln Project cites what it calls record-shattering job growth in his first year in office and wage growth as indicators that Biden is truly the bee's knees when it comes to the economy.

Of course, readers of PJ Media know these are bogus indicators as wage growth is not keeping pace with historic inflation and he didn't actually create any jobs in 2021.

Do you think that matters to the Lincoln Project? Nope.

"President Biden is a decent human being who exhibits the qualities we should cherish in a President: he's a strong leader with clear moral standards and empathizes with Americans for the challenges they face every day," Lincoln Project cofounder Reed Galen said. "President Biden shows what American greatness looks like."
This stupid cow-eyed sub-moron:
The media and Baba Yaga's uglier older spinster sister are out there spreading The New Gospel of Joe:

posted by Ace at
01:56 PM
|
Access Comments