« Now NYC Mayor Eric Adams is Complaining: These Illegal Aliens Are Breaking Our Social Safety Net!
|
Main
|
Snoo Cafe »
July 21, 2022
Quick Hits
"Hot mom" criticized online for wearing very revealing neckline to son's seventh birthday party.
His birthday present was cleavage deep enough to plant a sapling in.
She was bending over here, to cup her hands around the birthday candle to keep it from blowing out in the wind: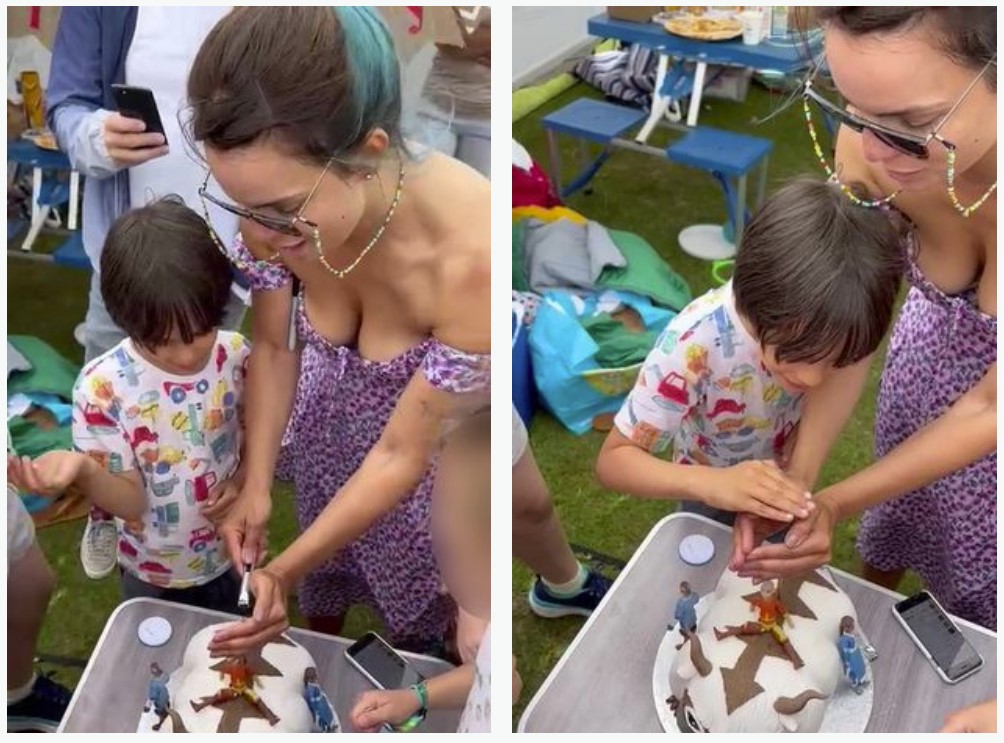 She's a mother-of-two
I'll say!
In fairness, while the dress is kind of low cut (across the shoulders), The Girls didn't come out to play until she was in the bent-over position.
Pics and video at the link. She's pretty cute, and she's some kind of hot-blooded Romanian or Slav type. She also has tan lines.
Gender activists demand anthropologists stop identifying human remains as male or female.

We need to shut down TikTok. Do we really need an entire app dedicated to providing drama-prone young girls with another place to seek and exult in drama?
It's mentally unhealthy. China has destabilized America with this app and used it for espionage and they're even making money on it.

Dee
@DeeLeftMom

My daughter asked me why I wear a mask in the car when picking her up from beach volleyball clinic, when I'm alone in the car. I know it's petty of me, but it triggers a Republican mom who picks up her daughter at same time. She told me to stop. So, here's my answers.


She went off about mask at a beach vb tournament and said how libtards are so stupid they wear mask in the car when driving alone. Next clinic I started wearing mask in car, proving her right, first time she saw me, she's said stop... and here we are
She may be embarrassing her child and stirring up strife in her actual real life for admitted "petty" reasons, but what she wants is validation on Twitter from other sexless joyless leftwing Twitter Zombie women, and she does in fact get it.
So big win, I guess.
#WhoDatNation @SAINTTLF

Sometimes petty is all we have


Dee
@DeeLeftMom

Replying to @SAINTTLF
It's my passive aggressive way of retaliating for all the harm Republicans are doing
#MomOfTheYear.
Don't worry about your daughter. Twitter is your real family, Dee.
Say, when does your ex-husband next have visitation rights?
Oh, how did I know you were divorced?
Just a guess. Just a wild guess.
"I saw the mediocre minds of my generation destroyed by wokeness, starving hysterical naked, dragging themselves through the affluent white suburbs at dawn looking for a Starbucks, caffeinated Karens burning for the ancient heavenly connection to the HOA machinery."
Posted by: aelfheld

Nancy Pelosi gives a quick denial and then even more quickly exits the stage when asked if her husband has ever made a stock purchase or sale based on information received from her.

Miranda Divine: Given Paul Pelosi obviously buying stock in American chip manufacturers based on insider information that Nancy Pelosi was pushing through a huge $52 billion subsidy package for
American chip manufacturers, it's time to outlaw congresspeople trading individual stocks.
Trading of individual stocks in Congress might not be illegal but it has to stop.

Speaker Nancy Pelosi and husband Paul are bad enough but it's not just them.

Everyone is outraged by Paul Pelosi's purchase in June of between $1 million and $5 million of stock in Nvidia, a semiconductor company, which is bound to benefit from legislation before Congress this week which will give $52 billion in subsidies to the computer chip industry.

It's just the latest in a string of prescient purchases for the Pelosis, revealed by financial disclosures required to be submitted periodically.

For instance, Paul Pelosi exercised options to purchase 25,000 Microsoft shares worth more than $5 million on March 19 last year, less than two weeks before the Army announced a $22 billion contract to buy augmented reality headsets from Microsoft which boosted the value of the shares.

But flying under the radar are lots of other members of Congress benefiting from the same uncanny luck, in a bipartisan grift that taints everything in Washington.

...

Frank Pallotta, Gottheimer's Republican challenger in Northern New Jersey's 5th district, has spent almost three decades on Wall Street at Goldman Sachs and Morgan Stanley and is disgusted by the lax rules in Congress around insider trading.

"It boggles the mind that Congress, that has access to far more sensitive information at a higher level than Wall Street, isn't subject to the same rules.

"It's a license to steal."
And, I'd add, their family members should be disbarred from trading in stocks too.
Now, you may say: How do you bar a family member from trading in stocks? They're not the ones taking the job as congressman; they're not signing papers agreeing to give up the right to trade stocks.
Well, no, but you can make them all "covered persons" and make the congressman they're related to pay money to the US government in the amount family members profit from trades in individual stocks which any panel finds may have been affected by US government changes within a year.
Okay, Nancy, your husband just made $30 million in that trade? Here's your bill for $30 million dollars. Pay at the drive through, please come again.
I don't care if it bankrupts these bastards.
In addition, I know that there are statistical methods which can prove the strong likelihood of insider knowledge behind stock trades. Generally, that kind of statistical method wouldn't be allowable at trial.
Congressmen must sign a waiver permitting the use of statistical methods to prove the likelihood of insider knowledge behind their profits, or the profits of their family members of close associates, in the market in administrative hearings, and profits found to have been accrued by insider knowledge must be disgorged. And they agree that they are not permitted to appeal to the courts about the use of statistical proof.
Something like that.
Shut the f*** up, charmless, graceless sub-moron:
The only things that matter are the talking points we've agreed to push out to the press.
F*** you.
Groomers must not be allowed to serve in any job with authority or influence over, or access to, children:

posted by Ace at
07:30 PM
|
Access Comments