« Kavanaugh Joins Roberts and the Liberals to Uphold Biden's Right to Cancel Trump's "Remain in Mexico" Policy, Throwing Open the Border Wide to All Illegal Comers
|
Main
|
Mostly Peaceful but Fiery Holiday Weekend Cafe »
July 01, 2022
Quick Hits
Earlier this week, I reported that that the Atlanta Fed GDP tracker had put the Q2 GDP "growth" at -1.0, meaning contraction. Which mean we're in two back to back quarters of negative "growth," which is the classic definition of recession.
Well, they've revised that.
They've revised the Q2 figure down.
Way down.
Tne Q2 GDP growth is now negative 2.1%.
The GDPNow model estimate for real GDP has collapsed in recent days, growth in the second quarter of 2022 has been cut to a contractionary -2.1%, down from -1.0% on June 30, down from 0.0% on June 15.
So, if confirmed, we had a quarter of -1.6% growth, and then a quarter of -2.1% growth -- not just a recession, but an intensifying one.
Thanks to Thomas Paine, who is aptly named for this tip.
Thanks, NeverTrump! Just want to say, I am really enjoying the Nice Tweets!
YOU propagandized for this.

YOU take a bow for the victory YOU achieved.

YOU take YOUR seat.

YOU join YOUR allies in the Democrat Party.

YOU never show your fat, well-stuffed faces around here again.

YOU will have to make do with lesser, cheaper Stallions for YOUR wives' twisted sexual appetites.

Well it is more gender-bender grooming directed at children, which is Disney's entire work product now, isn't it?
A friend points out that, despite the fact that it is the left that began this cycle of endless twitter outrages and cancellation attempts, the media never reports that "The Left is Outraged again" over this or that.
No, when the left is outraged, they claim that "Twitter" or "the Internet" is outraged. The left is never outraged -- all of society is outraged.
When the same 40 Trans Extremists are sending death threats to J.K. Rowling, the media does not report that. They just say, "J.K. Rowling posted another anti-trans screed, and The Internet is not having it!!!"
The Internet? Really?
The whole internet?
Or just the 40 leftwing propaganda accounts you agree with and promote?
When the Trans Extremists sent mass death threats to Gina Carano because she said her pronouns were "beep/boop/bleep," the media only reported, "Twitter reacts to Gina Carano's anti-trans insults."
Twitter reacted?
Twitter?
And it merely reacted?
What about all the death threats you always pretend to be so concerned about?
But when the right is outraged -- sometimes a bit trivially, but often justifiably -- it's their outrage alone.
Despite the fact that most parents, who are not very political, do not want Disney or any other Woke corporation proselytizing Trans Catechisms to their children in the guise of "children's entertainment."
This is of course a deliberate and conscious effort to marginalize and otherize the right while normalizing and universalizing the left.
Speaking of death threats:
Blue checkmark Jessica Kirson, who claims to be a comedian, twatted at Lauren Boebert, "Every time I watch you speak, I picture you in a guillotine and rub one out."

https://bit.ly/3IaDy1H
Posted by: bonhomme
That tweet has now been deleted. But anti-social-justice beatnik points us to an archived copy.
She looks like a witch's Igor on a Syd and Marty Krofft production.
"I would not hit that. She's heinous." -- Sigmund the Sea-Monster
62 Jessica the comic definitely has a face made for radio.


and she has a body made for extraction from a bedroom by a crane.
Posted by: ace
Edward Snowden @Snowden

The fact that is considered legal for a corporation to compile perfect records of your private life simply because you had to "click OK to continue" to make your phone work is a perfect expression of who holds the power in society and why they should be cast into the sea.
Wait, I'm a conservative, didn't I swear an Oath of Perpetual Fealty to my corporate overlords?
As spotted by Curtis Houck, Good Morning America pushed the Big Lie that Ketanji Brown Jackson is "the first Black Supreme Court Justice," except for, you know, Clarence Thomas.
And not even just Clarence Thomas, the one they might have possibly intended to slight.
These highly-educated, multiple-layers-of-fact-checking News Professionals also erased Thurgood Marshall from the record.
You know, the guy who successfully argued Brown vs. Board of Ed on his way to actually getting appointed to the Supreme Court.
He's kind of a big deal, especially for race-conscious lefties.
But for ignorant animal Millennials, history began during the disgusting years they were each shat out of their "birth-giving parents."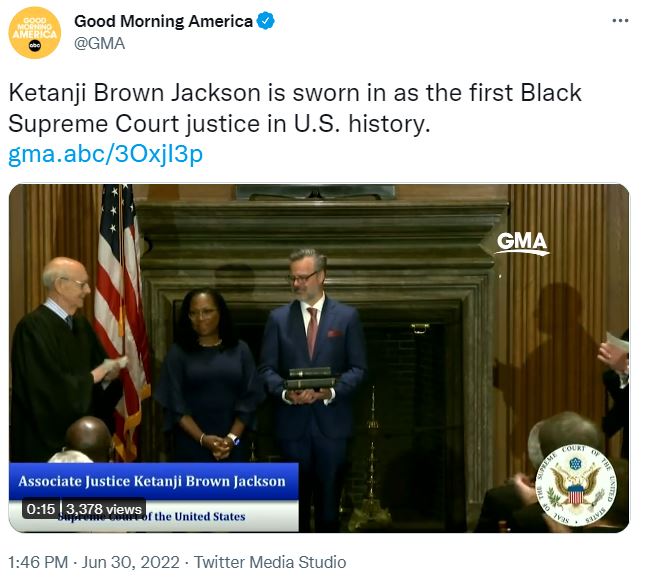 Spite and ignorance are rampant at Good Morning America -- completely different uneducated animals made the same mistake on their YouTube channel.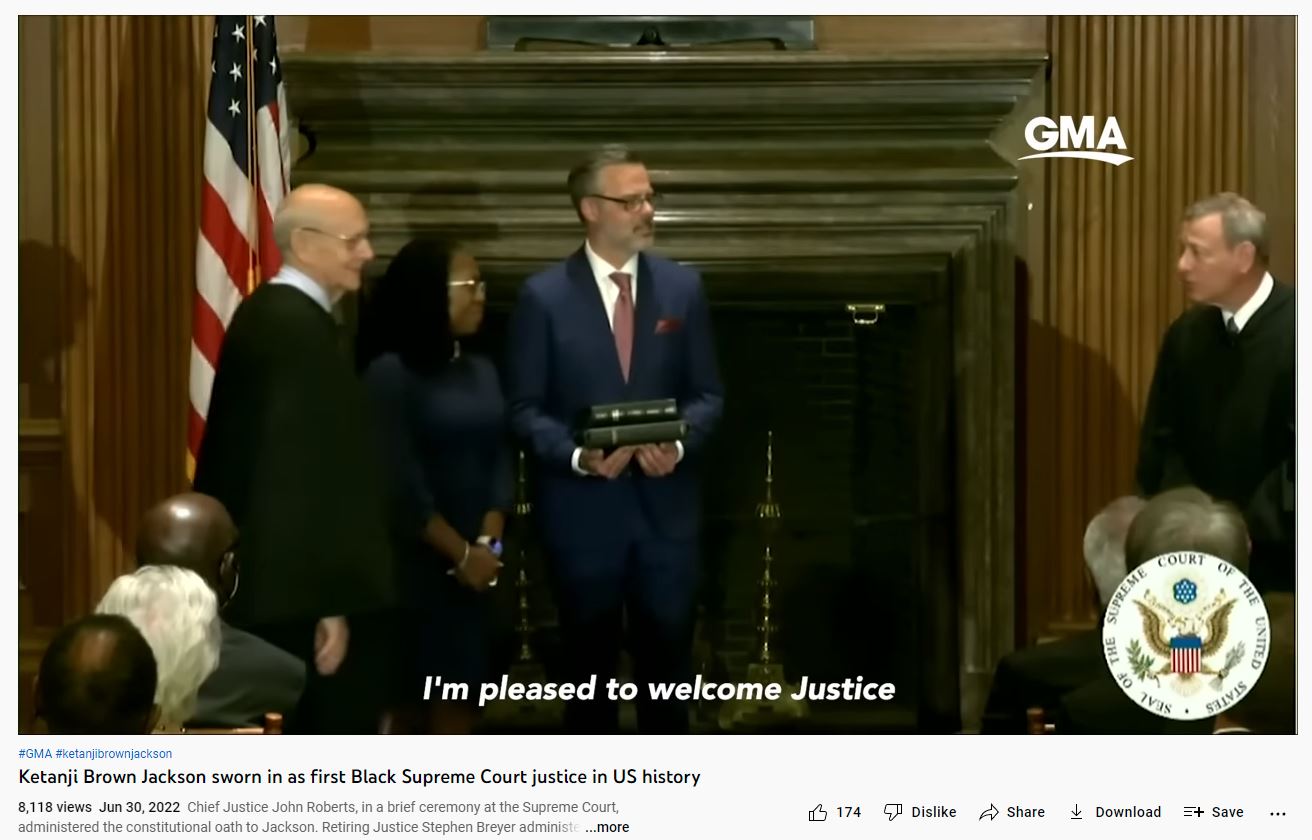 Speaking of uneducated, semi-literate animals:Multiple media outlets straight-up lied about Clarence Thomas saying that the covid vaccine was made from "aborted children."
1, he did not say that, he quoted plaintiffs as saying that, and you know, in a court case, what plaintiffs allege is kinda-sorta important in the case, and
2, he did not say the vaccines "were made from aborted children," and neither did the plaintiffs; they said the vaccines were made from stem-cell lines cultivated from aborted children, which is, what's the word for this, "true."
As someone suggested in the replies, either Justice Clarence Thomas has changed his pronouns to "they/them" or he's just reading something presented by the plaintiffs, as Axios reports:

Supreme Court Justice Clarence Thomas suggested Thursday in a dissenting opinion that coronavirus vaccines were developed using "aborted children."

...

"They object on religious grounds to all available COVID-19 vaccines because they were developed using cell lines derived from aborted children," Thomas wrote in his dissent, referring to the plaintiffs that brought the lawsuit.
More at Samizdata.net.
"No Name Today" says that's not quite true, and I'm wrong:
38 >>>they said the vaccines were made from stem-cell lines cultivated from aborted children, which is, what's the word for this, "true."

Not quite. The stem-cell lines being referenced were used for testing purposes during development. So, the vaccines were not "made" from that, but they were tested against them.

Still objectionable.
Posted by: No Name Today
Ah, okay, I was always a bit shaky on what exactly was being alleged in regard to the stem-cells. I shouldn't have assumed more without clarifying.
(Unlike the Fake News Propaganda Media, I admit errors!)

Always remember: The media claims what separates their falsehoods from "Fake News" that should be banned and censored by their tech media buddies is that the media "always admits their errors and corrects them."
Do they?
Where are the corrections?
If the media is not admitting and correcting its many, many partisan, propagandistic errors -- which they're demonstrably not -- then they are, by their own definition, the same as "Fake News" pushed by "Macedonian Content Farms" and they must deplatformed by social media monopolies.
Why am I the only person making this point?
Hey other bloggers, you are specifically granted permission to make this point, too. It's a good point. We really should press it.
And I don't just think that's pride of authorship.
Meanwhile, Rex Chapman, a minor NBA player who is a host on CNN+ -- wait a tic, is that still a going concern? -- says that Clarence Thomas ain't black because he doesn't go to NBA games and of course all blacks love the b-ball.
Rex Chapman @RexChapman

Clarence Thomas would last 20-30 seconds in an NBA locker room.
I wonder how long you'd last in court.
Oh I don't mean as a lawyer, I mean as a drug-addict petty criminal defendant. We'll get to that.
Why have you never seen Clarence Thomas at an NBA game? As in -- ever?
An intellectual and scholar doesn't love watching basketball. I'm shocked.
@RexChapman

Bill Clinton used to come to our games in Landover with the Bullets. Clarence Thomas -- never.
Right, Bill Clinton, there's your real black guy. Not this sharecropper's son poseur.
By the way, Rex Chapman is pasty-white. But you probably could have guessed that.
He's also broke so he's out their hustling for a buck -- on the Holler for a Dollar.
'Just kept getting worse': How NBA cult hero blew $50 million
Cult hero?
I think you misspelled that.
I also dispute "hero."
Former NBA player turned social media star Rex Chapman has opened up about how the end of his professional career led to his addiction to prescription painkillers.

Chapman, now 53, was selected with the eighth pick in the 1988 NBA draft by the Charlotte Hornets and played for 12 years, with stints for Washington, Miami and Phoenix before his eventual retirement in 2000.
You can tell who the really good players are, because teams can't wait to trade them to other teams in exchange for forty-score basketball nets and six palettes of Gatorade Ice.
...

Emergency surgery to remove his appendix led to him developing an addiction to OxyContin, a highly potent painkiller Chapman described as 'synthetic heroin'.

...

Speaking on his new podcast, Charges with Rex Chapman, the now 53-year-old said using the drug had led to a swift descent into addiction.

...

Despite making more than $50 million (AUD) in career earnings from NBA contracts alone throughout his 12-year career, by 2014 that wealth was all but gone.

With his addiction spiralling out of control in the years after his NBA retirement, Chapman's lowest point finally came in 2014, when he was caught stealing more than $18,000 worth of products from an Apple store, with plans to pawn the goods to pay various debts.

Chapman was arrested over his ill-conceived shoplifting plan, which prompted his third attempt at rehab at a facility in Kentucky.

By this point Chapman weighed more than 120 kilograms and his marriage had broken down.

That's 265 pounds in Imperial units. In traditional British units, it's 19 stone. In Australian customary units, it's 46 woggeloos and in Irish Wee People fairy-measures it's se'enscore nonnybits.
What a big fat broke-ass criminal drug addict scumbag.
You know what else I've never seen Clarence Thomas doing? Stuffing a bunch of iPads into his Big Fatboy Pants to steal them.
Bring the pain, CT.
Bring the pain.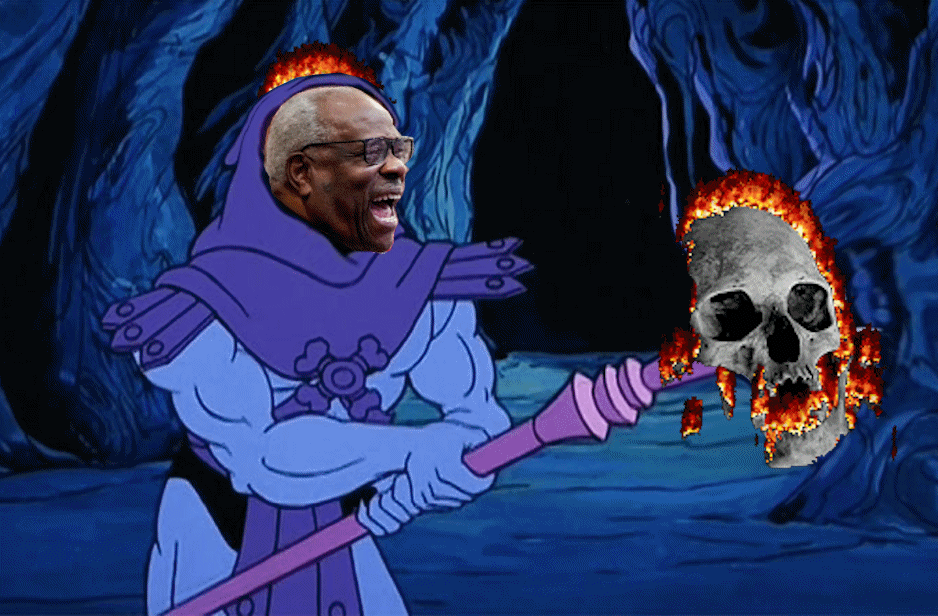 That was made by "..." who is sometimes called "ellipsis."
More at the LibsofTikTok's blog.
During Pride Month!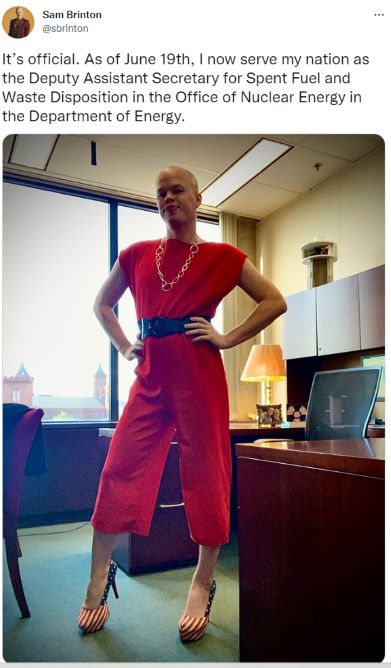 That's a "genderfluid" man.
That's kind of the least of his perversions. He's also into "puppy fetish" play.
Google is not your friend.

posted by Ace at
05:48 PM
|
Access Comments