« The Morning Rant: Minimalist Edition
|
Main
|
Middle School Boys in Wisconsin Accused by School of "Sexual Harassment" For Not Using Weirdo's Preferred "They/Them" Pronouns »
May 19, 2022
NBC "News" Has a Scoop: Hunter Biden Made $11 Million From 2013 to 2018, Largely From Overseas "Business Partners"
This smells like Russian Disinformation to me.
I'm a Renowned Disinformation Expert! Hire me!
Analysis of Hunter Biden's hard drive shows he, his firm took in about $11 million from 2013 to 2018, spent it fast

The hard drive and documents from Senate Republicans indicate few of Biden's deals ever came to fruition and shed light on how fast he was spending his money.
I don't believe NBC ever acknowledged the hard drive was real. Instead, they do what CNN and other lying leftwing propaganda outlets do -- they discuss it as if it is real, they assume it is real, without ever explicitly saying so.
And, critically: Without ever confessing their previous partisan falsehoods that it was "Russian disinformation."
It's gone from "disinformation" to real through pure sublimation, with no intermediate stages of retraction, correction, and acknowledgement.
Remember, even though they get things wrong all the time, they're not disinformation because "they admit their mistakes."
Except, of course: they don't. Ever.
From 2013 through 2018 Hunter Biden and his company brought in about $11 million via his roles as an attorney and a board member with a Ukrainian firm accused of bribery and his work with a Chinese businessman now accused of fraud, according to an NBC News analysis of a copy of Biden's hard drive and iCloud account and documents released by Republicans on two Senate committees.

The documents and the analysis, which don't show what he did to earn millions from his Chinese partners, raise questions about national security, business ethics and potential legal exposure. In December 2020, Biden acknowledged in a statement that he was the subject of a federal investigation into his taxes. NBC News was first to report that an ex-business partner had warned Biden he should amend his tax returns to disclose $400,000 in income from the Ukrainian firm, Burisma. GOP congressional sources also say that if Republicans take back the House this fall, they'll demand more documents and probe whether any of Biden's income went to his father, President Joe Biden.

"No government ethics rules apply to him," said Walter Shaub, a former director of the U.S. Office of Government Ethics who is now an ethics expert with the Project on Government Oversight. Shaub added, however, that "it's imperative that no one at DOJ and no one at the White House interfere with the criminal investigation in Delaware." Shaub had previously raised questions about Hunter Biden's new line of work, selling his own paintings, which created the potential to purchase a painting to buy perceived influence, and also because the White House became involved in the transactions, arranging that none of the buyers' names be known to Biden, the White House or the public.

Frank Figliuzzi, the FBI's former assistant director for counterintelligence, said there is a national security risk when foreign powers like China see an opportunity to get close to someone like Biden. "It's all about access and influence, and if you can compromise someone with both access and influence, that's even better," said Figliuzzi, now an NBC News contributor. "Better still if that target has already compromised himself."

The documents and the analysis indicate that few of Biden's deals ever came to fruition and shed light on how fast he was spending his money. Expenditures compiled on his hard drive show he spent more than $200,000 per month from October 2017 through February 2018 on luxury hotel rooms, Porsche payments, dental work and cash withdrawals.
Well, he did need that dental work. Because of all the crack and meth.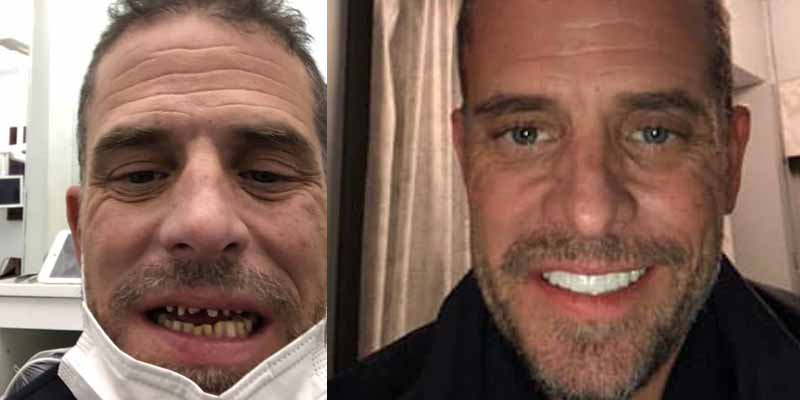 Although Biden says he's now paid all the back taxes he had owed, that doesn't absolve him from failing to pay him in the first place. And NBC quotes some experts saying that by acknowledging he failed to pay these taxes he owed, he has established he knew he'd owed them, thereby establishing the hard-to-prove intent to evade taxes, so elusive to establish in most other tax evasion cases.
...

Biden made $5.8 million, more than half his total earnings from 2013 to 2018, from two deals with Chinese business interests.

Biden's most lucrative business relationship was acting as a consultant in a project with a company that belongs to a once-powerful Chinese businessman who is now thought to be detained in his homeland.

The article claims that "nothing" in the hard drives suggests that Hunter Biden was "earning" money for his father -- despite, you know, writing "10% for the Big Guy" and "you're lucky that dad doesn't take half of your salary like he does mine."
Meanwhile -- "The Big Guy" hires what is effectively a personal lawyer, though paid for by taxpayers and called "Special Counsel to the President," in expectation of investigations next year.
The White House has hired Richard Sauber to assist in the Biden administration's response to potential future investigations should Republicans win back majorities in Congress in the midterm elections, officials confirm to CNN.

Sauber, currently the top lawyer at the Department of Veterans Affairs, and is expected to begin at the White House in the next few weeks with the title "special counsel to the president."

"Dick is an excellent lawyer who brings decades of experience that will be a valuable asset," Ian Sams, a White House counsel spokesperson, told CNN. "As we have since the transition, we are ensuring the White House is prepared for the issues we are facing or will face in the future, and we have built and continue to build a strong legal team to conduct our work and serve the public and the President."


News of Sauber's hiring comes after CNN reported in April that White House officials were preparing a slew of personnel moves as officials brace for a potential Republican takeover on Capitol Hill in November. Democrats, who hold narrow majorities in the US House and Senate, face a challenging midterm environment this year amid growing economic concerns and middling approval ratings for President Joe Biden.

The GOP has promised to be aggressive with its investigations of Biden should Republicans regain control of Congress. In April, CNN reported the return of Anita Dunn, one of Biden's closest advisers, as well as Sams' hiring for his current communications position.
SkyNews' expert Joe Siracusa thinks that impeachment may be on the table, now that Democrats have turned impeachment into a routine tool of political disapproval.


posted by Ace at
01:24 PM
|
Access Comments