« Saturday Morning Coffee Break & Prayer Revival
|
Main
|
Gardening, Puttering and Adventure Thread, May 21 »
May 21, 2022
Why don't things turn out like progressives dream?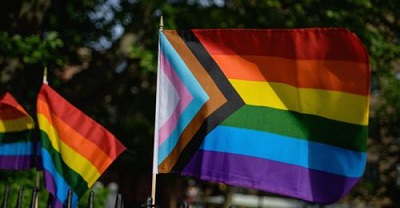 From Pride to Progressive Pride
Yesterday, we stopped by Victor Davis Hanson's favorite hometown restaurant, Sal's, in Selma, California. Before his face recognition was as high as it is today, VDH used to take international visitors to Sal's to show them what an immigrant to America can accomplish even in a small town. Sal's has other locations now. But this was the original, with a one-of-a-kind mural on the wall. The mural seems a lot more "authentically Mexican" than the food, which shows some American influences. The Woke would probably not approve.
I had been to Sal's before I knew who VDH was, so his stories about Sal's were especially interesting to me. The restaurant seems to get a lot of repeat business. Sal's had some trouble during the pandemic, though, I think. We went once during the take-out only lockdown period, and it just wasn't the same.
The food seems to be mostly back to normal now, except for the chips and salsa that come before the meal. The salsa now comes in little plastic cups instead of bowls. People are less likely to go for seconds or thirds on the chips and salsa. Regular portions of signature dishes are often too big for one person. Especially if you order soup. The half order of Sal's Famous Fancy Burrito (with Chili con Carne or Chile Verde) is also generally enough for most people.
Prices there may be up, but they don't seem to have skyrocketed yet due to the Biden Inflation. I am hearing a lot of reports about places where prices are quickly escalating. Even at fast food places. What have your recent restaurant experiences been like? Did the new administration plan for high restaurant prices?
Restaurant prices may be a little thing to the members of the Ruling Class who plan for us to subsist on mealworms and lab-grown food in the future. They are not a little thing to the people who depend on Sal's for their living. This restaurant was built as part of a community with community pride -- or maybe it would be better to say that it was a community with a fairly high amount of self-confidence and mutual respect between the people living there. There seem to be some difficulties in re-creating that sort of spirit through the current progressive programs to increase "inclusion".
* * * * *
If you are a fan of VDH, you might want to take a look at his website, VDH's Blade of Perseus which includes not only links to much of his recent written work, but also regular podcasts and "ultra" subscription content (currently featuring a series on his experiences living in the home of his great-grandmother and great-grandfather in Selma).
In the opening to his May 16 Morning Report, J.J. Sefton featured a short piece by honorary horde member and lurker Victor Davis Hanson. It covers a lot of territory in not too many words. I am linking the piece in VDH's own website instead of American Greatness, with just a couple of the comments J.J. noted:
We are witnessing a number of radical military, social, and political revolutions that are changing the United States—and the world—in fundamental ways that we still have not appreciated. 

The politicized transformation of the U.S. military from a meritocratic force focused on wartime lethality into an  extension of the social welfare state driven by diversity, equity and inclusion has encouraged our enemies to take risks they otherwise might not have taken.  . . .
. . . In the West in general, and in the United States particularly, we are seeing a final fruition of decades of woke self-loathing. The sight of a pride flag flying on the Kabul embassy as the most lavishly supplied and funded military force in history scrambled to fly home, abandoning allies and employees, was a bitter metaphor of the arrogance, ignorance, and impotence of woke ideology. . .
That last sentence really gets to me. That pride flag ended up doing great damage to the people in Kabul whom Americans and other westerners were ostensibly trying to help.
Why don't things turn out the way The Woke dream? Do they ever watch what is happening as a result of their actions?
* * * * *
From the Pride Flag to the Progressive Pride Flag
Thinking about how the Pride Flag backfired in Afghanistan, might it be a good idea to re-consider how the Progressive Pride flag is used? I have some quibbles with Wilfred Reilly (is opposition to gay marriage automatically "homophobia"?) but he brings data and actual arguments to his newest Newsweek piece: Nothing unites different marginalized groups: exposing the intersectional hoax:
If you live in a major American city, you've probably seen the "Progress Pride flag." To the left of the rainbow that has historically represented the fight for gay rights, activists recently added arrow-shaped bars in black, brown, white, pink and blue to represent the "intersectional" movement that brings under one umbrella the cause of gays, African-Americans, Hispanics and the transgender community. Intersectionality was initially a legal concept introduced by Kimberle Crenshaw to represent how people whose identity spans more than one marginalized category -- Black women, say, or a gay Hispanic person -- might face increased levels of oppression. But these days it's used by the activist Left to represent the view that all forms of "oppression" and group conflict are linked -- and are invariably the fault of bespoke suit-wearing straight white men or "white supremacy," in short.

But this view is wholly unsupported by the data. Not only do many "intersectional" Americans out-earn white men, but Black and Hispanic Americans often score as more homophobic than white Americans in polls, and some of the most contested terrain in modern discourse can be found between trans activists and gender critical lesbians.

In other words, the modern intersectional argument is so facially false that it borders on the nonsensical.
"A quick reading-between-lines makes it fairly clear who is supposed to be oppressing all of these peoples, who otherwise would presumably live together in peace. This is the calling card of activist intersectionality. . .

The problem with this idea, as they say, is that it is wrong. The current American ruling class is hardly a monoglot all-white entity: The wealthiest U.S. population group is Indian Americans, and seven of the top 10 income groups are not white. Nor are the majority of whites wealthy conservative oppressors; politically speaking, the white vote at the Presidential level has been divided fairly evenly between the parties for decades. Meanwhile, many minority groups dislike one another more than they dislike the current majority.
Absent the fictional narrative of one oppressor class, it's difficult to imagine what might unify, say, devout Muslims and OnlyFans feminists, lesbian activists and trans women, or illegal immigrants and Black or Appalachian union workers. . .

Taken together, these facts don't constitute a story with a moral to it (I rarely tell those). There is nothing inherently "good" or "bad" about the fact that large groups within society often disagree vigorously, even if they are not "supposed" to. But this plain reality does contradict a false narrative very prevalent among the intelligentsia today, which would have you believe that disparate minority groups somehow have a common struggle against a white supremacist majority that seeks to oppress them.
I had considered intersectionality as a concept which eventually led to individuality, but I had never really considered the "Progressive Pride" flag and the attempts to get people to adore it in quite this way.
* * * * *
Bill Maher suggests THINKING about gender identity!
The left vs. the crazy left?
Along for the pride: "We are literally experimenting on our own children."
Maybe it would be a good idea to put the flags away for a while.
SPECIAL EDITION: from an actually non-binary person. A friend with one of the intersex conditions continually appropriated by LARPing gender ideologues wrote an essay about his experience of being intersex and seeing the Woke appropriate his reality.
I do not identify as non-binary. I AM non-binary. As in actually, medically, officially, in the material sense a non-binary person. And - frankly - I deeply resent the appropriation of my lived experience by those who have no genetic or physical abnormality yet try to force such language for themselves. My condition is not something that is to be "celebrated" or anyone should want to "experience".

Let me stop for a minute. I reject, absolutely, the idea of gender and physical sex being separate. The material condition of the vast majorities of our species is a sex binary: Male. Female. There are outliers such as myself. But we're just that - abnormal outliers. And that's not a slur, nor should it be seen as a slur. I am abnormal. I am outside the normal distribution of chromosomes. In a random sample of people, 99% of the time you'll get XX/XY as the population of your sample. That's "normal". It is not evil or good in a moral sense. It's just material reality. Claiming that my use of abnormal is "bad" or "evil" is like claiming that finding a four leaf clover in a field of three leaf clovers is bad or evil - it isn't. It's an abnormal rare event that is kind of interesting. There are downsides, I outlined some above but there are others. Those are just part of the material reality. It's like being mad you have to drink water. Or breathe oxygen. It just is.
Music
Where are The Lone Ranger and Tonto now that we need them? What's that you say? We have to BE The Lone Ranger and Tonto?

Hope you have something nice planned for this weekend.
This is the Thread before the Gardening Thread.
Serving your mid-day open thread needs
* * * * *
Last week's Thread, May 14, Confucius say watch your language. Discussions of the importance of maintaining clarity in language.
Comments are closed so you won't ban yourself by trying to comment on a week-old thread. But don't try it anyway.

posted by K.T. at
11:19 AM
|
Access Comments