« Pink Elephants Dream Cafe
|
Main
|
Daily Tech News 28 April 2022 »
April 27, 2022
Wednesday Overnight Open Thread – 4/27/2022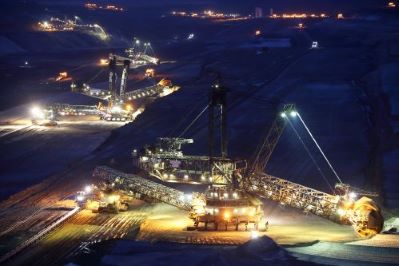 *****
THE GOLDEN ERA OF MALLS
If our parents needed us out of their hair back in the '70s and '80s, they'd just haul us to the mall, give us some money for movie tickets and a food court meal, then turn us loose. Super '70s Sports does a good job of capturing the feel of that era.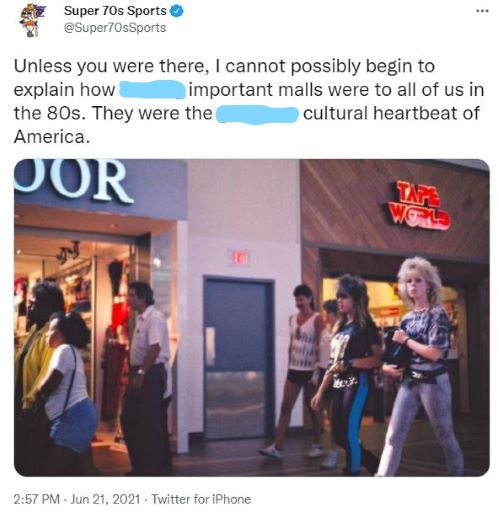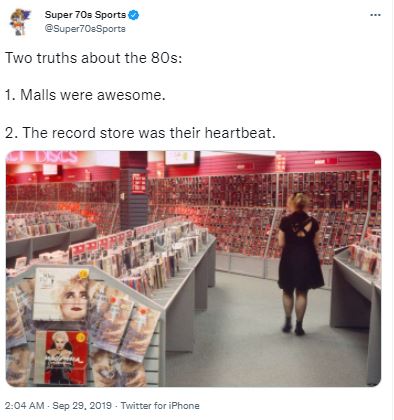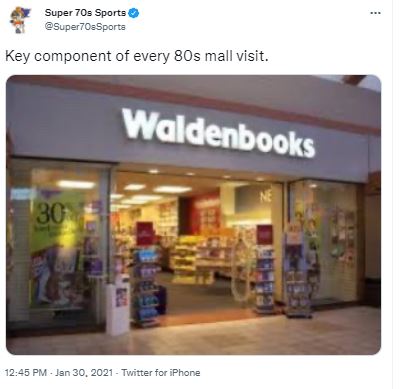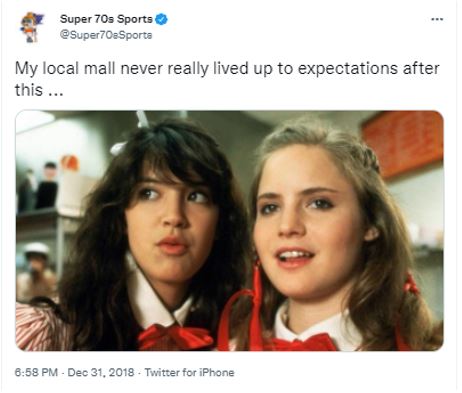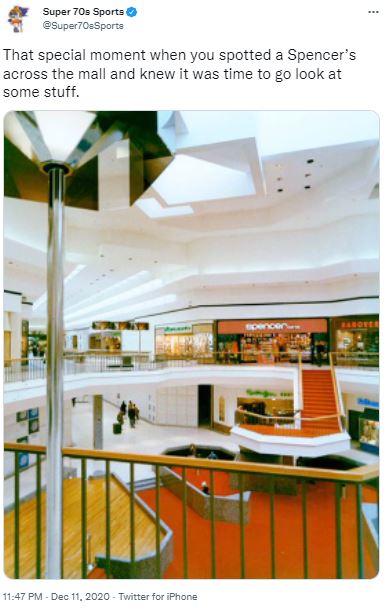 Oh yes, good old Spencer Gifts. With what kids can access on their phones today, they probably couldn't imagine how daring it felt to look at the risqué products at Spencer's.
What were some of your favorite mall stores? If you had a couple hours at the mall, how would your time there play out?
*****
RUNAWAY TRUCK RAMPS
Runaway truck ramps must be a beautiful sight if you are a semi driver barreling down a mountain without any brakes. I drove all around the Rockies some years ago, saw many runaway truck ramps, but never once saw evidence that a ramp had been used.
But now that I'm in the Southeast, and frequently drive I-24 near Monteagle, TN, I have seen 18-wheelers in the sand of runaway truck ramps on several occasions. And plenty of other times I have seen tracks from recently removed semis.
I inquired of a friend who once drove trucks about why the Monteagle runaway ramps catch so many semis. He explained that in the Rockies, drivers are prepared for long mountain descents, and they learn how to preserve their brakes. But truck drivers east of the Mississippi River are used to driving between all the major cities without having to do any mountain driving. Therefore, they are often completely unprepared to cross a mountain range (the Cumberland Plateau) on the quick run between Nashville and Atlanta.
Here's a video someone captured of an 18-wheeler having to use a runaway ramp in West Virginia.

*****
NOTABLE ACCOMPISHMENTS
I was strolling through downtown, and noticed that for Women's History Month, the local utility company's building was flashing various female historical accomplishments. Some impressive milestones flashed by – military pilot, prominent engineer, etc. Then this popped up.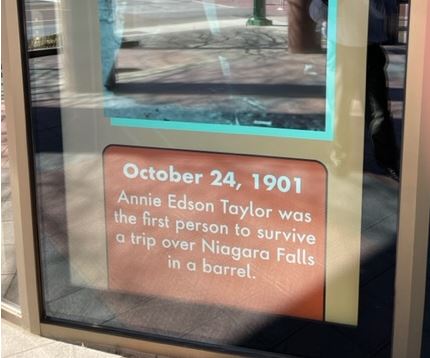 Uh…OK. But do women really need to keep up with men in the deadly realm of "Hold my beer and watch this" stunts?
*****
PARALLEL PARKING
Nailed it.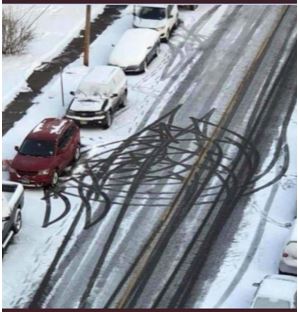 *****
THE AMALGAMATED FEDERATION OF GLOBAL VILLAINS
The World Economic Forum (aka "Davos") has determined that the survival of the planet requires that in addition to forsaking meat, you must also forfeit your right to own property.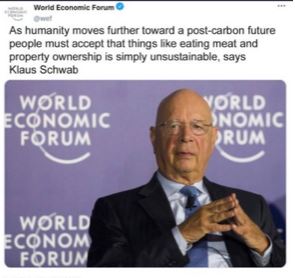 As we all know, a landowner's willingness to forfeit his property is always accompanied by a gun pointed at his head (or at his family.) These global elites are terrifying people. When I watched James Bond movies as a kid, I never dreamed we'd see a reality where ultra-wealthy, extra-governmental super-villains would seek to impose their evil vision on the world. We're now living in that world.
No shocker, but all the usual suspects are contributors to the WEF: Bill Gates, George Soros, etc.
*****
FREEWHEELIN' FORDS
Those creepy old '70s vans were once new vehicles. Here's a Ford commercial from the 1970s that looks exactly like you'd expect.
Freewheelin' means you can get options like paneled interiors, special paints, trick wheels, and more…
*****
THE GLOBAL WARMING HOAX


In 1988, apocalyptic climatistas and their credulous media allies warned that the Maldives would be submerged under rising seas by the year 2018. I just checked and – brace yourselves - the Maldives are not underwater.
In fact, their land mass is actually growing.
Scientists at the University of Auckland found atolls in the Pacific nations of Marshall Islands and Kiribati, as well as the Maldives archipelago in the Indian Ocean, have grown up to 8 per cent in size over the past six decades despite sea level rise.
"Despite sea level rise…" Heh.
*****
CLASSICAL & WESTERN
There was a wonderful musical fusion in the mid-20th century with American composers creating new classical music that was infused with a sense of the American West. Here is one example, performed by The United States Marine Band.
Aaron Copland's "Hoedown"
*****
BE UNGOVERNABLE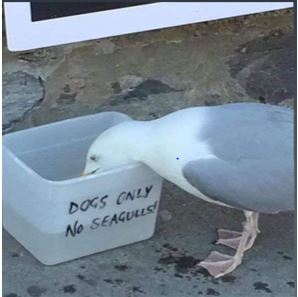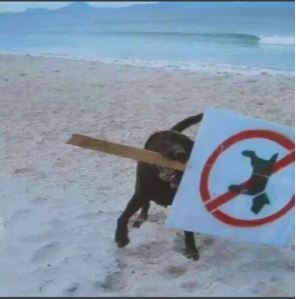 *****
THE WISDOM OF CHESTER NIMITZ
Chester Nimitz was a small-town boy from Fredericksburg, TX who rose to become the Navy Admiral who oversaw the greatest naval operation this world has ever seen – the island-hopping campaign in the Pacific Ocean that defeated the Japanese in World War II. He was a confident leader who always carried a humble respect for those who served under his command.
If you're ever in Central Texas, it's worth a couple hours of your time to visit the National Museum of The Pacific War in Fredericksburg.
God grant me the courage not to give up what I think is right even though I think it is hopeless.
When you're in command, command.
If you're not making waves, you're not under weigh.
"Hindsight is notably cleverer than foresight."
"Some of the best advice I've had comes from junior officers and enlisted men."
"Among the men who fought on Iwo Jima, uncommon valor was a common virtue."
*****
THROCKMORTON'S FIRST LAW OF LIVE MUSIC: IF THERE'S AN UPRIGHT BASS IN THE BAND, IT'S PROBABLY GOING TO BE GOOD
Remembering how Dwight Yoakam crashed the country music charts in the late1980s with raw, retro-country gives me hope that there will someday be another Dwight emerge with a retro-sound that breaks the hold of bro-country / tailgate-rap on modern country music.

The Cadillac with an upright bass strapped on top of it always brought me a smile in Dwight's official video for "Guitars, Cadillacs."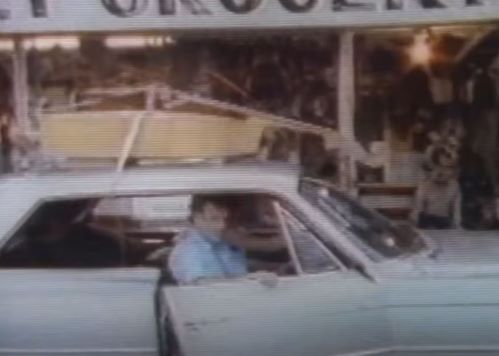 Here's the video.
*****
Tonight's Overnight Thread has been brought to you by Wyoming's Highway to Heaven.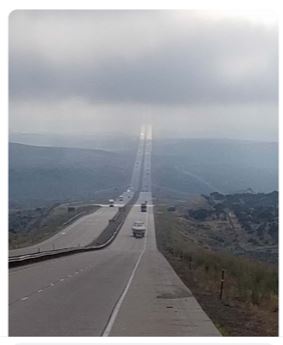 *****
Thanks again to the horde for letting me play host tonight. Please feel free to offer any helpful feedback, insults, or tips at buck.throckmorton at protonmail dot com

posted by Buck Throckmorton at
10:00 PM
|
Access Comments