« Saturday Gardening, Puttering and Adventure Thread, April 2
|
Main
|
Weekend Hobby, Craft & Bodging Thread »
April 02, 2022
The Ace of Spades Pet Thread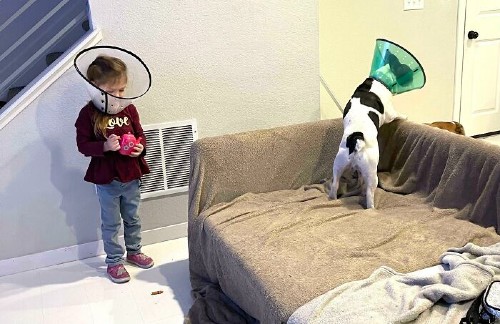 Looks like a severe case of empathy to me.
***

Good afternoon and welcome to the almost world famous Ace of Spades Pet Thread. Let's enjoy the world of animals and leave the world of politics outside today.
***
THAT LOVING FELINE Cat owners are seen as better looking and have more sex, research suggests
***
Meet The PetMorons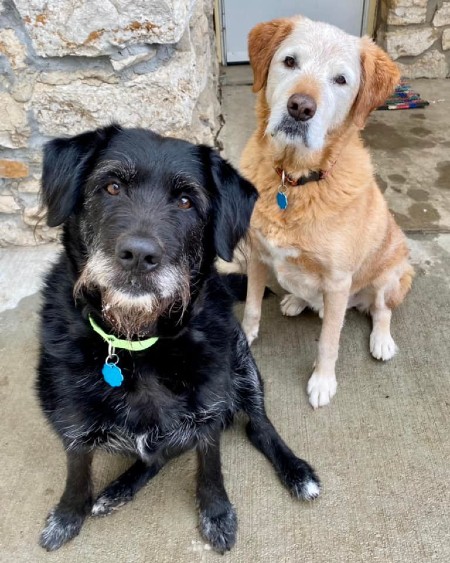 This is Roscoe and Lily. They are 10 year old siblings. Owner surrendered due to health issues. They are super friendly and Roscoe loves chewing on cardboard. I found that out the hard way. They love love belly rubs and ear scritches and they also love to be right up in your business. I swear I can't get any chores done when they are around! I've tripped over them many times but thankfully no paws were stepped on. They are both in good health and we are hoping to find them a new furever home. It's really difficult to find someone willing to take 2 dogs, let alone 2 as big as these goofballs. -jewells
Good luck finding a home for them jewells. They look adorable.
***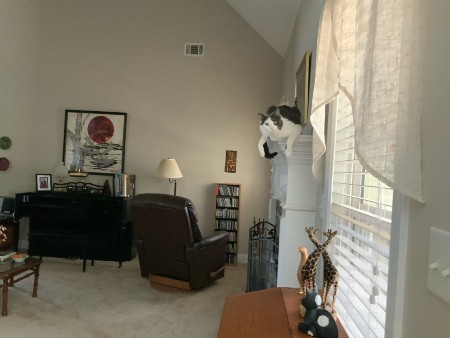 This is my daughter's cat, Asher, watching me work out from a new vantage point I didn't know he could achieve. We babysit our grandkitty when she and her husband and son go out of town. Asher likes to join in when I do my laps around the house, by lying in wait till his prey comes by, then suddenly swooping past me. I think it must be a bit like taking coup. For my floor exercises, he lies on his back looking winsome, puts his life at risk dodging leg lifts, and/or walks or lies on my head. - Alana.
He certainly seems like an agile cat who will keep you on your toes when exercising. Sounds like he enjoys Grannie's house. Thanks Alana.
***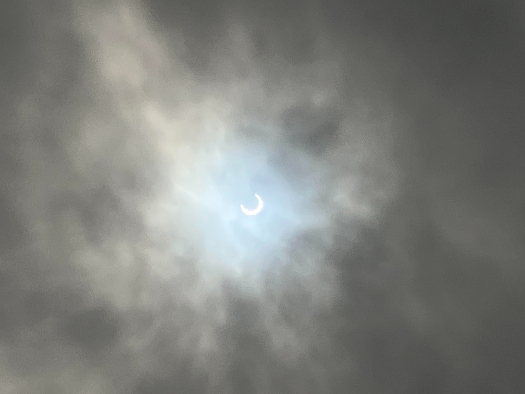 Wilma has graced the pet thread before, but I got a new phone and the pictures are much better now, lol. I'm sending a few for you to choose from.

Thanks for all you do and I love the pet morons you feature each week.

Kelly
(Serial lurker)
My what pretty eyes you have Wilma. It was tough picking out one photo of your kitteh. We appreciate you sharing today.
***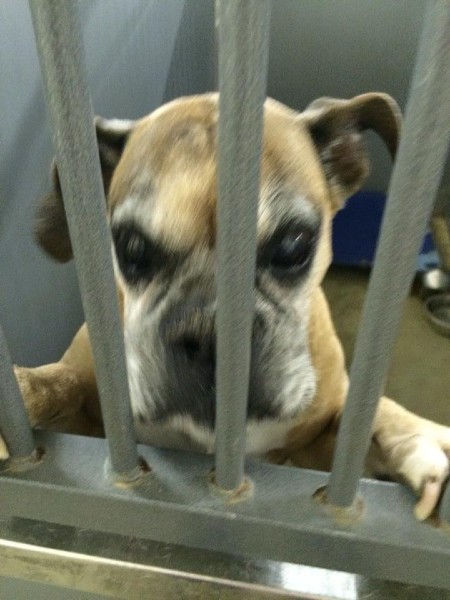 The Old Dog (aka The Penny Monster, PBUH) did NOT like going to the kennel… - John
Oh my what did that poor puppeh do to deserve a trip to Puppy Prison. My what a sad expression on her face. I'm not share to thank you or not. ////
***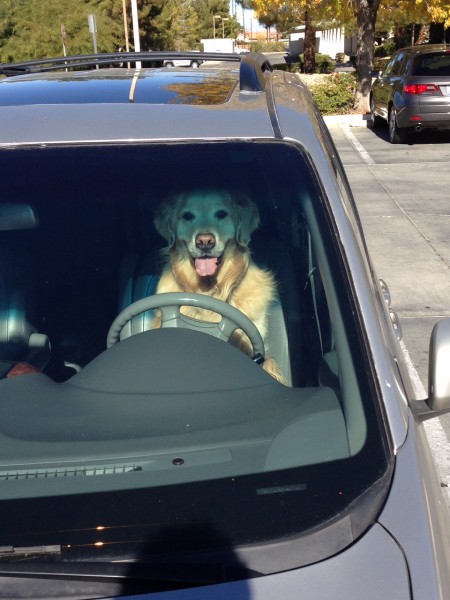 We lost our beloved Casey to cancer a few years back. I'm starting to feel like Mr. Bojangles in the old song, "The dog up and died, he up and died. After twenty years he still grieves. "

And I can vouch for his driving—he never once had an accident.

Rulon (longtime lurker and pet admirer)

I bet when Casey wasn't driving he was using that sunroof to hang his head out. Cute photo. Amazing how their memories can stick with us. Thanks for sharing.
***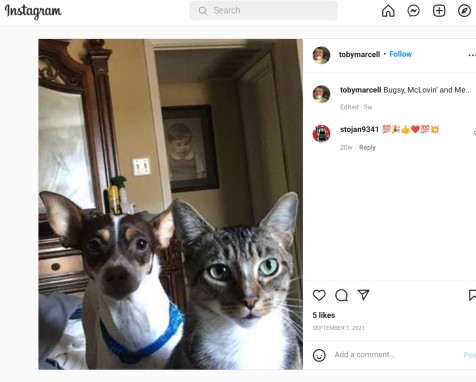 Bugsy, McLovin and me
Not much of a story provided by Toby, maybe he'll be around today to provide a little insight into these cute pets.
***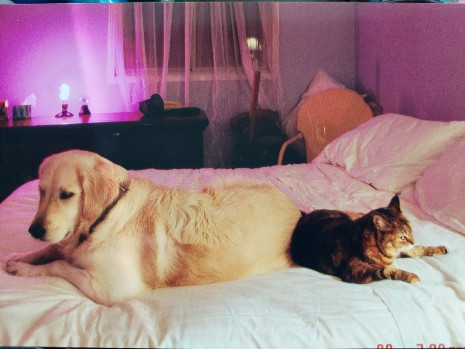 Holly was my husband's first & only dog. He had to wait because he had been dad to the most jealous Siamese cat ever born, by the name of Bleen. Bleen would never have allowed my husband to give attention to a dog.
Holly was about the sweetest dog ever, and was incredible around sick people. She would be extremely gentle and devote her attention to people who were seriously ill or terminal.
The cat in the pic is Bob, who we took in as a stray but had obviously been the much loved pet of an older person. Had to be cradled like a baby, and have her hands held and massaged. Both are sorely missed.
Also note, neither one was willing to give up an inch of territory once they got comfy. My bed was kinda crowded most nights. - Maureen
Thank you for your contribution today. I bet you would rather have your bed hogged by those cute pets. Thanks for sharing a warm story today.
***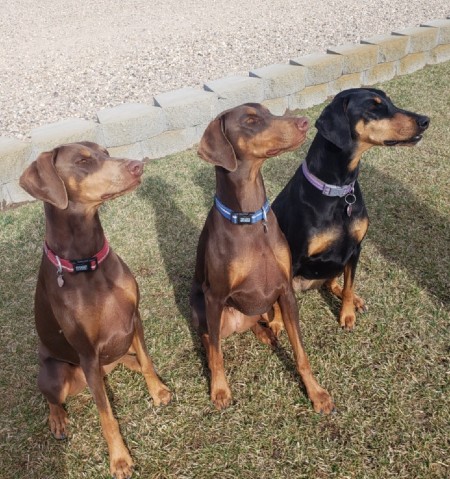 Charlie Bailey and Geddy waiting for a treat from their human daddy. They are so loving the good weather and the new grass.
S.Lynn in SW Idaho

Yes, I think that dogs are getting tired and ready for spring as yours are. Great pose waiting on a S-N-A-C-K. Thanks for sharing.
***

What a wonderful collection of pets and their stories today. Thank you all for taking the time to submit to the Pet Thread.
If you have something pet and/or animal related you wish to share, you can reach us at petmorons at gmail dot com.
Until next Saturday have a great week!


posted by Misanthropic Humanitarian at
03:00 PM
|
Access Comments