« Happy April Fools Weekend!
|
Main
|
The Ace of Spades Pet Thread »
April 02, 2022
Saturday Gardening, Puttering and Adventure Thread, April 2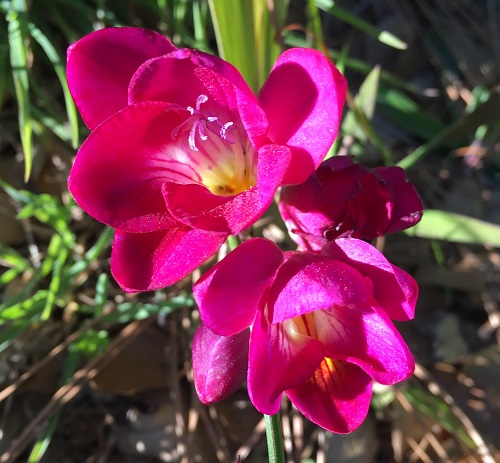 Hi, everybody! Has spring sprung where you are? It seems to have sprung in Northern California. The lovely freesia photo above is from a NorCal Sierra Foothills Lurker. Can you smell them? There seems to be a lot going on in her garden:
I took this picture Thursday and forgot to send it to you before this week's gardening thread, the highlight of my Saturdays! Thank you so very much!

We have been seeing a ton of hummers at our two feeders lately. That includes a gorgeous orange rufous now and then, which makes the fights sooo entertaining!!

We also hear them doing their air dive chirp thing too. I wish I had the slo-mo video camera to film that. They fly high up and DIVE. We can't even follow them with our eyes, they go so fast. . . Sometimes at the end of the season in the fall, we will get praying mantises that try to catch one. . . Thankfully we have only see them catch one but the hummer got away!
I can imagine a lot of hummers in the Sierra foothills, along with some praying mantises.
Plant Genus of the Week: Rockroses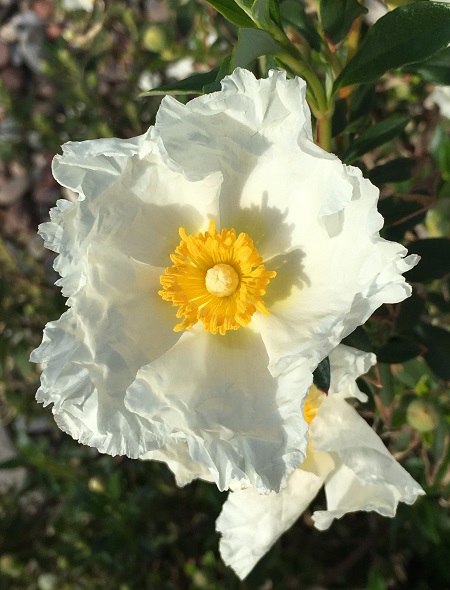 Jake sent in the beautiful photo above of a rockrose, up close. Lovely, isn't it? If you wanted to make tissue paper flowers, rockroses would be good models to start with.
They grow on perennial shrubs, usually woody to some extent:
Thought I would show you the rock rose by the pool.

The thing next to it is Finn (Huckleberry)

We are in Murrieta California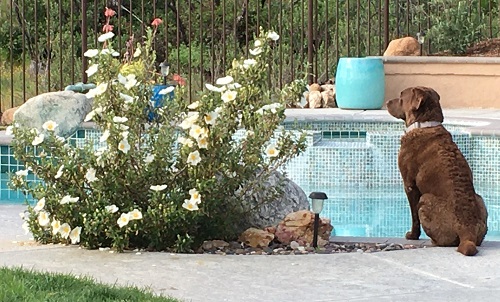 Finn (Huckleberry) looks contemplative. And there is garden art, too!
Rockroses (Cistus) are great flowers for hot, dry locations that don't get too cold in winter. Some of them have resinous leaves with a sort of balsamic smell, which may be flammable, yet they are known for surviving in wildfire areas.
Some species also form associations with fungi on their roots, including truffles. I don't think this is a commercially exploitable relationship. But some cultivars are used in the parking island landscaping at Home Depot stores near us.
Some species tolerate salt spray near the beach.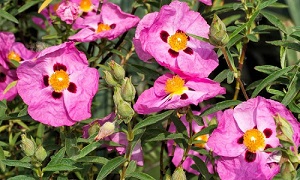 Edible (and not so edible) landscaping
Robert in San Diego could probably grow rockroses. He has sent in a lovely Edible Landscaping photo of a nectarine tree in bloom, however. Given that truffles from rockroses are probably not practical, this tree is a nice choice: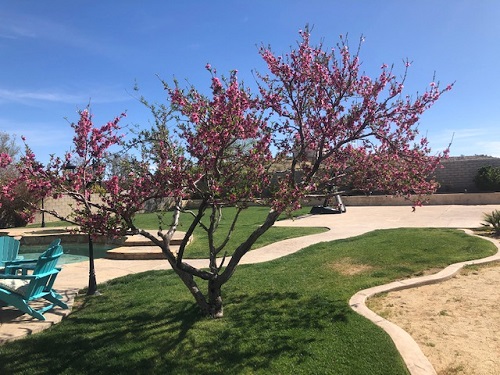 40 Miles North has a combination of edible and non-edible landscaping in his yard. These irises are not edible, to my knowledge: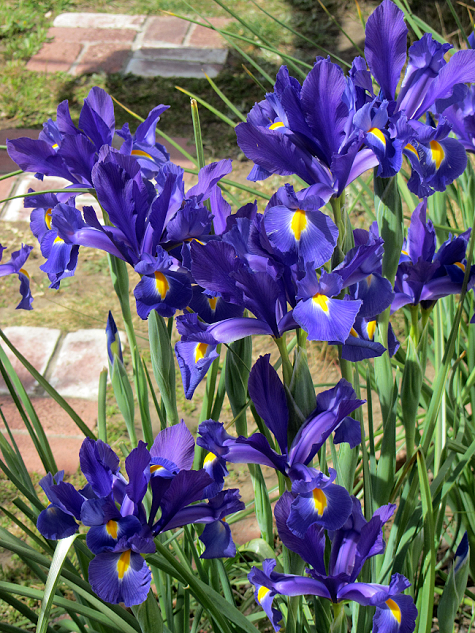 Get the water flowing, because nectarines are on the way: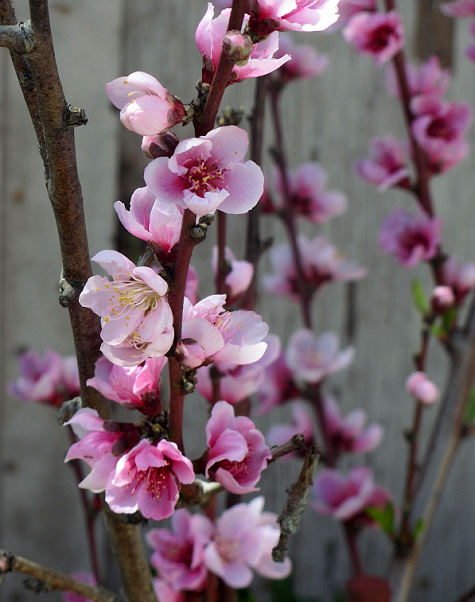 Under the tree, the Vinca major has been blooming for weeks: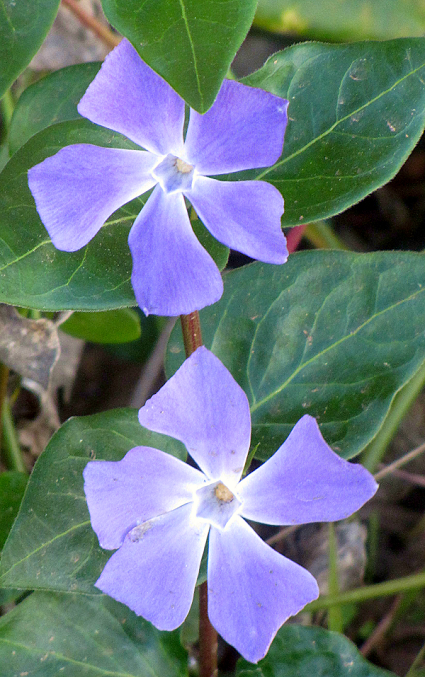 This is real Vinca. Pretty, but potentially invasive. Be careful! Definitely not edible.
Adventure: Wildflowers
New Mexico Magazine has the details on the best spring wildflower hikes in the state. It describes how to get to the hiking destinations, what to expect and some of the flowers to look for. Nuttall's violet (left) and Western columbine (right) start appearing in May and June.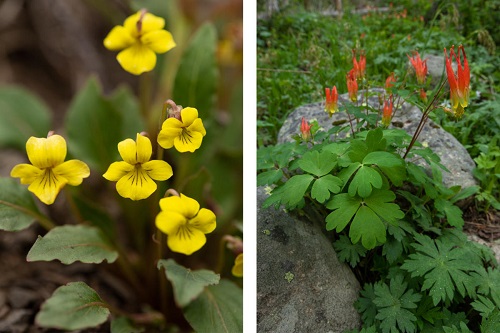 Puttering
A brief history of linoleum and why it's actually cool again
Gardens of The Horde
An update from badgerwx:
Another weekend, another cold front on the way. But this one won't be an arctic front like last weekend. I had hard freezes last Sunday & Monday nights but no real plant damage. The early spring plants can take the cold and my lilacs and other later-blooming plants aren't far enough along yet for the flower buds to freeze. My early daffs are done now but the later-blooming daffs are starting their show. I also have grape hyacinths (muscari) colonizing my yard, not to be confused with the real thing.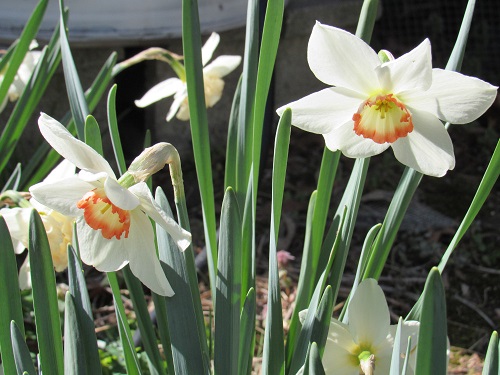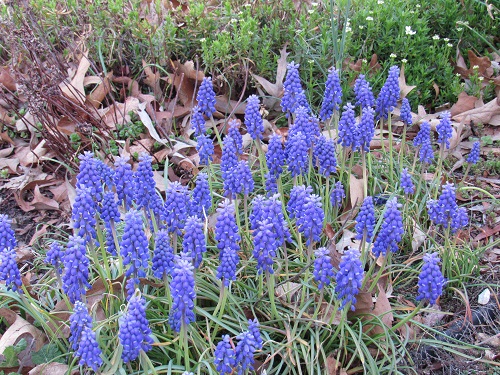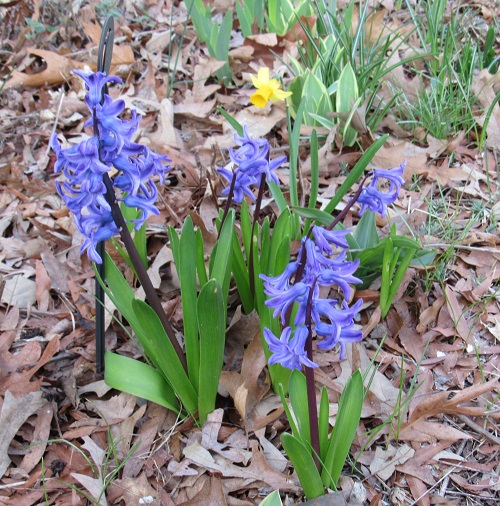 I like these hyacinths with the looser flower forms.
On the puttering side I have to be careful working along the side of my house, so I don't disturb my new tenant. A mourning dove is nesting in the juniper at the corner of my house. The same thing happened last year, but that dove never laid eggs because it would take off from the nest as soon as it saw me in the side yard. I hope these eggs will be hostaed by the time I have to start mowing the lawn.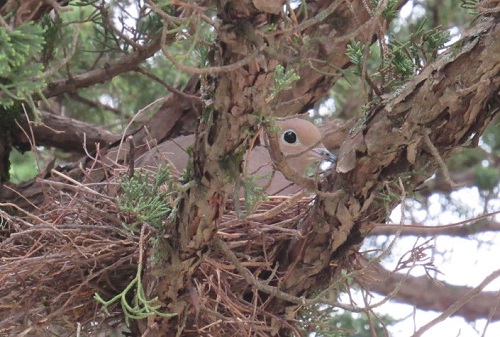 Awwww . . .
If you would like to send information and/or photos for the Saturday Gardening Thread, the address is:
ktinthegarden
at that g mail dot com place

posted by K.T. at
01:19 PM
|
Access Comments