« The Ace of Spades Pet Thread
|
Main
|
Saturday Evening Movie Thread: The Quiet Man (1952) [moviegique] »
April 02, 2022
Weekend Hobby, Craft & Bodging Thread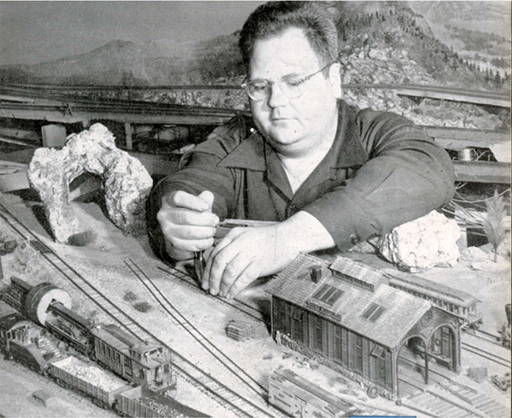 Hey gang. Hope your Saturday is going well. Time once again to head for the basement, garage, shop, studio or wherever it is that you can make a mess and get creative.
Photo: "The Wizard of Monterey," John Allen, seen here in the late 40s-early 50s hand-laying track on what would become perhaps the most famous model railroad of all time, the Gorre and Daphetid (gory and defeated) RR. See the final link.
First up, restoring a really beat up old European tinplate 3-rail loco.
Next, here's a pretty cool demonstration of how to paint in the style of Vincent Van Gogh. Even if you don't want to recreate one of his works, you can use these techniques to become more expressive in your painting.
Warm weather is coming so how about some nice modern outdoor chairs in sapele? Jason at Bourbon Moth Woodworking is kind of a goofy guy but he's got a pretty amazing shop.
This guy is not only a skilled model maker but his stop motion animation just takes this to another level. Here, a model of the ill-fated HMS Terror appears to build itself.
Any of you into jewelry making? This guy takes some scraps of silver and a screw and forges a beautiful ring.
If you do any welding or other work that generates fumes, here's a smoke extractor you can make from an old vacuum cleaner, umbrella and some PVC piping. I like this guy's channel but he hasn't been posting for a few years.
Linocut is one of my favorite media. Highly expressive and graphic. Here's a striking example and I've never seen a tonal gradient quite like this.
Finally, I couldn't mention John Allen without at least showing some footage of the layout in action. It's from a documentary that came out in the late 70s from footage shot shortly before his untimely death in 1973. Barely a few weeks later, his Monterey home that housed the layout went up in flames and only a few engines and odd bits of rolling stock were salvaged.

posted by J.J. Sefton at
05:00 PM
|
Access Comments