« Quick Hits 1
|
Main
|
Quick Hits 2 »
March 25, 2022
GAINZZZ Is a "Far-Right," "Fascist" Goal, Says NBC "News"
Subhed: "You know another man who liked physical fitness? Hitler."
No, really.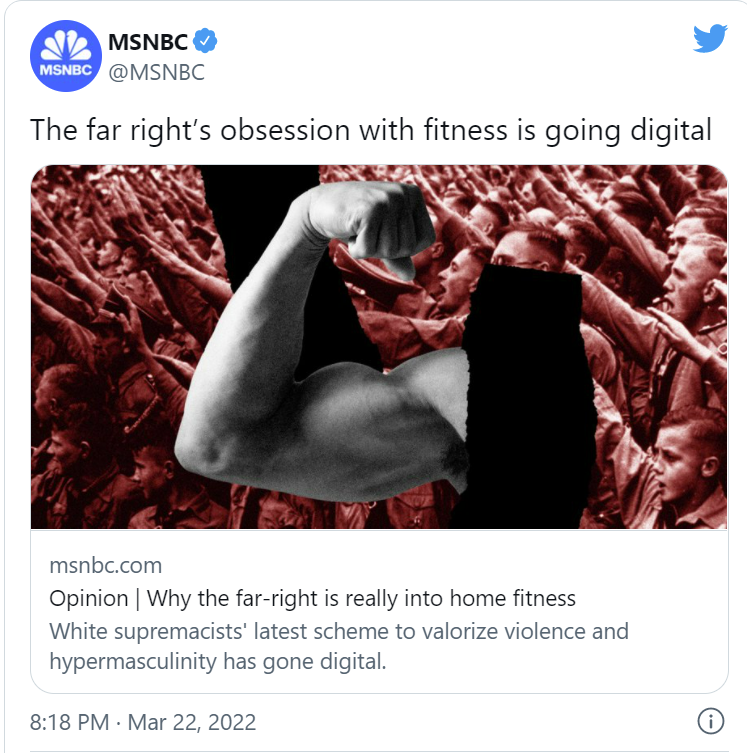 This is from NBC "News," which has spent the last week informing us that six-foot-two men with big hanging schlongs are actually the Truest of All Women.
And they follow that up with the claim that men who want to be strong and capable of defending themselves are very very bad men.
(This is both a GAINZZZ thread and a normal news thread.)
Pandemic fitness trends have gone extreme -- literally

White supremacists' latest scheme to valorize violence and hypermasculinity has gone digital.

It appears the far right has taken advantage of pandemic at-home fitness trends to expand its decade-plus radicalization of physical mixed martial arts (MMA) and combat sports spaces.
This isn't the GAINZZZ thread, it's the VEINZZZ thread, because I want to inject this frantic gender-confused Anabolic Cope right into my VEINZZZ.
Initially lured with health tips and strategies for positive physical changes, new recruits are later invited to closed chat groups where far-right content is shared.

Earlier this month, researchers reported that a network of online "fascist fitness" chat groups on the encrypted platform Telegram are recruiting and radicalizing young men with neo-Nazi and white supremacist extremist ideologies. Initially lured with health tips and strategies for positive physical changes, new recruits are later invited to closed chat groups where far-right content is shared.


Physical fitness has always been central to the far right. In "Mein Kampf," Hitler fixated on boxing and jujitsu, believing they could help him create an army of millions whose aggressive spirit and impeccably trained bodies, combined with "fanatical love of the fatherland," would do more for the German nation than any "mediocre" tactical weapons training.
The "fitness-is-really-N@ziism-with-a-new-coat-of-paint" is a popular trope among the Fat Acceptance "movement." (Ironic -- they don't really move all that much.)
Last week, self-described queer non-binary "fat sex therapist" Sonalee Rashatwar delivered a two-hour lecture entitled Race as a Body Image Issue at the St. Olaf College Health and Wellness Center in Minnesota. The event was a master class in social justice, at times putting shame to the parodies of the genre that now traffic on social media. In the video, the visibly obese woman asks: "Is it my fatness that causes my high blood pressure--or is it my experience of weight stigma?" In the presentation, which has gone viral, Rashatwar also compared "fatphobia" not only to eugenics (which is itself absurd) but also to "Nazi science," and declared that "a child cannot consent to being on a diet the same way a child cannot consent to having sex.

...

At St. Olaf, Rashatwar began with a Native land acknowledgement--which, as a Canadian, I found odd: Obesity is a huge problem for Indigenous people. In Canada, 37% of reserve-resident First Nations people are obese. In the United States, it is estimated that 60-80% of American Indigenous and Alaska Natives are overweight or obese, and more than 30% are in a diabetic or pre-diabetic state. What allows her to compartmentalize the issues of Indigenous welfare and obesity, I suppose, is her belief that the goal of avoiding extra poundage is a "white supremacist beauty ideal."
I won't post Sonalee's picture, but I will note that she is doing her very best to never be mistaken for a fascist.
Now that's the writer of this article. But I mention it just because anti-fitness, anti-male zealots are always claiming that innocent and healthful things like male exercise are some kind of fascist plot.
Back to the NBC "News" article:
In more modern times, far-right groups have launched mixed martial arts and boxing gyms in Ukraine, Canada and France, among other places, focused on training far-right nationalists in violent hand-to-hand combat and street-fighting techniques.
Ah yes, the right-wing -- obviously, the group most responsible for street-fighting and lawless violence in America today.
It's caught the attention of intelligence authorities, especially in Europe, where various reports have noted the role of combat sports and MMA in radicalizing and promoting far-right violence. A series of collaborative efforts between governments, national sports associations, and local gyms in places such as Germany, Poland and the United Kingdom have introduced intervention and prevention programs.
Pumping iron -- or Pumping Iron Cross?!?!
Think about it -- I haven't!
The intersection of extremism and fitness leans into a shared obsession with the male body, training, masculinity, testosterone, strength and competition.
Ah, competition and striving towards excellence and self-improvement -- which we've been endlessly lectured by Critical Race Theorists is an element of "White Supremacist" thinking.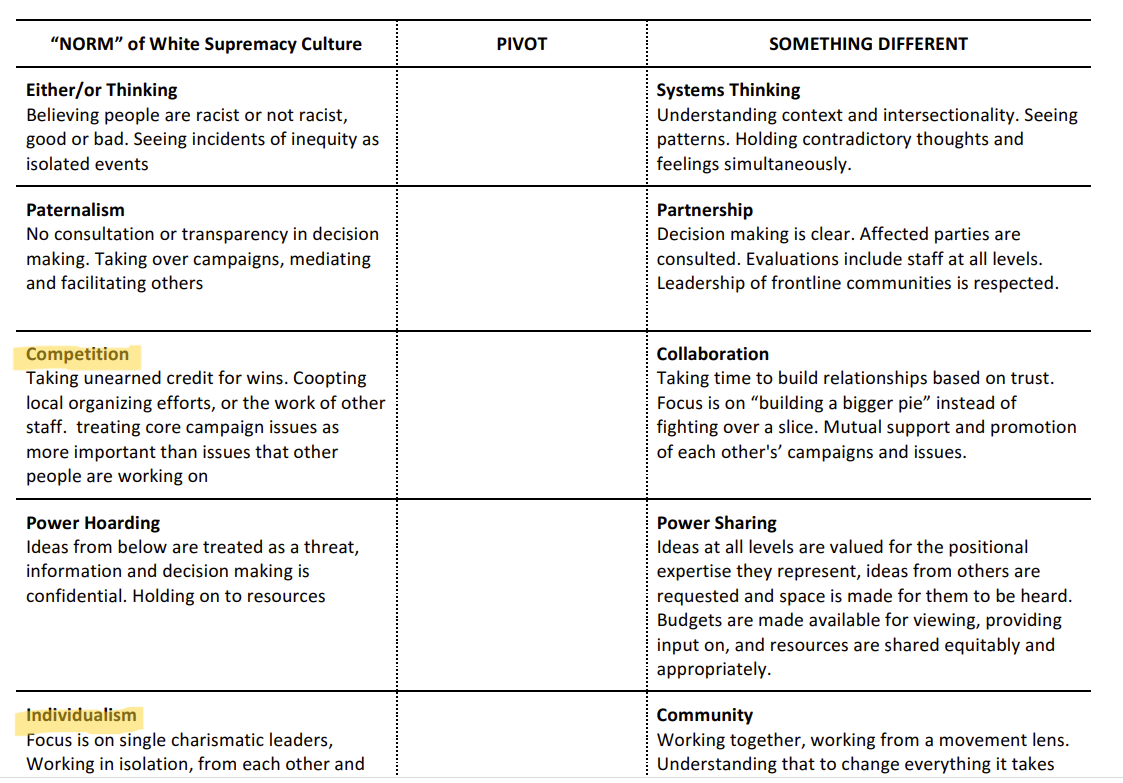 Note they of course attacked "individualism" as well, because individuals strive and compete. They want everyone in a communist system, failing equally.
The U.S. is comparatively far behind, which will only become more and more problematic, especially since the phenomenon is growing in the country, building on the established fight-club culture of MMA far-right extremists....
Obviously learning a basic skill like self-defense is a sign of toxic masculinity, and something only far-right extremists would be interested in:
The intersection of extremism and fitness leans into a shared obsession with the male body, training, masculinity, testosterone, strength and competition. Physical fitness training, especially in combat sports, appeals to the far right for many reasons: fighters are trained to accept significant physical pain, to be "warriors," and to embrace messaging around solidarity, heroism, and brotherhood.
Note that angry, man-hating women spend all day thinking of ways to "problematize" anything that men enjoy.
No matter what men are doing, it's bad and MUST BE STOPPED!
Men are literally to be denied all pleasure and all choice of how to live their lives.
Because it's the "right wing men" who are the fascists, you see?
We're seeing extremist fighting culture being combined with an entertainment culture that already valorizes violence and hypermasculinity.

With recruitment now moving from physical gyms to chat rooms, livestreamed fights, tournaments, festivals, and even combat sports video games, we're seeing extremist fighting culture being combined with an entertainment culture that already valorizes violence and hypermasculinity.
She talks about "hypermasculinity," but their problem is masculinity, period.
Here's her blurb:
Cynthia Miller-Idriss

Cynthia Miller-Idriss is a professor in the School of Public Affairs and the School of Education at American University, where she directs the Polarization and Extremism Research and Innovation Lab (PERIL). Her most recent book is "Hate in the Homeland: The New Global Far Right."
Imagine what this angry, man-hating desexed Karen must look like.
No really -- imagine. Conjure an image in your mind.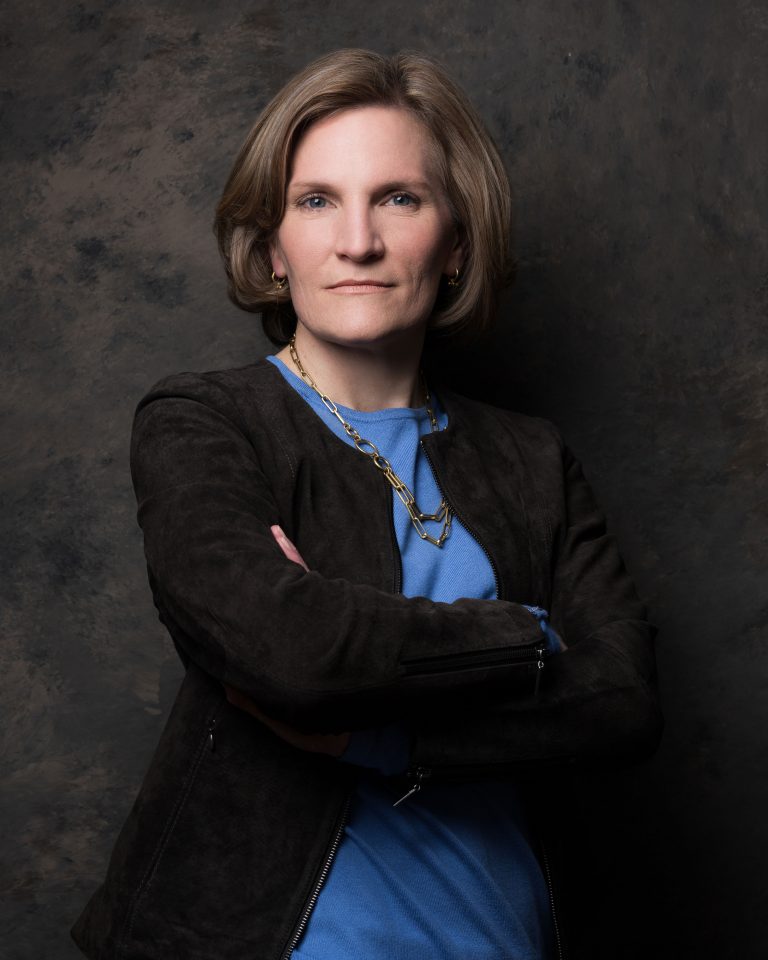 How close did you get, on a scale of 1-10?
I admit I didn't get very close. Like many of you, I'm sure, I got the... body type wrong.
But it's too perfect.
Only toxically masculine males would have any interest in learning how to defend themselves, and others, in an increasingly lawless and violent world:
I think it's safe to say that this thug did not expect this from this slender girl.
That's... that's very hot.
She get a kick in there too, but the real weapon is her right fist.
I wonder what he said to her -- when the other man was holding her back from hitting the thug more -- that provoked her to lay him out.
I wonder if it was something like, "Stupid bitch, I bet you can't even throw an effective punch."
I'd like to think it was something like that.
Anyway, she had training. No one intuitively knows the right way to throw a punch.
Must be one of those far-right fascist males.
So, if you don't want to be a fascist, you have to stop being an alpha male and start being a beta male. Maybe to be really safe you should become an incel.
Except -- whoops! The "experts" say that incels are themselves a grave threat to our country, and also prone to violent extremism!
A new Secret Service report released on Tuesday details the growing threat of violent attacks toward women from men who call themselves "involuntary celibates," or "incels."

The 26-page report was published by the Secret Service's National Threat Assessment Center (NATC) and focuses on deadly examples of recent incel-related attacks on women.

According to the report, the term "incel" is often used to describe "men who feel unable to obtain romantic or sexual relationships with women, to which they feel entitled to." Incels represent a type of "misogynistic extremism" that can also be referred to as anti-feminist, the study added.

"This gender-based ideology, sometimes referred to as 'male supremacy' has received increased attention in recent years from researchers, government agencies and advocacy groups due to its association with high-profile incidents of mass violence," it read.
Seems like men just can't win -- either we're in the gym trying to get strong, in which case we're prone to violent extremism, or we give up on that and become shy and homebound, in which case we're equally prone to violent extremism.
Isn't it strange that the "experts" have constructed a world in which men are toxic and bad no matter what they do?
I guess they're telling us we should all become women.

Well, that's enough content for a GAINZZZ thread.
I'll tell you, for real, that scare piece claiming that male fitness is really "far-right fascist extremism" has motivated me to start lifting weights and practicing self-defense again. I'm starting today.
Tell me, what are yo' GAINZZZ? And are you inspired like I am?
Also tell us about any other self-improvement things you're doing, any projects you're starting, and any books you're reading.

posted by Ace at
04:34 PM
|
Access Comments