« Soros Los Angeles DA George Gascon Isn't Going to Crack Down on Crime, So Instead He's Offering Citizens Tips on How to Avoid Being Attacked by the Criminals He Frees
|
Main
|
GAINZZZ Is a "Far-Right," "Fascist" Goal, Says NBC "News" »
March 25, 2022
Quick Hits 1
Greg Price notes that Biden claimed he decided to "run" for president because, Biden says, of Trump saying that there were "very good people on both sides" of the Charlottesville incident. "The man literally began his presidential campaign on a lie."

Mitch McConnell says he will vote against Ketanji Brown Jackson, possibly because she's too stupid to know what a "woman" is.
Leader McConnell
@LeaderMcConnell
I went into the Senate's consideration of Judge Jackson's nomination with an open mind.
But after studying the nominee's record and watching her performance this week, I cannot and will not support Judge Jackson for a lifetime appointment to our highest Court.
But he's not whipping Republicans to vote against her, nor employing the strategem of telling all Republicans in the Judiciary Committee to boycott the vote to bring her name to the floor. Which, I think, would result in her name not being submitted for a floor vote.
I don't know if I can blame Bitch McConnell here; there's no way you're going to stop this nomination when you have people like Collins, Murkowski, Mitt "Severe Conservative" Romney, and of course the "courtly" appeaser Lindsey Graham, who talks a Big Tough Conservative game on Sean Hannity so that the Rubes don't notice he's constantly voting with the Democrats.

Ron Coleman
@RonColeman

The logical and moral absurdities of pretending not to know how to define the two sexes are bad enough - very, very bad. This is especially bad for someone writing opinions involving the myriad laws premised on the parties' sexes in our vast social-engineered legal regime.

But the real problem is that it tells us one of two things.

Judge Jackson, an intelligent woman, may have bought into the Marxist / deconstructionist worldview of unreality - of shape-shifting facts, the rejection of empirical truth to achieve a policy result.

Unlikely.

More probable is that Judge Jackson is prepared to *pretend* that she believes such nonsense because that is the catechism of the day being recited in the Cathedral to which she is a committed acolyte.

This is the more dangerous and troubling possibility.

Why?

It is worse because while our Republic has survived many foolish judges and justices, this choice manifests a serious deficiency of *character* - an infinitely plastic morality.


The insidious effect of this mindset has already spread throughout our culture and institutions.

Yes, anyone opposing Judge Jackson's elevation to SCOTUS will be labeled "racist" by the people who do that.

But it is hard, if not impossible, to imagine that it will be the first or the last time that happens.

If we achieve anything with our polemics here, let it be this:

That we make the "racist" trope recognized for the empty, cynical and desperate ploy that it is.

That we do not shirk our own moral duty by avoiding the truth because of political and social orthodoxy and thereby become complicit in allowing it to reign.

And that we say what has to be said even if it means we are accused of doing something more insidious than expressing a public view about a public issue of widespread importance involving a highly accomplished, decent and intelligent product of her time and place...

...who should not sit on the United States Supreme Court.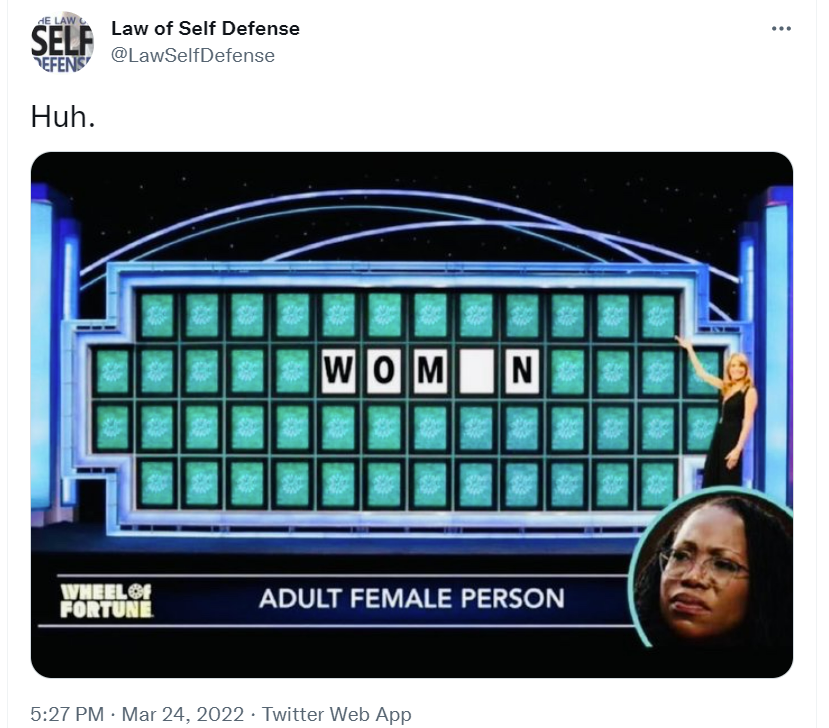 A book released last year, intended for very young children -- those learning their ABCs -- is getting newfound attention.

The GayBCs seeks to teach young kids who don't even know how to read the alphabet, through... gay and transgender propaganda.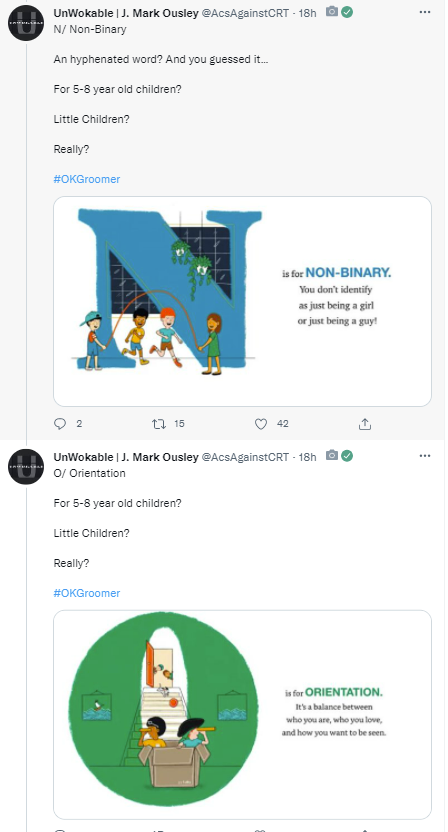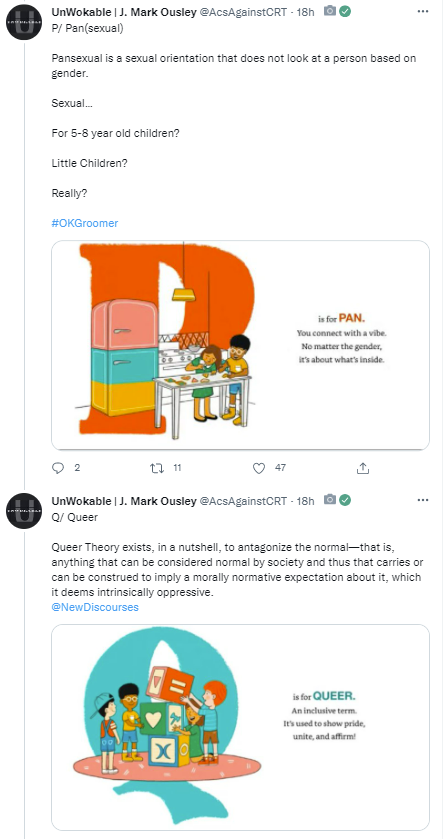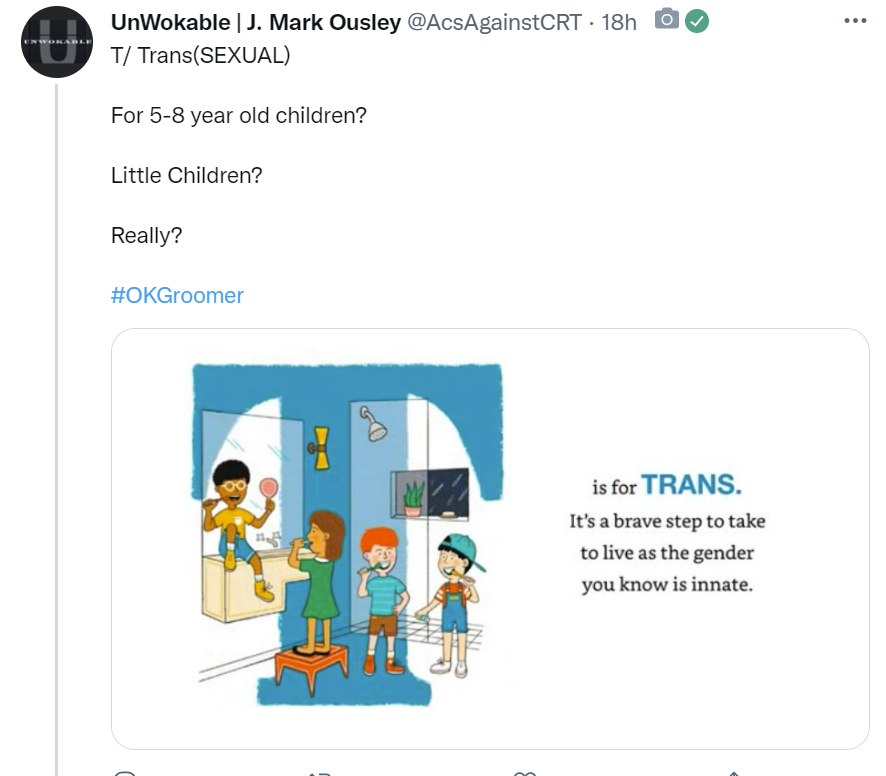 Remember, legalizing gay marriage will change absolutely nothing in your lives, so only a bigot would oppose it.
Except, you know: They're going to want to teach your toddlers about transgenderism, that's all.
Speaking of: Is Elon Musk threatening to create a competitor to Twitter?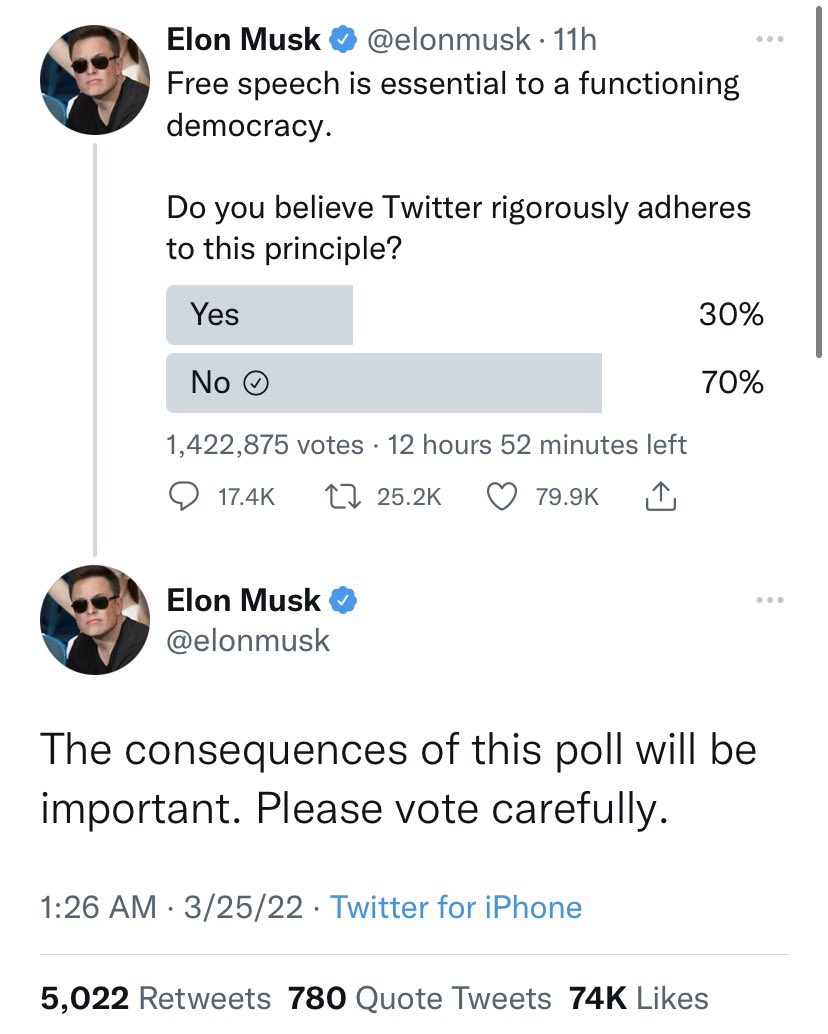 Ben Domenech has left The Federalist and will pursue some unnamed new venture.
He's been an increasingly poor fit for The Federalist, to be honest. He's very Country Club Republican/Old Boy donor network. There's a place for that but The Federalist is notable for not being that.

posted by Ace at
03:43 PM
|
Access Comments