« The Significance of the Passage of Time
|
Main
|
The Ace of Spades Pet Thread »
March 26, 2022
Saturday Gardening, Puttering and Adventure thread, March 26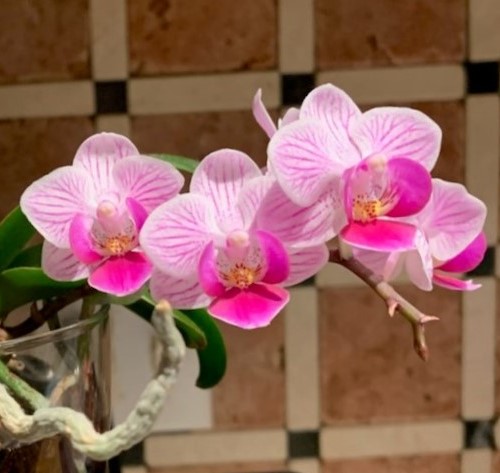 Hi, everybody! Has spring come where you are? Even if it hasn't, Suzanne sent in a photo of her orchid, which we saw growing earlier (indoors). Now it's blooming:
I thought I would send in a picture of my little orchid in full bloom. I just love it. Enjoy the weekend wherever you are.
Look how well the color goes with the Phoenicia Azalea from 40 Miles North. It is growing outdoors.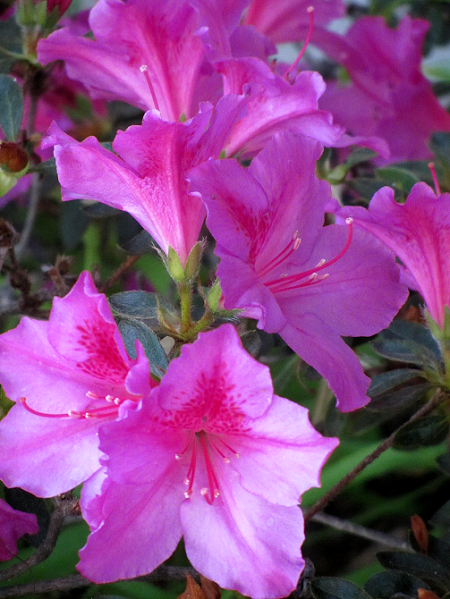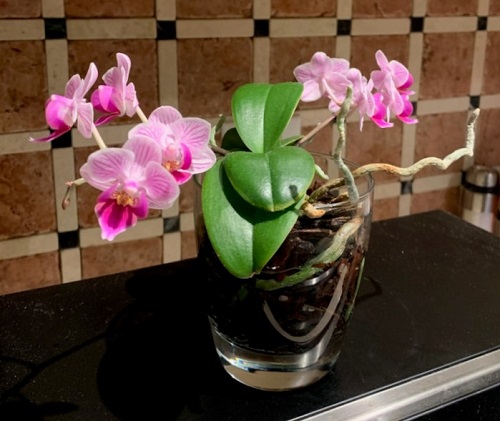 Edible Gardening
I have no great pictures because it is still a bit too cold to here in Indiana - but the trees are budding, and I've already done the dormant oil soap on the apple tree.

But the most important thing to do now - besides taking advantage of a dry spell to roto-till the gardens now - is getting the seeds started so you can plant something in those gardens during the next months.

72 Plants - Tomatoes, Peppers, Herbs, Eggplant and Muskmelon

Hopefully they will turn into better pictures and excellent food later this year.

Black JEM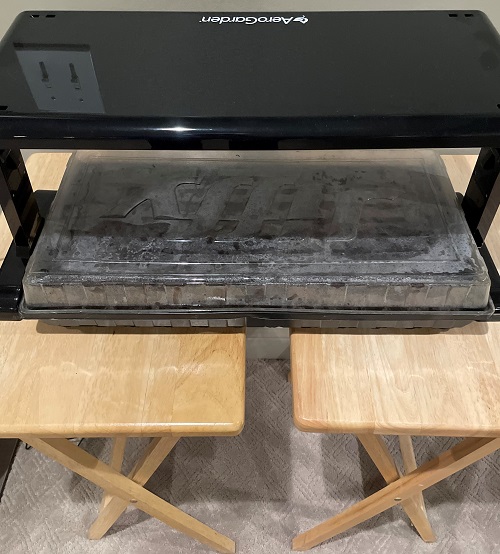 am going to transplant (the melons) into bigger pots. I'm pleased they came up. I'm really interested in how they turn out. My Italian flat leaf parsley is being pokey - I'm covering some of the disks individually now to give them a little more help to sprout. It's always the same, some sprout quicker, some don't sprout at all, and I don't have the ability to easily deal with each. I'll get it done. The joy of doing it yourself.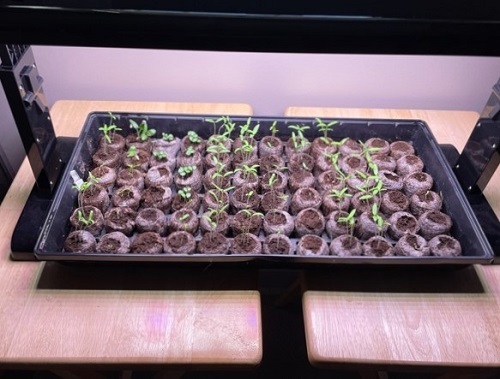 Parsley takes a long time to sprout. Some folks say it has to go to hell and back first.
WeirdDave's Garden: Way beyond puttering
Well, WeirdDave has finished (mostly) his YUUUGE garden! It is designed for the Square Foot Gardening method:
OK, here it is.

Garden's ready! Last year I planted a traditional row garden, and frankly the weeds got me. First part of the summer was good, then we went away for a week, caught COVID, and that combined with a very rainy 3 weeks meant that when I got back to the garden it was weed central. This past winter I decided that I was going to build raised beds and implement the square foot gardening method. Raised beds make it easier to ensure rich soil, easier to weed, drain well, facilitate focused fertilization, and allow for precise planting with the SFG method. All winter I built beds, hauled dirt to fill them and built the trellises. Last weekend I transplanted or planted all my warm weather crops, and here's what I have so far, by bed.


First, a note on SFG. SFG is a method that allows you to grow many more plants in a confined space. You divide up your garden into 1' by 1' squares, and then you plant each square according to how many plants of each vegetable type that square can support. For example, one square might support 1 tomato plant, 4 lettuce plants or 9 spinach plants. The whole concept was developed by an engineer (of course) named Mel Bartholomew back in the 80s, and it works. It's great for the home gardener who wants to maximize yields in a confined space, or for those who want to get the biggest harvest from their available growing area. In my garden, using 4X8 beds, there are 32 squares per box, theoretically each square could be planted with a different vegetable.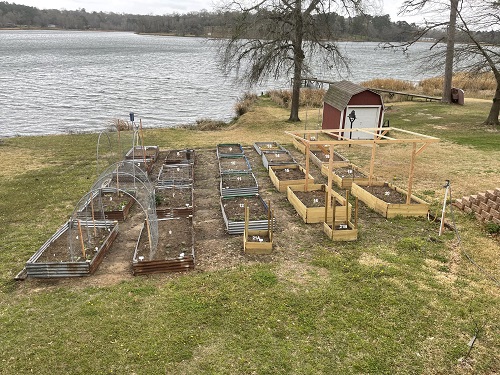 1 Corn. Originally, corn was a 1 plant per square crop. But as time went on, gardeners realized that 4 per square worked well, and 9 per square was quite possible if you fertilized with nitrogen. I'm ambitious, I'm attempting 9 per square, with each row being planted 2 weeks apart. That should give me a rolling crop from 32 plants per row all through the summer.


2 Squash, cucumbers and New Zealand spinach. The squash is planted to grow over the arch trellis. There's a separate trellis for the cukes behind that and a tall trellis for New Zealand spinach (not spinach at all, but it tastes like spinach when cooked, and it's very heat tolerant, which is important here in Texas.) I have 2 rows uncommitted in this bed.
3 Peppers, cukes and zucchini. Most of this bed is peppers (Bell, purple bell, banana, jalapeno, ancho, serrano and ghost.), but at the base of the trellis I'm growing zucchini ( I hate zucchini, but my wife likes it, so I put in a few plants) and cucumbers. The plan is for them to grow up the arched trellis and create a leafy tunnel by mid summer.


4 Watermelon, cantaloupe, bush beans and herbs. The watermelon and cantaloupe are planted to grow up the arch (I have melon bags to hold the fruit while it ripens), while the beans are taking up half the remaining space with herbs (dill, oregano, basil, cilantro, sage, parsley, thyme, rosemary).
5 Sweet potatoes. Not quite time for them to go out yet, they'll be planted in a few weeks.


6 Rhubarb. The starts are on order.


7, 11 Tomatoes. Theoretically, you could plant one plant per square, but it would be very hard to get to the plants in the middle of the box to pick the fruit, so I split the plants between 2 beds and planted in a checkerboard pattern.
8 Green beans, okra. Pole beans on the left to grow up the trellis and okra on the right, half seeded and half transplants


9 Fallow so far. Maybe I'll do flowers. What are flowers that make good companions to veggies?


10. Plants I'm trying out. Swiss chard, rutabagas, parsnip, beets, collards, and mustard. I'll see what I like and adjust for next year.
12 Strawberries. Gonna have to build a net above them to protect from birds.


13 Garlic, onions, kohlrabi, corn salad, spinach and different varieties of lettuce, both head and leaf


14 Pumpkins and broccoli. The broccoli was planted late, I'm worried that it's going to bolt. Either way, by the time the broccoli is done, I'll have space to train the pumpkin vines into the rest of the bed.
15 Potatoes. Boil 'em, mash 'em, put them in a stew. Yukon gold, purple and russet.


16, 20 Berries and grapes. Blueberries, raspberries and blackberries. Grape vines are planted at the base of the vertical beams of the trellis. The hope is that they'll grow up and over when I put lattice on top. That'll take a few years, however. I'll probably have to transplant the berry bushes then too.


17 Sugar snap peas, cabbage, carrots and radish. The peas are growing up the trellis in the middle, the others in columns alongside.
18 Asparagus. Hopefully the whole bed will produce for a decade or more


19 Brussels sprouts, broccoli and cauliflower. This is where I planted broccoli a month or so ago so I'll get to harvest it before it bolts.


21A&B Potato towers. I've read that potato towers do and don't work. Either way, I'm trying them out. If they don't work, I'll replant them with horseradish. You have to contain the horseradish or it will spread EVERYWHERE. These are tailor made.
And that's it. Gingy is into pressure canning, so we're going to store everything extra. What do y'all think?
Wow! A lot of garden there! I sent Dave some ideas earlier, but here's an interesting historical thing I found on "victory gardens" this week, which sort of fits into Gingy's pressure canning.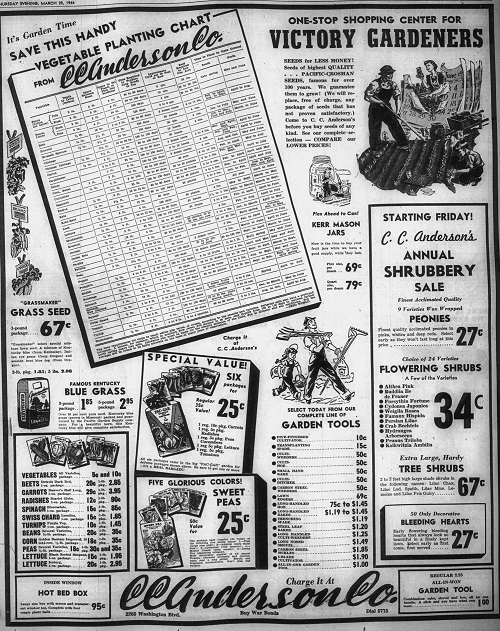 The ad mentions Pacific-Crosman seeds, "famous for over 100 years" in 1944. Still around as Crosman's seeds. They have some bean varieties that might be good for Dave's garden, and even more for more northerly gardens. Plus old-fashioned flowers for pollination. A good catalog to use to send a child a gift order. We can discuss varieties in the comments.
Critters
Well, THIS is exciting. CaliGirl caught some night photos of a mountain lion. Kinda sends a thrill up my spine.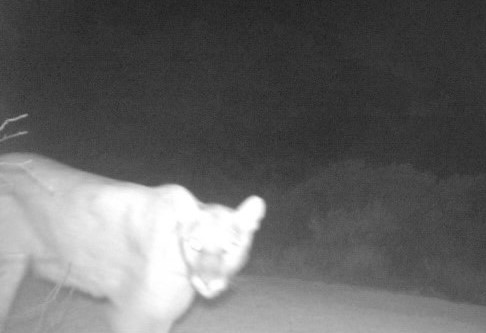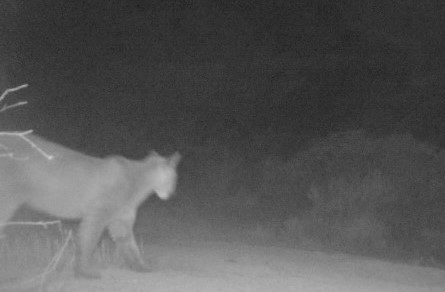 Neal in Israel caught a photo of a bee on a stock blossom.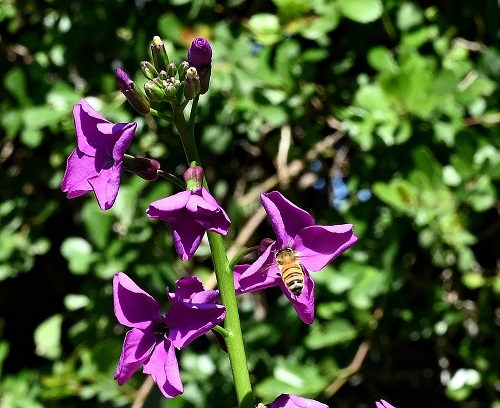 Moar Flowers
When you grow stocks from seed, they usually come up as a mixture of single and double blossoms. The single ones are more attractive to bees. But people tend to like the double ones.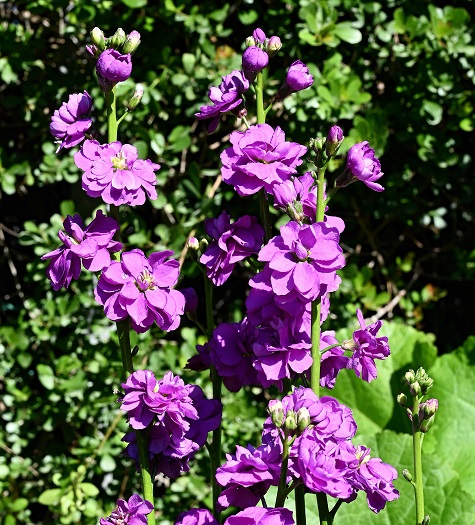 They would look nice with the Osteosperum that 40 Miles North grew.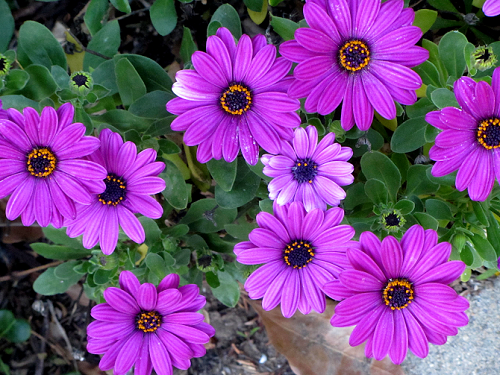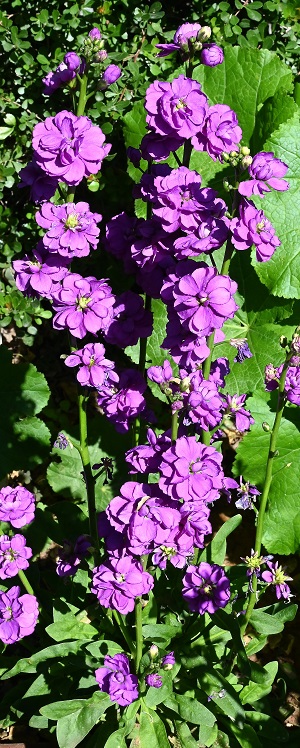 If you would like to send information and/or photos for the Saturday Gardening Thread, the address is:
ktinthegarden
at that g mail dot com place
Include the nic by which you wish to be known when you comment at AoSHQ,
unless you want to remain a lurker.

posted by K.T. at
01:18 PM
|
Access Comments