« Saturday Morning Coffee Break & Prayer Revival
|
Main
|
Saturday Gardening, Puttering and Adventure thread, March 26 »
March 26, 2022
The Significance of the Passage of Time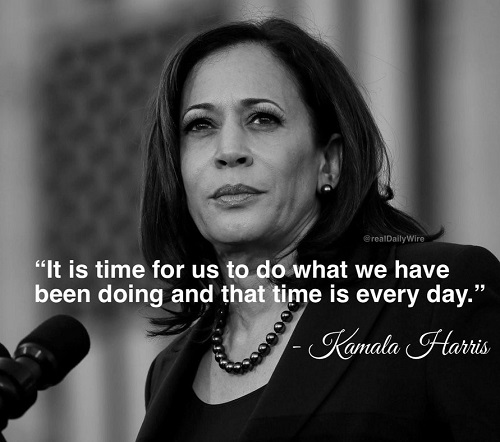 In Ace's Quick Hits 1 yesterday, there was a nice video in which Kamala Harris, the Philosopher in Chief, discussed the Significance of the Passage of Time. She emphasized this point again and again, so I thought it would be a good idea to remind The Horde of this important point again today.
The passage of time is, indeed, important. Sometimes when we look back we find ourselves shocked at changes like, say, what the word "queer" means now in elementary school books. It's not:
My little horse must think it queer

To stop without a farmhouse near
(And nope, it doesn't really mean "gay" anymore, either - see link to Ace's post above. Speaking of which, "gay" is another word that has changed . . . . )
And sometimes we find that things were not as different in the past as we thought they were.
Censorship
Normally, I try not to repeat WeirdDave's fancy memes, but Kamala has inspired me. This was the last meme of the ONT last night: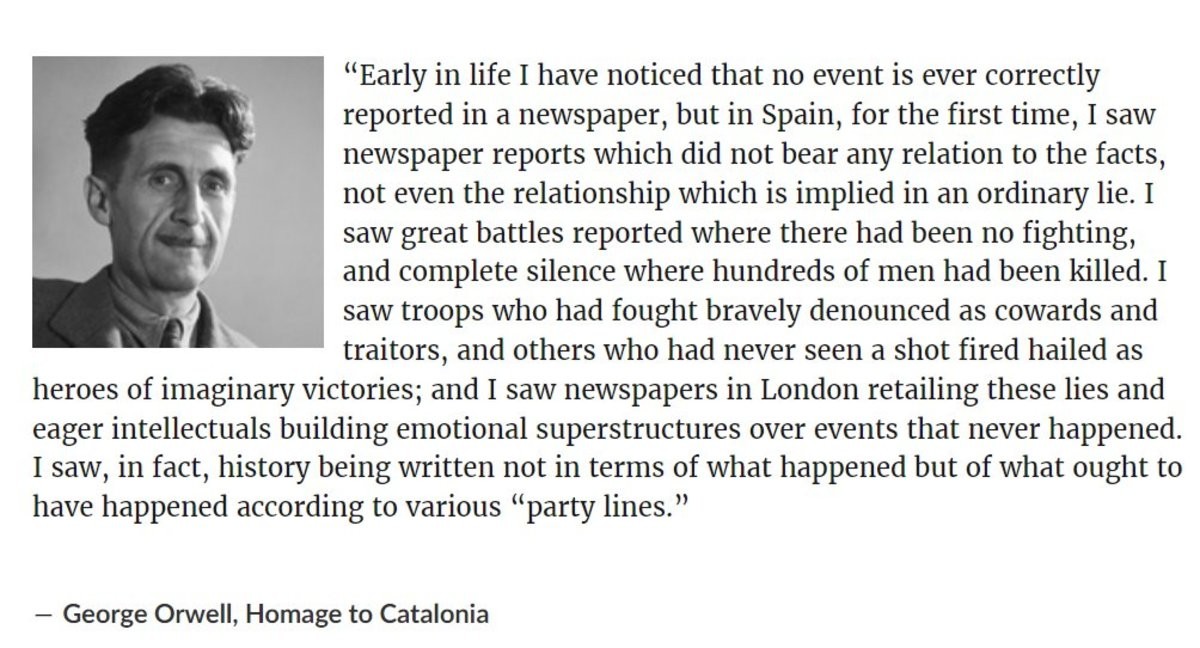 Turns out that this phenomenon was not limited to the Spanish conflict.
'At any given moment there is an orthodoxy, a body of ideas which it is assumed that all right-thinking people will accept without question.'

Orwell in a preface he wrote for Animal Farm (1945), dropped by his publisher and not seen until 1972.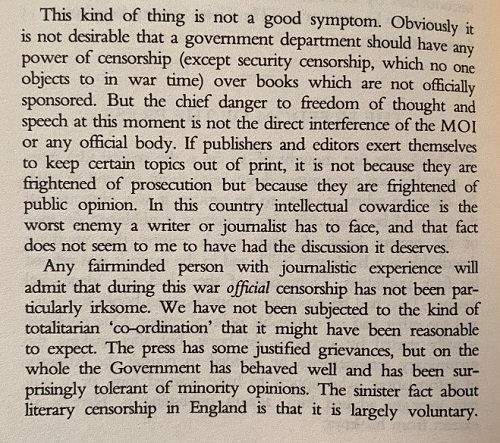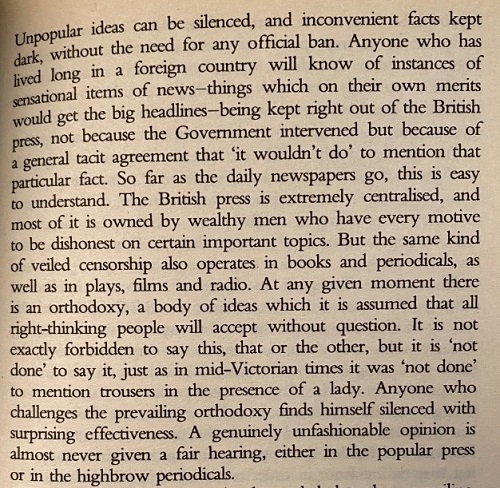 Support for big tech and government censorship among Democrats increased between 2018 and 2021.
The Significance of the Passage of Time
Sending Biden over to Europe after Kamala's visit might not have been an improvement.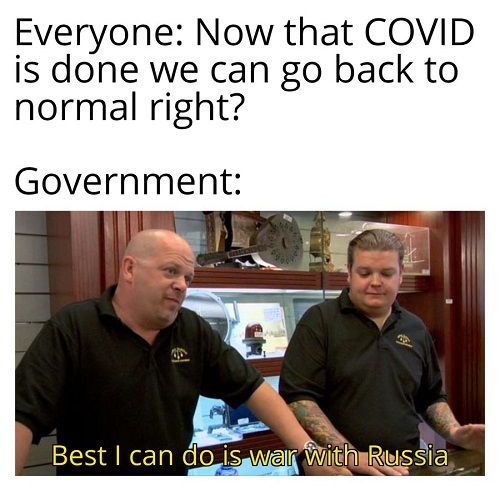 I think it's enlightening to check back on old newspaper excerpts to compare them with what is happening today. And just mull them over a little. The following are mostly standard reports from wire services - the same ones still in existence today. Given Orwell's statements above, how would you interpret these reports?
* * * * *
Theory: Will the Kaiser abdicate? March 24, 1917

* * * * *
Look who is hanging out together, March 22, 1931:

* * * * *
Russian atomic testing affects Japan, March 25, 1954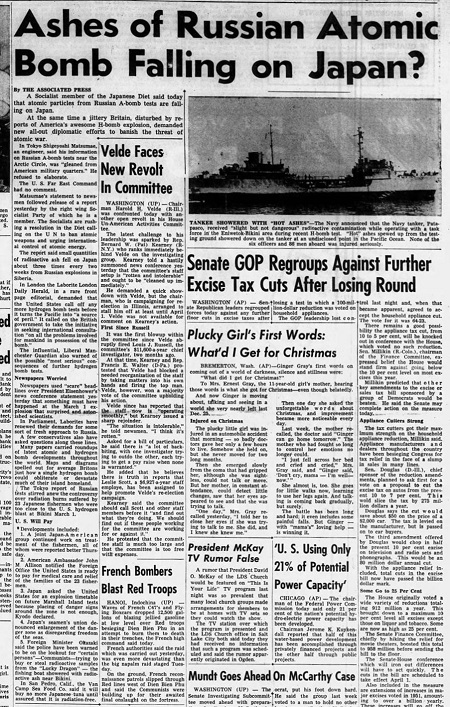 Got some potassium iodide on hand?
* * * * *
Are big cities prepared for an atomic bomb? March 25, 1954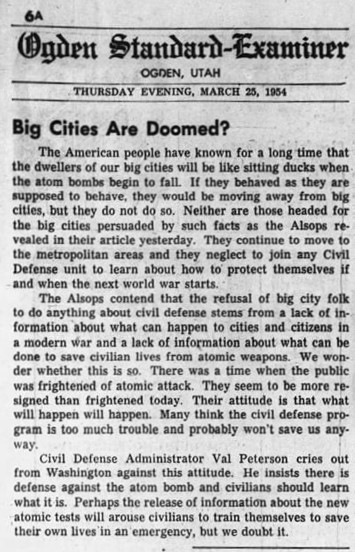 * * * * *
Nixon visits Moscow to discuss limiting nuclear weapons, March 22, 1974

* * * * *
The Significance of the Passage of Time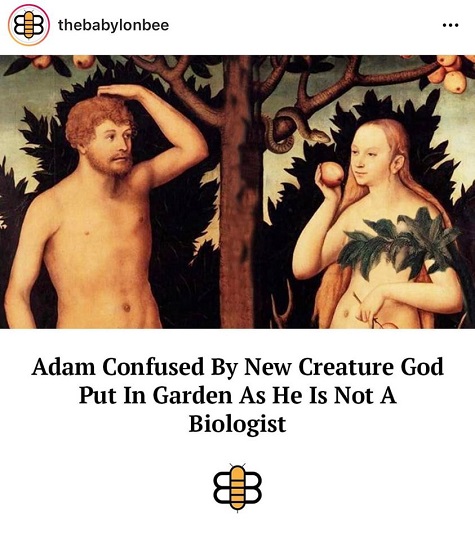 We are fortunate to have experts now.

Music
History Repeating: Disc jockeys - "a fresh rush of blood in the aging corpse of music"?


From 1905, Musical Zig Zags Rag. Thanks to zigzag in the comments last week for the archive copy.
Hope you have something nice planned for the weekend.
This is the Thread before the Gardening Thread.
Serving your mid-day open thread needs

posted by K.T. at
11:15 AM
|
Access Comments