« Saturday Morning Coffee Break & Prayer Emporium
|
Main
|
Saturday Gardening, Puttering and Adventure thread, March 19 »
March 19, 2022
What about China?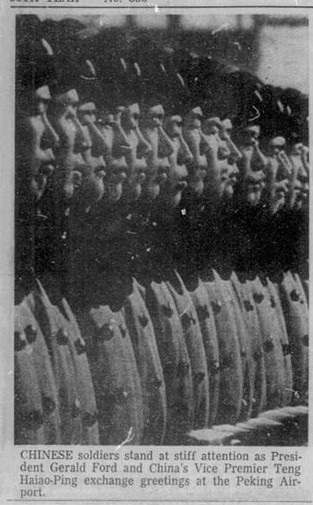 Chinese soldiers then

Some things have changed since 1975
December 1, 1975:
PEKING (UPI) -- China's leaders welcomed President Ford warmly today and then took the bloom off with a blistering attack on U.S.-Soviet detente, claiming Russian aggression "is bound to cause a new world war."
Secretary of State Henry A. Kissinger treated Teng's blast with diplomatic aplomb, saying it was just what he had "expected," and White House aides said Ford saw the text in advance and was unruffled. His responding toast included a low key but firm defense of U.S. efforts to seek peace with the Soviets.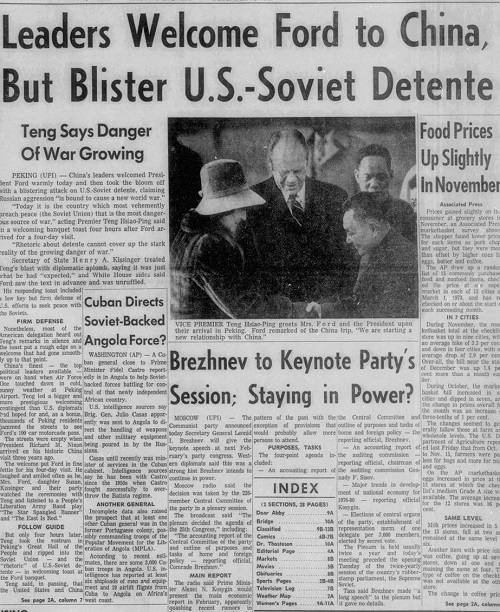 * * * * *
Chinese soldiers now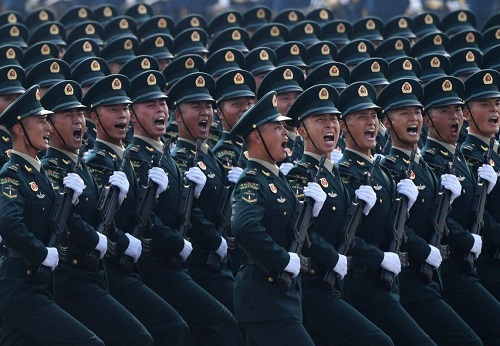 * * * * *
Updated Chinese Position on Russian Aggression via David P. Goldman:
Defense Intelligence Agency says "China is closely managing its messaging on the conflict, generally backing Russia's characterization as a conflict ultimately caused by U.S.-driven NATO expansion and disregard for Russia's security interests." Kissinger said this in 2014.
National Interests of the USA
There would be a lot more understanding between political adversaries in the USA if more folks actually read some of the links in the sidebar and in the posts here at AoSHQ. For example, a current top headline in the sidebar is Kyle Shideler: What America must do to realign its foreign policy with American interests -- and reality
The title of the actual piece is "Here Be Monsters".
Since the beginning of the Russian invasion of Ukraine, the phrase "national interest" has become something of a blasphemy. Certain thinkers in the "realist" school of foreign policy analysis have drawn social media ire for articulating the interests which might motivate Russia's invasion of the Ukraine or questioning whether the United States has a significant interest in intervening there.

Increasingly in our censorious modern world, any attempt to understand the behavior of an actor (in this case Russia) is treated as a de facto endorsement of that actor's behavior. This is not a new development. During the Global War on Terror those of us who tried to articulate the ideological framework within which jihadists operated were accused of believing the same things as the terrorists themselves.

But to recognize that Russia has long opposed the expansion of Western power into its near abroad is not the same as defending its security claims. And recognizing the Russian demand in no way denies Ukraine's own interest in preventing itself from being dominated by its larger neighbor. To recognize the interests of one nation is not to deny the interests of another, nor does it make a moral claim as to which set of interests are "right" or "wrong."
But the idea of "national interest" itself is in profound opposition to the Progressive vision of the global order. If countries act according to national interests, and those interests' conflict, then disputes between nations may prove inevitable. Eliminating the idea that nations have interests does not eliminate those interests, but it does make predicting and mitigating the conflicts that result harder.

Understanding the interests of other nations may be easier if we first understand our own. . .
It should be obvious that Russia and China are both pursuing their national interests at this time. Why shouldn't we pursue ours? There's a nice discussion of our national interests in the piece above.
National Interests of Russia and China
Sometimes the national interests of China and Russia may overlap, and sometimes they may not. But it is probably a good idea for policy makers to understand them. From Michael Barone, Ukraine Suggests Dangers of the Eurasian Heartland Axis:
"Who rules the Heartland rules the World Island. Who rules the World Island commands the world." So wrote the geography professor and occasional member of Parliament Halford Mackinder in his 1919 book "Democratic Ideals and Reality."

Mackinder's Heartland was vaguely defined to include the Eurasian landmass from central Europe eastward across Siberia and the Himalayas to eastern China. And while it hasn't dominated the world since -- it glaringly excludes the United States -- it still has great weight in what Mackinder called "the lands of outer or insular crescent."

And it seemed to have great weight suddenly on Feb. 24 when, just days after a conference between Russia's President Vladimir Putin and China's President Xi Jinping at the Beijing Winter Olympics, Russian troops suddenly invaded Ukraine.
It's true that the Russia-China alliance solemnified then has not proven to be an axis of steel. China has been skittish about supporting Putin's aggression, abstaining rather than opposing United Nations resolutions condemning it. On the other hand, it has also spurned U.S. efforts at mediation.

Nonetheless, the apparent alliance of Russia and China, however strained, and their friendly ties with Iran raise dangers for the U.S. and its friends and allies that American leaders have been ignoring until recently.

This Heartland Axis of Unfreedom is reminiscent of that Axis of Aggressors that dominated Mackinder's Heartland from August 1939 to June 1941 -- an alliance of totalitarian dictatorship that was the closest thing to what George Orwell described in "1984."
What assumptions would cause American leaders to ignore those dangers?
And what if we lost the petrodollar?
The economic sanctions that have been imposed upon Russia have caused immense damage, but a loss of the petrodollar would be absolutely devastating for the U.S. economy. Since making an agreement with the Nixon administration in 1974, the Saudis have traded oil exclusively for U.S. dollars. Today, approximately 80 percent of all oil produced worldwide is traded for dollars, and the "petrodollar" has become one of the foundational pillars of the current global financial system. Most Americans don't realize this, but far more dollars are used outside of the United States than inside the United States, and having the world's reserve currency is a massive advantage. Up to this point, there has been an insatiable demand for U.S. dollars all over the planet, and that has allowed us to enjoy a standard of living that is way above what we actually deserve.

Unfortunately, all of that could be about to change. As I have stated many times over the past year, Joe Biden is surrounded by the worst foreign policy team in U.S. history, and that is really saying something.
Thanks to this catastrophically bad foreign policy team, our relations with Saudi Arabia and China have significantly deteriorated, resulting in them developing closer ties with one another. In fact, the Wall Street Journal is reporting that it looks like the Saudis could soon start pricing the oil that it sells to China in Chinese currency. . .
David P. Goldman, a money guy:
The reason most world trade is in USD although US is only 8 percent of world exports is rule of law and free markets. Seizure of Russia's reserves puts that in question, especially for autocratic regimes like the Gulf States.
And then there's Iran. What was that about "the worst foreign policy team in U.S. history"?
Putin's Interests
The term "Eurasian Heartland" also brings to mind the growing awareness that perhaps the West has been misjudging Putin's objectives in Ukraine. From Foreign Policy, Putin's Thousand Year War:
Whether or not Vladimir Putin's invasion of Ukraine ends any time soon, what is certain to continue is the Russian president's abiding hatred and mistrust of the United States and other Western powers, which he believes left him no choice but to launch an unprovoked war.

It's not just Putin. These views are shared by the many Russian elites who have supported him for two decades. They have also been a chief reason for Putin's domestic popularity--at least until recently, when his invasion ran into fierce resistance--even as he has turned himself into a dictator and Russia into a nearly totalitarian state reminiscent of the Soviet Union at its worst. It is an enmity worth probing in depth, if only to understand why Washington and the West almost certainly face another "long twilight struggle" with Moscow--in former U.S. President John F. Kennedy's words--rivaling the 45-year Cold War.
Even if Putin is somehow ousted from power, the generals and security mandarins who surround him are just as vested in his aggression as he is. And already, Russia is almost as isolated economically as it was during the Soviet era.

Indeed, Putin may have been preparing for this moment longer than people realize: After the Russian leader annexed Crimea in 2014, the Kremlin's longtime ideologist, Vladislav Surkov, wrote that it would mark "the end of Russia's epic journey to the West, the cessation of repeated and fruitless attempts to become a part of Western civilization." Surkov predicted that Russia would exist in geopolitical solitude for at least the next hundred years.
This "deep dive" does not seem to be exactly the message that the Biden Administration is giving to Tik Tok influencers. And it is hard to know if this is what Putin really believes or if it is mostly propaganda. But how many Americans have a clue that this is what Russians are hearing from their leadership?
How much influence do you think China will have on Russian leadership? Is a protracted, destructive war in their interests?
Short subjects, related or not
Okay, so Jim Geraghty is writing at National Review. Still, some strong points on the impotence of international bodies:
It feels like a long time ago, but it is easy to forget that less than a month ago, Russia's invasion of Ukraine began as the United Nations Security Council met to discuss and denounce it. The security-council meeting was chaired by Russian ambassador Vassily Nebenzia, because the month of February was Russia's turn in the rotation. One by one, security-council ambassadors denounced the invasion . . . and then nothing happened. . . .

The United Nations doesn't have the power to enact any economic sanctions on its own. The U.N. doesn't have an army capable of forcing Russia out of Ukraine. The U.N. has peacekeeping forces, but they are frustratingly ineffective, infuriatingly corrupt, and have a jaw-droppingly horrific problem with the sexual abuse of the populations they're supposed to be protecting.
* * * * *
If you're looking for weekend reading, Spin, Strangeness and Charm has had a lot lately. This post includes a rundown on how Russia works from Stephen Kotkin.
Heck, just check out the March archives.
* * * * *
Apology
I accidentally deleted last week's post on Georgia, Angelo Codevilla and miscellaneous subjects. But I was able to copy it to Word before it disappeared from the screen and re-constitute it.
Sorry about the loss of the comments.
Music
Hope you have something nice planned for the weekend.
This is the Thread before the Gardening Thread.
Serving your mid-day open thread needs

posted by K.T. at
11:20 AM
|
Access Comments