« Saturday Morning Coffee Break & Prayer Revival
|
Main
|
Saturday Gardening, Puttering and Adventure Thread, March 12 »
March 12, 2022
Georgia On My Mind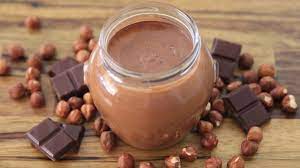 Nuts to you. (Video Recipe)
When I was a youngster, I somehow spent part of a summer reading Doctor Zhivago. My paperback version had a page listing the names of the characters in the book, their nicknames and a little about their relationships. It was a big help.
With all the news about Eastern Europe and Russia, I sometimes wish I had a similar list of names in the news. Going deep into the news about what is going on in Eastern Europe and the Russian Federation is not just difficult because of the names of the players. It is difficult because I don't know if I can trust the news. So I thought that today I would look into a little more history of the region, which is a really tough neighborhood. I am sort of focusing on Georgia. Not our Georgia here in the USA. That other Georgia, where Putin has priors. How are people doing there now?
Photo note: Georgia is now a source for hazelnuts for Nutella. If you are addicted, your supply may be interrupted soon. Who knows? You may need to get some hazelnuts from Oregon and make your own.
But back to broader issues for a bit. When he died, Angelo Codevilla was working on a big foreign relations project commissioned by the Trump Administration. Below, the part of that project relating to Russia: What would John Quincy Adams do?
Codevilla on Russia
Ken Masugi at American Greatness on Missing Angelo Codevilla's Counsel on Russia and Ukraine:
Especially as we get older we feel the loss of friends and mentors who have contributed to our virtues and happiness. But a sudden memory will make it seem as though they were alive again. And in Angelo Codevilla's case, as fierce as ever.

I had that feeling when I perused an advance copy of Codevilla's last, posthumously published book, America's Rise and Fall among Nations. His analysis of Russia and the Ukraine far surpasses what we have been hearing this past week. Even when it seems he's in error, he recoups with insights that keep us marveling.

The American Mind has published his entire sections on Russia and America and notes the study was commissioned by the Department of Defense's legendary Office of Net Assessment back in the Trump Administration. Codevilla produced what became this 250-page book, based on his study of John Quincy Adams.
Skipping to his conclusion:
In sum, nothing would be geopolitically clearer to Adams than that natural policy for both America and Russia is not to go looking for opportunities to get in each other's way."

But Putin evidently felt that America, even one headed by Joe Biden and Kamala Harris, would continually get in Russia's way. He didn't count on Germany reacting with Stingers and other weapons, not just helmets. In this view, Putin is principally a European problem, and now a temporarily united Europe needs to take the lead in dealing with him. They may yet be able to restore Codevilla's reasonable Putin who knew his limits, but the thousands of civilian dead will exact a fearful reckoning.

Come to life in these words, Angelo Codevilla has brought us to see how we got to this dreadful point, in just 16 pages of this remarkable book.
Worth reading. Comments are interesting. And here is a little from the section of Codevilla's book from The American Mind:
From the founding of our Republic until the 1917 Bolshevik coup, Russia loomed small in U.S. foreign policy, and vice versa because the interactions between the two countries' geopolitical and economic interests were few and compatible. Given that these fundamentals have not changed, we should expect that the two countries' policies may gradually return to that long normal. But, for both countries, transcending the intervening century's habits will not be easy. vThe Russian bear is licking the Soviet era's deep wounds as it growls behind fearsome defenses. Few other than Dostoyevsky imagined a tragedy as momentous as what the Communists inflicted on the long-suffering Russian people. No one knows whether or how it may be possible to undo its profound effects. . .

U.S. liberals believed the Soviet Union's dissolution was impossible, and conservatives flatter themselves that they caused it. But virtually no one among us believed it was happening. Then, our establishment was well-nigh unanimous that Russia would evolve in a liberal direction. A decade of deep but ignorant involvement in Russia's internal affairs followed.

Americans had preached democracy to Russians and others within the Soviet Empire as part of the struggle against the Soviets' worldwide challenge. Russians did not have to be told that they were captives of a tyranny, but they appreciated America's attention to their plight. After the Soviet Empire fell, pro-democracy activists in and around the U.S. government redoubled their efforts to "democratize" Russia and the other former communist countries according to their own lights, not realizing how deeply this would be resented. They also got too close to former Party officials, as these used their Western connections to buy and to loot Russia's assets.
The Clinton administration combined ignorance and self-contradiction by trying to load onto Russia the hopes that the U.S. establishment had long entertained about global co-dominion with the Soviets, while on the other hand they pushed NATO to Russia's borders in the Baltic states and interfered massively in Ukraine. Russians came to see America as an enemy. Few Americans understood Vladimir Putin's 1998-99 rise as the reassertion of a bankrupt, humiliated, resentful Great Russian people.

The George W. Bush administrations fumbled at the new reality. Cleverishly, they courted American public opinion by publicly disavowing the treaty obligation to limit U.S. missile defenses, while simultaneously trying to appease Russia by continuing to limit them in fact. And as the Bush team struck a tough pose by formally objecting to Russia's dismemberment of Georgia, they effectively condoned it. The administration's dishonest incompetence earned contempt from all sides.

There's more.
While we're on the topic of Georgia . . .
Sarah Hoyt posted a link to Spin, Strangeness, and Charm which includes some briefs on Ukraine; the Georgian past as prologue; negotiations in progress; another angle on Putin's behavior; and Kamil Galeev on the Russian economy. Whew. A lot of information for one blog post. But there is some interesting content there.
There are several videos on a variety of mostly-related topics. But the one below caught my attention, particularly because it discusses how one man, Mikheil Saakashvili, brought Georgia (well, the part not under Russian occupation) out of its disastrous circumstances after the fall of the USSR. See segments 2 and 3 of the 16 minute video (starting at 6 minutes).
Visualpolitik suggests we have a good look at what happened in Georgia -- which Russia invaded in 2008. There are of course huge differences they don't go into -- Georgia's mountainous topography, for instance, vs. Ukraine's quasi-Midwestern plains -- but there are some similarities. And Georgia is actually both doing much better, and keeping Russia at greater arms' length, than one might expect. Yes, maybe you can say Putin was still a rational actor (rational is not the same as moral) at the time and has now become unhinged. But do have a look.
Saakashvili was exiled after losing an election in Georgia. He has been really, really seriously threatened by Putin. Tough Neighborhood:
Saakashvili supported Ukraine's Euromaidan movement and the Revolution of Dignity.[15] On 30 May 2015, Ukrainian President Petro Poroshenko appointed Saakashvili as Governor of Odessa Oblast.[16][17][18] He was also granted Ukrainian citizenship,[16] and due to restrictions on dual nationality under Georgian law, was stripped of his Georgian citizenship.[19] On 7 November 2016, Saakashvili resigned as Governor while blaming President Poroshenko personally for enabling corruption in Odessa and in Ukraine overall.[9] Four days later, he announced his goal to create a new political party called Movement of New Forces.[20][21]

On 26 July 2017, Saakashvili (at the time staying in the US) was stripped of his Ukrainian citizenship by Petro Poroshenko, and became a stateless person.[22][23] On 29 May 2019, he returned to Ukraine after newly elected President Volodymyr Zelensky restored his citizenship.[24][25] He later returned to Georgia on 1 October 2021 where he was arrested a few days after entry. On 1 October 2021, Saakashvili claimed to have returned to Georgia after an eight-year absence, and called on his followers to march on the capital, Tbilisi.[26][27] The Georgian police, however, claimed that Saakashvili had not crossed the country's border.[27] He was arrested later on 1 October 2021 in Georgia,[28] after illegally crossing the border. President of Georgia Salome Zourabichvili stated that she will "never" pardon Saakashvili. On 3 November 2021 Zourabichvili confirmed her first statement again.

On 10 October 2021, his personal doctor asked authorities to move him to hospital as he continued with his hunger strike since his arrest and his health condition had allegedly worsened.[29]
* * * * *
Quirky fact: The current Ukrainian president ran on a campaign of reducing Russophobia. I guess things changed.
(Politico report from 2019)
* * * * *
There is a lot more content at the Spin, Strangeness and Charm post above. For example, is Putin losing it, or does he just have a good poker face?
As I was shaving and having breakfast, I listened to a German-language podcast interview with Russian author Vladimir Sorokin. One standout moment: Putin is not a new phenomenon in Russia. Ever since the mid-16th century (he was referring to the first "Tsar of all Russia", Ivan IV 'The Terrible') the country has been a 'red pyramid' he called it, with one autocrat at the top, getting progressively more corrupted and unhinged as he stays at the top. [There was also one "she" of course, the expat German noblewoman from the house of Anhalt-Zerbst who became Yekaterina/Catharina II of Russia.] Without name-checking Lord Acton, he quoted his famous "power corrupts and absolute power corrupts totally".
And there is even more speculation, plus random facts, at this later post. Putin should look in front of his own doorstep for "denazification".
Addendum: Nathan Sharansky's perspective. "Even admirers of the man may not be aware that he grew up in Donetsk, Ukraine."
* * * * *
Random facts from elsewhere: Many top strategic thinkers have warned over the years against expanding NATO. Pretty much since the fall of the USSR.
However, Putin poisoned the winner of the Ukraine election 2004. Bush offered Ukraine NATO membership 2008.
Would the NATO thing have mattered, if Putin really is acting in the mold of Ivan the Terrible? Should NATO have been replaced by something else?
I give up. News briefs, Media and Bright Ideas
Okay, these news items may be of variable quality, but they are out there:
This is the most Atlantic headline ever: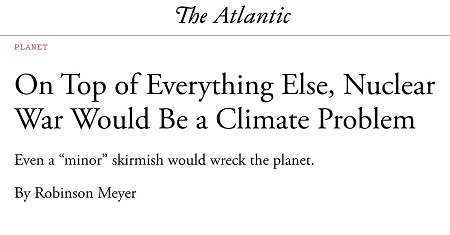 * * * * *
There are no economists at The Economist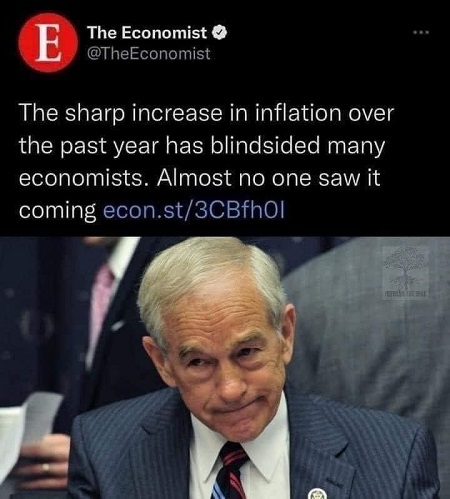 * * * * *
From Quillette: Okay, so we don't want to start WWIII. Can we stop reminding Putin of what we will not do and start reminding him of his own weaknesses?
Related:
Psaki suggests that the Kremlin using chemical weapons would not be a red line for the U.S.
Is she giving him permission to use chemical weapons? Has she ever played poker?
* * * * *
More detail, from Germany, on German energy dependency
Still laughing at Trump?
Music
Goodbye Odessa, a Yiddish song.
* * * * *
* * * * *
Hope you have something nice planned for the weekend.
This is the Thread before the Gardening Thread.
Serving your mid-day open thread needs
Note: This post has been re-constituted. I accidentally deleted the original. Sorry about the loss of the comments.


posted by K.T. at
11:15 AM
|
Access Comments