« Georgia On My Mind
|
Main
|
The Ace of Spades Pet Thread »
March 12, 2022
Saturday Gardening, Puttering and Adventure Thread, March 12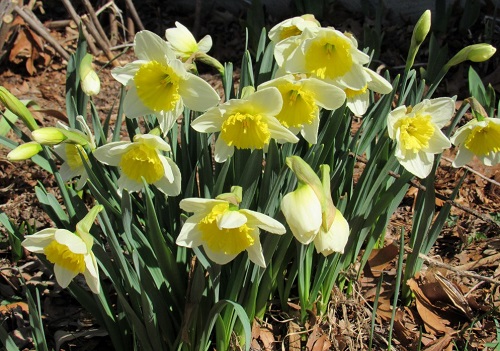 Ice Follies
Well, spring is coming right up, but winter is not gone quite yet in a lot of places.
March started off with spring transplanting / clean up & record warm temps, but now it's an arctic front and a burst of snow. I added some support to my smaller evergreens since the snow will stick to them now that it's cold enough for the rain to change to snow.

I lassoed by my sky pencil hollies so the branches won't splay & tied them to a big stake so they won't bend over from the snow load & wind.

At least this brief interlude of snow & cold shouldn't bother the daffodils. My early daffs are off to a strong start after the early March warm spell. The little yellow ones are Tete a Tete and the big white ones are Ice Follies. Ice Follies are fragrant, which is a bonus when I'm out cleaning up the beds & pulling the early spring weeds.

badgerwx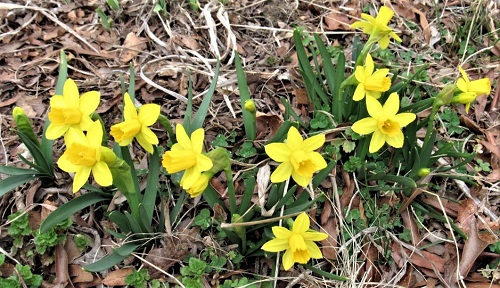 Tete a Tete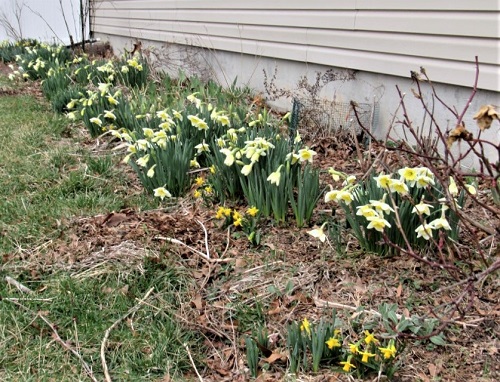 Daffodil foundation planting
Temporary holly support system
Looks like those hollies will be nice when they get a little bigger. Nice now, too.
From Rodent:
Greetings from Southern New Hampshire. I think the second time I've written. Could be the third but I'm old (60 in June!) and who's counting.

Thanks for the gardening thread and pictures of the Reagan ranch. It looks like a beautiful area. Interesting to see the small humble abode he kept.

I can sense spring coming and it can't be here soon enough. Each year I promise myself I'll plant and harvest a full garden of tomatoes, cukes, and peppers...and I end up kind of keeping up with mowing the lawn.

Our holly and rhododendron bushes. Birds have picked all the berries off the holly. The rhody stayed green all winter and is doing OK.

Also the sap for maple syrup will be running soon.
Thanks for the great link, Rodent! And the great photos!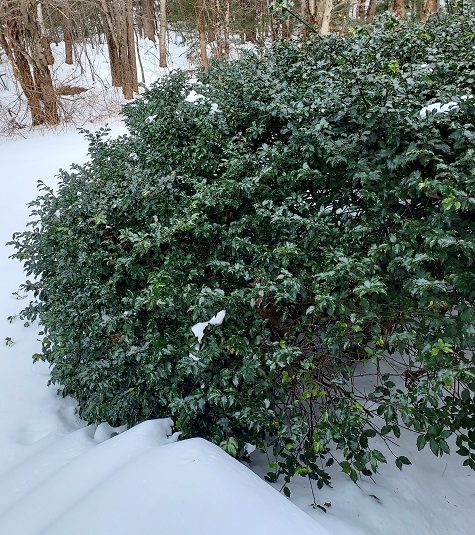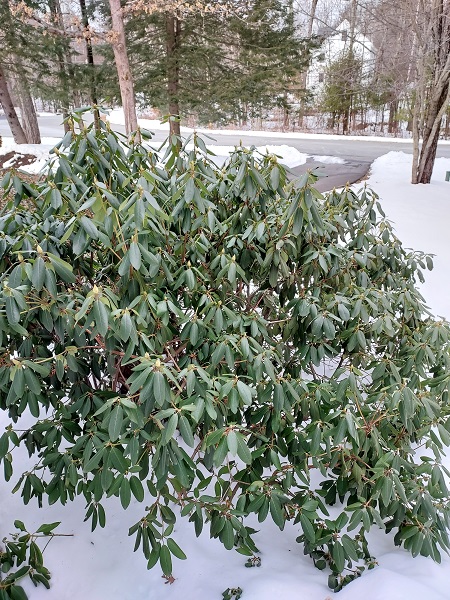 Edible Gardening and Farming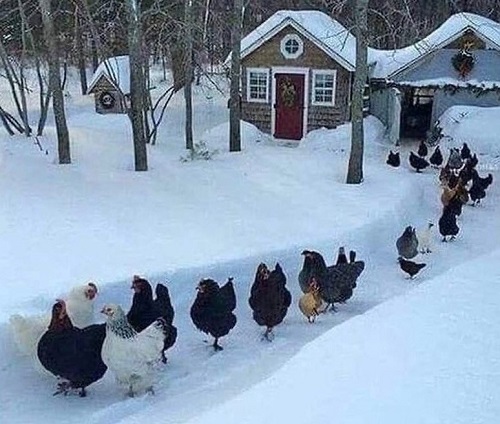 Chicken Freedom Convoy
From Rodent again:
Some herbs Mrs. R has kept going through the winter and a mushroom block Mrs. R bought from a local farm share.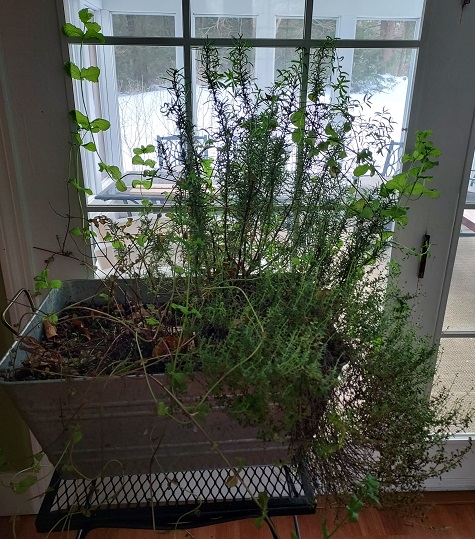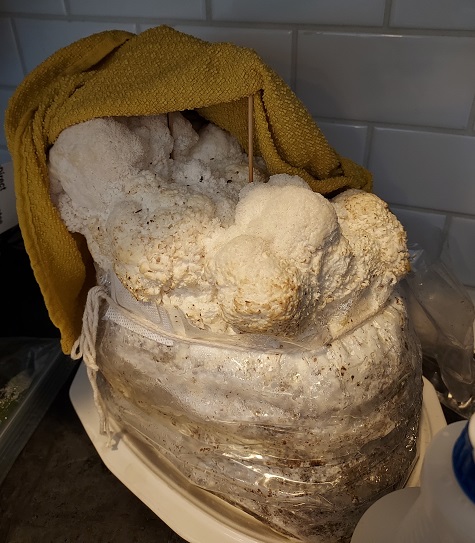 See the link for photos of grown mushrooms. They look good.
I had a coworker for many years (who has passed) who each spring brought in tomato plants he'd started as a gift to all. His joke was "If a man stands outside drinking a beer he's a drunk. If he stands outside with a beer watering his tomato plants he's a gardener.
OK, let's set your friend up. Here are some steps in transplanting tomatoes. If the soil is still cold or frost threatens, transplanting to a larger pot can be a good idea in spring. I got some small-ish starter pots with good drainage holes on two levels, 5 for a dollar, at Family Dollar. I used them to transplant the houseplants I had growing in the bathroom window. The larger pots into which I transplanted tomatoes have inferior drainage, so I will need to compensate.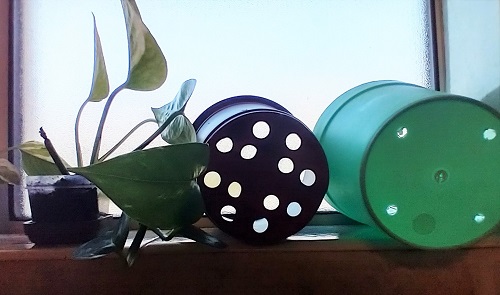 These Better Boy tomatoes came two in a pot from SaveMart for $1.50. Current price for single (almost as big) plants at the Big Box stores is running about $4.50. My other tomatoes will come from a local-ish nursery. These have nice thick stems and are not overgrown. The bottom leaves will be removed when the plants are planted deeper in the larger pots. A general rule is that plants with hairy stems can be transplanted deeper than they were planted in a smaller pot.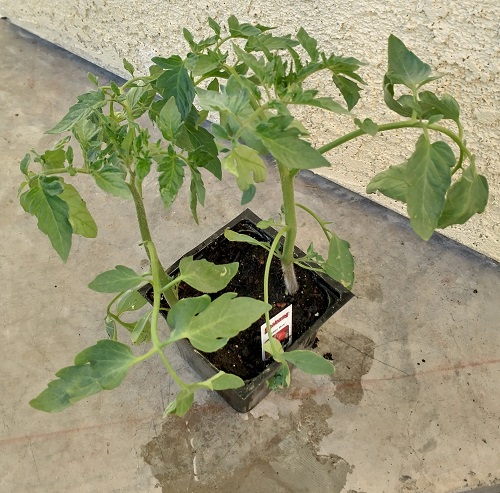 Ready to transplant the tomatoes. Plants separated. Roots were not overgrown and require only gentle "fluffing".
The Moisture Control potting soil will help compensate for the poor drainage in the pots. Still, I can't water too often. Plants were gently firmed in while planting to avoid air pockets.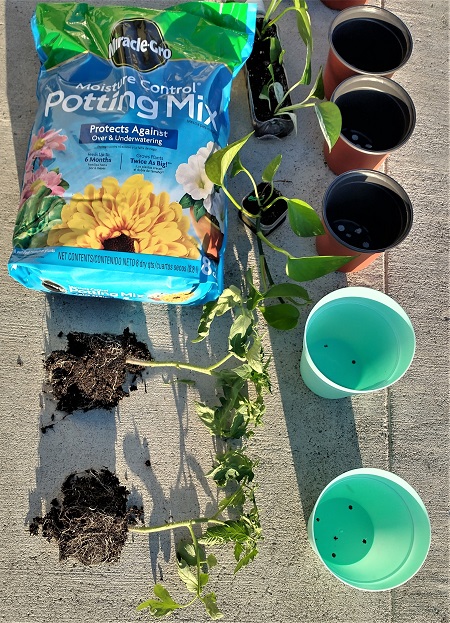 Transplant completed.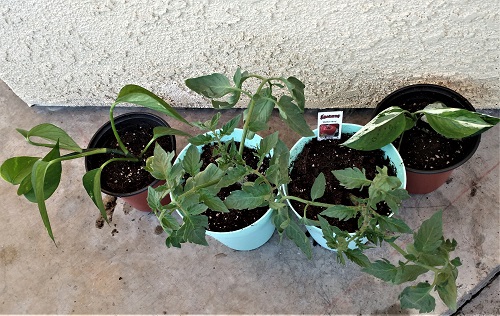 We had some questions about Black and Brown Boar tomato last week. From Wild Boar Farms:
One of my first varieties. Discovered in Green Zebra patch years about ten years ago. This looks like a Black Zebra, slightly larger with some lobes. Mid-early to early. 65-75 days. Indet. regular leaf. Pumps out 3-4 oz. fruit like crazy. Aggressive grower and producer. Great flavor, dark earthy tones of rich tomato. Origin - Green Zebra.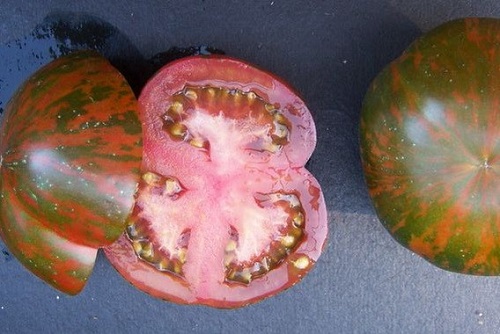 It is sweeter than Green Zebra. At least in our climate.

Gardens of The Horde
Daylily Awakening from Jeff L.:
One of my favorite times of the year is Spring starting to show it is right around the corner. I have reached an age where I find myself wondering just how many more of these I will experience which makes me cherish them so much more.

Hope this brings everyone a little brightness.

A great reminder to pay a little more attention to the things that make life beautiful. Thanks.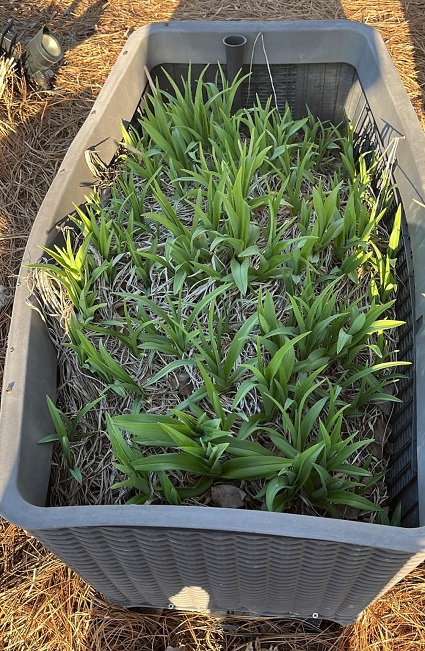 Notes on the self-watering container from Jeff:
The tube is for water. It has like a trough under the dirt with small slots so that the tips of the roots just dangle in the water. It's designed so you can just water occasionally. I bought a house to flip and the owners left it.
Daylilies are survivors!
Probably best not to use Moisture Control potting soil self-watering containers, except maybe right around the baby plants. Check for recommendations from the manufacturer.
If you would like to send information and/or photos for the Saturday Gardening Thread, the address is:
ktinthegarden
at that g mail dot com place
Include the nic by which you wish to be known when you comment at AoSHQ,
unless you want to remain a lurker.

posted by K.T. at
01:21 PM
|
Access Comments