« Saturday Gardening, Puttering and Adventure Thread, March 12
|
Main
|
The Weekend Hobby Thread »
March 12, 2022
The Ace of Spades Pet Thread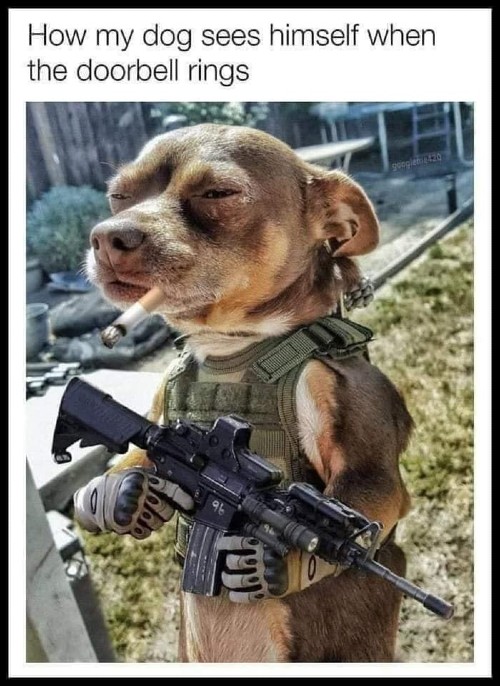 (H/T ALH)
***

Good afternoon and welcome to the almost world famous Ace of Spades Pet Thread, kick back, sit, stay and/or heel and enjoy the world of animals.
***
A Little of This. A Little of That.
***

After watching the talking dog clip for the 6 thousandth time over the last couple of years (yes, it's old), I give you this(H/T Geoff)
***

This 6 year old boy is doing something that I couldn't have done at that age.

Louisiana Boy Writes Sweet Letters About Foster Dog to Pass on to Pup's Adopters: 'The Best Dog'
Six-year-old Roman Duncan slipped in several praise-filled letters about his foster dog into the canine's transport paperwork ahead of her adoption from North Shore Animal League America
***
Meet The PetMorons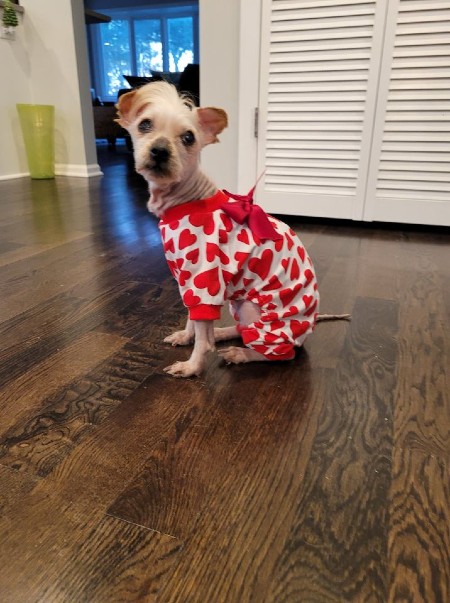 Updated Sugar picture. This is from a few weeks ago. She has gained 2 pounds and is thriving in her new home. - Jewells
Thank you for a happy update Jewells. Once again, thank you for all you do for those dogs at the shelter.
***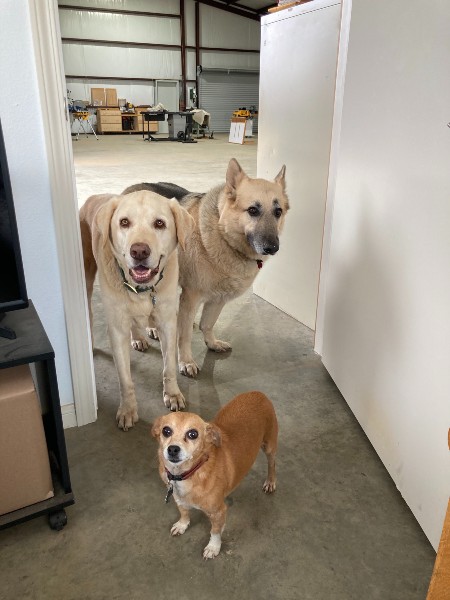 Long time lurker. Love the Pet thread.

I've recently retired and moved out to the farm. Living in the shop which the "boys" aren't too happy about.

The photo is all three wanting to be in the shop office with me. Not Happening!

Lab – Lucky - almost 12

GSD – Mac – almost 10

Little dog – rescue that my Dad got and I inherited – supposedly 11

Love them all and they make my day every day (somedays better than others)
Tom
What the hell is wrong with you? Dogs deserve to be in the office or the shop or wherever their master is. Just kidding, they look happy to be the center of attention. Thanks for the neat story.
***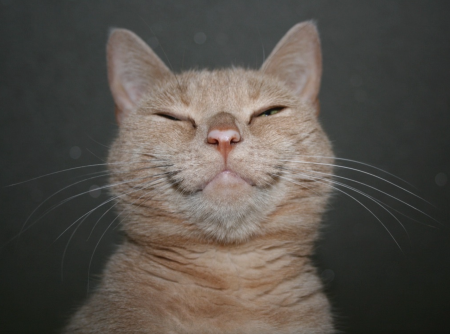 Good morning, MisHum!

Since the first anniversary of my Dukies passing is coming up next Saturday the 19th — PET THREAD DAY! — and since the one you graciously published last year got eaten up in the ACE crash last year, I thought you might want to have a go at it again.

ACE OF SPADES PET THREAD:

It is with a heavy heart I report on the passing of Dukie, our believed little feline companion, almost thirteen years old. She crossed over the rainbow bridge on March 19, 2021. She was featured in the Pet Thread on December 9, 2017.

Her original name was Duke, which is what's on the memorial pawprint we received from our vet. We thought the litter were all boys. Dukie and her sisters, Princess and Tammy (originally Duke, Prince and Tommy), all succumbed from cancer. She had gone from 8 pounds to five in about three months; she was a wisp of her former self and had stopped eating a few days before she died. The pics attached are our all-time favorites. Even after a year, I miss that little furball terribly...

I wrote a little obit for her here

George, Terry & Laurence
A smiling kitteh, how cool! So sorry to hear of Dukie's passing. A wonderful tribute for a wonderful pet. Thank you for sharing with us today.
***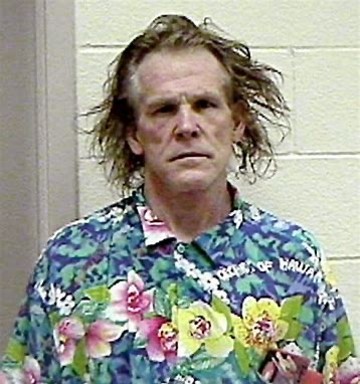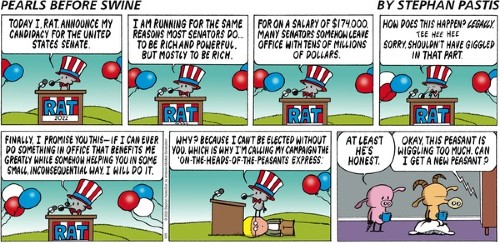 MY IRISH TERRIER, JAMESON, THINKS HE LOOKS LIKE NICK NOLTE- Mark
I think Jameson has been hitting up the Jameson's. He is definitely better looking that Nolte. Thanks for sharing.
***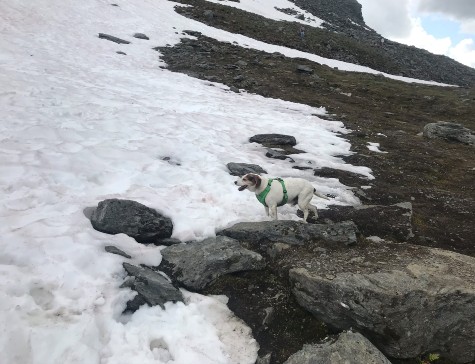 We lost our Rayray this week. He was a dog made up of mismatched parts, but an absolute lover and the best tempered animal I've ever known. I believe he was solar powered, and would walk a trail at his stately pace for miles without stopping or complaining, his alternator (tail) moving side to side charging the batteries. He loved to perform border patrol in the backyard, always greeted everyone with a smile, and just kept on keeping on until finally the liver cancer took him. I haven't cried that hard in years. - tcn in AK
Great looking pooch, so sorry to hear of your loss tcn. Tail as an alternator that's funny but yet so true. May your memories of Rayray be happy.
***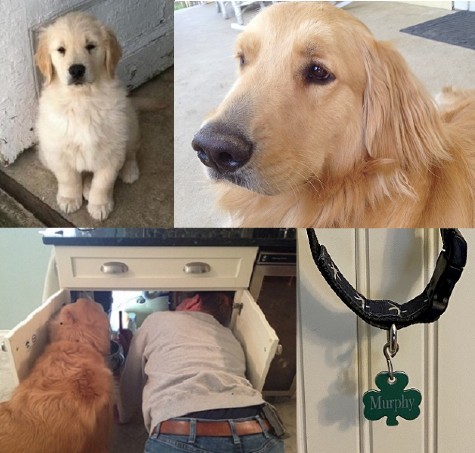 Hi MisHum,

I know the animal lovers at AoS will understand when I say that I lost one of my best friends on Wednesday. I'm thankful only that it was sudden and quick, and he didn't suffer long.

Murphy was the most rambunctious of his litter and it was love at first sight. He was the first puppy to approach me when I went to check out the litter, and nudged every other puppy away who tried to get my attention. He got expelled from puppy kindergarten because his playfulness was too disruptive to the class. They suggested I take him to individual classes, but I decided Murphy was too good for those people. We passed.

Because he was so food-motivated, training Murphy was fairly painless and he was housebroken very quickly. He knew more tricks than I can recount and one of the kids actually taught him to howl a little just before playing dead. It was hysterical to see. He was the world's greatest counter surfer, helping himself to a ham or meatloaf on more than one occasion. Murphy was also an accomplished escape artist, but thankfully never went farther than a neighbor's house a few doors down because that's where the Pupperoni was. And as you can see from the picture, he was a studious plumber's apprentice.

He never met a human that he didn't love and they always loved him back. The locals nicknamed him Mayor McMurphy. My sons loved taking him for walks up by the boardwalk in the summer, dubbing him the ultimate chick magnet.

Like most Golden Retrievers, Murphy stayed a puppy 'til the very last. While I'm thankful that his passing was blessedly quick, I wish we were given more warning of what was to come. Would have loved to bring him down to the beach for one last swim.

He was the best boy.~~ IrishEi

So sorry to hear of Murph's passing. I love the photo where he is supervising the plumbing job. I bet his invoice was a lot less than a real supervisor's. I know it was hard, but thank you for sharing.
***
Thank you for stopping by and thank you to the contributors today who keep this place open on Saturday afternoon. If you want to share something pet or animal related please contact us here at petmorons at gmail dot com.
Until next Saturday, God willing and the creeks don't rise. Have a good week.

posted by Misanthropic Humanitarian at
03:00 PM
|
Access Comments