« The Ace of Spades Pet Thread
|
Main
|
Saturday Evening Movie Thread: Mystery Science Theater 3000: Santo in the Treasure of Dracula [moviegique] »
March 12, 2022
The Weekend Hobby Thread

Yours truly came across this meme. Is it:
A. [ ] 100% True
B. [ ] Partially True
C. [ ] 100% False
D. [ ] I have no clue
E. [ ] All of the above

Good afternoon and welcome to the Weekend Hobby Thread. The weekend threads have some wonderful specific threads such as gardening, pet and cooking/food. Today's thread will be a smorgasbord of activities.
***
The last Weekend Hobby Thread I hosted, we had Legally Sufficient's adventure into sheep ranching. (No commenting on old threads or you will find yourself banned due to no fault of moi.)
***
(Of course there is a Mystery Click)

After that thread I was contacted by Hans.
Hans was nice enough to sit down and submit this interesting story of Miniature Scottish Highland cattle.
I enjoyed the sheep post. It exactly describes our journey into hobby farming, but ours has become a bit more of a hobby in the last few years, and our is with cows, although we also have a small herd of Miniature Silky Fainting Goats.

We raise Miniature Scottish Highland cattle and very small registered Dexters. We started with Angus 20 years ago because that was the beef livestock to raise, right? But my wife said no huge Angus bull with 5 kids, and she researched the Dexter breed, which is smaller and less intimidating. So we went out to look at a 3 year old Dexter bull, and this particular bull was waist high on me! The farm also had a Scottish Highland cow, and I was mesmerized by her looks. I asked the owner if she was for sale, and since he was working out of town and didn't want to leave his wife with so many barn chores he said he'd sell her to me. Leaving the farm for home, I mentioned to my wife that I'd like more Scottish Highlands, and she said she preferred the Dexter because of the smaller size. So I said "why don't we try and find some small Highlands and make them small like the Dexter?". Well, she didn't say no, and as long as I bought her a Dexter or two she didn't complain about another Highland or two. We sold all of our Angus and went full Dexter and Highland for our herd, working on the smallest ones we could find, and breeding them down in size, which is exactly the opposite of what most others raising livestock were doing at the time.

With more research I found out the Highlands came in seven colors (the most common color is red). When I mentioned this to her she immediately went to work finding Highlands of all the colors that we could add to our herd, and I certainly didn't object.

Anyway, we've grown our herd of Dexters and Highlands to somewhere around 150 now. We've been breeding down the size of the Highlands for all of these years, and it has been a slow process but it's working. Unfortunately they went viral a few years ago and now there are many people jumping in breeding "Mini" Highlands, but they're nothing more than the standard Highlands, especially calves, that we started out with. A lot of people are getting taken advantage of. Most have little to no livestock experience and never even had a calf born on their farm, so they really don't know what they are making. Believe it or not, there are scammers from Nigeria stealing photos and posting them on Facebook, getting people to send them $500 to purchase one. There is such a demand for them that some are selling well into 5 figures! All because of a (not so) stupid suggestion I made one day.

How can you resist a little calf like this after all? (One of ours) And a video of me leading one of our little cows who is full grown.
If you happen to have access to a Facebook account, here is a group we administer with lots more photos: - Hans
Resist? Oh hell yeah, I could never eat a rib-eye steak from little Sprout there.
***

I don't mean to discriminate against you Morons of the south. But, the next hobby is geared towards those who live in northern climbs which see snowfall on a regular basis. The Fabulous Mrs. Mis. Hum. and I moved to the Lake Superior Big Snow Country a few years ago. So far this year according to the local paper we have had 166.1 inches of the white stuff.
We took up the hobby of snowshoeing. It really is easy to get into and not very expensive at all. If you can walk or hike without problems you can snowshoe.
What started thousands of years ago as an essential mode of winter transportation has evolved into a popular recreational activity. But if you've never done it before, you might ask, why go snowshoeing? Here are a few reasons:

It's great winter exercise: If you're looking for a way to stay in shape even when the snow falls, snowshoeing is an excellent low-impact aerobic exercise. It lets you extend your hiking and running season and lets you enjoy solitude in areas that might be crowded in summer.

It's a great social activity: All ages and ability levels can enjoy the sport together.

It's inexpensive: If gear and lift-ticket prices for skiing and snowboarding give you pause, you'll be happy to know that snowshoeing is affordably priced. Your required gear includes snowshoes and appropriate attire; poles are also recommended, but not required. If you want to try before you buy, REI Co-op stores around the country can rent you snowshoes and poles.

It requires only a few basic techniques: Few outdoor activities are as beginner friendly. If you plan to venture off easy trails, you'll need to learn how to go up and down hills, traverse slopes, use your poles, how to get up after you fall in deep snow and how to avoid and prepare for avalanches. Taking a class or going on a tour can offer great opportunities to learn these concepts.
Many community clubs offer snowshoe trails. If your local community doesn't public land which is open to hiking can be snowshoed. Actually the sky is the limit.
Here are a just a couple of photos we took while out and about.............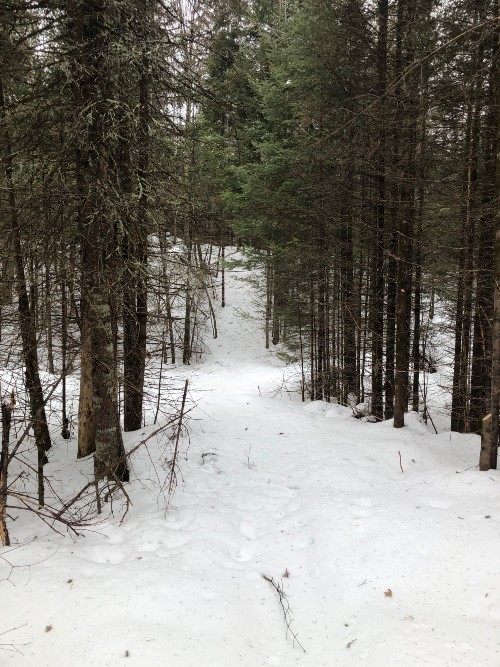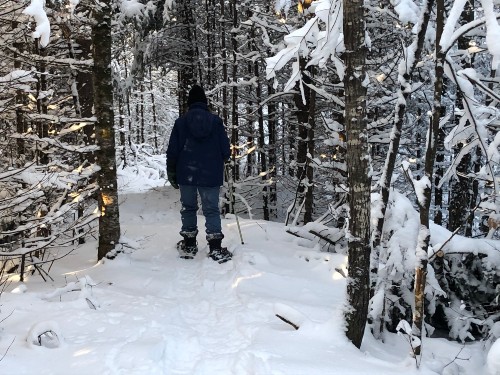 (The Fabulous Mrs. Mis. Hum. leading the way)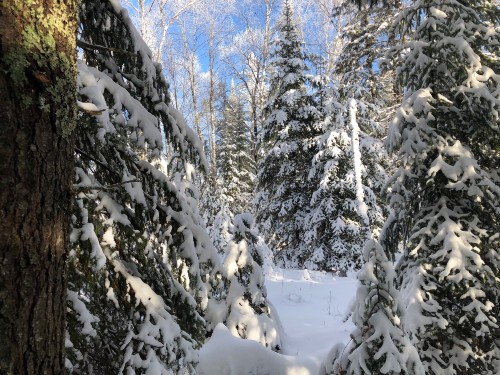 ***

Let's try and keep our commentary to fun and frivolity. I'll be back on Saturday March 26th for the Weekend Hobby Thread. I know there are a few artists out there. I would like to cover painting in that thread. And the Horde would really be interested in your work.
So if you could drop me a photo and a little story about you and your work it will find a way here in the Weekend Hobby Thread. You can reach me at petmorons at gmail dot com.

The venerable JJ Sefton will be here next weekend for your hobby fix. Until then, have a great weekend.

posted by Misanthropic Humanitarian at
05:00 PM
|
Access Comments