« First-World Problems...
|
Main
|
Gun Thread: March 13th Edition! »
March 13, 2022
Food Thread: Fry Baby Fry!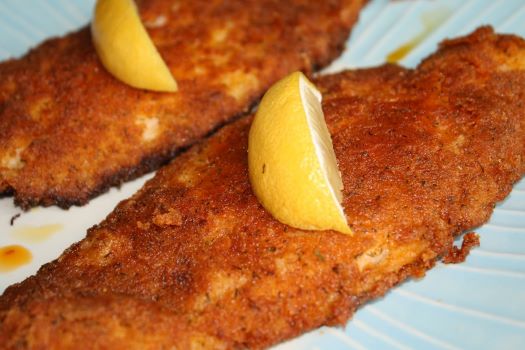 Pan-fried fish is a wonderful thing, but there is only so much odor and mess mitigation that one can do. That's why whenever I see Fish & Chips on a menu, I order it!
But recently I have been toying with a more substantial breading/batter, and it seems that a traditional flour --> egg --> breadcrumb breading keeps the odor down, and even keeps the splatter off the ceiling!
If I have time I will batter whatever I am making and stick it in the refrigerator uncovered. That dries the surface just a bit and may be why the food doesn't splatter quite so much.
Regardless, it tastes great and is easier than deep frying, which is a pain in the ass and horrendously messy, even with the correct tools. I have one of those covered rotating fryers, but it doesn't seem to do as good a job, perhaps because it keeps more of the moisture around the cooking food. So pan-frying it is, but that's okay, because the end result is a very good thing.
******
Sorry about the abbreviated Food Thread today. The week has been hectic, in spite of the fact that it doesn't seem to have been particularly productive!
******
This made me laugh, and it sounds like an amazing hoot to try! Anyone interested in arranging one?
******
Some of you were asking about pickling or preserving garlic, and a lurker sent this along, telling me that he has been doing it for awhile.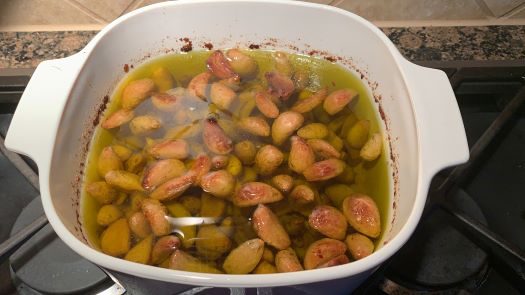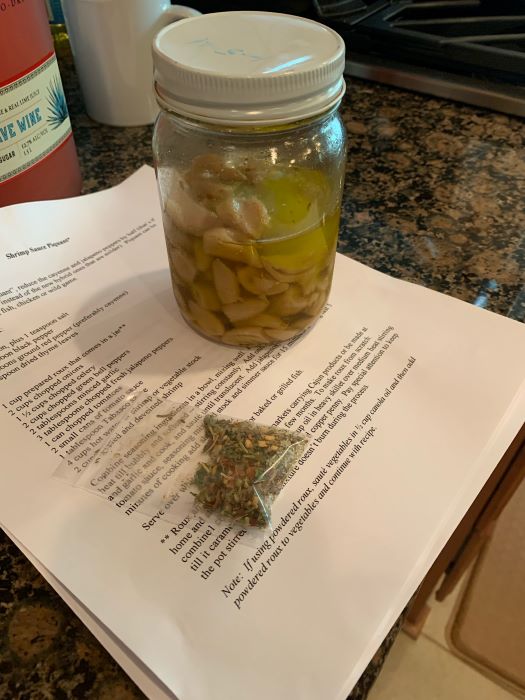 I have pickled garlic with other vegetables like carrots and red onions, but I have never preserved them in oil. I have read that there is a risk of botulism, because obviously the atmosphere is anaerobic. So if anyone is considering trying it out, make sure you know what you are doing!
And then tell us all about it if you survive!

******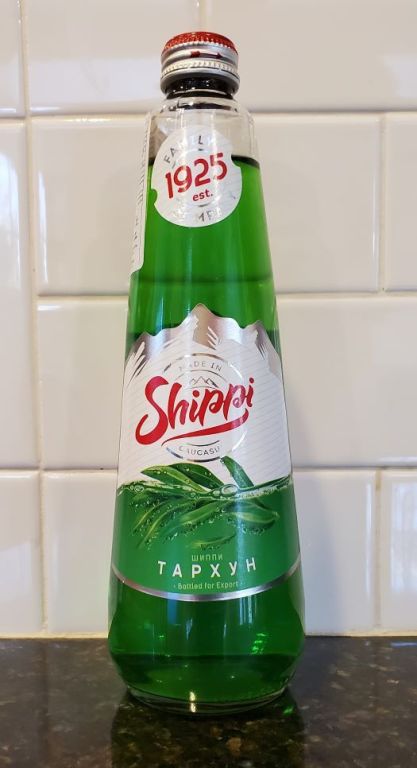 This was a gift from friends, who picked it up at a big store in Brooklyn that specializes in foreign foods.
I have no idea what the hell it is, but I was warned that it might not taste all that good, and it is quite weird. That's tarragon on the label, so I will go out on a limb and guess that it might taste like tarragon, which sounds breathtakingly vile. Hell, I don't particularly like tarragon as an herb, except in a few things...like Béarnaise sauce
So who wants to try it for me? Or maybe in a cocktail? Anyone ever see this stuff and know what it is?

******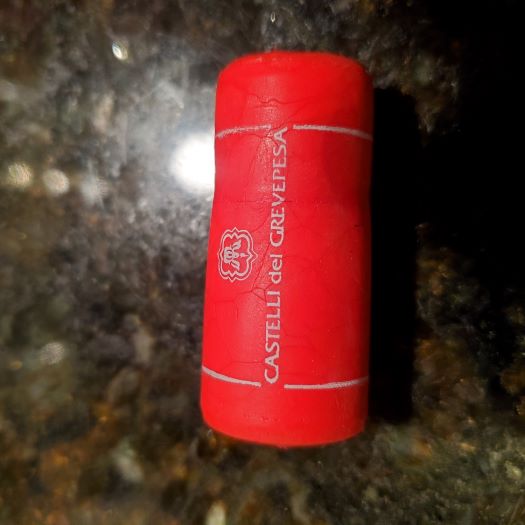 That was in a nice bottle of Tuscan red. And while you can't really tell from the photo, it was ridiculously hard. It barely compressed at all, so reinserting the cork took real effort. I have no idea why they would make such a silly thing. Hell, I'll bet I could use it as a slug out of a shotgun and do some real damage!

******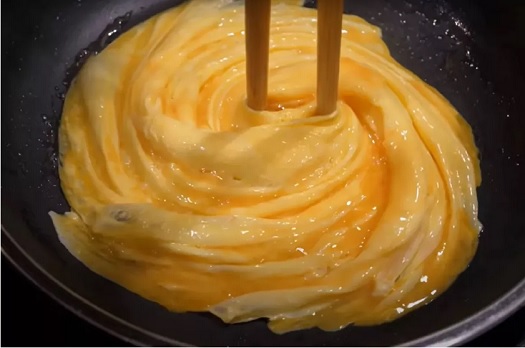 This is absolutely ridiculous and serves no purpose, so I will be trying to do this very, very soon!
Get Carried Away with the Perfect Tornado Omelette
On second thought, it might improve the texture of the eggs, so maybe it isn't just a silly affectation!

******
Romaine lettuce that is green, instead of the white crap they sell that has never seen a photon, pork rib roasts from the front end of the pig where all the good and fatty meat lives, carrots that don't taste like stalky chalk, spare bottles of Van Winkle Special Reserve 12 Year Old Bourbon, an herb garden that actually produces herbs (but no basil!), well-marbled NY strip steaks and elk backstrap to:
cbd dot aoshq at gmail dot com.
And don't think that you are off the hook with maple syrup and French Toast: I'm watching you...all of you! And I am watching you perverts who shake Manhattans and keeping a list for the Burning Times.

posted by CBD at
04:00 PM
|
Access Comments