« Food Thread: Fry Baby Fry!
|
Main
|
Sunday Overnight Open Thread (3/13/22) »
March 13, 2022
Gun Thread: March 13th Edition!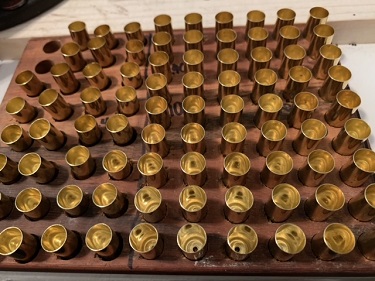 10mm, primed and ready. Like baby birds in a nest with their mouths open. [h/t Lurker]
Howdy, Y'all! Welcome to the wondrously fabulous Gun Thread! As always, I want to thank all of our regulars for being here week in and week out, and also offer a bigly Gun Thread welcome to any newcomers who may be joining us tonight. Howdy and thank you for stopping by! I hope you find our wacky conversation on the subject of guns 'n shooting both enjoyable and informative. You are always welcome to lurk in the shadows of shame, but I'd like to invite you to jump into the conversation, say howdy, and tell us what kind of shooting you like to do!
Remember how I said I was going to the farm for some vigorous organic tree farming and shootin'? Remember all those range reports I was going to come back with? Remember all that? Well what I meant to say is I planned to drive to the farm, poke around for a couple of hours, and come straight back home. That's what I meant to say. It just came out wrong. Actually, I think you heard it wrong which makes the fact it didn't happen pretty much all your fault!
So now that the Flowchart of Blame has been established we can get on with the details. The weather was forecast to be beautiful, warm and sunny. The whole drive down the sky kept looking more and more threatening until I finally arrived and took another look at the forecast. Rainy and icky As a matter of fact, rainy and icky on and off for three straight days, with a bigly-sized line of severe thunderstorms about 90 minutes away. I did some quick math in my head, decided I really didn't want to sit in the camper for three days, smoked a cigar and did more thinking, hopped back into the truck and drove home. However, I did manage to check on things which was the primary objective. All bueno, but no shooting for Weasel.
Don't forget! 2022 NoVAMoMe is scheduled for Saturday, June 11th. Registration details coming soon!
With that, let's get to the gun stuff below, shall we?
******
Smith & Wesson K38
Last week we took a peek at the K22, one of my favorite revolvers. You will recall the K22 was the name of Smith & Wesson .22LR revolver before they went all nutty and started the "Model" business in 1957, and renamed it the
Model 17
. So what gives with the K38?
Well it's a freakin' work of art, that's what gives! The K38 Masterpiece is a thing of beauty, and later became the Model 14 or Model 15 depending on the sights and barrel length.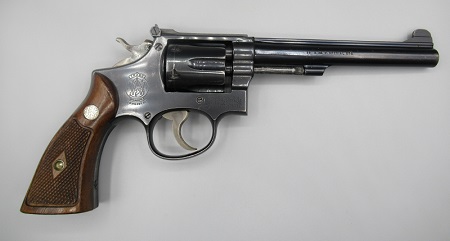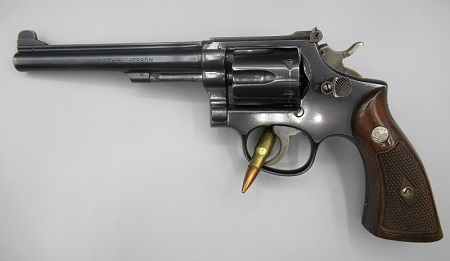 This K38 Masterpiece is one of my very favorite guns. No kidding. This one left the factory in 1948, and is an absolute joy to shoot. I have always been a bigly fan of the .38 caliber cartridge both for reloading and shooting, and there are precisely 0.0 things I do not like about this revolver. It is amazingly well built, after all it is a masterpiece, and richly deserves the name. I like just looking at it.
I know we have some really smart revolver fans out there, anyone else in love with the K38?
******
First up, our pal
Probably Not Tacitus
has a
really
nice looking new rifle.

My Rifle is Finished! It was built by Alamo Precision in DFW. It's a .30-06 with a MullerWorks barrel in a custom profile designed by the gunsmith, a defiance tenacity action which cycles like oiled glass, and a TriggerTech special trigger. And, that's all wrapped up and nicely bedded and pillared in a custom designed AG Composites carbon fiber stock. I haven't had it out yet and I'm still up in the air about an optic, but I'm hoping to find some time to steal the scope off another of my rifles and take it out this weekend!

After breaking it in over the weekend, I got out to the range to try and find a group of factory ammo types with which my rifle will cooperate, and have some bad news and some good news. The good news is that I found a go-to for factory ammo. The bad news is that it's the ONLY one! I've attached my three targets because I think they're a great example of how picky a rifle can be. All groups were shot at 100 yards.

Thankfully, I'm going to start loading for this rifle, so I'll only need to keep a couple boxes of the good stuff on hand.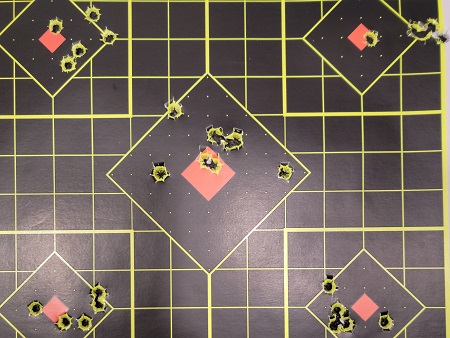 Middle/Right Side: Norma Whitetail 150gr Softpoint, Left Side: Remington Core-Lokt 150gr Tipped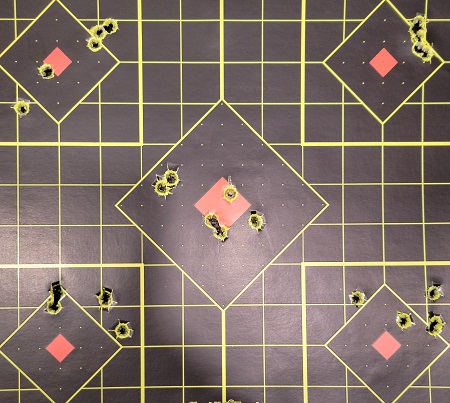 Right Side: Remington Core-Lokt 150gr Tipped, Middle/Left Side: Hornady Outfitter 180gr CX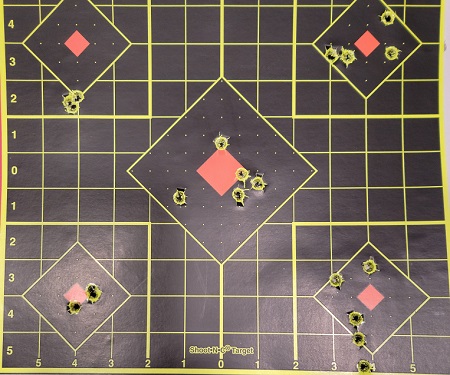 Middle/Right Side: Barnes Vor-TX 180gr TTSX, Left Side: Federal Fusion 165gr
******
Morons Helping Morons
One of the good things about the Gun Thread, besides affording me a platform to act like a buffoon, is the opportunity for shared knowledge. If you have a question for the group, let me know and I will post it here. Here are a couple to get us started:
***
Our pal JerseyDevilRider needs a part for a Marlin Glenfield Model 60.
The gun thread helped before with what type my .22 was and where to get a recoil spring. From what is happening now it looks like I need an old style feed throat. I searched Numrich, Midway, Brownells, M*Carbo, and Old Arms of Idaho. Any ideas where I might find one?
Those are some of the ones I'd suggest. Any others?
***
Our pal Jim SND needs a suggestion for on optics on an AR.
I have received my $350 (delivered) AR-15 M4, from Bear Creek Arsenal. And, you know what? It's a $350 AR. Function as yet unfired seems fine, but with a balky buttstock adjustment release. Bit of crudity in the logo roll mark and other stamped/engraved info on the lower. Ordered mine with the .223 Wylde chamber with 1:8 twist. So now, I need to add irons, a serviceable optic, and swivels & sling. Maybe a foregrip light. This one is going to be the sacrificial "house gun", i.e. kept out of the safe and ready to grab. If shit goes pear-shaped, I won't mind losing this one to an evidence room.

My inquiry is this. A good but lower-tier optic. Red dot/green dot, something of good reputation but not worth nearly the price of the rifle itself. Prefer to not have Chinee, but will if no other options exist. Any thoughts on the near-bottom-feeder tier in the AR optics?
Any recommendations on an optic for Jim SND?
***
Next our pal AZ deplorable moron has a new shotgun and a barrel question.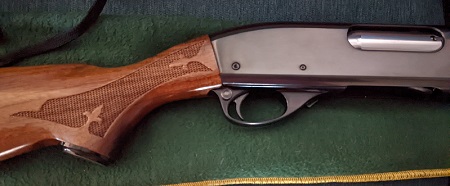 A while ago I mentioned that a friend had succumbed to cancer and his daughters didn't want to keep any of his guns. They offered them at a "friend's" discount and I won the bid on this 12g Remington Wingmaster 870 with a 26.5". I haven't taken it to the local shotgun range; but I'm planning on going soon. I'm also looking at a short barrel so that it can be used for home defense; but I haven't pulled the trigger on that yet. Wisdom of the horde: any barrel brands to be leery of?
How about it? Any brand to avoid in your experience, and why? Very nice shotgun, by the way! I'm sure you'll remember your buddy every time you take it out.
******
Here's another gentleman of bigly proportions with advice on appendix carry.
******
Gun Basics 101
Here's the She Equips Herself girl with an unboxing of the MA Compliant M+P Shield Plus.
******
Cigar of the Week
Rhomboid brings the stogie review!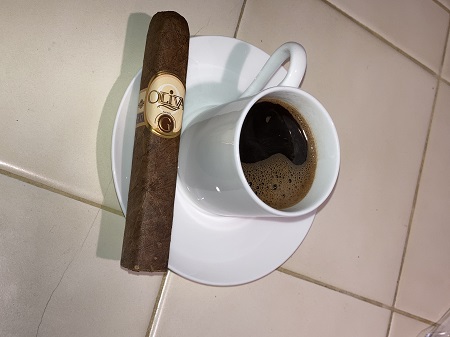 The Oliva Serie G, robusto. A Cameroon leaf wrapper, which makes it a mellow, flavorful experience. I still cannot reliably identify flavor notes that well, but I'd say hints of cocoa and wood come through in this one. Medium to mild body, very nice casual cigar. Pictured with Turkish coffee, which is a great accompaniment to this stick. Oliva's entire line is pretty affordable. The Serie G robusto (a short-ish stick, 4.5 inches X 50 ring gauge, which makes it a shorter smoke when you don't want to spend a full hour) can be had for $5-6, less when on sale, or as seconds.
Nicely done, Rhomboid! Thank you. I have several more cigar reviews sent in by Morons, so stay tuned. Keep 'em coming!
******
Link-O-Rama
I'm really very seriously not kidding around anymore. Buy Ammo
AmmoSeek - online ammo search tool
GunBot - online ammo search tool
SG Ammo
Palmetto State Armory
Georgia Arms
AmmoMan
Target Sports USA
Bud's Gun Shop
***Mail Bag***
This week's gun funny is courtesy of our pal fungusboy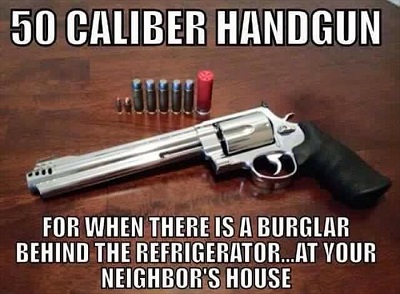 ******
Please note the new and improved protonmail account gunthread at protonmail dot com. An informal Gun Thread archive can be found HERE. Future expansion plans are in the works for the site Weasel Gun Thread. If you have a question you would like to ask Gun Thread Staff offline, just send us a note and we'll do our best to answer. If you care to share the story of your favorite firearm, send a picture with your nic and tell us what you sadly lost in the tragic canoe accident. If you would like to remain completely anonymous, just say so. Lurkers are always welcome!
That's it for this week - have you been to the range?


posted by Weasel at
07:00 PM
|
Access Comments