« #CountryOverParty: Evan McMullin Used His "Non-Profits" To Pay Himself $3 Million In 2017 and 2018
|
Main
|
Bald Eagle Ballet Cafe »
March 04, 2022
Quick Hits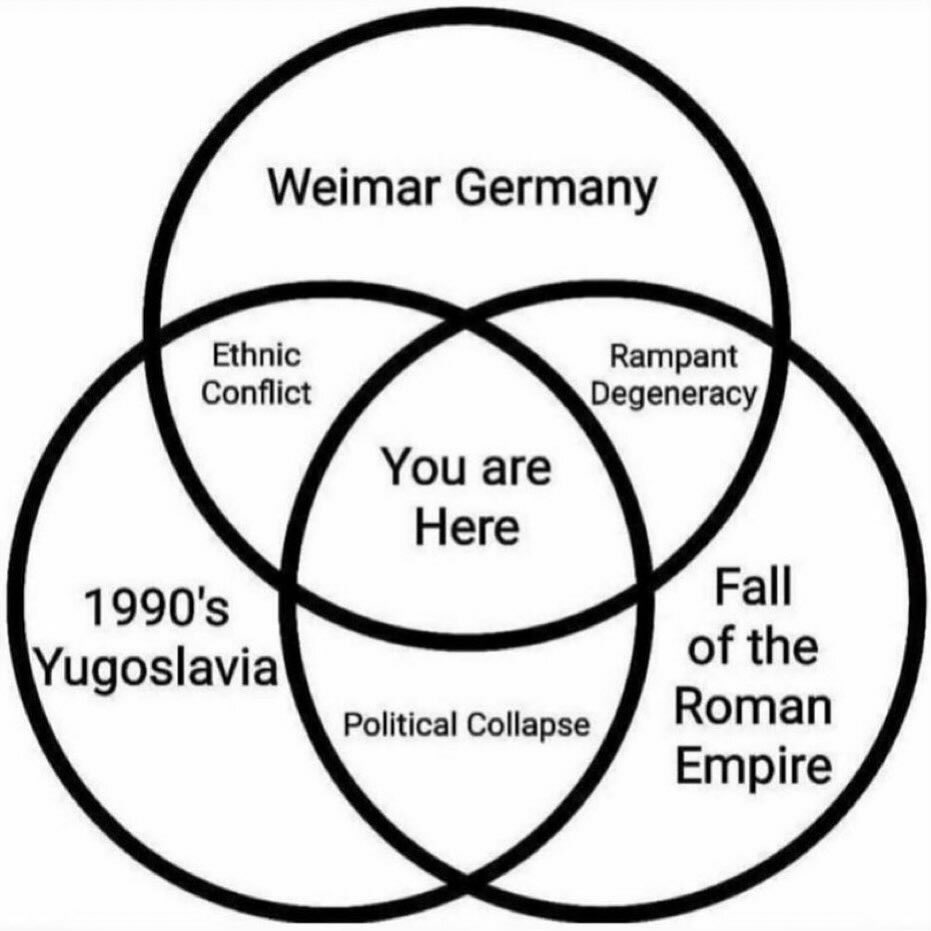 Someone calling herself a "Warrior Princess" and "Covid Disruptor" founded an "organization" called "SurvivorCorps.com," which means she managed to put together a $15 payment to GoDaddy.com to register a website name.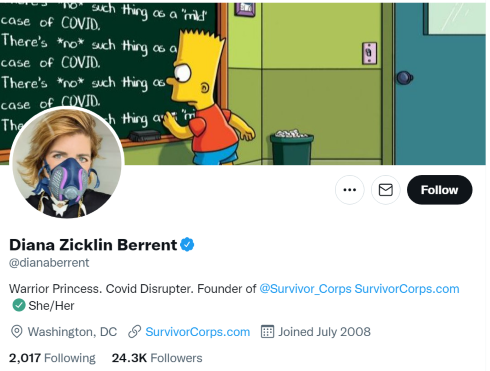 Covid gave her something she did not have before: A purpose. An identity.
A personality, of a kind.
You will therefore understand she is not giving up on covid easily. Covid is the best fuck Karen ever had.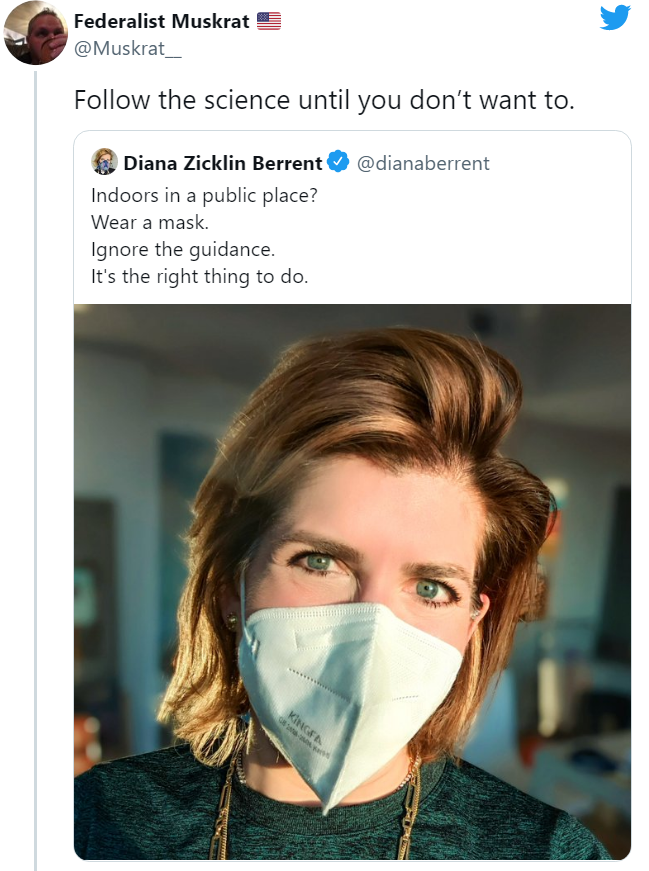 Covid's a bad boy. But Karen can fix him. She can fix him.
I wrote that comparison between a lay Karen just can't get over before I saw this tweet Karen retweeted.

I mean... Did I nail that? Was that an absolute no-scope headshot or what?
I cannot believe I called that shot. I feel like Tom Cruise in Top Gun when he's got the bar of soap wrapped in a hand-towel pulled tight in Iceman's mouth like a gag and he's buggering him up the fartclam to celebrate having completed the mission. Like, Yeahhhh! You get 'm, Maverick! You get his six!
Whoa... I... went somewhere for a minute there.
That was weird, huh?
Don't tell my mom about that.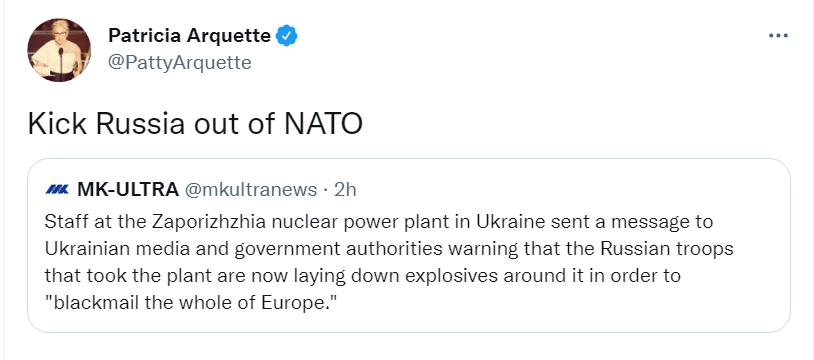 @KeithOlbermann

Hey Senator, I know a friend of yours whom Putin trusts and always grants access to and could run Mission Brutus for you. He's not a Russian (technically) but he'd be the last person they'd suspect, right? I think you can reach him at a place called Mar-A-Lago...
Do you get it? But do you really get it? Grandpa -- whose mind is slipping and was always rotten even in his prime -- still thinks Russiagate is real.
Ho-ho! The humor with this one!
But seriously, we have to talk about Grandpa. We need to talk about the cheapest, dirtiest, dimmest, unkindest home we can cart him off to, and when I say "cart him off to," I would strongly prefer if we literally put him in a cart. With uneven wheels.
Thanks to mallfly the peach.

Seriously, where the f*** is Fauci? Why is absolutely no one in the media even asking?
Jordan Schaechtel:
If you're looking for the infamous Dr Anthony Fauci, you might want to check your local television stations, or some random YouTube channels, because the man has seemingly joined the primetime cable milk carton.

...

[W]ith the [infamous pollster memo demanding that The Science (TM) should now declare an end to Covid] came the simultaneous sidelining of Dr Fauci.

But given his love for television appearances, the NIAID chief has taken desperate measures to try to remain relevant. And by desperate, I mean DESPERATE. You'll see what I mean in just a moment.

I had to dig pretty deep to find some of his recent media appearances, but I didn't want to let you all down, so I persevered through the interwebs to find evidence of Fauci's existence.


He recently appeared on an online streaming show called "Woke AF" (As F**K), in which he expressed his disdain for the unvaccinated. In a clip featured by the show host on Twitter, Fauci rants that the unvaccinated have no respect for greater society. Fauci, who comes off as a broken man, channeled plenty of his regular pseudoscience, claiming that the unvaccinated "give the virus the opportunity to circulate among us."

I also found a recent Fauci appearance on a D.C. local TV channel. In it, Fauci demands "money now" for his government department, seemingly trying to shake down lawmakers for his pet projects.
Jordan Schaechtel has videos of Fauci's recent appearances on "media."
Sad!
No really, it is sad. You should watch these bargain-basement "media" shows Fauci is reduced to appearing on.
It will give you some well-earned satisfaction.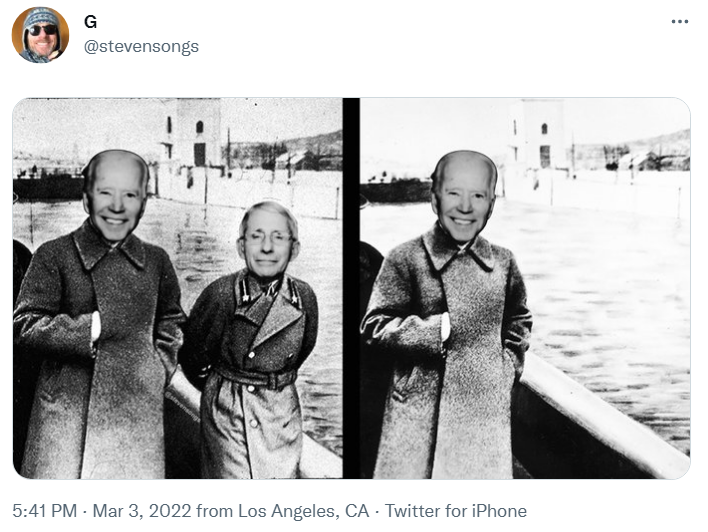 I'll tell you exactly why they're not asking why the toxic gnome Fauci has entirely disappeared from the airwaves: Because they've been told why. They were told by their Democrat co-conspirators that airbrushing Fauci out of the photo was a critical part of Brandon's strategy to turn the page of covid and so they're playing along and not mentioning his disappearance, because mentioning him would remind the public of him and spoil the whole point of disappearing him.
Now, if they were reporters, they would have Reported this important information they were informed of, but they're not reporters. They are co-conspirators with the Democrat Party in a propaganda effort to deceive and manipulate the American public.
Like this: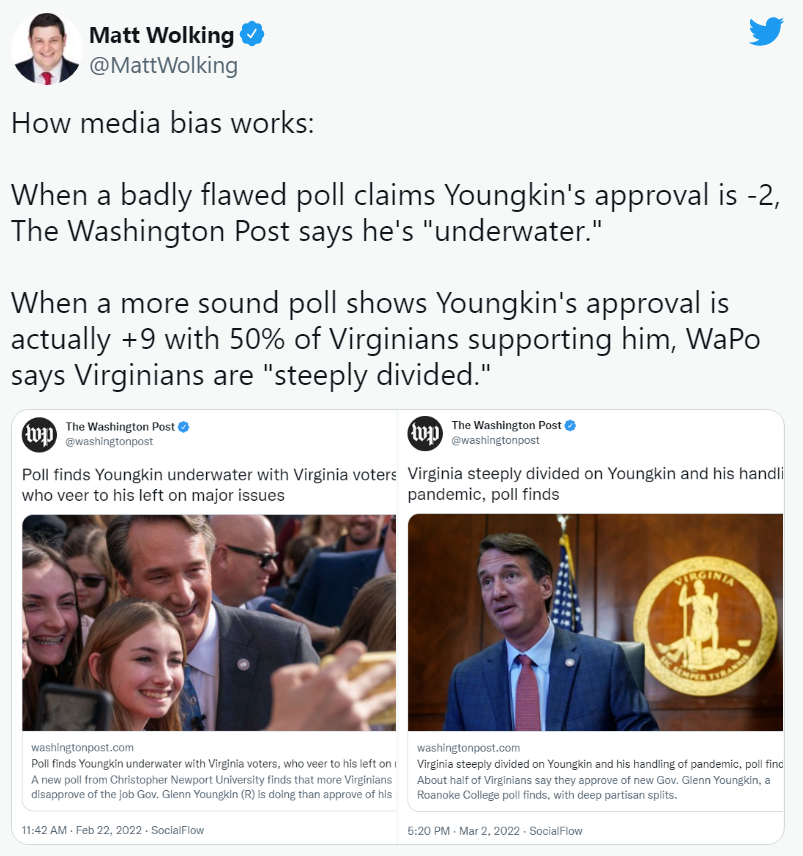 We're fighting for Democracy, everybody!
Guys the Ruling Class has built us such a fine fighting force, we're so ready to go toe-to-toe with the Russkies...!
Does that go too far:
Answer: No, it really does not.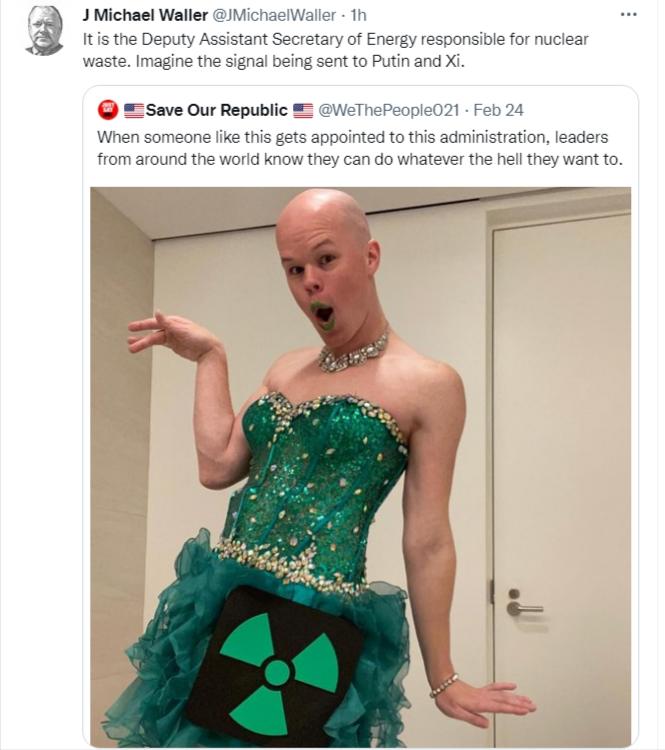 posted by Ace at
06:32 PM
|
Access Comments