« The Atlantic: Schools' Masking Policy Has Imposed a Serious, Possibly Permanent, Devolopmental Delay On Many Students
|
Main
|
Quick Hits »
March 04, 2022
#CountryOverParty: Evan McMullin Used His "Non-Profits" To Pay Himself $3 Million In 2017 and 2018
Selflessness never paid so handsomely to people so amply devoid of economic merit.
Look at this grinning fartclam gourmand.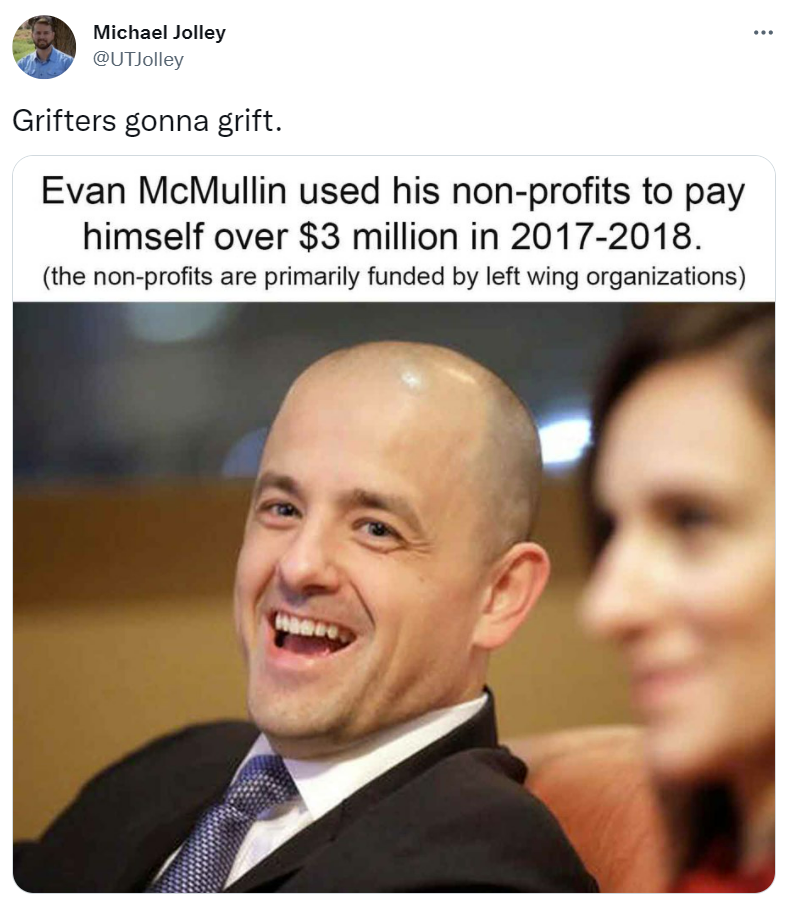 He looks like Renfield's dildo.
He's running for Senator of Utah. He's trying to beat Mike Lee -- because he's such a "True Conservative."
His real play is to grift donations from Democrats to play spoiler to get a Democrat elected over Mike Lee, of course.
"True Conservative."
"Honor."
"Integrity."
Michael Jolley @UTJolley

* McMullin paid himself $45,000 as president of Stand Up Ideas (his non-profit)
* Stand Up Ideas paid McMullin's for profit business $222,305 in 2017, $1.5 million in 2018
* McMullin's other non-profit (Stand Up Republic) paid his business $1.2 million in 2018.
He lists his sources in this thread, but they're also here, here, here, and here.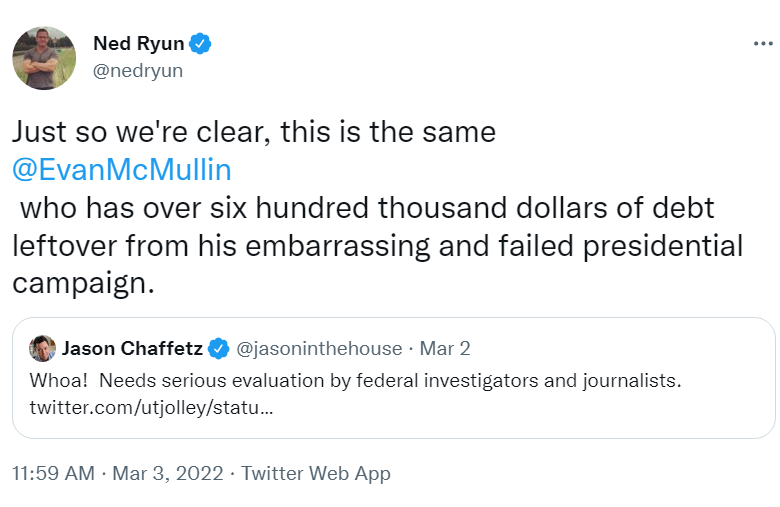 Indeed. Despite living the high life on grift from his "non-profits," Evan McMullin still owes his vendors -- those who provided the services and labor for his absurdly failed 2016 "presidential bid" -- hundreds of thousands of dollars, almost $670,000 it is reported, and as far as anyone can tell, hasn't even made some kind of offer to make good.
He's just stiffing them. While continuing to run on his "honor" and "integrity."
There's a petition to encourage this alleged "honorable" and "selfless" civil servant to actually pay his debts to his campaign vendors and staffers.
Evan McMullin ran for president in 2016 and made a lot of promises to voters, campaign staff, and the vendors who worked for his campaign. He didn't keep those promises and 5 years later he still has $669,330.95 of campaign debt.

Now he's moved to Utah and is running for US Senate in 2022. I know he's new to the state so maybe he doesn't know that Utahns believe in living within our means and paying off our debts as soon as possible. As of McMullin's latest campaign finance report, he has $702,000 cash on hand, which is more than enough to do the right thing and pay his debts from the last time he ran for office.
NeverTrump is filled with such heroes.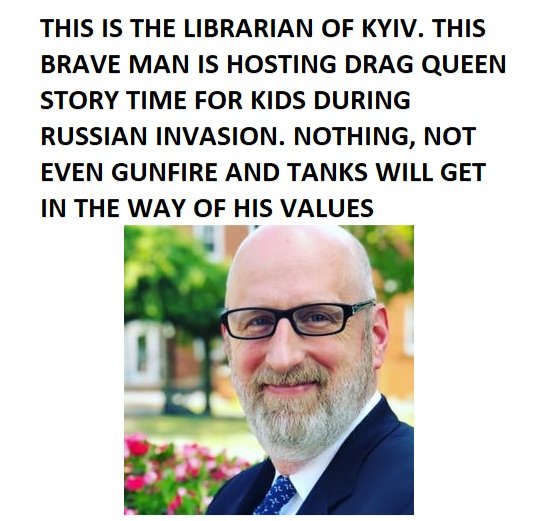 posted by Ace at
05:31 PM
|
Access Comments