« The Man Whose Child Was Taken Away From Him To Be "Transitioned" Into a Girl Runs for Texas House to Outlaw Gender Reassignments
|
Main
|
#CountryOverParty: Evan McMullin Used His "Non-Profits" To Pay Himself $3 Million In 2017 and 2018 »
March 04, 2022
The Atlantic: Schools' Masking Policy Has Imposed a Serious, Possibly Permanent, Devolopmental Delay On Many Students
The Atlantic published an article admitting the obvious: The masking mandates that the corrupt US and state and local governments forced on children, under pressure from the corrupt teachers unions have imposed developmental disorders on children that they may never recover from.
The early years of development are critical ones.
You don't get those back. These are critical years of development in which children's brains are wired to rewire themselves like crazy. Their brains will reconfigure themselves during these years like in no other point in their lives, ever.
There is no "Do Over" switch on a child's formative years.
Americans have been arguing about pandemic restrictions for two years, and the debate is particularly fraught among parents of small children, for good reasons. While measures such as masking and isolation mean temporary discomfort or inconvenience for most people, their consequences for still-developing young children are more mysterious, and possibly more significant and lasting.

Children with speech or language disorders offer perhaps the clearest example of these murky trade-offs. Pandemic restrictions vary by state, county, and school district, but I spoke with parents in California, New York, Massachusetts, Washington, New Jersey, Iowa, and Maryland who said their children's speech therapy has been disrupted--first by the loss of in-person therapy and then by masking requirements, in places that have them.


Megan's son, for example, has Joubert syndrome, a rare genetic condition that often manifests in severely delayed speech. At the start of the pandemic, the then-4-year-old could approximate a few simple words, like mom and home, each the hard-won victory of intensive speech therapy he'd received since he was 2. But he regressed a lot during remote therapy, and is still struggling now that therapy is in person, because his therapist wears a face mask.

The consequences of leaving speech and language disorders untreated can be profound, Diane Paul, the director of clinical issues in speech-language pathology at the American Speech-Language-Hearing Association, told me. Children struggling to express themselves can get frustrated, which can lead to behavioral challenges, and they may have trouble making friends. Many kids with speech disorders struggle to learn to read, but "language becomes a medium through which we learn everything later in school," Alex Levine, a speech-language pathologist at the Learning and Development Center at the Child Mind Institute, told me. And the longer you wait to address a speech or language issue, the harder it is to do so.

Many of the parents I spoke with are frustrated that they've been asked to compromise their children's social and academic life in the name of public safety. The early years of a child's life are important. Anything that threatens to interfere with development, whether that's COVID-19 or the mitigations in place to avoid it, can feel like rolling the dice on a child's future. In one way or another, all parents of young children have been forced to gamble during the pandemic. Many parents of kids with speech delays don't like their odds.
The article notes the usual problems with "teletherapy" -- kids are already bored by instruction, and they just disengage completely when the person they're "talking" to is on a screen.
And in person: Always with the masks. Masks that prevented kids from seeing their therapists' mouths. Which they needed to see, to see how to shape their own mouths to form sounds.
I mean, DUH!
...

And when in-person therapy resumed, masking requirements made it difficult. Some of the dozen-plus speech and language therapists I spoke with said children found the masks distracting. More important, masks hide the mouth from view, which the therapists said is disruptive to some forms of therapy, especially those that target motor speech and motor planning--"anything having to do with actual speech that comes out of your mouth," said Alexandria Zachos, an Illinois-based pathologist. For "that type of therapy, you absolutely need to see the speech therapist's mouth and they need to see yours," Zachos said.

Where available, therapists used masks with a clear panel, with mixed results. "They are kind of uncomfortable to wear. They really heat up," Zachos said. And although she's tried a number of tricks to prevent them from fogging up, they inevitably do.
My own little speech therapy story, as an adult: I struggled with how to pronounce the French r and then the Italian trilled r. In both cases, you have to physically see how the tongue is deployed in making the respective r's to know now to make the sound. You can't intuit it. You have to see where the tongue should be placed to make the sound.
Now, it's hard to see the tongue in someone's mouth, so, mask or not, you really couldn't see into someone's mouth to get this, unless they're opening their mouth very wide just to show you this. And even then, this is really something they would probably show you by drawing a sketch or showing you a picture.
But, the point is: You need to see the visual of what the tongue, lips, and teeth are doing to know how to make a sound. It's indispensable.
And I'm an adult. I still needed the visual. Describing to me that the "tongue rises towards the mid-palate in a soft hump" did not really do it for me.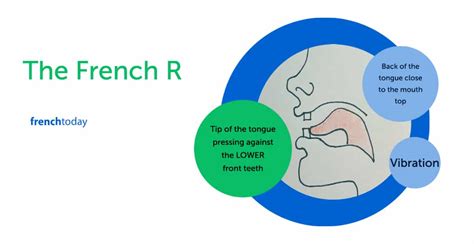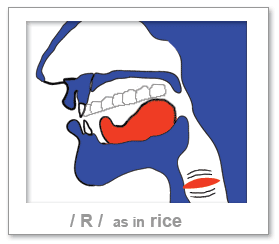 Above: tongue position for the French r, arched softly towards the mid/rear of the palate;
below: the "retroflex" position for the English r. By the way, pretty much no one else in the world pronounces an r this way.
If you can't see someone's mouth move as they talk, you are missing millions of minutes of free unconscious, automatic instruction in seeing how words are made, which is obviously the best kind of instruction, and the cheapest, and the easiest.
Former AOS commenter Jeff B. just went through this hell with his own son. You might be tempted to dunk, but, you know, this is his kid. Have pity (just this once.)
After reading the article, he's furious.
Jeff B. is *BOX OFFICE POISON* @EsotericCD

5h

I haven't been angrier reading an article in 2 years. I hate the people who allowed this to happen to my son, and I think I will hate them forever. It will govern my attitude towards teacher's unions and elite public health opinion forever.
theatlantic.com

My son has had speech therapy for 2 years now. He cannot articulate a single word, even though his vocab has grown huge.

Because of CPS policies, he has been required to get speech therapy wearing a mask by a therapist wearing a mask, When what he needs to see are mouths/lips.

And because all the "independent" therapists have to cooperate with CPS policies (oftentimes legally, mostly because they have to coordinate w/them so often on overlapping care), they use the same standards, even though many hate them. People get reported for deviating.

I could go on for thirty more 280-character tweets in a row about my feelings about this. Nobody wants to hear it. So let me just say that I will never forgive, and I will never forget. It was obviously wrong the day the policy was adopted, it's barbaric cruelty now.

This is my so''s one shot in life. HE DOES NOT GET A RE-DO OF HIS CRUCIAL DEVELOPMENTAL YEARS. This is the time. And these monsters did this to him. They took some of the most important years of his life away from him. For no articulable reason.

As a father, I can never forgive.
I stole the "Re-do" point from him.
Just to emphasize how obvious it is that you need to SEE the lips, tongue, and teeth to know how to make sounds: Learning language, as an adult, being taught by adults, they are constantly showing off their mouths when they are making sounds they think might be out of the students' customary range of phonemes.
If mere language teachers know the basics of speech therapy, how can actual speech therapists not know the basics of speech therapy?!
Of course they know.
A teacher says "Of course we know, but our union makes us do these evils."
MojaveRattler @MojaveMamma

Replying to @EsotericCD

Trying to work with a speech impaired student yesterday. Had to pull my mask down to show him how to make the "th" sound. Happens all the time in my [Special Ed] class. Yet "my" union would love masks forever.

Now let's see some progressives respond compassionately:
SuperBookNerd
@maslowski_j

This does not make sense to me at all. An IEP allows for mask removal as a special need under ADA. Do not blame the government if you didn't properly maintain your CPSE documents.
I think this might be a teacher, owing his job entirely to the union, because she completely failed reading comprehension. The main problem isn't that Jeff's son was wearing a mask -- it's that his speech therapist was wearing a mask, and that Jeff's son couldn't see his speech therapist's mouth.
Yes, maybe there's some ADA law that lets Jeff's son take his mask down if he has a medical need, but is there a law that allows him to take down his Therapist's mask?
No, because that wouldn't be a medical need, it would "merely" be an educational/developmental need.
They really do all fancy themselves brilliant, though.
I've developed a little test for people arguing on Twitter who think they're brilliant:
1. Do you think you're brilliant?
2. Are you arguing on Twitter?
If You answered Yes to 2, then your answer to 1 must be "NO."
I mean, you can troll on twitter. You can offer Schlicter-like put-downs like "Fetch my latte."
But if you're arguing on Twitter...? You might not be as smart as you think.
ezl @slapjdrankis

Replying to
@EsotericCD

But he's alive, and he didn't experience the trauma of losing a family member to Covid-19, and he has hopefully many years of life ahead. Do your best not to pass your bitterness on to him.
I'll just refrain from commenting at all on this one. It's for the best.
By the way: The Atlantic is no hero on the mask issue. They have entertained a range of views.
Yes, they have pointed out that there is no science -- zero -- showing that masks reduce transmission in schools. And they just published this one, showing the huge harms masking causes as far as speech delays.

But they have also pushed Mask Panic Porn like this:
Parents Are Losing Their Minds Over Masks in Schools Several states have low vaccination rates, rampant COVID-19 spread, and no mask mandates in schools. Parents are worried for their kids.

By Olga Khazan

AUGUST 18, 2021

On the first day of school last week, Kelly Carothers picked up her 5-year-old twins from the bus stop and noticed that the kids weren't wearing their masks.

"It's hot on the bus," they explained, "and no one else was wearing one."

She asked if they had worn them throughout the school day. "Well," they said, "sometimes."

The incident confirmed Carothers's worst fears about this school year. Public-school students in her Florida county, Hillsborough, are technically required to wear masks to school. But in an attempt to please everyone, parents may opt their kids out of mask wearing by signing a form. Masks also remain optional for teachers. According to Carothers, some of the parents in her kids' classes have signed the mask waiver, and their kids roam around blissfully mask-free.

That's concerning, because only about half the people who are eligible for vaccines in the county are fully vaccinated, and COVID-19 is spreading widely in Florida. "The kids are sitting ducks," Carothers told me. Carothers struggles to get her son in particular to wear his mask when other kids don't. "I just feel like it's all but inevitable that he's going to get COVID."
Even after The Atlantic's own reporting proved that there is no evidence -- literally none -- that masks do anything to reduce transmission in schools, The Atlantic just published an article a week ago arguing that it just doesn't matter if masks work or not.
The only thing that matters, The Atlantic argued, was that masks... expressed a "shared community goal."
And that shared community goal? That everyone wear useless masks!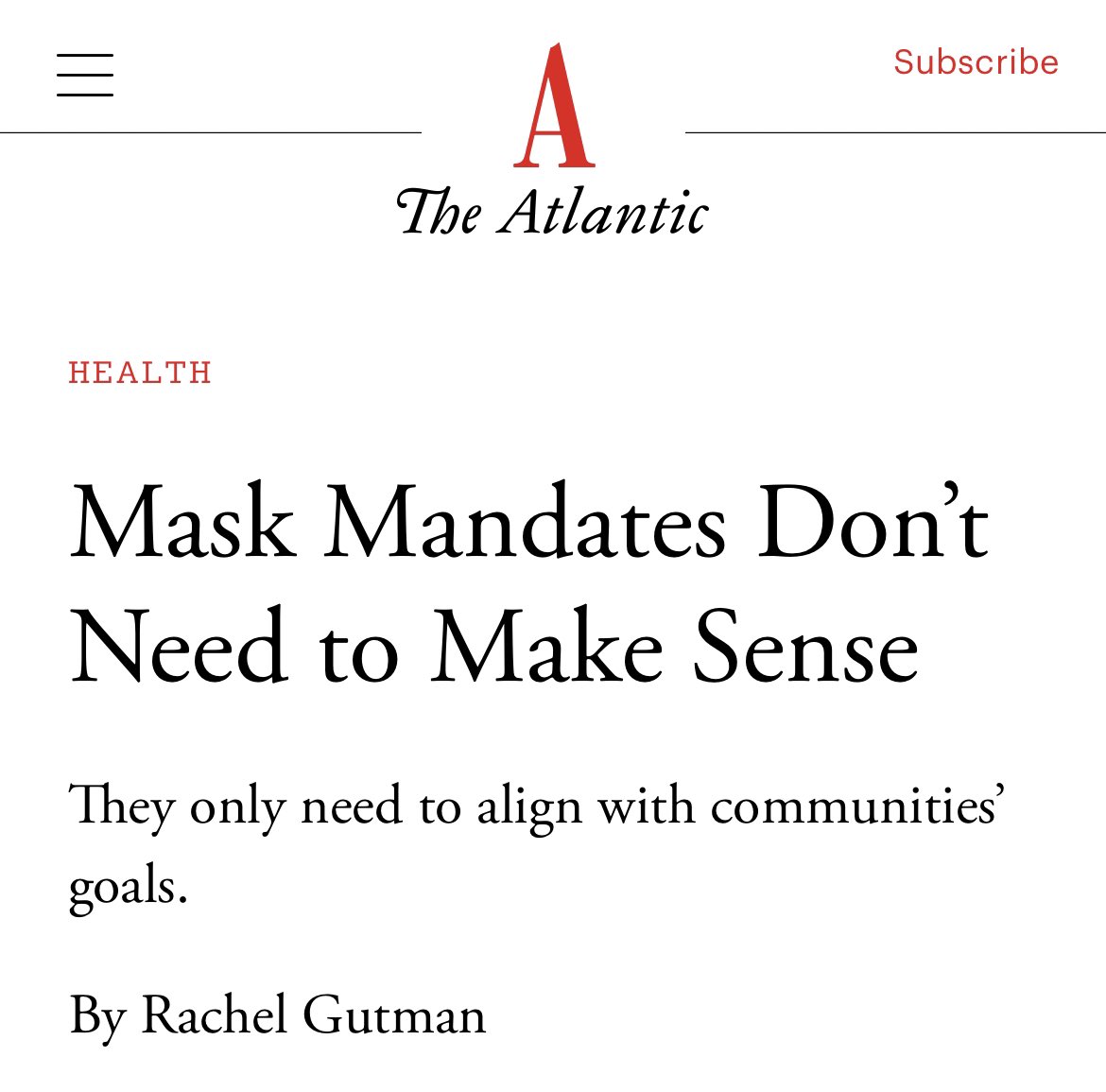 Now there is a communist mindset! It doesn't matter that what "The community" wants is illogical -- the only important thing is that the community demands it!
After getting mocked for that headline, they changed it.
But they did not improve it.
In fact, they made it even more obnoxiously dismissive of needing actual reasons to strip people of their freedom: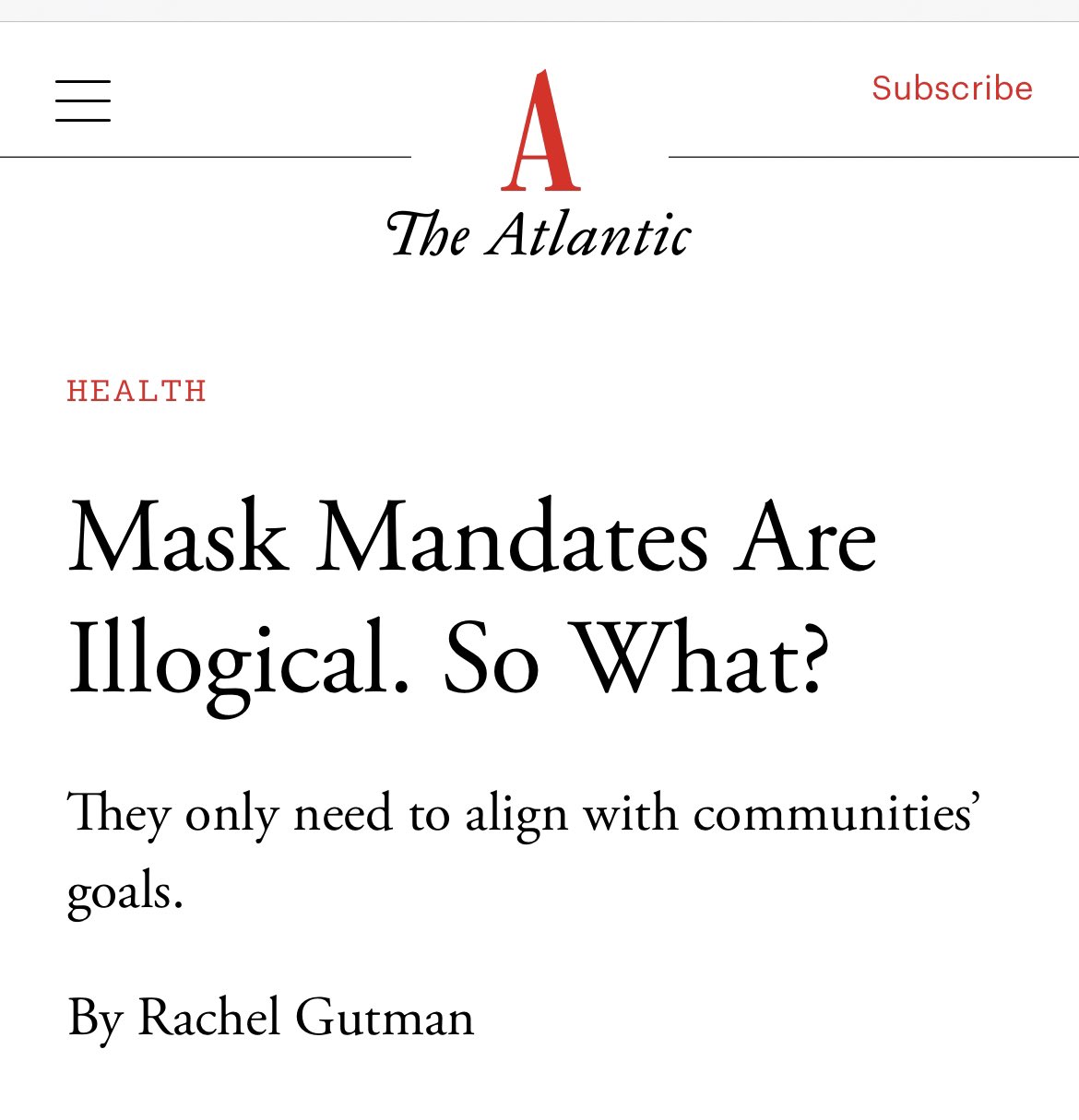 We cannot live with these people, and the sooner we seriously resolve to that, the less painful this will be.

posted by Ace at
04:32 PM
|
Access Comments