« Northwest Missouri State University Announces "Womynx History Month"
|
Main
|
The Atlantic: Schools' Masking Policy Has Imposed a Serious, Possibly Permanent, Devolopmental Delay On Many Students »
March 04, 2022
The Man Whose Child Was Taken Away From Him To Be "Transitioned" Into a Girl Runs for Texas House to Outlaw Gender Reassignments
As a backdrop to this story, Texas governor Greg Abbot has finally acted and ordered state officials to begin investigating gender transitioning clinics performing amputations on children for possible child abuse charges.
Governor Greg Abbott ordered the Texas Department of Family and Protective Services to investigate any reported instances of children undergoing "abusive" gender-transitioning procedures. The announcement comes days after the state's attorney general said that state law characterizes the procedures as child abuse.

"To protect Texas children from abuse, DFPS and all other state agencies must follow the law," Abbott said in a letter sent to DFPS on Tuesday.

Under the directive, licensed professionals will be required to report "children who may be subject to such abuse." Such procedures include "reassignment surgeries that can cause sterilization, mastectomies, removals of otherwise healthy body parts, and administration of puberty-blocking drugs or supraphysiologic doses of testosterone or estrogen," the governor said.
Of course Brandon had to step in defend lopping off the breasts of confused young girls being spun up by lunatic gender ideologues looking for new converts to butcher.
On to the Younger case.
I always forget this part of the story: His ex-wife, the woman who petitioned to take sole custody of the boy, James, and turn James into a girl, is not even James' biological mother.
This is a plain case of a woman using a man's child -- not even her child -- against him in the cruelest case of vengeance against a father since Medea, and of course the state -- the All-Loving Father-State you must bow down and worship as if unto a God -- is the enforcer of this vindictive scheming.
So, having had his son taken from him and turned into a "girl," he's running for the Texas House to prevent this tragedy from happening to anyone else.
A Dallas-area father is running for the Texas House of Representatives to outlaw sex reassignment surgeries for children after losing a years-long battle for custody of his 9-year-old twins, one of whom is a transgender girl.

Jeffrey Younger of Flower Mound filed to run as a Republican in Texas House District 63 on Nov. 23. He blames a pediatrician for incorrectly diagnosing his child, who goes by Luna, and claims the doctor "planned to put him on chemical castration drugs" when Luna turns nine.

"​This is child abuse, as every conservative knows," Younger says on his campaign website. "Even the Texas Department of Family and Protective Services considers medical transitioning of children [as] child abuse. But still the [Texas] Legislature hasn't acted. Texas is one of the nation's largest providers of sex-change surgeries and chemical castration hormone treatments to children."

Younger accuses the nearby Coppell Independent School District of "right now actively teaching" his child to be a girl.

"When I took James to school in boys clothing, the teacher gave him a dress to wear," Younger says, using his child's birth name. "The school doesn't call James by his real name. They use a girl's name. They actively teach James that he is really a girl. They even make James use the girl's bathroom."

Younger blames "his mother, the courts, the schools and the Legislature" for the situation. He blames the Republican-controlled Legislature for failing to outlaw sex-change surgeries on children in the last two sessions. He refuses to refer to his child by her preferred name, Luna.

Younger's family first made headlines in 2019 when a Dallas County judge granted ex-wife Anne Georgulas, a pediatrician from Coppell, joint custody of the twins.
Anne Georgolas -- again, not even this child's actual mother -- has even admitted she "over-affirmed" James' supposed new gender identity of "Luna" -- in other words, she admits she over-rehearsed him and over-coached him to be a girl, and over-praised him when he signaled agreement.
A Young Conservatives group invited Younger to speak at the University of North Texas.
The Trans Fascists showed up to shout him down.
What a handsome bunch, eh? In no way do I believe that their physical ugliness has caused them to be generally isolated socially, which has in turn caused them to angrily lash out at society at large.
And in no way do I think that is the main driver of leftist psychology, or what is wrongly termed leftist "politics."
But the real star of the show was this little heart-breaker: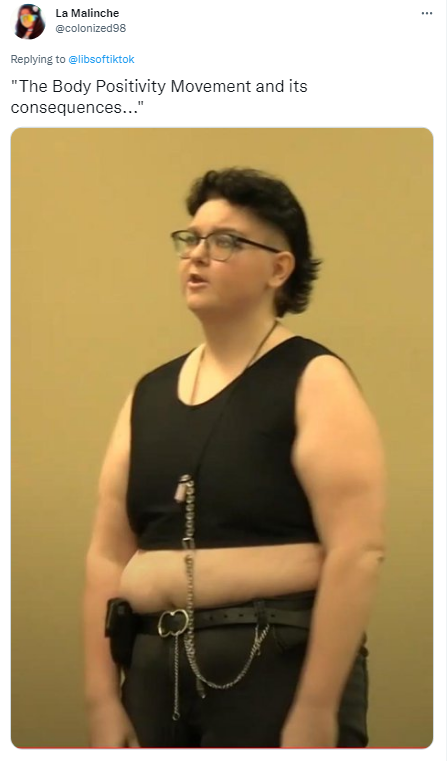 Careful girls -- xhe's married.
To a cat or something.
I'm going to start the Body Negativity Movement. It's time. Oh Lordy, it's time.

posted by Ace at
03:45 PM
|
Access Comments