« First-World Problems...
|
Main
|
Gun Thread: Early Spring Edition! »
March 06, 2022
Food Thread: Doughnuts And Tacos! But What About A Taco Doughnut?
Those are what I would consider "Adult Doughnuts!" Not cloyingly sweet, and with a nice salty component that makes them quite appealing. And they really hit the spot fresh out of the oil as a snack after a wedding. What a good idea!
Top left is a maple glazed, then comes the star of the show...salty bacon! The next one (clockwise) is a guava jelly filled (weird but good!), and the last one is a meringue-capped filled doughnut that was nice, but nothing exciting.
There are plenty of great doughnut makers in America, and while these may not be the best in the country I would definitely nominate them for the top spot. I absolutely loved the savory aspect of them. But...obviously somebody else did too. I couldn't get a photo the next morning before they were munched by person or persons unknown.
******
Who goes to Florida and finds great tacos? Your intrepid Dildo does! A little place on South Dixie Highway in West Palm beach called
Cholo Soy Cocina
does a fine job with the standards plus some interesting twists!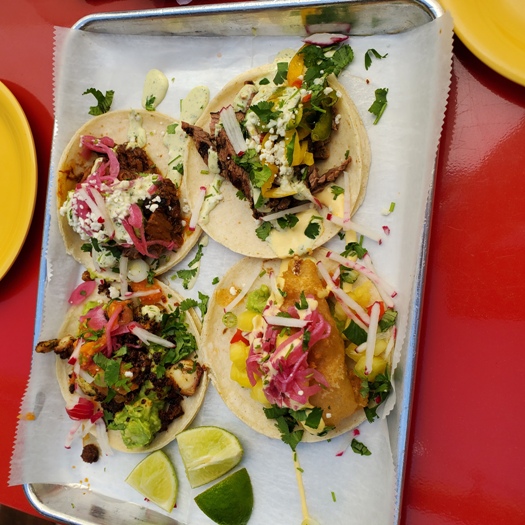 Upper left is a chorizo and octopus taco, and it may have been the star of the show. The others were excellent too. Chicken, steak and a really good fried fish taco.
Oh, that was my second visit. I ate too quickly to get a photo the first time!
By the way, there is nothing complicated about these tacos; just good fresh ingredients made to order, which is the recipe for success in the restaurant game.
Well, one of them.

******
Commenter "jix" sent this along, and I must admit that I am intrigued, even though I am content with my beef stew technique.
About a week ago, an Italian friend posted pictures of a stew she made on Instagram. It got me wondering, "Is there an Italian beef stew?" I did an internet search and found Spezzatino di Manzo (Italian Beef Stew). I made it this evening and it was quite a hit with the family. It wasn't any more labor intensive than my usual American-style beef stew but the flavor was so much more vibrant and had real depth. I'll be making this version from now on.

The only change I made in the recipe was to substitute Kettle & Fire beef bone broth for the low sodium beef broth.
It's an interesting recipe, and I wondered to "kij" whether the addition of the mushrooms at the beginning of the cooking was responsible (at least partly) for the depth of flavor.
One more thing of note: tomatoes? Does anyone put tomatoes in their beef stew?

******
Cocktails that are too focused on their look are often disappointingly boring or one dimensional. But these, from The Dewberry Hotel in Charleston and inspired by a
Garden & Gun program
are just too beautiful to pass up.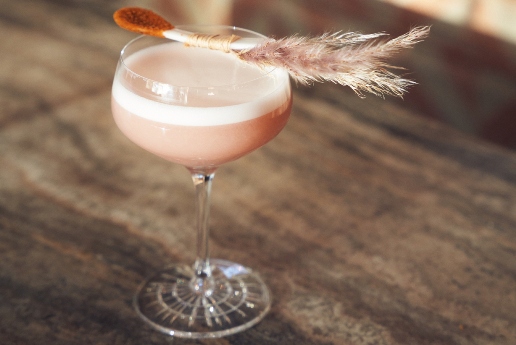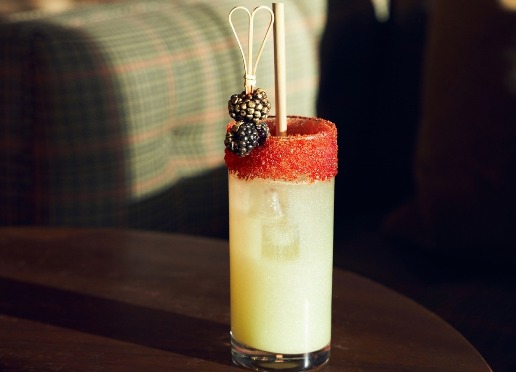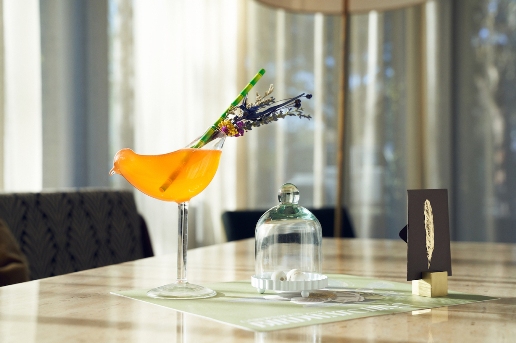 I rarely garnish with anything other than a twist of lemon or orange, or a good maraschino cherry. I have made bacon swizzle sticks, and once or twice I have garnished with a sprig of Rosemary, but that's about it!
Oh...wait...basil leaves for basil gimlets are nice.
But the architectural stuff is beyond me.

******
Our very own professional chef weighs in on hospital food, but expands to include the joys of socialized medicine!
Here is "kch" with a restaurant review, and more!

I recently spent five days in hospital, giving me a somewhat in-depth exposure to the level of food considered acceptable to the patients at a Canadian health care bureaucracy-run institution - the end product of our single-payer, no competition, no accountability to the end user system.

So, how was it? Well, to paraphrase Opus the penguin, it "did for cuisine what the Jonestown kool-aid did for kids' drinks". Good Lord, it was awful, and in so many ways....

To start with, nothing, absolutely nothing, that wasn't from a package was seasoned. Not just under seasoned, completely not seasoned. Everything tasted flat - the proteins, the starches, the vegetables, all of it. Yes, a nurse eventually took pity on me and brought me salt packs, but adding it after cooking is never as good.

Nova Scotia is home to many fine Atlantic salmon farms, but what I got was frozen pre-portioned Pacific Pink filet - low grade and cheap. The haddock was almost certainly twice-frozen Chinese processed. The chicken was obviously skinless boneless pumped IQF breasts. All of which, regardless of description - baked, fried, grilled - were cooked in a combi-oven, as were any sides that couldn't be steamed.

Sauces for the above were either non-existent or right from a package. The scrambled eggs were steamed and unseasoned. The vegetables were frozen mixes that were steamed and unseasoned. The mashed potatoes had no salt, no butter, no milk or cream. The breakfast porridge was completely - you guessed it! - unseasoned.

Condiments and accompaniments? If not specified, I got margarine packs, not butter. The only peanut butter available was Kraft Light. Crackers were no-salt. No mayo, everything was made with Light Miracle-Whip. Light cream cheese only. The cheapest brand of canned fruit available. Same for juices - the cheapest available. Cheap, terrible coffee and no cream, only milk. As for milk, you'd better like skim or 1%, because that's what you're getting. Can't speak to salad dressings (wasn't allowed salads), but if I had to guess, they're all likely to be of the light persuasion.

I'll admit, the soups were seasoned, as was the mac and cheese, but that's because Campbell's doesn't make no-salt frozen versions of either, or I'm sure they'd have been as flavorless as the rest...

The final straw was that of all of the meals ordered for me, only one arrived as ordered. Every other one had missing items or wrong items. Absolutely pathetic.

So why it it this bad? I think there are several things going on.

First, it's a government monopoly. There is, by law, no competition. Therefore, no incentive to change or improve.

Second, the food services at our hospitals are run by dieticians/nutritionists. They know all about the health of the foods, but really have no clue about how to cook food, or what makes food tasty and appealing. They set the menus and produce the recipes, apparently without regard to the final result. The cooks are only following directives, and with no stake in making anything better don't bother trying, I guess.

Last, it's a government operation. That means everything is low-bidder to keep the costs down. This comes at the expense of quality and common sense, of course. I use the same main wholesaler as government operations in this province, so I'm pretty familiar with what's available and trust me, what they buy is the cheapest out there. It could make sense for the taxpayer, I guess, but given that the daily food cost of a hospital room here is about 1% of the total cost, it really wouldn't take much to dramatically improve. Hell, they probably spend more on DIE initiatives than they do on food...
Socialism: What can't it screw up?
******
I love cauliflower. But I am in the minority at Chez Dildo, so I have to make things like cauliflower gratin with more cheese than should be legal, or cauliflower martinis* to get anyone but me to consume the damned things.
So what to do with the small head of cauliflower I bought a couple of days ago? Make cauliflower steaks of course! Which I have never done, but how hard can it be? I'm going to trim the green leaves and the hardest part of the core, slice it into 2" "steaks," brush it with olive oil, salt and pepper, and roast for 30 minutes at 450 degrees. Maybe some minced garlic, and maybe a sprinkle of Parmesan for the last few minutes.
It's cauliflower, and I like it, but no matter how good it is nobody will admit it and I will be abused for my food choices.
Harrumph!
*I may have made that up...

******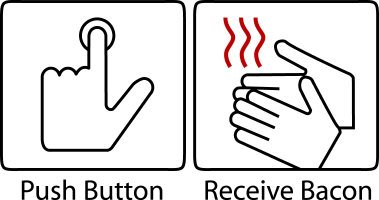 [Hat tip: dhmosquito]
******
Romaine lettuce that is green, instead of the white crap they sell that has never seen a photon, pork rib roasts from the front end of the pig where all the good and fatty meat lives, carrots that don't taste like stalky chalk, spare bottles of Van Winkle Special Reserve 12 Year Old Bourbon, an herb garden that actually produces herbs (but no basil!), well-marbled NY strip steaks and elk backstrap to:
cbd dot aoshq at gmail dot com.
And don't think that you are off the hook with maple syrup and French Toast: I'm watching you...all of you! And I am watching you perverts who shake Manhattans and keeping a list for the Burning Times.

posted by CBD at
04:00 PM
|
Access Comments