« Food Thread: Doughnuts And Tacos! But What About A Taco Doughnut?
|
Main
|
Sunday Overnight Open Thread (3/6/22) »
March 06, 2022
Gun Thread: Early Spring Edition!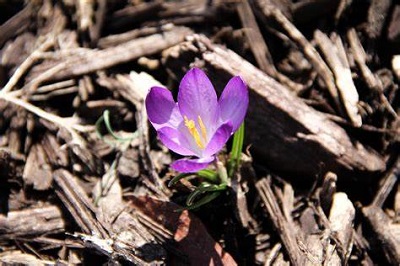 No, this is not the Garden Thread!
Howdy, Y'all! Welcome to the wondrously fabulous Gun Thread! As always, I want to thank all of our regulars for being here week in and week out, and also offer a bigly Gun Thread welcome to any newcomers who may be joining us tonight. Howdy and thank you for stopping by! I hope you find our wacky conversation on the subject of guns 'n shooting both enjoyable and informative. You are always welcome to lurk in the shadows of shame, but I'd like to invite you to jump into the conversation, say howdy, and tell us what kind of shooting you like to do!
I'd like to take a moment and remember our pal Jesse in DC who passed away this week, and to offer our sincerest condolences to his bride and Friend of the Gun Thread screaming in digital. Jesse in DC was a terrific contributor to our discussions each week and a friend who will be sorely missed. I'm certain you all will join me in fondly remembering the contributions Jesse made, and the delightful couple he and SiD made together. Rest in Peace, brother.
We still have a couple of weeks until the official start of Spring, but you wouldn't know that from the weather forecast in the mid-Atlantic for the next several days, with temps in the mid-70s. Think I'll throw a bag of guns in the truck, spend a small fortune to fill-up with gas, and head to the farm-o for a few days! If all goes well, I should have a couple of range reports when I get back, so stay tuned!
Reminder: The 2022 NoVAMoMe date is set - Saturday, June 11th. Please save the date. Details and registration page coming soon!
With that, let's get to the gun stuff below, shall we?
******
Smith & Wesson K-22
I have been featuring 1911s from my collection in recent weeks, but if you want to know the truth, I'm really a revolver guy at heart. Oh, I do like automatics, but there is just something about a vintage revolver that I really love. I'm not quite sure how, but when the guns started multiplying in my gun safes, they were mostly pre-1960 Smith & Wesson revolvers.
I think it's partly the craftsmanship and partly the industrial art aspect of these old guns, as well as wondering where they have been during all the years before coming my way. Here is one I really like bigly, a pre-Model 17, K22 Masterpiece which left the factory in 1947.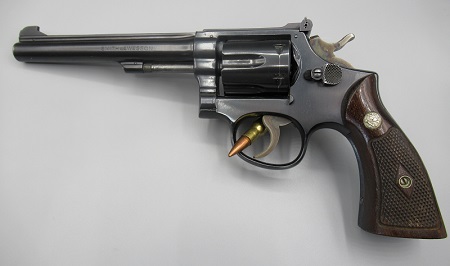 left side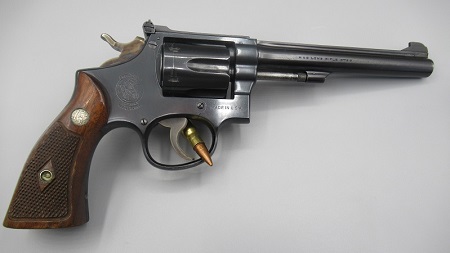 right side
There isn't a thing about this revolver that that I don't like. It is an amazing shooter which manages to make even me look good on the range from time to time. I have never run into an issue with it, even with sometimes finicky .22LR ammunition. It's hard to beat the simple pleasure of shooting these old guns on a lazy afternoon when no one is watching or keeping score. Just shooting for the fun of it.
That's not to say there isn't a great deal of real-world practice to be had shooting a .22 and it should not be overlooked as economical training platform. As I have repeated here many times before, every single aspect found shooting in larger calibers; grip mechanics, sight alignment and trigger pull can be found in the .22LR without breaking the bank on ammunition in the process.
Here's an American Rifleman article on the K22 Masterpiece as well as a general article on the K22 series from the Gun Collector's Club website.
Think I will take it to the farm this weekend!
******
First up, our pal Cat Ass Trophy was good enough to share a photo of his CMP collection: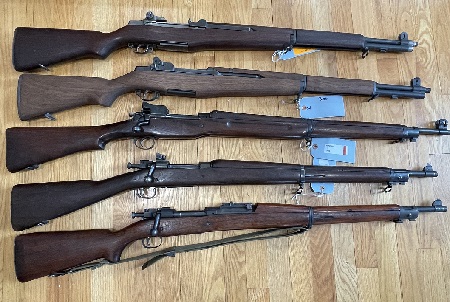 Attached is a photo of my CMP babies. The top two are M1 Garands, standard 30-06 and my newly acquired .308. The third is an Eddystone Enfield complete with volley sights. The bottom two are 1903 Springfields. My collection is complete. Unless I can get an M1 Carbine... and a 1911... and an 1898... and...
Very nice, Cat Ass! You have a very nice collection. How do they shoot?
******
Next up, our pal Shadowjack is going to make us all envious with his Browning Hi-Power!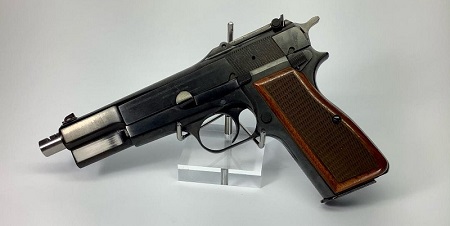 I thought I would forward you pictures of "my baby". Many years ago, I worked for a sporting goods store after college in Baton Rouge where I bought the pictured gun. It was a third model of the Hi-Power that was never meant to be imported to the U.S., although 500 were supposedly/mistakenly shipped in and many of them came to our company as it was the second largest retailer of Browning in the country behind J. C. Penny. At the time I think the fixed sight model retailed for $229 and the adjustable sight went for $279. This model with military Ramp sights sold for $449 and we called it the "NATO Model" as it was the side arm for NATO officers at the time.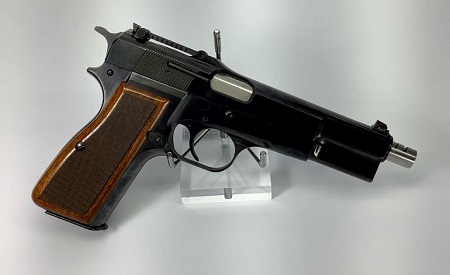 I resisted as long as a poor boy could but finally put the last one we had in stock in layaway. I didn't even fire it (as I figured I would sell it as a collector piece), until the early 2000's when I could no longer stand it. As you can see, I ended up fitting it a ported barrel and springs, keeping all originals, and it is a real "tack hammer". The only argument would have been who would end up getting it, but it was unfortunately lost in a tragic boating accident. Hope you like the pictures.
Yes! We like the pictures! Thank you, Shadowjack! Very nice.
******
Next up our pal Nevada Dave is back, this time with a H&K!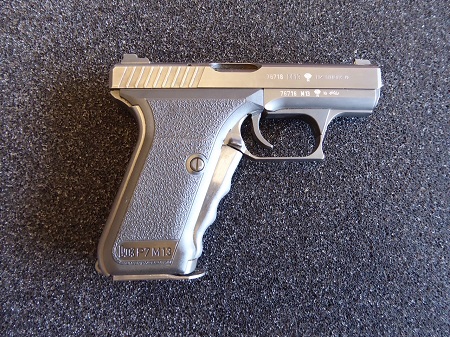 The Heckler and Koch P-7 M13. The squeeze cocking striker fired pistol. A delayed blowback gas system runs the gun. Even today the pistol is interesting, it's lightweight, compact, very accurate and has a good trigger pull compared to many striker fired pistols. The good trigger pull comes from the unique squeeze cocking feature. Many people were/are confused with the squeeze cocking, it only has to be done once not with every shot. It requires about a 12 pound pull to cock the gun then a good 4 pound trigger pull to fire. The P7 came in two models an 8 round single stack and the 13 round double stack magazine model shown here.

The pistol is minimalist in appearance, nothing sticking out, no slide release (the squeeze cocker does that), no external safety (again the squeeze cockers function) it's clean and sleek looking. The sights are now common three dots but back in the day they were something. The pistol is compact both for today and especially for it's time. As far as shooting the gun is very accurate, points well and requires you to maintain your grip which I think enhances your shooting. They were pricey when first offered which probably was the guns downfall. All in all I really like the gun and am glad I spent the money on it all those years ago.
Very nice, Nevada Dave! Thank you!
******
Welp, the ol' mailbox was practically overflowing with not just one but by actual count two responses to our discussion last week of selling one or more guns.
Firstly, our pal a big fan forwarded information on an auction site they recommend. The site, Centurion Auctions, describes their business as "specializing in the appraisal, valuation, marketing & sale of historically important firearms, guns, and firearm collections."
Looks like they have some interesting things! And good to know they come recommended by a big fan!
Also, our pal Gravel offers a word of caution regarding consignment sales at gun shops:


Just a word of warning from personal experience. If you leave a firearm at a business to sell on consignment, and they go under (with a court ordered auction to settle debts) you have just lost that firearm forever. You won't get the firearm back, and the proceeds from the auction will go to pay the debts of the business.
Man, that'd suck. Right after Buy Ammo I have probably said it a hundred times here; Consignor Beware!
******
Stabby Things
Several weeks back I mentioned adding a Benchmade 162 Bushcrafter to the ol' knife drawer. It's a very nice knife, but felt as though the sheath it came with was something of a letdown compared to the knife. Don't get me wrong, it's a perfectly nice sheath, it's just not as nice as the knife. What I'm trying to say is the knife is really super nice, but the accompanying sheath is only sort of average. Oh, for Pete's sake - here's a picture.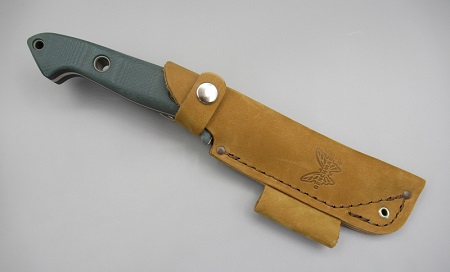 What to do, what to do...
So I poked around online and came across the company Sagewood Gear, a maker of made-to-order leather sheaths. A hundred bucks and six weeks later, this appeared on the doorstep.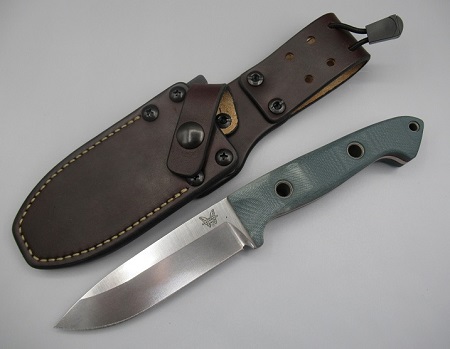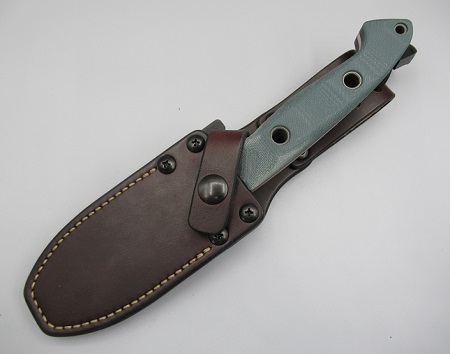 It's a custom sheath specifically made for the Bushcrafter, and pretty much exactly what I was looking for. Very nicely made and finished. Sagewood Gear is WeaselApproved!
******
Gun Basics 101
This week the She Equips Herself girl reviews thigh holster concealed carry shorts!
You're welcome.
******
Cigar of the Week
This week our pal Diogenes reviews the RyJ 1875 Reserve Robusto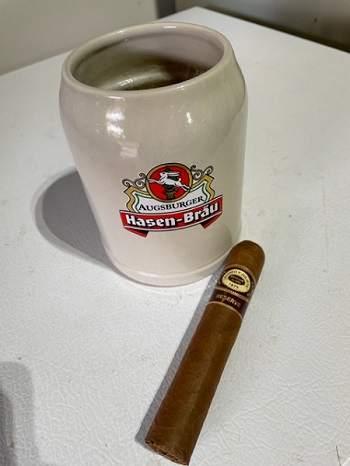 The Romeo y Julieta 1875 is easily one of my top three "Go To" cigars. This particular one, poised along side my favorite beverage consumption mug and brew from Germany, is the Romeo Y Julieta 1875 Reserve Robusto. It is an excellent smoke. I clip mine at a slight angle, giving it an easy draw and easy light. The smoke is immediately aromatic and is pure cigar tobacco. The taste is mild with none of the earthy flavors found in some cigars and has a slight cedar taste. The first third gets you settled, and the middle third is pure delight. It doesn't bite and makes for a very pleasant 30-minute smoke. And at $6.95, you only have to give up a gallon of gas to purchase one.
Nicely done, Diogenes! Thank you! I am a bigly fan of the RyJ 1875 line. How about some of you other cigar smokers - care to send in a review?
******
Link-O-Rama
I'm really very seriously not kidding around anymore. Buy Ammo
AmmoSeek - online ammo search tool
GunBot - online ammo search tool
SG Ammo
Palmetto State Armory
Georgia Arms
AmmoMan
Target Sports USA
Bud's Gun Shop
***Mail Bag***
Wrapping things up, our pal fungusboy brings teh funny.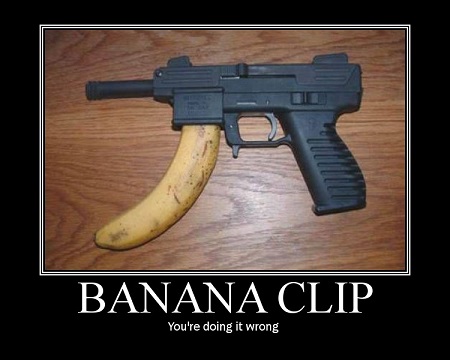 ******
Please note the new and improved protonmail account gunthread at protonmail dot com. An informal Gun Thread archive can be found HERE. Future expansion plans are in the works for the site Weasel Gun Thread. If you have a question you would like to ask Gun Thread Staff offline, just send us a note and we'll do our best to answer. If you care to share the story of your favorite firearm, send a picture with your nic and tell us what you sadly lost in the tragic canoe accident. If you would like to remain completely anonymous, just say so. Lurkers are always welcome!
That's it for this week - have you been to the range?


posted by Weasel at
07:00 PM
|
Access Comments