ę Deranged, Neurotic, Fear-Sowing NPC Media Really Not Taking Brandon's Pollster's Directives Very Well
|
Main
|
Texas "Republican" Congressman Van Taylor Apologizes For Sex Affair With... Ex-ISIS War Bride, Paying Her Five Grand in Hush Money;
Drops Out of Re-Election Bid, Conceding to Primary Opponent Ľ
March 02, 2022
Brandon Claims That the Democrats Don't Support Defunding the Police
Clay Travis
@ClayTravis

Joe Biden just said the answer isn't to defund the police, it's to fund the police. But his party spent the past two years arguing to defund the police. Welcome to the party, pal.

The leftwing propaganda organizations are pushing the message that Biden wants to fund the police without noting that this represents a reversal of his position of the past two years: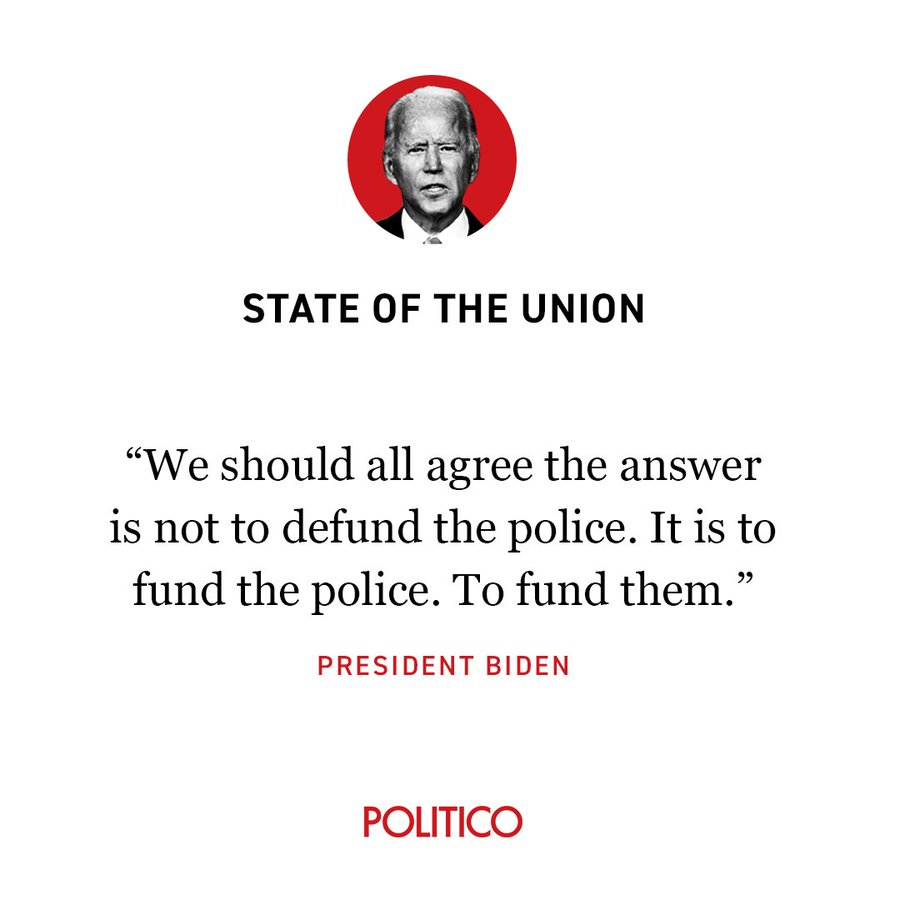 Via Instapundit: In 2020, Brandon said some money should "absolutely" be "redirected" from funding the police.
Joe Biden said in an interview Wednesday that some funding should "absolutely" be redirected from police, amid calls from some in his party to "defund the police" in the wake of the protests across the country.

Biden's campaign has said he does not support defunding the police. But in a Now This interview with activist Ady Barkan, the presumptive Democratic nominee said that police forces don't need surplus military equipment, saying this is what leads them to "become the enemy" in a community.

"But do we agree that we can redirect some of the [police] funding?" Barkan asked Biden.

"Yes, absolutely," said the former vice president.
In fairness, Biden was cynically stoking a racial firestorm to win an election, so.
Weird that this drew no "fact" checks from the "Fact" checkers in the media and tech monopolies.

Murder Skank Cori Bush feels a burning in her underwashed fartclam.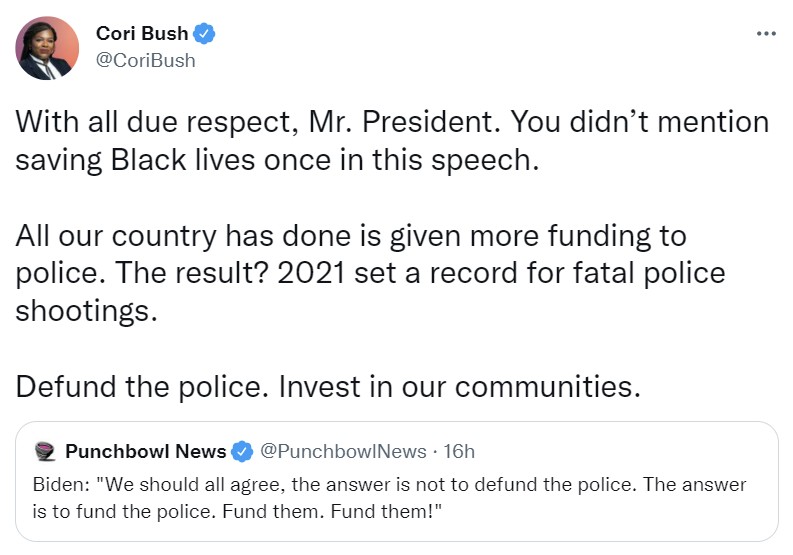 If by a "record of fatal police shootings," she means her allies in BLM and gangbangers generally have killed a record number of cops in ambush shootings in 2021 -- she's right.
And that's all thanks to the Democrats (and their NeverTrump neocon allies) giving criminals the All Clear to commit crimes, resist arrest, and assassinate cops.
In the name of Social Justice.
The National Fraternal Order of Police, the world's largest organization of law enforcement officers, on Wednesday reported a record number of police officers shot and killed in 2021.

As of Tuesday midnight, the FOP recorded 314 officers shot in the line of duty -- 58 of whom were killed.

"We are on pace this year to see the highest number of officers shot in the line of duty in one year ever recorded," FOP president Patrick Yoes said in a Wednesday statement.

"We've already had more officers killed in the line of duty by gunfire this year than any other -- and there is still one month left."
I guess Cori Bush just wants to brag.

Cori Bush-- wash your fat nasty ass.

posted by Ace at
04:27 PM
|
Access Comments