« DeSantis to Students: Take Those Mask Off, They're Not Doing Anything, We Have to Stop With This Covid Theater
Bill Kristol Attacks DeSantis
|
Main
|
Brandon Claims That the Democrats Don't Support Defunding the Police »
March 02, 2022
Deranged, Neurotic, Fear-Sowing NPC Media Really Not Taking Brandon's Pollster's Directives Very Well
They especially just can't quit dunking on DeSantis -- despite the entire State of the Union being a bunch of 60, 70, and 80 year olds milling about in a confined space, shaking hands, hugging, and... head-butting each other for two hours without masks.
But healthy, vigorous DeSantis hanging out maskless with college students?
What a hazard!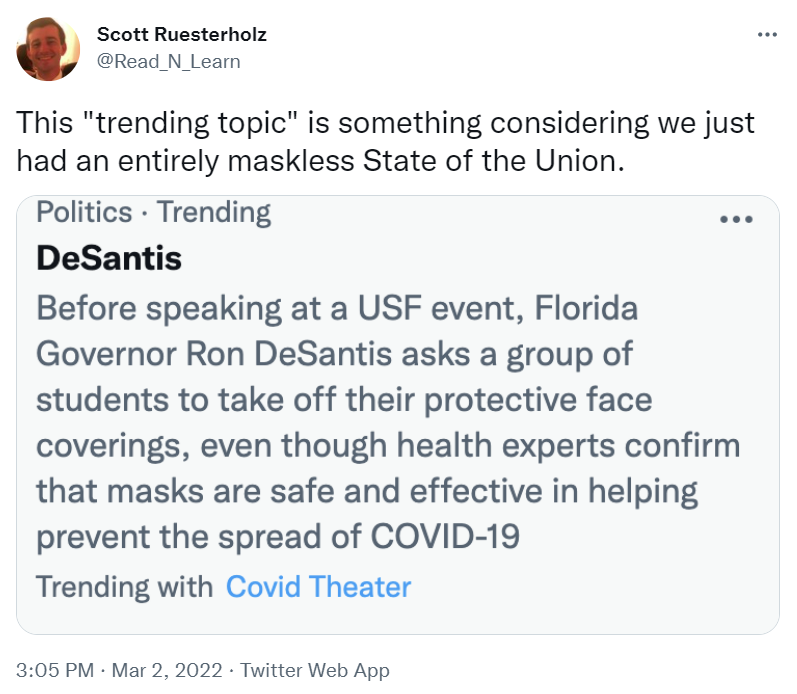 Twitter " " " fact " " " checkers forgot to mention that the CDC had given the clearance to stop wearing masks to 70% of the country, huh?
Who fact checks the " " " fact " " " checkers?
Here's the 79 year old decrepit Corporeal Presence Biden headbutting people, like he's a reindeer at a rut.
9 Going in for the sniff!

Posted by: Huck Follywood, Break The Teachers Unions

posted by Ace at
03:37 PM
|
Access Comments